If you're planning on visiting South Florida on your next vacation with the kids, then Jungle Island simply has to be on your Miami itinerary. Jungle Island, formerly known as Parrot Jungle, is an interactive zoo located east of Downtown Miami. The park is filled with animals, birds, and reptiles of all kinds. There are also shows where you can learn about the animals and the park's important conservation efforts. Check out our helpful guide for visiting Jungle Island in Miami, packed full of ways to save on admission, tips for visiting, other nearby attractions, and much more.
How to get Jungle Island discount tickets?
We've got you covered – Jungle Island admission is available with the below money saving options, so you can choose the attraction pass that's right for you: 1. All-Inclusive Pass – All you can do. Includes admission to dozens of attractions. 2. Explorer Pass – Choose as you go. Includes admission of up to 5 attractions. 3. Build Your Own Pass – Select the attractions you want to visit prior to visiting. See all available Miami passes, attractions & prices.
Tips for Visiting Jungle Island
Hold on to the map. When you arrive at Jungle Island you will receive a map and a list of showtimes for all of the performances that you'll be able to enjoy while you visit the park.
Arrive early. By arriving early you'll not only be able to enjoy more exhibits and shows, you'll also be able to find a great parking spot.
Don't skip any exhibits. Each exhibit houses an animal, bird, or reptile and gives interesting information about them. If you miss an exhibit you may be missing out on an intriguing piece of information.
Wear comfortable shoes. Jungle Island covers a span of 22 acres, which means that you should be prepared to walk quite a bit. By wearing comfortable shoes you can avoid having to cut your trip short because of blisters and sore feet.
Plan ahead. Jungle Island is the type of park where you can spend your entire day! If you plan ahead you can really take advantage of all there is to see and do.
What should I bring to Jungle Island?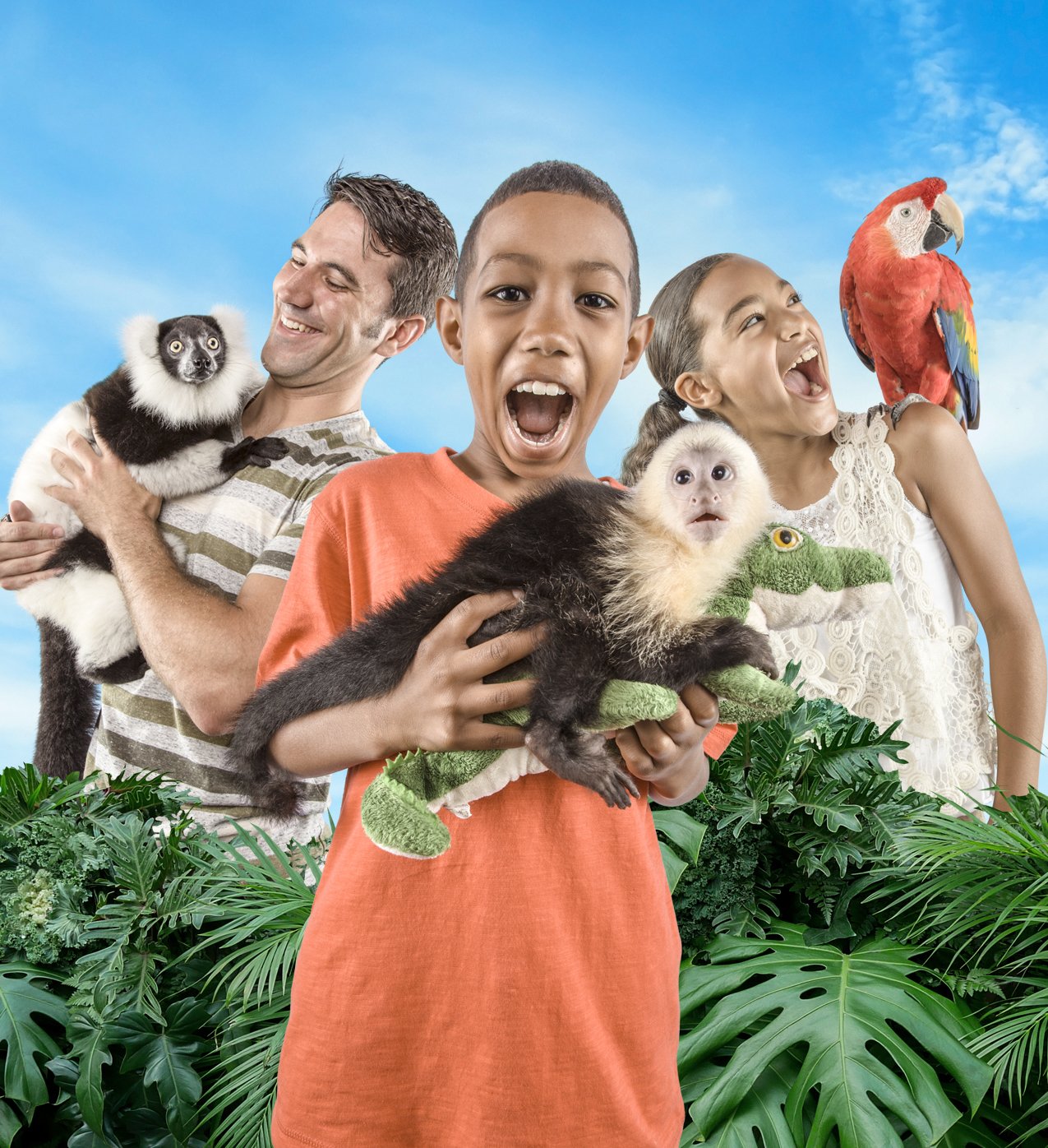 If you're heading to Jungle Island there are a few essentials that you absolutely must bring with you.
Make sure you bring plenty of quarters because there are various areas around the park where you can feed the animals and birds. The feeders all take quarters and your kids will most definitely want to take advantage of the opportunity to interact with various animals in this way.
A must for all visitors is good sunblock with sufficient SPF. The sun is serious in South Florida -- even on a cloudy day -- and the last thing you want to do is go home from a vacation with a painful sunburn. A pair of sunglasses and/or a hat can be useful, too. With the new Neo Splash Water Park Pop-Up, don't forget a swimsuit and towel either.
Most families spend hours at Jungle Island, so it's always good to bring a water bottle with you to stay hydrated. If you don't mind the additional cost, you can also purchase a bottle of water from one of the concession stands.
Jungle Island is filled with beautiful sights, which means you'll want to take plenty of photos during your visit. Bring a camera or smartphone with you so that you and your family can pose for some memorable pictures.
If you plan on visiting Parrot's Cove and enjoying the beach or water park you should wear your bathing suit to the park and bring a change of clothes. You may also want to bring a towel so that you can dry off if you get wet.
What is there to do at Jungle Island?
Animal Shows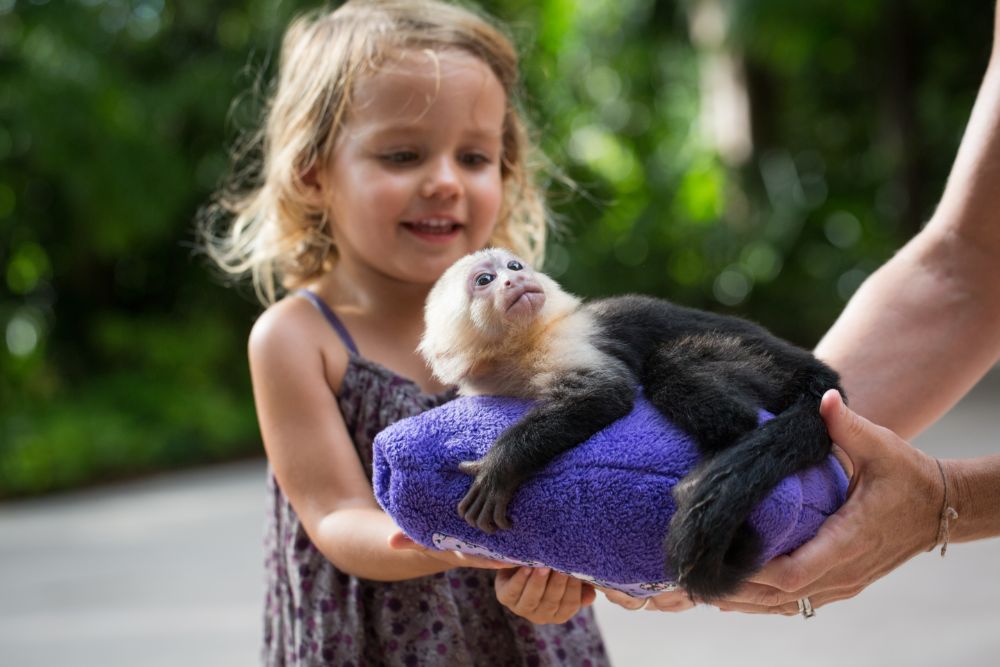 Jungle Island has three different shows throughout the day that will introduce you to some of the most amazing animals, reptiles, and birds from around the world. Their shows include:
Winged Wonders
This show takes place in the Parrot Bowl and showcases some of the most incredible-looking, talented and even dangerous birds from all over the world. Some of the most popular birds featured include the Andean condor and macaws that perform amazing aerial stunts.
Wild Encounter
The Wild Encounter show takes place in the Jungle Theater and introduces the audience to some intriguing felines. During this show the performers will bring in various wild "cats" and discuss what conservation efforts are being done to help the species.
Wild Adventures
Inside of the Serpentarium you'll be able to visit the animal care staff and learn about some of the most unique and rare critters, reptiles, and animals that live in the jungle.
Jungle Island Exhibits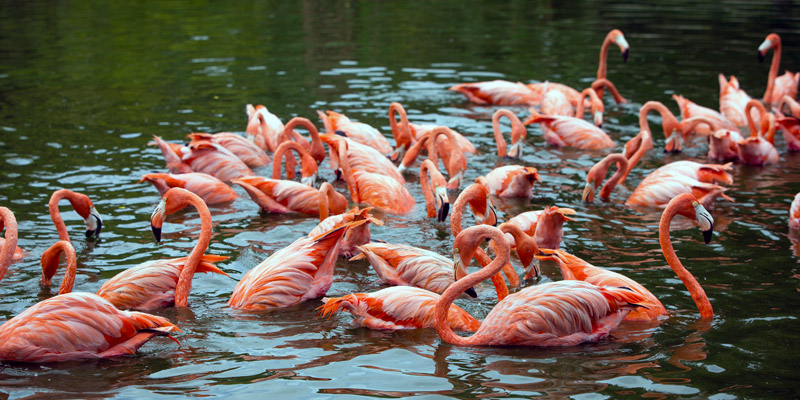 In addition to the shows, you and your family will be able to enjoy various location-themed exhibits housing all sorts of birds, animals, and reptiles. Here are a few of the exhibits you can visit while you're at Jungle Island:
Manu Encounter
In this exhibit you'll see and learn about macaws, parrots, monkeys, and other exotic animals. Animal Care Trainers will provide a short presentation about the animals and their habitats and will answer any questions you may have.
Everglades
In the Everglades exhibit, you'll see a replica of the Florida Everglades and some of the animals and reptiles that live there. The alligators are kings here, mainly because they are large and aggressive.
Tortoise Exhibit
At The Tortoise Exhibit, you'll be able to see giant tortoise, some of which can grow to be over 150 years old.
Crossings
The Crossings is Jungle Island's most famous exhibit because it features the beautiful, rare Liger. In this exhibit, you'll also find lions and tigers.
Flamingo Lake
Flamingo Lake is filled with brightly-colored flamingo and attracts the attention of all of the park's guests.
Jungle Island Miami Facts
Jungle Island originally opened as Parrot Island way back in 1936.
It opened at its current location in 2003.
Jungle Island is home to over 300 vibrant birds, including the only trained Cassowary in the world.
It is also home to many species including monkeys, lemurs, sloths, kangaroos, turtles and reptiles.
What attractions are near Jungle Island?
If you're going to be in the South Florida area, there are quite a few family-friendly attractions you can enjoy.
Just down the street from Jungle Island is Miami Children's Museum, where you and your family can visit and enjoy an interactive museum with art pieces created by children of all ages.
Take a short drive down to South Beach and hop on a Duck Tour of South Beach.
Head back to the mainland to enjoy the exhibits at the Pérez Art Museum Miami.
The Frost Museum of Science is an excellent family attraction, too.
Bayfront Park in Downtown Miami is also a very family-friendly environment, with stores, restaurants, boat rides, and much more.
If you're a sports fan, catch a Miami Heat game at the American Airlines Arena.
Where is there to eat near Jungle Island?
After their recent renovations, Jungle Island has a bunch of exciting food options that will please everyone from the most discerning foodie to the pickiest kid. They also now boast a Concrete Beach Brewery trailer for adults to enjoy great local craft beer. If you had back to the mainland and a little big south, you'll run into a major dining district. It features Italian fare, Mediterranean, sandwich shops, various types of Latin American cuisine, and new American offerings. For those looking for a special, family-friendly dining experience, there are also a Bubba Gump Shrimp Co. and a Hard Rock Cafe.
Save on Tickets with a Go City®
Remember, Go City® is the best choice for maximum savings and flexibility, which includes Jungle Island tickets, plus admission to your choice of other top attractions. Save up to 55% on top museums, tours, and activities vs. paying at the gate. Visit multiple attractions for one low price.