Sunny South Beach is the perfect vacation destination practically any time of the year: white sandy beaches, cool blue waters, and all the shopping, dining, and attractions you can think of are right at your finger tips in Miami.  But did you know that Miami is also known as an artistic hub? There are numerous artsy Miami attractions that draw visitors looking for something more than sand and sun, looking for a taste of the contemporary and classic artistic culture that this coastal city can provide. So why not pull together a customizable Miami Pass and check out a few artistic attractions?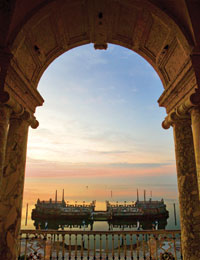 In addition to nationally renowned film festivals, contemporary art exhibitions, and dynamic modern dance performances, Miami also has a number of popular art museums to explore. The historic Vizcaya Museum and Gardens is one of my personal favorites. Inspired by the grand estates of the European aristocratic elite, the house and property are gorgeously decorated and filled with the most beautiful and rare things you can imagine. From the lush, blooming subtropical forest outside to the collection of European art and furnishings inside, Vizcaya is a treat for all senses. For the over-18 crowd, the World Erotic Art Museum is always an intriguing attraction choice. One of the few institutions world-wide dedicated to exploring the history of mankind's attempts to express the human body through art, the World Erotic Art Museum is a tasteful, yet provocative look at a wide variety of artistic works in a multitude of different media. Including pieces from classical antiquity, all the way to contemporary representations of the human body, this fascinating private collection is a must-see for art lovers who are looking for a unique museum experience.
Another popular artistic attraction is the official
Miami Art Deco Walking Tour
, which brings visitors to the highlights of Miami's prestigious Art Deco Architectural Historic District. As the city with the single largest concentration of Art Deco buildings in the world, Miami sure has a lot to offer for fans of at and architecture. These guided 90-minute walking tours are led by local historians and architects, and are a fun and informative way to explore this lovely part of South Beach. Exclusively available for
Miami Pass
holders, the
Bass Museum of Art
is another great artistic attraction. Curated to display a wide selection of art works and artifacts in an edifying chronology, the pieces in this museum hail from periods as distant as Ancient Egypt and artists as cutting-edge as Yoko Ono. In fact, the Bass Museum is the only institution in Florida to host any Egyptian artifacts at all! Ever-changing exhibits keep each visit to the Bass Museum fresh and exciting, and we're sure you'll find a few hours at this attraction an enchanting experience. So take a break from the surf and sand of South Beach and explore Miami's cultural side. Personalize a
Miami Pass
and save a guaranteed 20% on all your attraction visits. With instant delivery, easy-to-use smartphone technology, and eco-friendly distribution, the Miami Pass is the best choice for your explorations. Happy travels!