While most people think of Miami as a beach city, filled with parties and clubs, it's actually a great place for a family vacation. There are many educational attractions for the kids to enjoy, and some fascinating museums, aquariums, and cruises that everyone will love.
If you're planning on heading to Miami for your vacation but aren't sure which attractions are best for families, check out this list. It's been curated by travel experts who know a thing or two about Miami, and about traversing Miami with kids. Our top Miami summer family vacation ideas include:
Big Bus Miami Sightseeing Tour
Miami Seaquarium
Biscayne Bay Sightseeing Cruise
Jungle Island
Jet Boat Miami
Key West Day Trip from Miami
Miami Bike Rental
Frost Museum of Science
Miami Children's Museum
Pérez Art Museum Miami
Bayside Marketplace
Big Bus Miami Hop-on Hop-off Bus Tour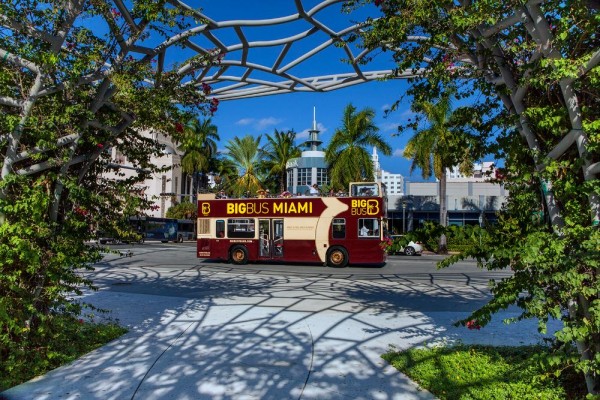 One of the best ways to get to know the city is with an open-deck bus tour with Big Bus Miami. Because Miami is a multifaceted city with many distinct neighborhoods, it's difficult to really know where to go to see all the highlights. A guided bus tour is your solution, as they'll escort you past all the major sights and important areas.
You even get to choose from three different routes, depending on what your interests are. And the hop-on hop-off feature is really convenient for customizing your sightseeing. Pass by and hop off at popular stops like Miami Seaquarium, Vizcaya Gardens, Jungle Island, and Miami Duck Tours.
Miami Seaquarium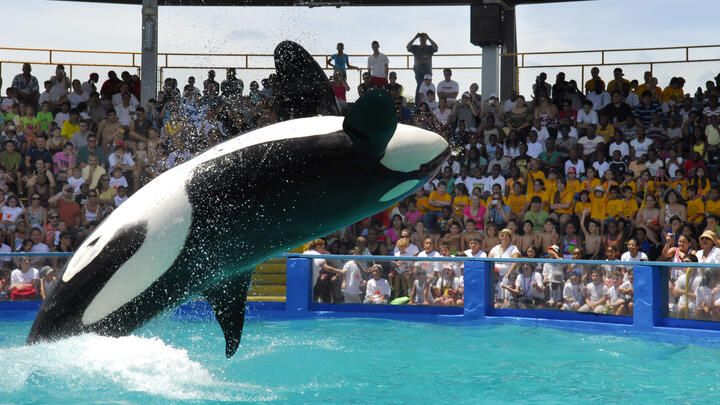 Miami is filled with great attractions for families that love animals, and this is just the beginning. At Miami Seaquarium you'll find humane animal shows, playful animal interactions, and plenty of educational information all throughout the park. What's even better about this attraction is its commitment to rehabilitation and conservation.
They've rescued and healed countless manatees and other species. Those who are still healing or can't be re-released into the wild now have a home at the Miami Seaquarium. It's a heart-warming story you'll love to be a part of.
Biscayne Bay Sightseeing Cruise
One of our favorite ways to really get to know Miami is by spending some time on the water. A Biscayne Bay Sightseeing Cruise is the perfect opportunity to do just that – so sit back, relax, and watch the natural beauty and man-made splendor as you pass by.
Some of the highlights you'll see on your journey around this gorgeous bay include American Airlines Arena, the Miami Herald Building, Miami Beach, Southpoint Park, and more. Your 80-minute tour will really give you all the highlights of the beautiful coastline. Keep an eye out for the luxury houses of the rich and famous, too! 
Lion Country Safari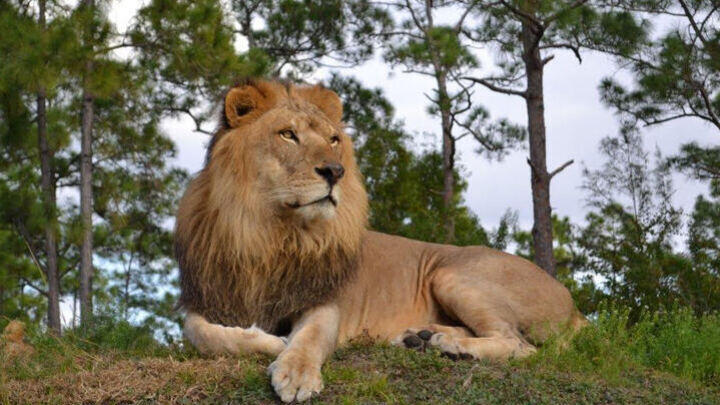 Comprising a four-mile drive-through, the Lion Country Safari gives you close-up access to over 900 free-roaming animals. This is one that is sure to inspire awe for the whole family!
Divided into seven specific areas, you'll see giraffe, zebra, rhinos, wildebeests, and of course, lions. Some might come within inches of your car! Please keep arms and legs inside the vehicle at all times...
What's more, the rest of the park is yours to explore on foot where you can experience more hands-on animals encounters, like giraffe feeding, bird feeding, and a petting zoo.
Jet Boat Miami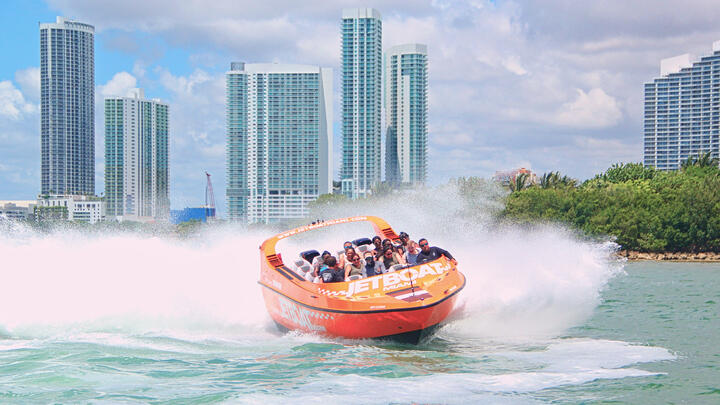 If you're looking for a little bit more excitement in your water activities, then Jet Boat Miami is the perfect choice for you and your family. This high-speed vessel will zip around Biscayne Bay, past sights like San Marco Island, Star Island, and many more. Your skilled boat operator will perform tricks like 360 spins and more.
Due to its speed and quick movements, this boat ride may not be appropriate for smaller children. Use your judgment when choosing this attraction.
Key West Day Trip from Miami
This day long, round-trip excursion is more than worth the time you'll dedicate to getting down to the southernmost point of the continental United States. Cross 42 bridges and 32 islands before reaching the gorgeous tropical paradise of Key West.
Once you're there, you get to spend a few hours as you'd like, whether that's renting a bike, parasailing, swimming, or sightseeing. Some highlights for explorers include the Hemingway House, a botanical garden, and Mallory Square.
Miami Bike Rental
While you might be thinking that Miami is too hot for bike rides, you'll actually find that pedaling along the beachfront can be a good way to get some breezes going in your favor. There are bike lanes and trails galore in Miami and South Beach, and exploring on two wheels is admittedly one of our favorite ways to get around this beautiful city.
Your Miami Bike Rental will come with a map, too, so you don't need to have much familiarity with anything to set off exploring. We recommend starting with the amazing Art Deco district, which has a lot to offer in terms of sightseeing.
Miami Children's Museum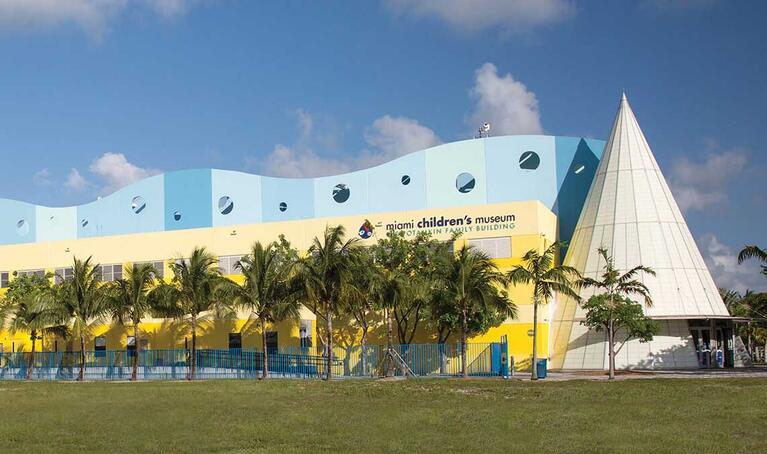 For those of you traveling with younger or middle grade kids, the Miami Children's Museum should be a must on your list. It's an incredibly interactive environment, with hundreds of things for kids to enjoy as they learn through playing. All the exhibits are bilingual, and most emphasize some aspect of modern life that will be important as children grow, like the arts, culture, and community.
You'll love watching the kids enjoy educational exhibits like the Health and Wellness Center, Pet Central, Ocean Odyssey, Everglades Park and the World Music Studio. They also frequently run special programming – especially during the summer – so be sure to check their calendar before your visit to see what's going on.
Pérez Art Museum Miami (PAMM)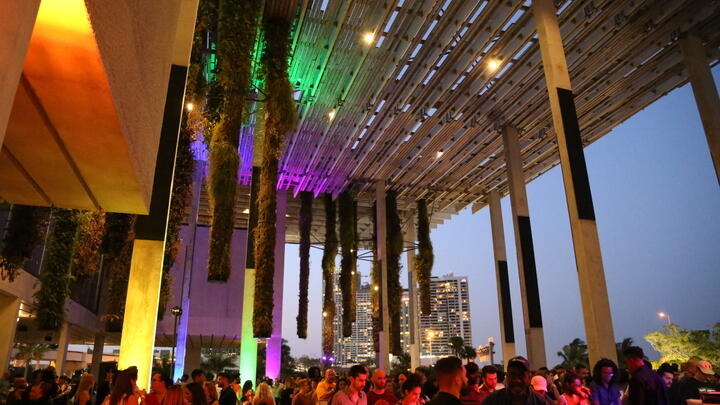 The Pérez Art Museum Miami is another one of our favorite kid-friendly institutions in Miami. It's a well-curated art museum, nestled in a beautiful building, with tons of things for kids to enjoy and explore. Of course, there is much for adults to love, too! Take a guided tour to see their exhibit highlights, most of which highlight the multicultural and intersectional nature of Miami.
Don't forget to ask for the PAMM family pack when you arrive – it's filled with goodies to make the experience that much more fulfilling for younger visitors.
Bayside Marketplace
Quite a few of the attractions we've suggested are near Bayside Marketplace, so it couldn't be easier to devote a little time to roaming this area. Primarily a farmers market-style place, this open-air venue also features plenty of nearby restaurants, shops, and more.
It's also host to a number of special events throughout the summer, so stop by their Visitor Center for more information on what's going on during your visit.
Save on Family Vacation Attraction Ideas
There you go. A few suggestions for attractions and activities for your upcoming Miami family vacation.
Regular admission to a number of these family-friendly attractions are available with a pass for Miami by Go City®. Choose as you go from top visited attractions and save up to 55% on combined admission vs paying at the gate. Learn more about our Miami passes, attractions and prices.