Heading to Southern Florida and looking for some fun family activities to do? Miami Seaquarium is an oceanarium located in Key Biscayne that is one of the oldest oceanarium to still exist in the US. Featuring shows which are entertaining and educational, you and your family will get a chance to see fishes, marine mammals, sting rays, sea lions, turtles, sharks, manatees, birds, reptiles, and more Check out our helpful guide for visiting the Miami Seaquarium, packed full of ways to save on admission, tips for visiting, other nearby attractions, and much more.
Looking for Miami Seaquarium Discount Tickets?
We've got you covered – Miami Seaquarium admission is available with the below money saving options, so you can choose the attraction pass that's right for you: 1. All-Inclusive Pass – All you can do. Includes admission to dozens of attractions. 2. Explorer Pass – Choose as you go. Includes admission of up to 5 attractions. 3. Build Your Own Pass – Select the attractions you want to visit prior to visiting. See all available passes, attractions & prices – Learn more.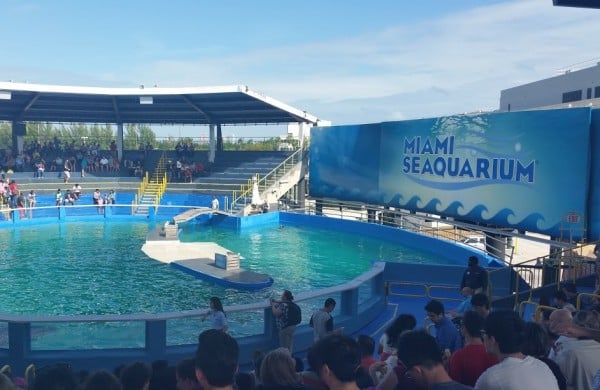 Tips for Visiting the Miami Seaquarium
If you've never been to Miami Seaquarium before, be prepared to be amazed! When you first arrive at the attraction you will get a map of the park and a list of show times available that day. Use that to navigate through the park and make sure that your family can enjoy everything the park has to offer. Here are some great tips for making the most out of your visit:
Get there early. Showtimes will vary from day to day, but the only way to truly get a full experience you will need to be there for at least four hours.
Take part in the experiences.

Miami Seaquarium offers various experiences where you and your family will be able to swim with dolphins or fishes, enjoy the reef encounter, swim with seals, or be trainers for the day. Your kids will never forget the experience, and neither will you!

Don't miss any of the shows or exhibits.

There is a lot to see here. Use the map you received to mark off everything you've seen. You'll be awfully disappointed if you later find out that you missed out.

Sit in the front row.

In the Killer Whale and Dolphin show you will get to see the killer whale doing tricks, as well as get completely soaked by giant splashes. Kids absolutely love it!

Plan Ahead.

Miami Seaquarium is actually quite close to a few other great family-friendly attractions and beaches so you may want to plan ahead so that you can spend four to five hours at the park and the rest of the day exploring somewhere else.
Best Times to Visit
South Florida is beautiful almost all year round. The few times you need to be careful is during hurricane season, but as long as you check the news you'll be fine. During winter months, South Florida doesn't get that cold, which means you can take advantage of your child's winter break from school. If you're trying to avoid crowds, do keep in mind that school trip season tends to fall roughly in March to early April. During this time, the Seaquarium attracts school groups in droves.
What You Should Bring
A towel and/or extra clothes. Many of the shows and activities involve heavy splashing.
Extra socks or shoes for the kids, especially if they intend to visit Salty's Pirate Playground.
A waterproof or resistant casing for your camera or smartphone. The last thing you want is a broken phone!
Sunblock, sunglasses, a hat, etc. Most of the Miami Seaquarium is outside so you'll be exposed to the heavy Florida sun for hours.
Water and snacks. While you can purchase these from concession stands in the park, they can be a bit pricier.
What to Do There
Miami Seaquarium has four shows that occur throughout the day and multiple exhibits. Here are the shows and a selection of the most popular exhibits:
Shows
Killer Whale and Dolphin Show
If there's one show you don't want to miss it's this one! Lolita the Killer Whale gives an incredible performance and leaves her audience shocked and soaked. She performs alongside Pacific White-sided Dolphins who do incredible aerial stunts.
Top Deck Dolphin Show
In this show, you will get to see bottlenose dolphins perform incredible acrobatic tricks. You'll see dolphins leaping higher than you have ever seen before! While the show isn't going on you can still visit the top deck dolphins. Occasionally they will even have a baby dolphin swimming in the tank.
Flipper Dolphin Show
Even if you've seen the Flipper Dolphin Show before, you have not seen this show. The Miami Seaquarium recently upgraded the show and it's better than ever! You'll also get to enjoy a new exhibit at the entrance of Flipper's stadium that contains images and memorabilia from the original Flipper television show.
Golden Dome Sea Lion Show
The Sea Lion Show is such a great time for the whole family. In the show, Reef Rangers go on comical adventures with a sea lion named Salty. The entire show is entertaining and also teaches kids about the importance of not littering.
Exhibits
Shark Channel
At the shark channel, you'll be able to see caregivers feed sharks that are up to 200 lbs. Miami Seaquarium has various sharks of different species and sizes.
Tropical Reef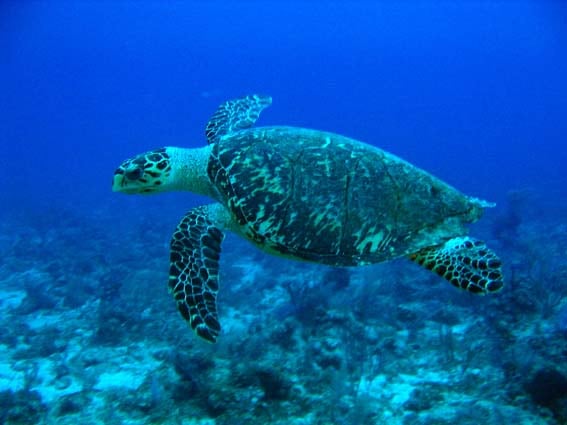 This exhibit is breathtaking. Here you'll look into a 750,000-gallon saltwater aquarium that is filled with various reefs, fishes, stingrays, eels. If you are lucky enough to catch the Reef Presentation, you'll get to watch a diver's hand feed the fishes while listening to an educational narration.
Manatee Exhibit
The Manatee Exhibit allows you and your family to watch and learn about Florida's magnificent endangered animal. You can even go to underwater viewing areas to see them swimming. If you get lucky there may be a rescued baby manatee there as well.
Seal and Sea Lion Exhibit
At the Seal and Sea Lion Exhibit you can look at, learn about, and feed seals and sea lions. You can even watch them playing and laying around in the sun.
Nearby Attractions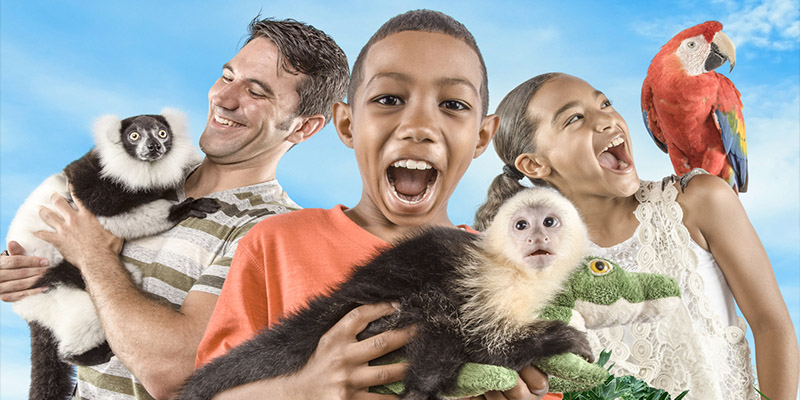 If you're heading down to South Florida you should also explore a few other family-friendly attractions.
It's just a short drive over to Jungle Island, where you will find animal exhibits and shows that are fun for you and your whole family.

If you're in the mood to take a tour of South Beach check out the

famous Duck Tour South Beach

. Their vehicles will go through the streets of South Beach and into the ocean.
Places to Eat Nearby
There's food inside the park like the iconic Pink's Hotdog (of Hollywood fame).
The casual and tasty SALT Waterfront Restaurant is a really convenient option with an abundance of seafood.
Outside of the park, the Rusty Pelican is a fun venue with great views and modern Americsn cuisine.
The Atlantica Seafood Restaurant and Market is more casual with fresh-catch specials and good happy hour deals.
Need to Know
Hours vary seasonally and for other factors, so consult the attraction website for the current operating schedule.
Directions & Address
4400 Rickenbacker Causeway Miami, FL 33149 Driving: I-95 S, to Exit 1 (Miami Seaquarium), and follow the signs to Key Biscayne and Rickenbacker Causeway. US-1 N, exit to right just before the I-95 on- ramp, and follow the signs to Key Biscayne and Rickenbacker Causeway. Parking is $10 and is not included with your admission.
Save on Tickets with a Go Miami Card
Remember, the Go Miami® Card is the best choice for maximum savings and flexibility, which includes Miami Seaquarium tickets, plus admission to your choice of other top attractions. Save up to 55% on top museums, tours, and activities vs. paying at the gate. Visit multiple New York City attractions for one low price.