The Florida Everglades are an amazing place for family fun, regardless of whether you have young children, teens, or visiting with just adults. Spend some time in the great outdoors and learn about the flora and fauna of South Florida at the same time with these fun things to do in the Everglades National Park.
Planning to Visit the Everglades?
Save time when you buy your Everglades tickets online. Available passes include Vehicle, Pedestrian, Motorcycle, and Annual Passes. Passes are delivered instantly to your mobile phone, and give you immediate access to the park at any entrance.
Everglades Visitor Centers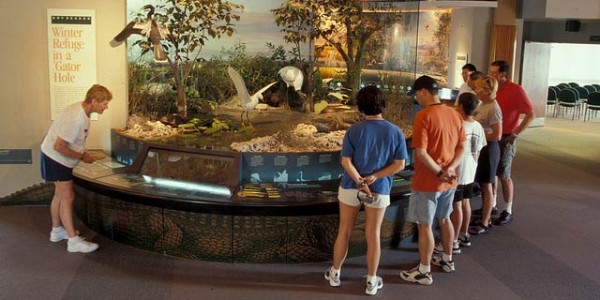 The visitor centers are an important part of the Everglades experience. Here, you will be able to learn about all of the different activities around that particular center. There are four in total, including:
Gulf Coast Visitor Center
Shark Valley Visitor Center
Ernest F. Coe Visitor Center
Flamingo Visitor Center
Each offers different things to do and see. Spending some time at each Center can be beneficial because you'll find educational displays, informational brochures, and orientation films. Gulf Coast Visitor Center provides information about the Ten Thousand Islands. You will also find educational displays and you will have the opportunity to schedule tours and rentals. Restaurants, stores, and campgrounds are also found nearby. At Shark Valley Visitor Center, you will be able to view park videos, look at different educational displays, and grab some informational brochures. You can rent bikes here and it is also where you will be able to take a guided tram tour. Ernest Coe Visitor Center is open 365 days a year and this is where you are going to get to watch various orientation films. There is also an adjoining bookstore and many popular walking trails are only a short drive from the center. At Flamingo Visitor Center, you can obtain backcountry permits, obtain various bicycle and kayak rentals at the Marina, and visit the Buttonwood Café where you can get sandwiches and various other types of food.
Everglades Ranger Programs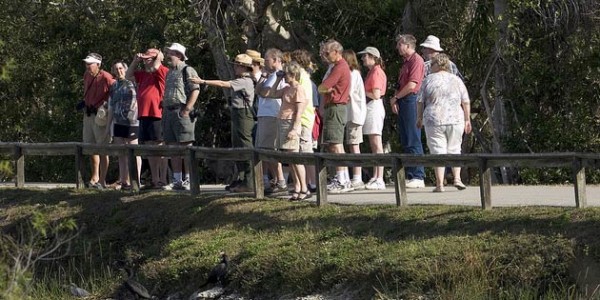 One of the best things about the Everglades is that it is part of the National Park Service. As such, they have a number of ranger-led programs, which are often some of the best things to do when you are looking at family activities. Better yet, many of the programs are free of charge. There will be the most programs available during peak season, between December and March (the dry season). Before your trip to the Everglades, search the different programs that will be available while you are there.
Things to Do in the Everglades with Kids
Some of the best things to do with families, particularly with young kids, include: Tram Rides - Head to Shark Valley if you want to ride around on an open air Tram. Your tour guide will talk about the value of the Everglades and point out some of the different plants and wildlife that can be seen throughout the park. Manatee Talk - Learn about manatees inside of the Flamingo Visitor Center. Afterwards, head outside for a chance to see one of these creatures in the wild. Croc Talk - The American crocodile is a rare reptile, and a talk about them and the chance to see one will be possible at the Flamingo Visitor Center. Car Caravan - Particularly if you have young kids that would otherwise be in car seats and strollers, this is a great thing to do because you get to stay in your vehicle and make several stops along the road as a way of getting to see the Everglades and learn more about some of the sights and sounds. Hands on History - At the Gulf Coast Visitor Center, you get to have a hands-on experience about the history of the mangrove ecosystem and learn more about the techniques that Calusa Indians used to survive. Wander and Wonder - For kids that can walk, there is a 35 minute guided nature walk where a Ranger will discuss the different plants and animals found within the Florida Everglades. A Beginner's Guide to Saltwater Fishing - Ever wanted to learn how to fish? A Park Ranger will talk about the saltwater fish found in South Florida, how to identify the different types of fish, how to cast, and how to throw a net. This is fun for all ages and lasts about an hour.
Fun Things to Do with Teens
For teens that are outdoorsy you may want to consider a few of the other ranger guided tours. This includes: Wild Walk in the Wilderness - This two-hour tour leads you through Shark River Slough and gives you a chance to see and experience the Florida Everglades in a new and exciting way. Full Moon Bike Tour - A 15 mile bike tour at sunset can be an amazing way to see the Everglades wilderness. You can hear the Symphony of nature coming to life and the sunset over the sawgrass prairie. Land-ho! Canoe Trip - Take a 2 hour paddle tour of the Gulf Coast, staying near the shoreline where you can look for wildlife and have a ranger as your guide.
Everglades Airboat Rides
Airboats are a fun and exciting activity for the whole family – and it's hard to say that you have truly experienced the Florida Everglades until you have done an airboat ride. Airboats have a propeller engine inside of a cage. They are shallow boats that are capable of skimming over shallow water and marshland – sometimes at speeds of 35 miles per hour. This gives you a chance to have the wind in your hair as you check out all of the surroundings. Your tour guide is going to show off the various plants, animals, birds, and more. Some of the different tour operators will also offer you various other things that you can do when you book with them, such as:
Gator shows
Reptile talks
Canoe/kayak rentals
Animal sanctuary
This can ensure you have all you need to make it a fun day in the Everglades.
Camping in the Everglades
It can be a lot of fun to go camping in the Everglades. When you have young children, your best option is to look at the front country camping, which means you can access the campground by car. Otherwise, the backcountry campsites involve you having to hike or boat to the site. If you decide to do some front country camping, your options are both at the Homestead entrance of the park. This includes:
Long Pine Key Campground
Flamingo Campground
Each of these are going to provide you with opportunities to pitch a tent or to park an RV. Reservations are strongly recommended for all of the campsites, especially if you are going with the group. If you are going around a holiday weekend, such as Christmas, New Year's, or Memorial Day, you will definitely want to get a reservation because camping can become extremely popular during the long holiday weekends. The Flamingo Campground site is the larger of the two. You can explore a map of the area as a way of choosing your campsite. You are going to find plenty of facilities to make life a little easier, especially if this is your first camping trip with the family. You will find restrooms, showers, an interpretive trail, a hiking trail, as well as a picnic area.
Planning Your Visit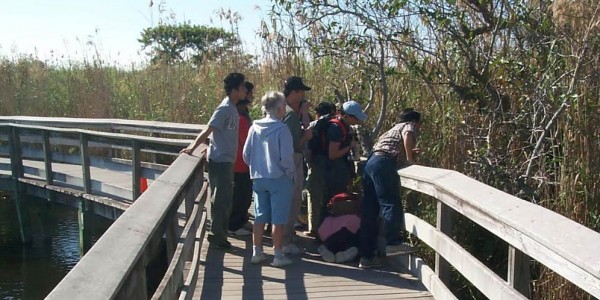 Ultimately, you want to make sure that you and the entire family has a lot of fun. If you choose to camp, be sure that you have all of your camping essentials before you arrive. You will also want to book your campsite ahead of time. Some basics to make sure everyone has fun also includes:
Water
Snacks
Bug repellent
Sunscreen
Aloe (in case of sunburns)
Sunglasses
Shoes you don't mind getting wet
It is all about having fun. If you take the time to plan, you can make sure that there is always funs things to do during your visit to the Everglades. Some people choose to come in for a day while others choose to spend a week or longer. You may decide that you want to stay on the two different ends of the Everglades so that you can see different things. Some of the other nearby attractions may be desirable as well, including Biscayne National Park, Big Cypress National Preserve, and Dry Tortugas National Park. The ages of your children and how physically fit they are will determine what you can and cannot do with them – and you can always consider visiting again once they get older.
Buy Everglades National Park Passes
Remember, you can get immediate access to the Everglades National Park when you buy your Everglades tickets online. Available passes include Vehicle, Pedestrian, Motorcycle, and Annual Passes. Passes are delivered instantly to your mobile phone, and give you immediate access to the park at any entrance.