Planning a weekend in NYC, but unsure what to do and where to go to maximize your time? As there's so much to see and do in New York City, it can be difficult knowing where to go first. We've put together a great itinerary for two days in New York that will showcase some of the best that NYC has to offer.
This weekend in New York City itinerary includes:
Big Bus New York Sightseeing Tour
The Guggenheim Museum
Central Park (free!)
Intrepid Sea Air & Space Museum
9/11 Memorial & Museum
Empire State Building
Times Square (free!)
Museum of Modern Art
Top of the Rock
We've also put together 1 day, and  3 day itinerary day, and one week in New York - for the ultimate experience.
DAY 1
Stop #1: Big Bus New York Sightseeing Tour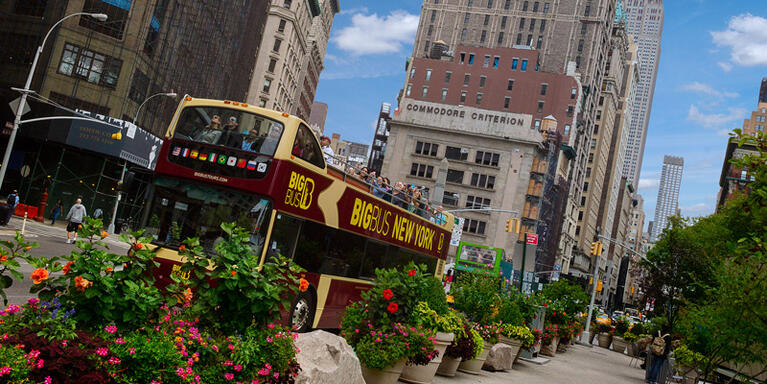 A Hop On Hop Off Big Bus sightseeing tour is one of the best ways to start your visit to New York City. You'll get a comprehensive overview of the city's history, unique culture, and layout of all of the sites you want to go back to for a visit. Another option is to just sit back and relax as this comfortable bus takes you around NYC, showcasing all of the landmarks and hot spots that you may not otherwise get a chance to visit.
Informative tour guides will narrate the tour with insider information and important facts about tour highlights, including:
Empire State Building
SOHO/ Little Italy
Brooklyn Bridge/ City Hall
Wall Street/ Charging Bull
High Line
Madison Square Garden
and many more!
This tour is the ideal attraction for first-time visitors to NYC, or those who've been but not had a chance to explore much on previous visits. You'll get an overview of the city while learning about its fascinating history - from the comfort of the top deck.
Stop #2: The Guggenheim Museum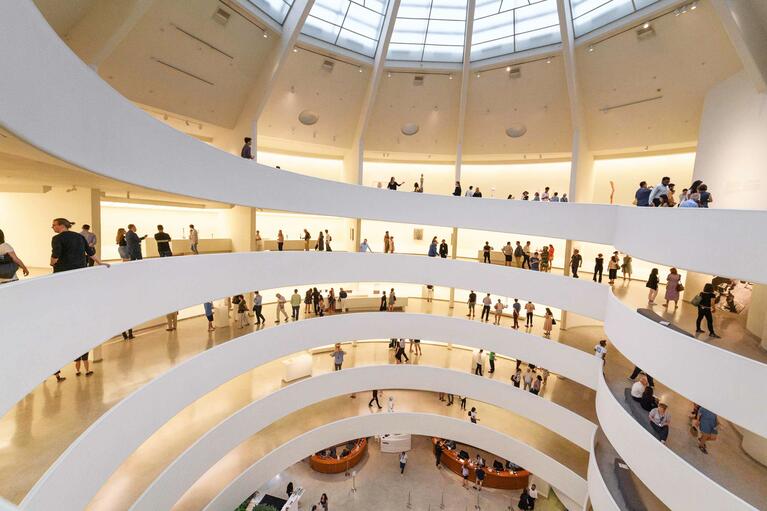 Next, head uptown for a visit to this prestigious modern art museum. The Guggenheim Museum has recently been renovated, so even if you've been here before you're due for another visit. Plus, the Frank Lloyd Wright-designed building is itself quite a sight to see, standing as a testament to both Wright's and Guggenheim's adventurous spirits! Some of the featured artists on display include all of your classic and modern favorites, like Calder, Kandinsky, Picasso, Van Gogh, and many more.
Plus, see the special visiting exhibitions -- it might be your only chance before they move to another city. From sculpture and painting to sketches and innovative installations, you'll find a beautiful variety of styles and genres of artwork to enrich your visit. Please head to the information desk for admission. We recommend reserving between 1 – 2 hours at this museum, perhaps more if you're traveling with some art lovers.
If you've taken in all the art but can't bear to leave the gorgeous building, stop for a coffee at the gallery's cafe -- it has great views of Central Park.
Stop #3: Central Park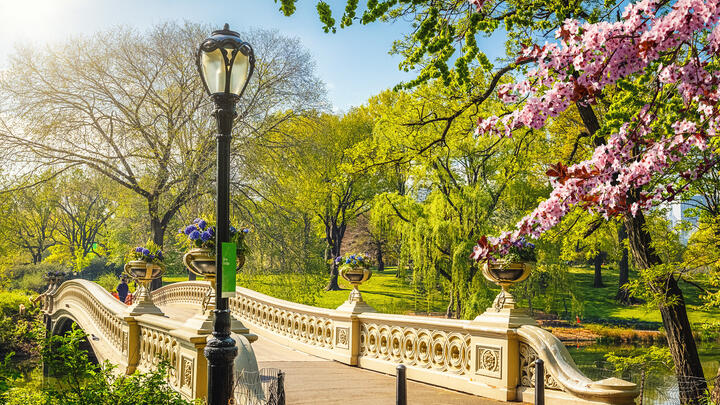 Since you'll already be in the area, don't forget to take a stroll around the country's most famous urban green space. Although it's actually a full 843 acres, don't worry – you won't need to explore the entire park to get a sense of its culture and atmosphere. Some of the top attractions located within Central Park include the Strawberry Fields mosaic, Bethesda Fountain and Terrace, the Central Park Zoo, the Central Park Carousel, the Loeb Boathouse, and many more.
While you won't have time to see them all this afternoon, pick a few you want to see and make a plan for how to tackle them in the time you have free. If it's a nice day, stroll through the Ramble or sit next to the lake. There's always so much happening in Central Park -- you won't be short of something to do. You could also opt to take a walking tour of  Central Park, which will showcase more of the park.
Stop #4: Intrepid Sea Air & Space Museum (Indoor Option)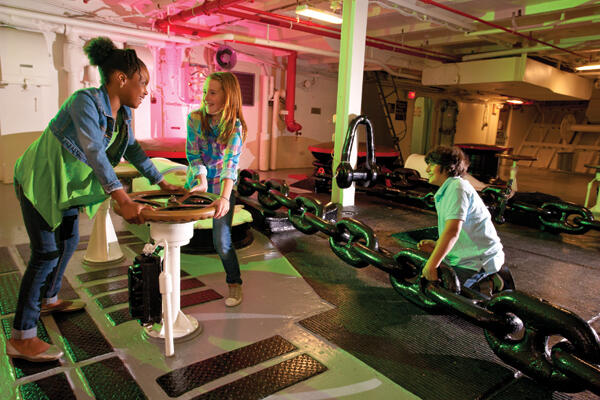 Fans of military history will love a visit the Intrepid Sea Air & Space Museum. Housed on a historic aircraft carrier, this amazing museum features fascinating permanent exhibits and exciting temporary exhibits that everyone can enjoy, covering everything from historic aircraft in Vietnam to the submarine "Growler." Learn something new about the history of American naval ships and aircraft as you walk aboard this National Historic Landmark.
They also offer specific family-friendly event various times of year, so check their operating calendar before your visit to see if anything special is going on during your time in NYC. If you're especially interested in the history of NASA and the American space program, an upgrade to the Space Shuttle Pavilion is a smart choice.
Stop #4: Lady Liberty Cruise (Outdoor Option)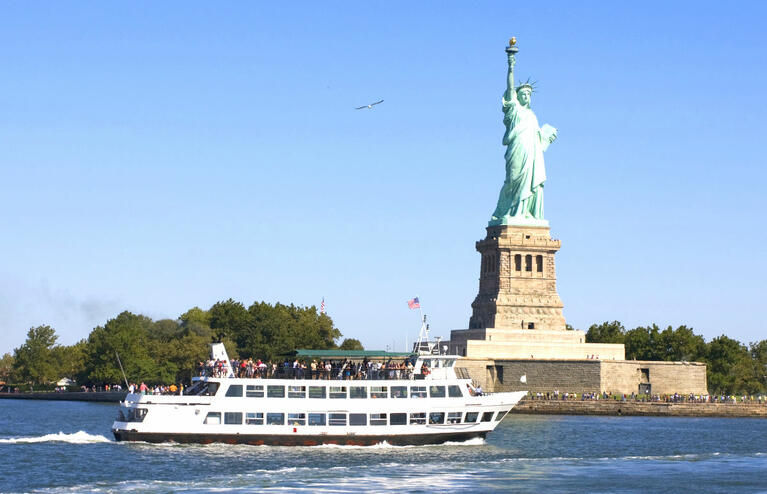 Circle Line's Lady Liberty Cruise is an excellent way to fill the second half of your day during the warmer months. Relax aboard this informative cruise as you enjoy sailing around the world-famous Statue of Liberty. Additional sights you'll see on the cruise include Ellis Island, the Freedom Tower, and the World Financial Center.
Professional tour guides will regale you with all the most important information and inside stories about each of these landmarks, so you'll leave the cruise feeling like you've learned a ton about some of NYC's most important buildings. Remember to pick up a voucher for the cruise in the advance. The cruise takes approximately one hour, and we recommend arriving at least 15 minutes in advance of your desired sail time.
Stop #5: 9/11 Memorial & Museum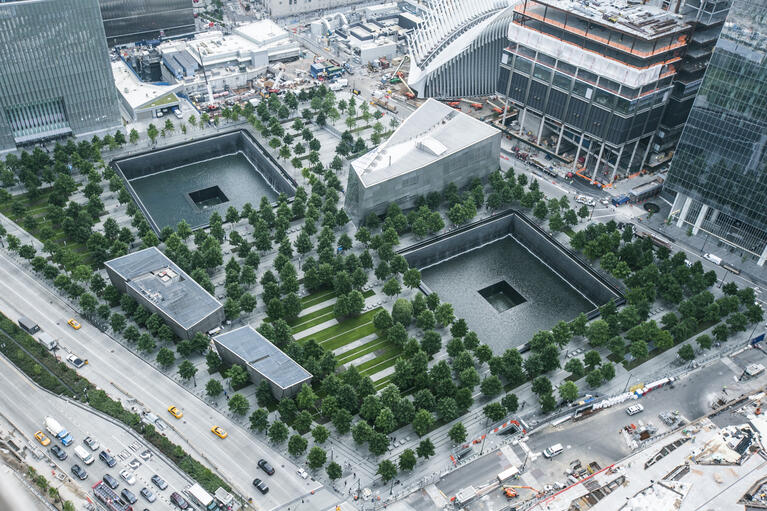 You'll want to make sure to set aside an hour at least for your last stop of the day – the 9/11 Memorial and Museum. It's a moving, emotional experience to visit this memorial, and many visitors to NYC have found it to be an important part of their New York vacation.
Explore three separate areas of the museum. The first focuses on the unfolding events of 9/11 itself, from the days leading up to the attacks to the tragic aftermath. The second honors the lives lost in the attacks, and the third features relics and artifacts recovered from the wreckage. Don't miss the outdoor Memorial, too. You'll want to see the striking water features and the signature light patterns.
DAY 2
Stop #1: Empire State Building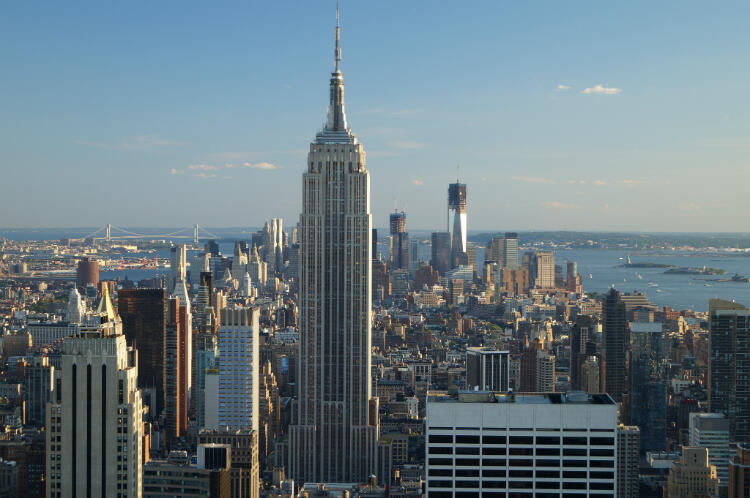 You've got to check out one of the most iconic structures in all of New York City – the Empire State Building. Ascend to the Observatory on the 86th floor for some of the best views of the entire city. A visit here first thing can actually be a good way to orient yourself in relation to the city at large. You'll see everything from above before you explore the city on the ground.
Don't forget to leave a little time to marvel at the interior and exterior of the building itself: its Art Deco style is very distinctive. Everyone entering this attraction is required to go through a security line, so plan additional time into your estimation. We recommend reserving at least an hour at this attraction (not including wait time).
Stop #2: Times Square (free!)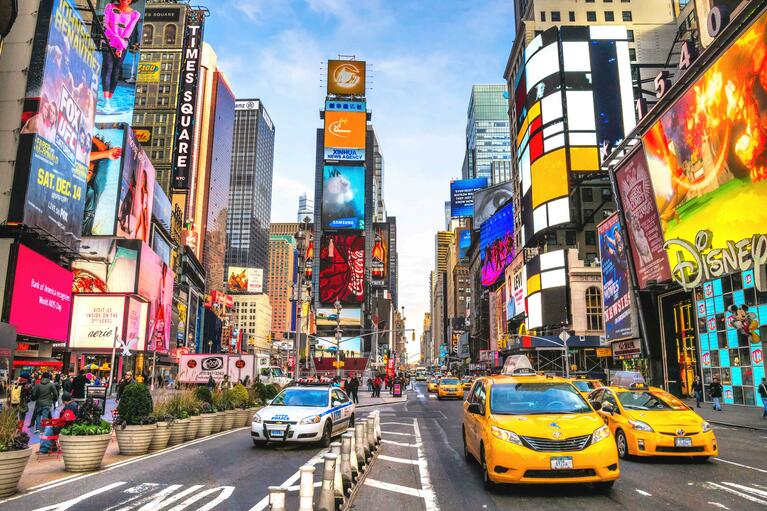 Despite the throngs of snap-happy tourits, it's worth the visit because there are so many fun and free attractions to explore in this neighborhood.
You'll also experience the best of NYC's funky side with street performers, artists, and entertaining characters populating this area. Stop in some of the big-name stores (even if it's just to window shop) and snap a few photos of the entrancing digital billboards. Depending on your tolerance for crowds and whether or not you want to grab lunch in this area or do some shopping, we recommend reserving at least an hour to explore Times Square. 
While you're in the area, why not join on to The TOUR, a specially desinged tour bus that will take you on a comprehensive  [...] around manhattan, ticking off 50 of its greatest landmarks along the way! You'll stop by Columbus Circle, Lincoln Center, Central Park, Fifth Avenue, and Rockefeller Center to name but just a few.
Stop #3: Museum of Modern Art (Indoor Option)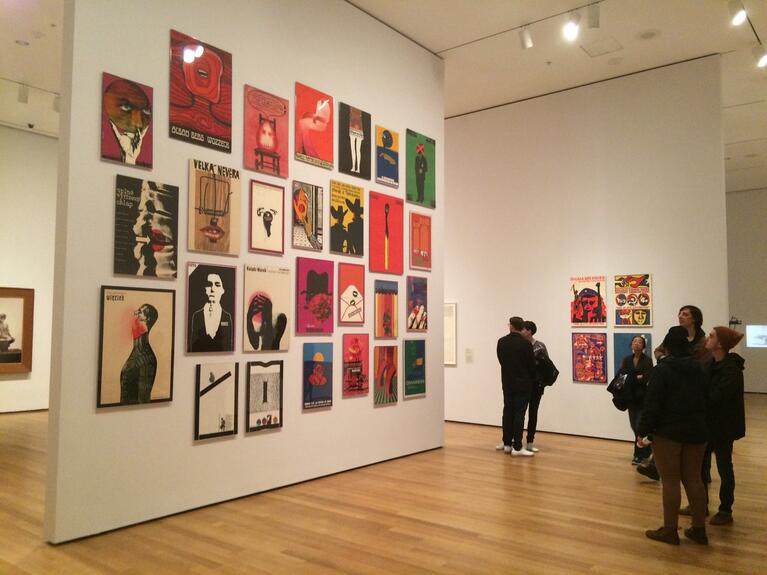 Spend an hour or two at one of the most popular art museums in the country. The Museum of Modern Art (MoMA) is home to quite possibly the greatest collection of modern art in the entire world. Some of the most famous works of art will be found in these galleries, including Andy Warhol's Campbell's Soup Cans, Van Gogh's Starry Night, and Claude Monet's Reflections of Clouds on the Water-Lily Pond.
You'll also see works by the biggest names in contemporary art, from Jackson Pollack to Cindy Sherman and beyond. Come here prepared to be inspired! Be sure to check out the gift shop, too, for some unique presents. 
Stop #3: Central Park Bike Rentals (Outdoor Option)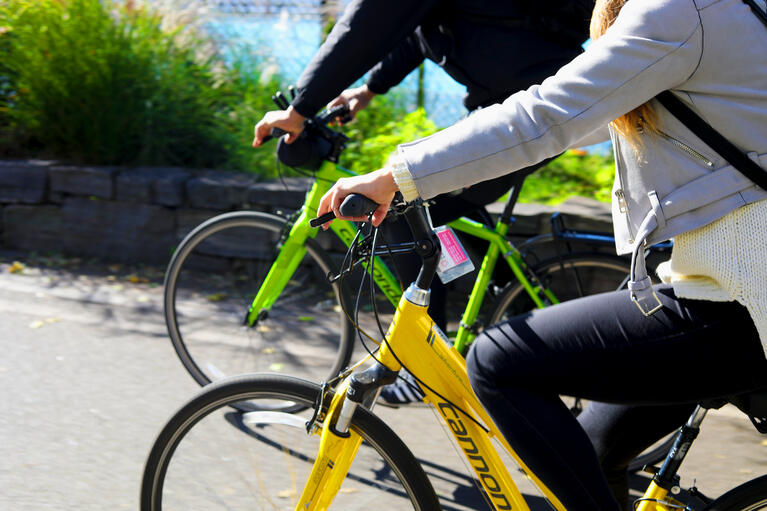 The Central Park sightseeing bike rentals are a great way to work off some of those calories from all the New York-style pizza you've been eating. Pick up the bike in the afternoon and ride around the many and varied bike paths that wind through Central Park--one of the best ways to explore the massive park.
If you're feeling adventurous, you can even use your bike as a means of transportation throughout NYC. It will save you from the traffic of driving or cabs and the sometimes confusing Metro subway system. It's also a great way to get around and see more of the city than you would on foot or from a distance on a bus tour. If you choose to explore by bike for a day, just pick your bike up before visiting your first attraction for the day.
The time that this attraction will take will vary a lot depending on what you want to do with the bike and how far you want to go. We recommend leaving at least one hour to enjoy exploring the Park itself, but you may want 2-3 hours if you're really active.
Stop #4: Top of the Rock Observatory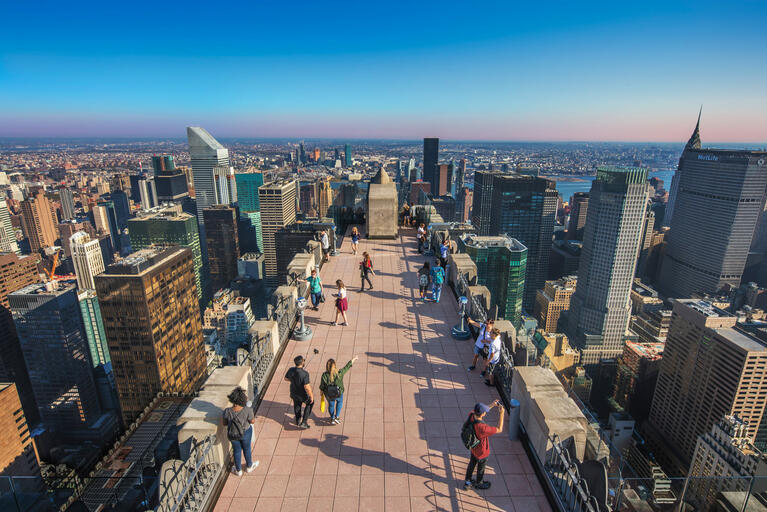 This perennially popular attraction is another way to get a great birds-eye perspective on New York City. If you feel like you didn't get enough with your Empire State Building visit, head to Rockefeller Center and explore this unique observatory at the Top of the Rock Observatory - plus, you'll get one of the best views of the Empire State Building from Top of the Rock.  
Check out our post on the Top of the Rock vs Empire State Building to compare and contrast the two.
 
Let's Recap
That's our plan for the perfect 2 days in New York weekend itinerary. From museums and tours to cruises and bikes, this two-day itinerary will show you a representative slice of the best attractions in the Big Apple.
Save on attraction admission
Heading to New York? Purchase a pass with Go City and you'll save on combined admission prices vs. paying at the gate. Remember, this 2 days in New York itinerary is just one of many ways to experience the city. Our passes give you the flexibility to create your own itinerary, so you can choose from dozens of top attractions and create a vacation tailored to your interests.