Traveling to New York City with only one day to explore? It can be hard to decide what to do with such limited time in your schedule. There are so many exciting New York attractions to visit, so having only one day to explore the city can be challenging.
From museums and sightseeing to shopping and nature walking, fitting everything into just one day seems impossible. Fortunately, we've put together a one day in NYC itinerary to help you make the most of your one day in the city.
This one-day itinerary includes:
Hop-On Hop-Off Big Bus Sightseeing Tour
Empire State Building Observation Deck
Chelsea Market & the High Line (free!)
9/11 Memorial & Museum
Spending more time in New York? Then take a peek at one of our sample 2 day, popular 3 day NYC itinerary, or for even longer stays - a week in New York City - enjoy!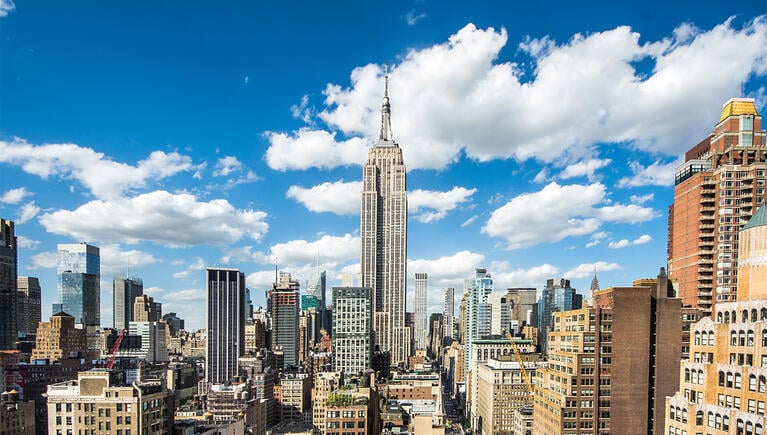 Stop #1: Hop-On Hop-Off Big Bus Sightseeing Tour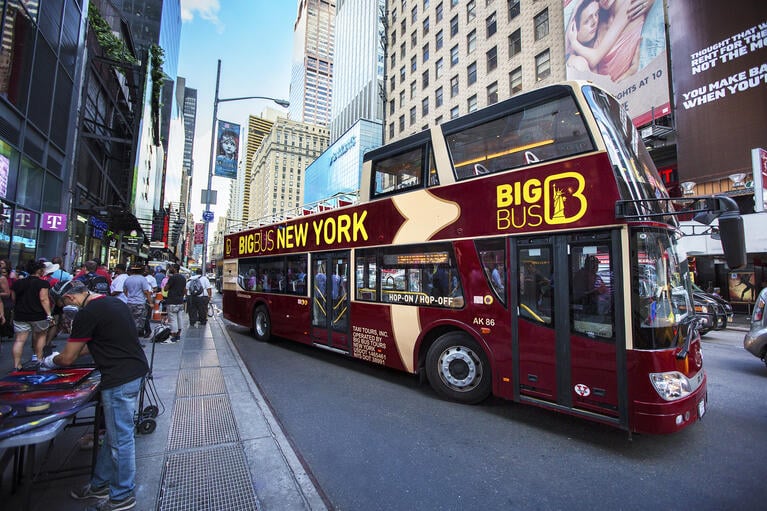 A hop-on hop-off sightseeing tour with Big Bus, is one of the best ways to start your trip. This classic bus tour includes loops of Downtown and Uptown Manhattan.
On the Uptown Route, you'll see top sites like the Metropolitan Museum of Art, Madison Square Garden, 5th Avenue, Times Square, and much more.
On the Downtown Route, you'll enjoy sights of Broadway, Wall Street, glimpses of Ellis Island and the Statue of Liberty, and many top skyscrapers. Every Big Bus double-decker bus features live narration by a professional guide, so you'll learn all about the city's history, culture, and more while your guide directs your attention to famous landmarks along the way.
There's also the option to enjoy pre-recorded commentary in 10 languages. This Hop On Hop Off bus tour is the perfect way to see the city with limited time. Plus, you can pick and choose which areas of the city you'd like to see.
Stop #2: Empire State Building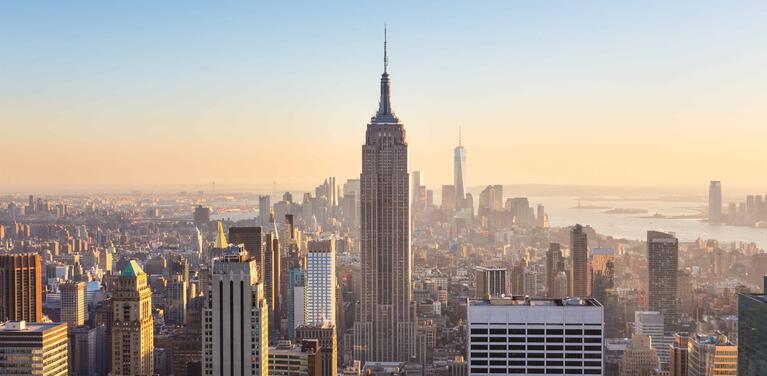 Visit New York City's most iconic building, the Empire State Building, and experience a New York City landmark. With a newly renovated Art Deco lobby, the historical Dare to Dream exhibit, and the Sustainability Exhibit, a visit to the Empire State Building offers more than just an impressive view (though that alone makes a visit worth the trip!).
You'll learn all about the historical and cultural significance of the Empire State Building, including its importance as a beacon of hope during a time of despair for the American economy. When you make it up to the 86th-floor observatory, you'll get spectacular views of downtown Manhattan and the water. You won't find better photo opportunities than this -- be sure to bring your camera for panoramic views of the city. The only landmark you won't be able to snap is the Empire State Building itself!
Check out our guide for tips on visiting the Empire State Building Observation Deck before your visit.
Stop #3: Chelsea Market (Indoor Option)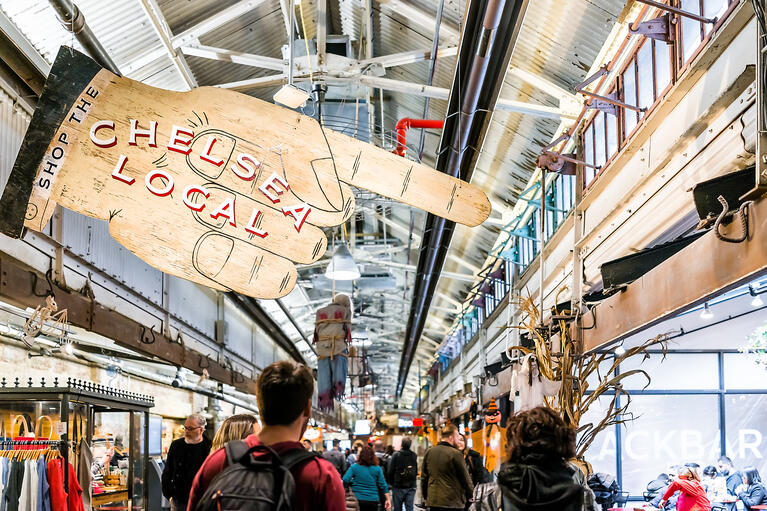 Spend an hour or so in one of the most popular local shopping areas – Chelsea Market. Filled with everything from crafty shops to local food joints and more, you'll find everything you could ever imagine wanting at this place. It's a great neighborhood resource that most travelers don't know about, so you'll get a good taste of NYC food culture without the expense of a five star restaurant.
Be sure to try some of their French pastries and cheese – a specialty.  Chelsea Market is a must visit if you want to experience the city like a local, or if you're looking for unique gifts and souvenirs!
Stop #3: High Line Park (Outdoor Option)
A rehabilitated stretch of elevated railroad track, the High Line spans about a mile and a half in the Lower West Side. Today this park is filled with beautiful greenery (with a particular focus on native species) and even some wild creatures. The High Line also hosts special events like stargazing and horticulturist-led tours.
You'll enjoy fantastic views of the city and the Hudson River, so it's worth it just for the photo opportunities alone. Depending on whether or not you want to walk the entire length, it will take between 20-30 minutes of your time. 
Check out this Top of the Highline and The Vessel Tour to get a deep dive into this cool area of the city.
Stop #4: 9/11 Memorial and Museum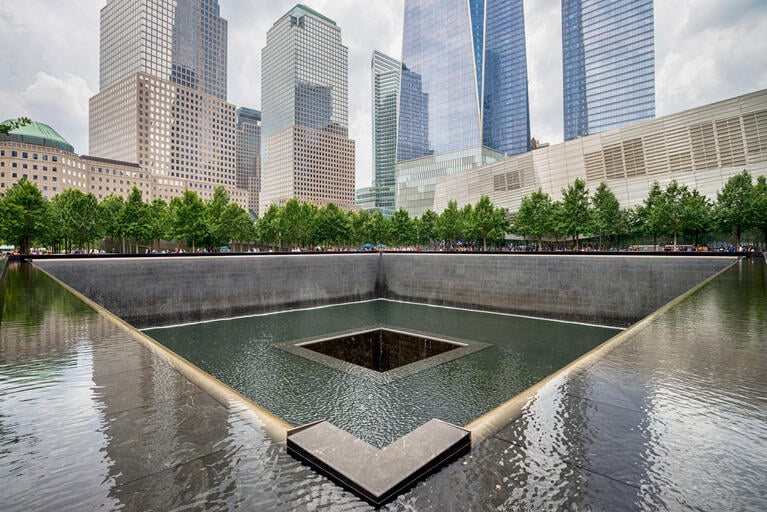 If you only have one day in NYC, then your last attraction should definitely be the 9/11 Memorial and Museum. This poignant memorial to the tragic events of September 11, 2001 is compelling and informative, and is one of the most popular museums in all of New York right now.
In the Museum, explore multiple exhibit galleries that retell the story of the time before, during, and after the attacks, remember the lives lost in the 1993 bombing and the 2001 attacks, and preserve relics that remain from the destruction of the Twin Towers. The exterior Memorial is striking, too, with its signature water features and light displays.
A visit to the 9/11 Memorial and Museum is a moving experience that inspires and touches every single visitor. 
 
Save on Attraction Admission
With a pass for New York with Go City, you can visit these great attractions all while saving on combined admission vs. paying at the gate. Remember, this one day itinerary is just one of many ways to experience New York City. Your pass gives you the flexibility to create your own itinerary, so you can choose from dozens of top attractions and create a vacation tailored to your interests.