Easter is a great time to visit New York, as the east coast shakes off its winter chill and the city bursts into colorful, vibrant life with a riot of tulips, cherry blossom and forsythia. Then, of course, there's the Big Apple's annual Easter Parade, when a flamboyant forest of the biggest, boldest (and downright wackiest) bonnets you've ever laid eyes on weaves its way through Midtown Manhattan. Egg hunts, too, make for a cracking Easter day out for kids aged three to 93 and, who knows, you might even get a chance to meet the Easter bunny herself. So, pack your spring layers, brace your sweet tooth for joy, and read on for our eggs-pert guide to all things Easter in NYC.
The Big Apple in Bloom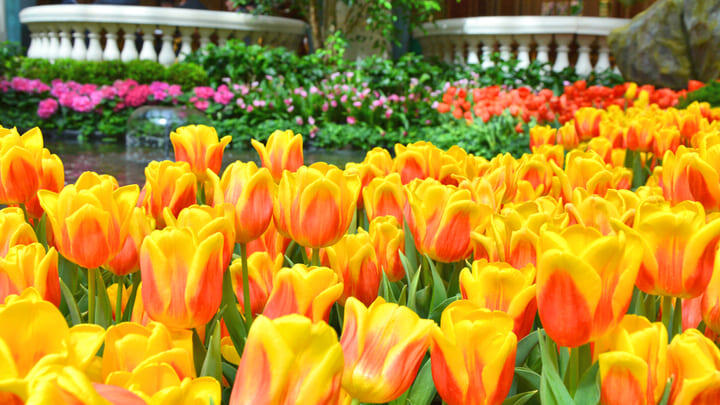 If flowers float your boat and plants set your heart aquiver, there may be no better time to visit New York than over the Easter weekend, when many of spring's best-loved blooms will be out in force. Central Park is as good a place as any to start your olfactory odyssey. Hit up the Bridle Path at 90th Street, the Jacqueline Kennedy Onassis Reservoir, and the aptly-named Cherry Hill at 72nd Street for your cherry blossom fix – the pretty pink blossoms opposite the fairytale folly that is the park's Belvedere Castle make for some of the finest spring selfie opportunities in town. If the weather plays ball, rent a bike to explore all of the park's hidden nooks, or take a rowboat out onto the tranquil lake.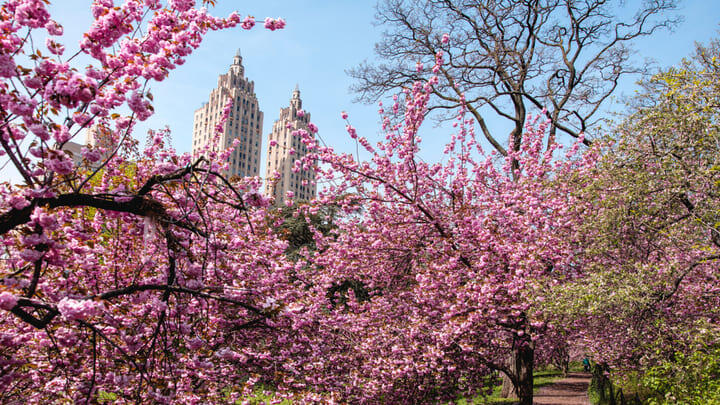 The brief but beautiful annual cherry blossom explosion continues over at Brooklyn Botanic Garden, where 26 species ensure good coverage from March through May. Meanwhile, the New York Botanical Garden adds a fragrant themed display of thousands of blooming orchids to the 200-or-so flowering cherry trees within its 50-acre forest. 
Want more? Take a spring stroll along the High Line (with a tour guide, if you so wish), where colorful wildflowers meet hip outdoor art installations and picnic spots are alive with the sound of birdsong and chattering squirrels. You'll spot pretty Lady Jane tulips, Sunburst witch hazel and Virginia bluebells along this elevated former railway line on Manhattan's west side. Or tiptoe through the tulips on Park Avenue: tens of thousands of the colorful blighters burst into bloom along the boulevard every spring.
New York Easter Parade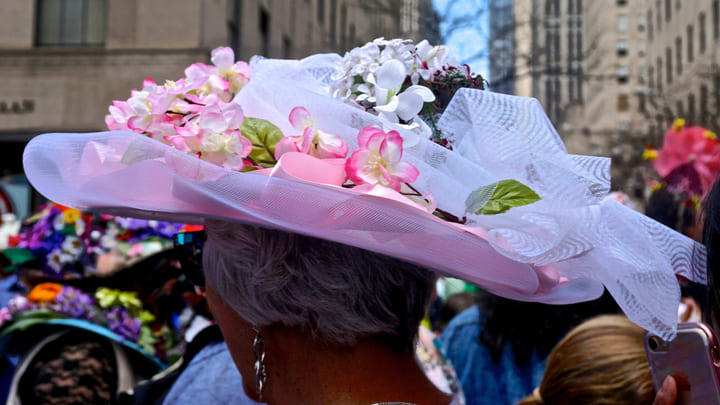 Put a great big hat-shaped marker in your diary for Easter Sunday, the eggstraordinary pinnacle of Manhattan's Easter calendar. For today is the day that New Yorkers from across the state converge at 49th Street to follow the short Easter Parade route along Fifth Avenue, clad in some of the most outlandish headgear you'll see in this galaxy, or any other. Yes, we're talking about the annual festival of Easter bonnets, in which you can expect to see people in everything from period costume (a hat-tip to the parade's 19th-century origins) to iconic New York landmarks in hat form (you may well lose count of the Empire State Buildings and Statues of Liberty), flamboyant flower-festooned fashion statements, and – for the very brave – pyramids of carefully balanced (real) eggs pointing precariously skywards.
There are no prizes to be won, just the fawning admiration of your peers as you strut your stuff along Fifth Avenue in your eggstravagant Sunday best. It's free to join and you can spend all day mingling with behatted fellow revelers along the half-mile route, with somewhere in the region of 30,000 people expected to turn up most years, weather permitting.
Easter Egg Hunts in NYC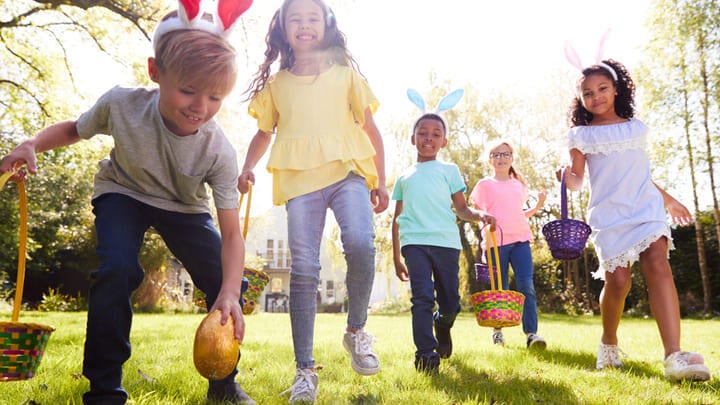 Whether you've got kids or not, there's surely no better way to spend your Easter weekend than mingling with the Easter bunny, having your face painted in a rainbow of colors and, of course, getting your sticky paws on some sweet, sweet Easter candy. You'll find plenty of events taking place in parks and playgrounds across the Big Apple over Easter weekend. Note that while there are dozens to choose from, NYC Easter egg hunts are extremely popular so book ticketed events well in advance and turn up early for free hunts to avoid disappointment.
Hit up East Harlem for the admirably punny annual NYSoM Easter Eggstravaganza, a free event that includes timed egg hunts, plus egg painting, a street fair and photo opportunities with the Easter bunny and pals.
Over on Governer's Island, there are hunts tailored by age group, with a whopping 10,000 painted wooden eggs to be found across 120 acres. Expect magic shows and puppetry as well as arts and craft stalls and a beer garden for the grown-ups.
You can even make it educational. CMoM (the Children's Museum of Manhattan) runs a fun Easter Egg scavenger hunt that's included with your admission ticket. Set your little bunnies loose to seek out the cute critters hiding in eggs around the museum. There are prizes for successfully completing the challenge and Miffy – a close relative of the Easter bunny – may also make a guest appearance on the day.
Easter Brunch in NYC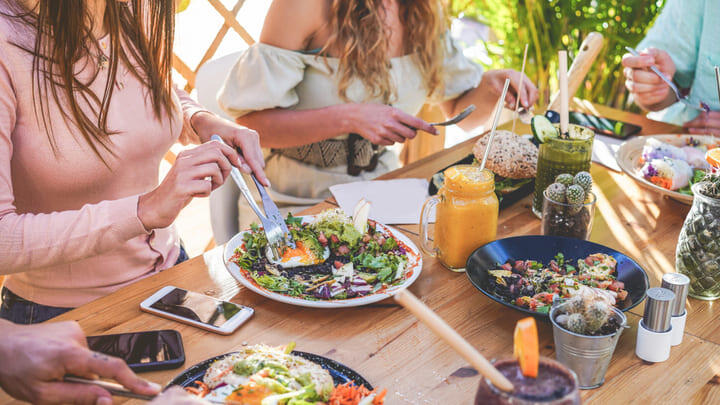 Brunching is practically a religion in New York so, if the above activities sound just a little too taxing for a relaxing Easter weekend break, feast your eyes on these beauties for some of the finest Easter brunches in town. And remember to book in advance!
The Dutch NYC.

This SoHo stalwart promises long boozy brunches fueled by some of the best pre-noon cocktails in Lower Manhattan. Pair heaving platefuls of cornmeal blueberry flapjacks and avocado toast with a reviving Matcha Sour, or a punchy

Oaxacan Sunset, with tequila, mezcal, hibiscus, lime and cassis.

Jacob's Pickles.

Hit the dive bars a little too hard last night? This Upper West Side diner has you covered, with comfort food classics including heart-stopping biscuit-and-egg breakfast sandwiches and fluffy pancakes with buttermilk fried chicken. Wash down with a Bloody BLT – vodka, bacon and a jalapeño-pickled egg.

Balthazar.

The Oyster Marys at SoHo's Balthazar are worth the entry price alone, but stick around for the divine eggs florentine and uber-comforting corned beef hash.

The Garden @ The Standard.

This East Village garden lets you tuck into oysters, steaks and mimosas in your own private yurt. There's even an adult Easter egg hunt, with prizes including an overnight stay at The Standard. Ideal if you've overindulged in cocktails and chocolate eggs.

Wynwood.

For a family friendly option complete with epic brunch buffet, egg hunt and Easter bunny photo opportunities, make for Wynwood on Staten Island. Grateful grown-ups get a mimosa or bellini on arrival.
Save on things to do on Easter weekend in New York City
Save on admission to NYC attractions with Go City. Check out @GoCity on Instagram for the latest top tips and attraction info.