What better way to experience Oahu than to engage in a celebration of its rich history and tradition? Locals and tourists alike welcome the holiday each year on March 26th - the birthdate of Prince Jonah Kuhio Kalaniani'ole Piikoi. Prince Kuhio was the heir to the throne of the Kingdom of Hawaii who became the 1st Hawaiian delegate to the United States Congress. As delegate, he wrote the first Hawaii Statehood bill in 1919, and won the Hawaiian Homes Act in 1921 - which set aside 200,000 acres of land for Hawaiian Natives. Prince Kuhio Day not only honors the former royal, but it is also a love letter to the individuals and organizations that strive to perpetuate the unique Hawaiian culture and traditions. Make the most of your visit to Oahu attractions this month, and take part in the festivities. All events are free and open to the public!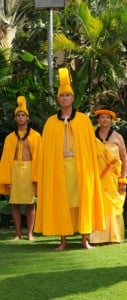 Prince Kuhio Commemorative Parade March 23rd, 2013 10:00am – 12:00pm Prepare to be dazzled by marching brands, drill teams, drum lines, important preservation advocates, and performers. Follow along as this magnificent parade of achievers make their way from Saratoga to Kapi'olani Park.   Prince Kuhio Ho'olaule'a March 23rd, 2013 10:00am – 5:00pm With native Hawaiian arts and crafts, exhibits by Native Hawaiian organizations and businesses, and access to some amazing local cuisine, there's something for everyone! Hawaiian musicians will provide ongoing entertainment to visitors at the Kapi'olani Park Bandstand.   Prince Kuhio Choral Concert March 23rd, 2013 7:00pm - 8:30pm  As a new addition to the celebration, revel in the delight of a Hawaiian a cappella performance at the Kawaiaha'o Church. The concert will feature groups such as Kawaiolaonāpūkanileo, Hawaii Youth Opera Chorus, UH Mānoa Hawaiian Chorus and the Kawaiaha`o Church Choir.  Through each choral arrangement, the audience learns about historical places and prominent persons in Hawaiian history.  It will celebrate compositions of Queen Lili`uokalani and arrangements of Dorothy K. Gillett.   Prince Kuhio Statue Lei Draping and Services March 26th, 2012 7:30am Set your alarm extra early and head to Kuhio Beach for a traditional lei draping on Prince Kuhio's statue in Waikiki at 7:30am, followed by a joining of esteemed Civil Clubs and Royal Societies at the Mauna'ala Royal Mausoleum by 8:30am. At this final resting place of beloved Prince Kuhio, you'll experience Hawaiian speakers, musicians, and dancers performing for excited onlookers during this commemoration of the achievements of Prince Kuhio.   Traveler Tips for Prince Kuhio Day: With your Go Oahu Card, there are dozens of opportunities to take advantage of in the midst of celebration. With a little bit of planning, you can take in the free festivities while making the most of your Go Oahu options at one low price!
Ditch the rental car! Parade routes mean traffic, detours, and inconvenience. Try renting bikes instead
We don't want it to rain on your parade - but in case it does, check out the Iolani Palace, where Prince Kuhio and his brothers were taken in by King and Queen Kalakaua at the advent of their mother's death in 1884. Experience the only official state residence of royalty in the United States, where the monarchy resided until it was overthrown in 1893. Another great rainy day option is to explore the city on the AlohaBus Double Decker Tour, where you will travel through Waikiki, Ala Moana, and Diamond Head while hearing fun and unique stories and facts. And the best part? The bottom floor of the bus is precipitation-free!
Get to know more about Hawaiian history at the Polynesian Cultural Center. You'll experience the culture of the Pacific Islands at this 42-acre, authentic complex of recreated villages from Aotearoa, ancient Hawaii, Tahiti, Fiji, Samoa, and Tonga. Each stop provides authentic regional cuisine, demonstrations of art and dance, and hands-on activities. You can learn about Polynesian voyages, explore history exhibits, and learn most about Hawaiian beliefs and religions.
To see additional details about Prince Kuhio Day, download the press release on the Association of Hawaiian Civic Clubs website. For more amazing ways to experience Oahu, check out our Go Oahu Card. Build your own pass or see it all – you decide with Smart Destinations!