Sea Life Park Hawaii is a great place to visit during your Hawaiian vacation - packed with opportunities to get face to face with all kinds of sea life, including dolphins, sea lions, rays, sharks, native Hawaiian fish, and more. While the dolphin encounter will be the highlight of your park visit, there are plenty of other great habitats to explore at the park. Check out our helpful guide for visiting Sea Life Park Hawaii and experiencing the Dolphin Encounter, packed full of ways to save on admission, tips for visiting, other nearby attractions, and much more.
Looking for Sea Life Park Hawaii Discount Tickets?
We've got you covered – Sea Life Park Hawaii admission is available with the below money saving options, so you can choose the attraction pass that's right for you: 1. All-Inclusive Pass – All you can do. Includes admission to dozens of attractions. 2. Build Your Own Pass – Select the attractions you want to visit prior to visiting. See all available passes, attractions & prices – Learn more.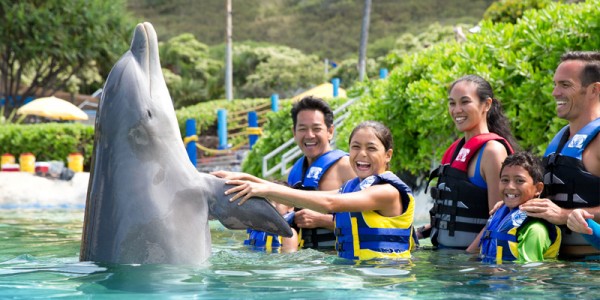 Tips for Your Dolphin Encounter
Reservations are required. Make your reservations at least 48 hours in advance and mention you have a Go Oahu Card when calling to reserve your spot.
Arrive at the park early to visit the other animal attractions or eat lunch. Arrive a minimum of 30 minutes before your reserved time, and make sure you check-in at the gift shop 15 minutes prior to your event time.
Wear non-toxic, biodegradable sunscreen. Some chemical-laden sunscreens can harm the dolphins. If you're not sure, the gift shop at the park sells animal-safe sunscreen.
Wear a swimsuit, because you will get very wet.
Bring a towel and a dry change of clothes.
Remove all jewelry, Band-Aids, hairpins, piercings, sunglasses, etc. before your dolphin encounter.
An adult must accompany children under the age of 8.
Parking costs $5 per vehicle, cash only.
Wheelchairs and strollers can be rented for $5 per day, and lockers cost $3.
Although cameras are not allowed during the dolphin encounter, bring your camera to capture special moments throughout the rest of the park.
Feed the birds! There is a bird enclosure with lovebirds, parakeets, and cockatiels. Get a free seed stick at the entrance and the lovebirds will perch on your hand and nibble.
What to Do at Sea Life Park
Sea Life Park is a safe haven for injured or damaged ocean wildlife. Sea Life Park does not house animals that are captured from the wild for human entertainment. The park's animal advocates and trainers work with the animals to rehabilitate them after an encounter or incident in the wild leaves them defenseless or susceptible to further harm.
Shark Tank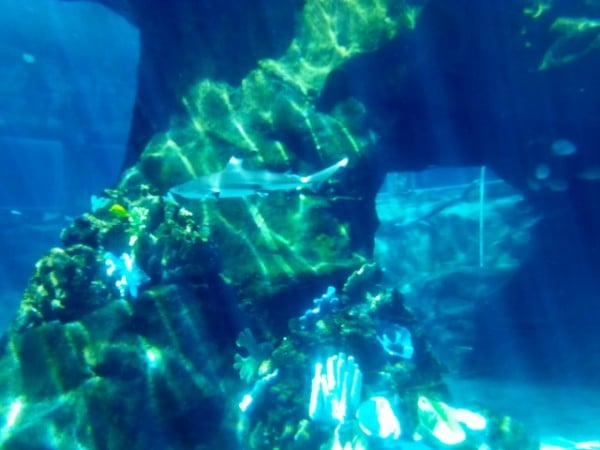 The shark tank is the first exhibit after the entrance to the park. Walk through a dimly lit tunnel featuring a 300,000 gallon tank that houses 10 native Hawaiian sharks (four different species).  The adventurous can even get into the tank with the sharks!
Sea Lions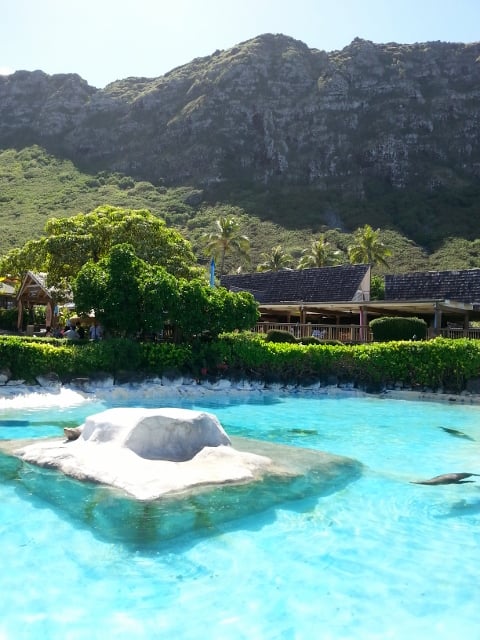 Sea lions are often confused with seals, but there are some big differences. For instance, sea lions have two sets of flippers that enable them to walk on land while seals use their small set of front flippers to drag their bellies across the ground. At the sea lion enclosure, you will learn more about these unique creatures while several sea lions float around, soak up the sun, and entertain you with their adorable antics. Sea lion swims are available.
Sting Rays
Hawaiian sting rays glide around a special lagoon where guests have the opportunity to observe, pet, feed, and even swim with these naturally curious animals.
Sea Turtles
The staff at Sea Life Park rescues injured sea turtles, nurses them back to health in the turtle cove, tags them, and releases them back into the ocean, where marine biologists can keep tabs on the turtles throughout their very long life span. Turtles are highly susceptible to human germs, so please don't touch the turtles.
Penguins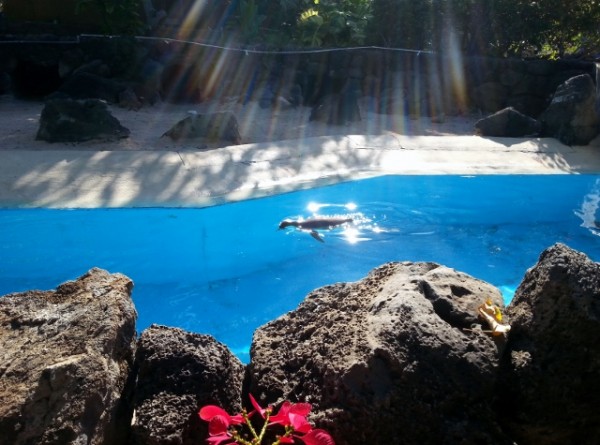 Yes, there are tropical penguins! Sea Life Park houses a group of endangered Humboldt penguins. These penguins grow to an average 2- 2 ½ feet and weigh about 9 pounds. When they get too hot, these warm-weather penguins even blush, turning pink on their face, wings, and feet. Learn more at the daily 10:45 am Penguin Trainer talk.
Shows
The daily Dolphin Cove show begins at 12:30 pm, where you can learn about the individual dolphins and feed them after the show. Sea lions entertain with their acrobatics and goofy antics during the Kolohe Kai Sea Lion Show, at 11:15 am and 2:15 pm each day. The Hawaii Ocean Theatre brings dolphins, penguins and sea lions together in one amazing collaboration at 10:00 am, 2:00 pm and 4:00 pm daily.
Other Animal Interaction
Visit the Aloha touch pool and the aviary to have some one-on-one fun with the natives.
Dolphin Encounter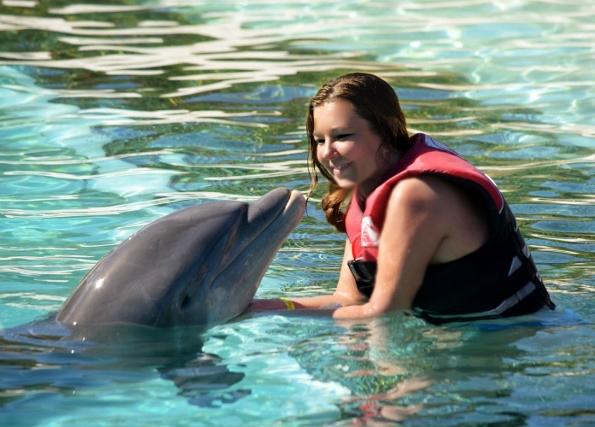 Getting up close and personal with dolphins can be an amazing once-in-a-lifetime experience. For the dolphin encounter, you'll be assigned to a small group and a dolphin trainer. Don your lifejacket and follow a gorgeous path through native grasses and brightly colored flowers, winding alongside a breathtaking vista of sky and sea to the charming cove where dolphins wait to play with you. The trainer will lead you onto a waist-deep platform and give you some simple instructions. Listen closely and follow the instructions for the best experience. After chatting with the trainer, your dolphin will perform tricks, tease you, and bask in back and belly rubs. Each visitor gets to dance with a dolphin and exchange kisses. A photographer will take pictures, available for purchase in the gift shop after your encounter. You will meet several different dolphins, each with their own personality, but Sea Life Park's dolphin cove claims a special surprise no other place can- the world's only known wholphin! What's that? Why, it's half whale, half dolphin. In 1985, a male false killer whale and a female bottlenose dolphin mated in the cove at Sea Life Park and created the first surviving whale-dolphin hybrid. Kekaimalu is truly a one-of-a-kind creature, sweet and beautiful, and you can only meet her (and her daughter, ¼ whale) at Sea Life Park.
Nearby Hawaiian Attractions
There are plenty of other great attractions located nearby. Here are a few we suggest adding to your itinerary...
Sandy Beach is a popular place to get some sun and soak in the sea. There are restrooms and a concession stand if you need to make a quick roadside stop.
Stop at the blowhole lookout and watch mother nature's magnificent version of a sneeze.
Makapu'u Lookout on the ocean side of the road offers fantastic views and photo opportunities, and you can hike up to the well-maintained Makapu'u Lighthouse for a more historical perspective.
Hawaii Kai Golf Course offers two 18-hole courses and spectacular views set in Koko Head Park. Wind can be a challenging factor at the par 72 Championship course, while the par 54 Executive course tests golfers' putting and chipping skills with its undulating greens.
Places to Eat Nearby
There's a nice little Hawaiian BBQ and Shave Ice stand just outside the park entrance.
The park itself has a cafeteria-like area with several dining options, including the famous Pink's Hollywood Hot Dogs, local-style food at Kau Kau Kitchen, and Tiki Treats ice cream stand. Grab a cold one at Longboard Lounge overlooking the sea lion pool, or get some traditional park snacks like funnel cakes, dippin' dots or popcorn chicken at the Wiki Wiki Snack Bar.
The Chief's Luau at the park is rated one of Oahu's top luaus, and it's rated Oahu's #1 activity on TripAdvisor. The most interactive luau in the islands offers some really authentic and exciting experiences in addition to the feast.
The Queen's Restaurant at nearby Hawaii Kai golf course serves up a well-rounded menu of tasty, reasonably priced fare for breakfast and lunch, as well as beer wine, champagne, and cocktails.
Need to Know
Hours
Park Hours: Daily, 9:30 am-5:00 pm
Dolphin Encounter time: 3:15 pm - Other times may be available. Please check when making reservations.
Directions & Address
41-202 Kalanianole Hwy Waimanalo, HI 96795 Driving From Waikiki: Take H1 East. H1 becomes Highway 72, continue east through residential area. Residential area will end, continue driving along the coast past Hanauma Bay, the Blow Hole and Sandy Beach, to Makapuu Point. Park will be on the left side of the road, large sign by highway entrance.
Save on Tickets with a Go Oahu Card
Remember, the Go Oahu® Card is the best choice for maximum savings and flexibility, which includes Sea Life Park Hawaii tickets, plus admission to your choice of other top attractions. Save up to 55% on top museums, tours, and activities vs. paying at the gate. Visit multiple attractions for one low price.