The island of Oahu is a hub of excitement, culture and natural beauty. Living up to its nickname the ''Gathering Place'', the island draws in 10 million visitors each year – and it's easy to see why! For anyone making their way to this major tourist hotspot for the first time, it can be a little difficult to figure out where would be best to stay. Here at Go City, we don't enforce the idea that there's one perfect place – rather, you should pick the spot that best fits your vacation plans. If you're looking to be in the center of all the action, we recommend staying in Waikiki. For those who want to immerse themselves in nature, Diamond Head would be a great choice. Or, to have a more authentic experience away from all the hustle and bustle, the Windward Coast is an area well set up for vacations. Whichever way you choose to enjoy Oahu, we're sure you'll have a blast. For further information, have a read through our list of the top places to stay on the island.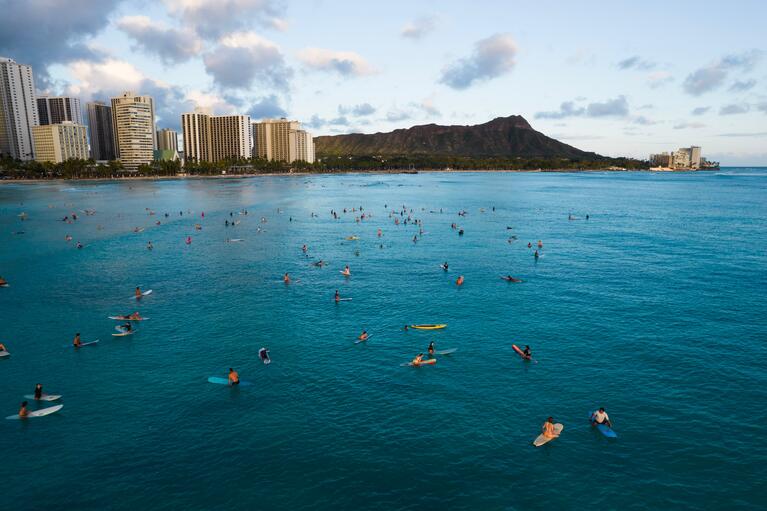 Waikiki 
Boasting beautiful sugar-sand beaches and unbeatable scenery, Oahu really has it all. Planning a trip to the island can be a little daunting, since there's so much to take in. If you're looking to stay in the center of all the excitement, we recommend Waikiki for its fantastic resorts and spirited energy. As the most popular place to stay in Oahu, most of the area's accommodation is located here. Lively and fun, the area has everything to keep you busy. One of the area's top attractions is, of course, Waikiki Beach. Amongst the various things to do here, you'll find that snorkelling, surfing, sailing and whale watching are popular choices. As the epicenter of tourism in Hawaii, everything is on your doorstep; the streets are flanked by hundreds of restaurants, cafes, tour centers and convenience stores. Quite like the Las Vegas Strip, the area is well known for its vibrant nightlife – after sunset, Waikiki comes to life with waterside cocktail bars, fine dining and hula shows. Whatever trip you're planning on having, this place is always a top choice.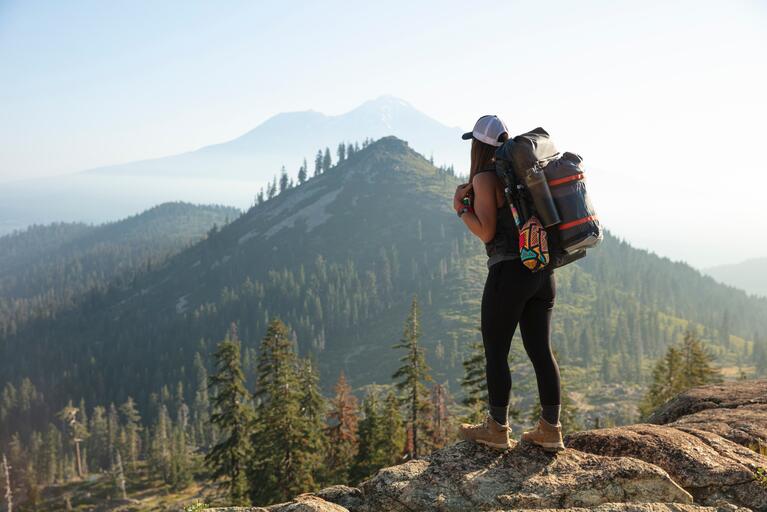 Diamond Head 
Though Oahu is quite small, it has many distinct areas catering all different types of travellers. For those looking for a quieter experience in nature, we recommend checking out Diamond Head. Whilst the area is still close to Waikiki, it tends to be less crowded, so you can take some time for yourself. With lots of big parks, relaxed beaches, and of course, the Diamond Head Trail in the vicinity, the area is great for those who are looking to take a break. Whilst the area is a little more low-key than Waikiki, you'll still have plenty of options when it comes to shopping and dining. Another perk of staying in this particular area is that whilst it's still pretty close to Waikiki, you'll find that accommodation is much cheaper – win-win! A small, laid-back region, Diamond Head offers the paradisial Hawaiin dream experience for those who like to take it slow.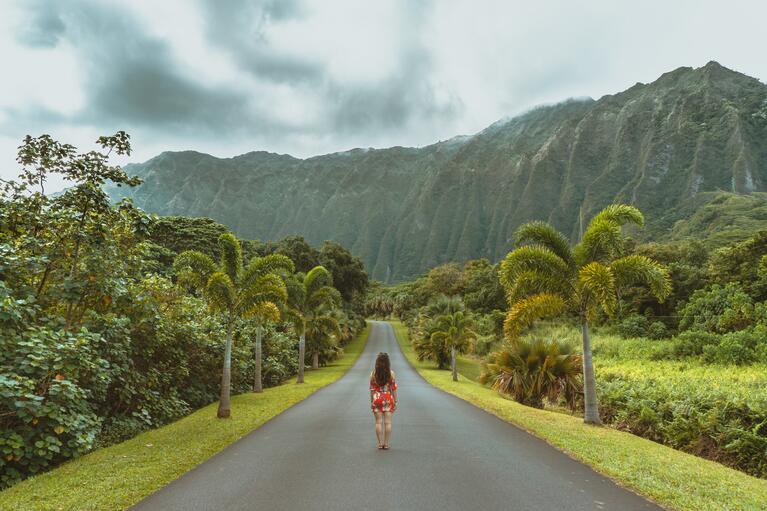 The Windward Coast 
Those looking to live like the locals will enjoy the Windward Coast for its fascinating culture and unfaltering serenity. Bringing the dreamy postcard picture of the ultimate Hawaiin vacation to life, this area is great for those who want something a little bit more relaxed. With its many beaches and ranches, this place is great for those who want to get in touch with Mother Nature. We recommend checking out the Kualoa Ranch, which has served as a popular filming destination for decades. Upon arrival, you can take Hollywood movie site tours, ziplining classes, or go sailing. If you're looking to learn more about the background of the Windward Coast, you'll be in luck - from botanical gardens and bays to lighthouses and temples, you'll never be bored here. Another benefit of staying here is that it's just a short drive out from Waikiki, meaning that you'll never too far from all of the buzz, if you want to partake. Still, since this area isn't at the center of Oahu's tourism district, hotel prices tend to be cheaper. Perfect for those who are looking for peace and quiet on vacation, the Windward Coast is the way to go.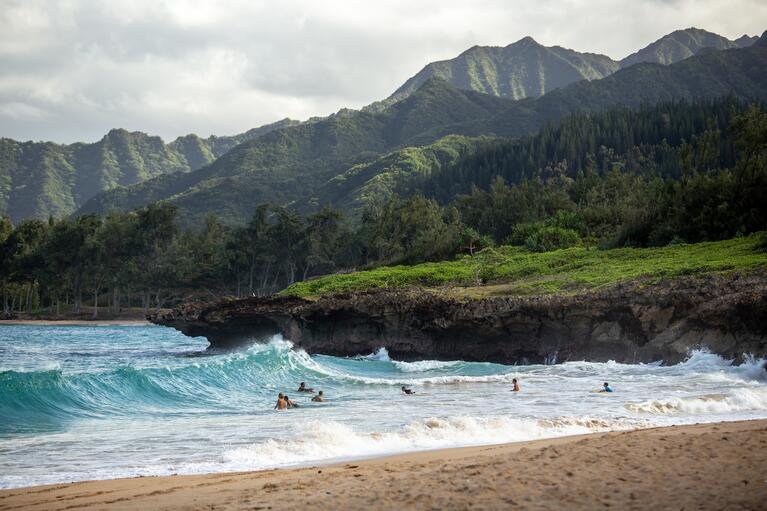 The North Shore 
Oahu often conjures up the image of palm tree-fringed beaches and stunning views. If you're looking to bring the dream to life, then the North Shore is where you'll want to be. Great for families and solo travellers alike, the area is renowned for its rolling waves and tropical gardens. Base yourself here for nature, great food and a laid-back surfer vibe. Things to do at the North Shore run the gamut - indie galleries, surf shops and Hawaiin lunch spots line the streets. Amongst the various things to do here, you'll find that snorkelling, cliff jumping, and paddleboarding are super popular. Far out from Waikiki, the North Shore is a world apart from all the hustle and bustle. Since the area is way out from Oahu's main tourism center, lodging tends to be cheaper here. We recommend going in the summertime since you'll be able to fully enjoy all the fantastic outdoor activities. Great for those who like to play it cool, the North Shore's crystal-clear waters and wondrous nature trails and well worth the stay.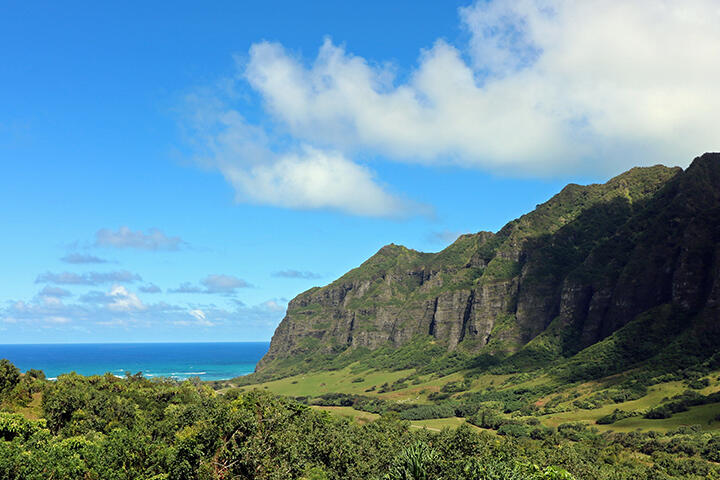 Forever fun and exhibiting a rare type of natural beauty, Oahu has been a longtime favorite for vacations with friends and family and romantic getaways for generations. From its beautiful beaches to fantastic hiking opportunities, the island has so much to see, do and experience. Trust us when we say that you'll never be bored here. For awe-inspiring landscapes, vitality, and culture, you couldn't find anywhere better. And whilst planning a trip can be a little stressful, we promise that it will all be worth it! Explore Oahu to its fullest with Go City's All-Inclusive Pass or Explorer Pass. If you'd like to know more, connect with us on Instagram and Facebook. With Go City, you can see more, for less.