Planning to spend some time exploring Orlando? We put together a go-to guide packed with information for getting around the city and beyond.
Renting a car is recommended as it's the most convenient option for getting around Orlando. Alternative options include public transportation, taxis, and hotel shuttle services. Many hotels located near I-Drive and other popular attractions offer free or inexpensive shuttles to attractions as well.
What about if you're planning to visit lots of Orlando attractions? Be sure to check out the pass for Orlando by Go City® – the more you do, the more you save.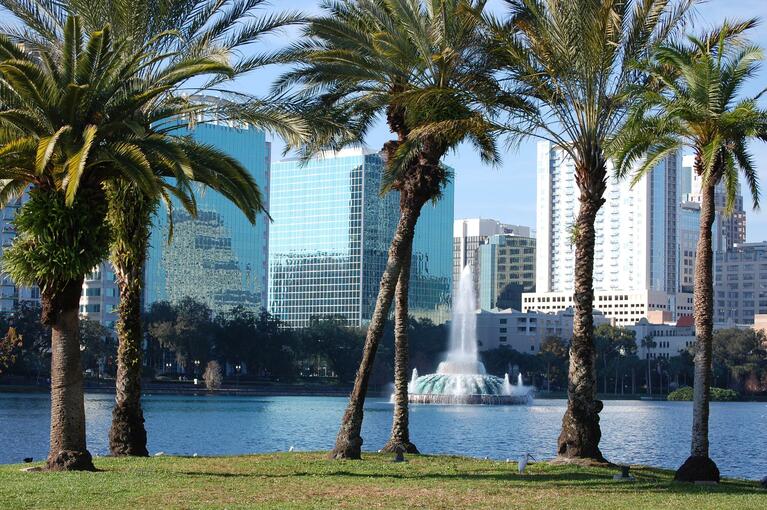 By Car (Recommended)
The easiest and most convenient way to get around Orlando is by car as many of the city's top attractions are spread out and require multiple transfers on public transportation. If you plan on driving, be sure to keep some cash on hand for tolls and consider investing in a good map (free area maps provided by attractions are not the most reliable) or bring a GPS with you.
If you have access to a SunPass, EZ-Pass, I-Pass, or anything like that, we also recommend bringing it along for this trip. Tolls can be expensive and many areas have shifted to electronic-only tolling.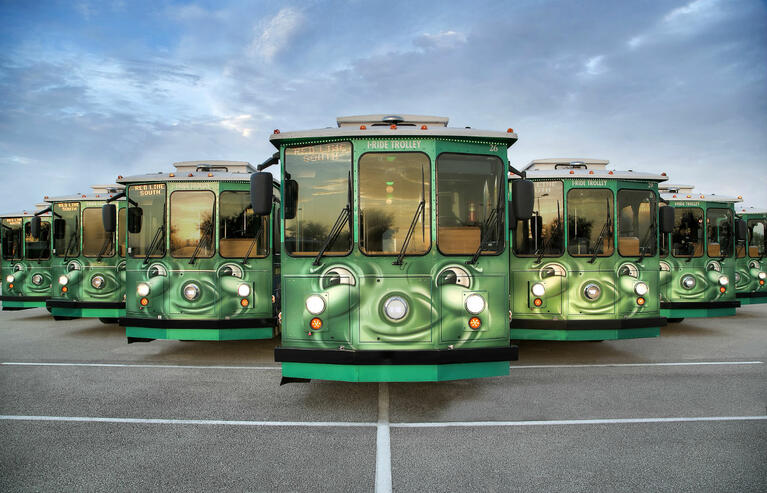 By I-Ride Trolley in the International Drive Area
If you plan to stay in the International Drive, also called I-Drive, area, consider purchasing a pass for the I-Ride Trolley which services lots of attractions in the I-Drive area including SeaWorld, Universal Studios, Islands of Adventure, and more. Single rides are available but require exact change.
I-Ride Trolley stops include 6 theme parks, more than 200 restaurants, more than 485 shops and premium outlets, over 30,000 hotel rooms, and more. Visit iridetrolley.com for more information.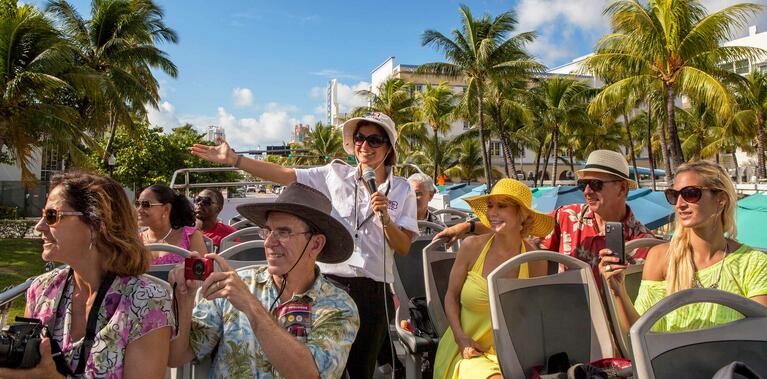 By Bus
LYNX, Orlando's comprehensive bus system can get visitors to most areas in Orlando and beyond but can be a hassle when it comes to trip planning and bus schedules.
LYNX bus stops are marked with a pink bus or paw print sign and run ever 15, 30, or 60 minutes depending on the route. Check their site for schedules and route maps.
LYMMO, Orlando's free downtown circulator bus service offers service throughout the immediate downtown Orlando area. Check their site for schedules and route maps.
Keep in mind that most public transit services stop operating some time around midnight or earlier, so they aren't a good option if you're planning to be out late.
By Taxi or Ride Share
Taxis are typically available at major attractions and most hotels however; most visitors find that renting a car is less expensive than relying on taxis. You might also opt to use a ride share service like Lyft or Uber if you're only trying to get between a few places (or if you're going out for the evening and don't want to drive).
Keep in mind that you'll need to download the app of your chosen service in advance.

Save on Admission to Top Orlando Attractions
Many awesome attractions are included with Go City®. Choose as you go from dozens of top Orlando attractions and save up on combined admission vs paying at the gate.