WonderWorks will turn your world upside-down! This indoor amusement park for the mind combines education and entertainment to create Orlando's best family attraction. With more than 100 hands-on exhibits that challenge the mind and spark the imagination, there's plenty to keep guests of all ages entertained all day long. 
It's not quite a museum, and it's not quite a theme park – it's something completely unique that you won't want to miss on your vacation in Orlando.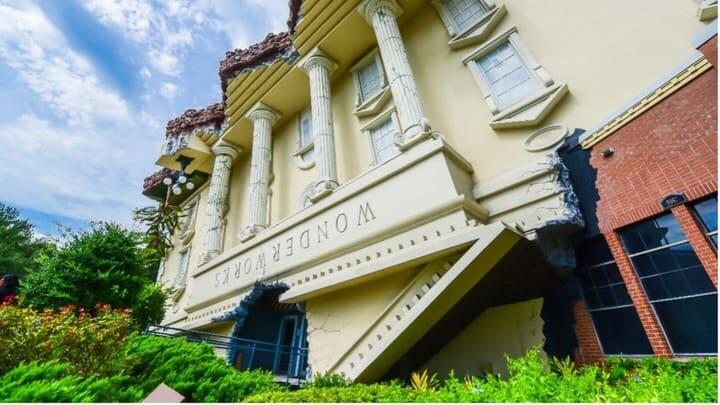 How to get Wonderworks tickets
We've got you covered. WonderWorks tickets are included with your All-Inclusive Pass and Explorer Pass, so you can choose as you go and save money as you do! 
Here are a few handy tips for your WonderWorks adventure: 
Wear closed-toed shoes and comfortable clothes. Closed-toe shoes are required to participate in the ropes course and several other exhibits, and skirts/dresses aren't permitted on the ropes course.
Plan to spend three to four hours inside. There are over 100 interactive activities spread across three floors that you'll want to explore. Your pass lets you stay as long as you'd like. 
Make sure to bring your camera! You'll want to capture all of the exciting experiences inside, not to mention the eye-catching upside-down exterior. 
What is there to see and do at WonderWorks? 
Guests of all ages can explore the six Wonder Zones, each one diving into a different STEM topic: extreme weather, physical challenges, space discovery, light and sound, Wonder art and imagination. Between interactive exhibits, rides, games, photo spots, and much more WonderWorks has everything you need for a day of family fun.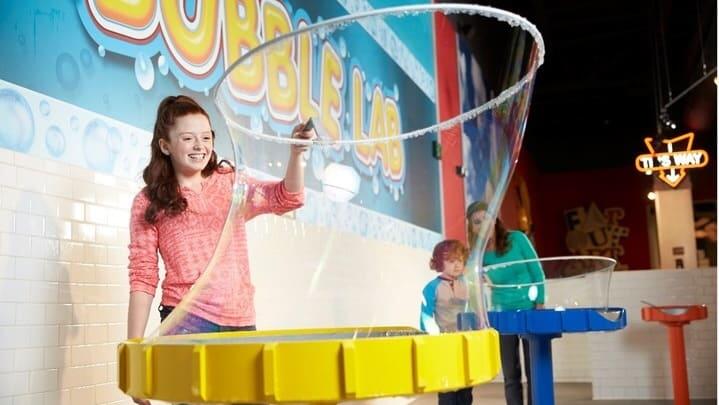 WonderWorks highlights 
Inversion Tunnel – with the ceiling under your feet and the ground above your head, you'll need to pass through the spinning Inversion Tunnel to realign yourself and start your adventure.
Astronaut Training Challenge – hop into this 2-person gyroscope to experience the feeling of weightlessness and the rolls and tumbles that astronauts feel when they're conquering missions in space.
Bubble Lab – if you're anywhere between the ages of one and 100, you'll love the WonderWorks Bubble Lab. Create bubbles the size of basketballs or even one big enough to fit inside!
Glow-in-the-dark Ropes Course – WonderWorks takes family fun to new heights with an indoor ropes course! Scale a maximum of 36 feet while conquering over 20 different obstacles on this glow-in-the-dark experience. 
The Outta Control Magic Comedy Dinner Show – wrap up your day with a hilarious, family-friendly dinner show. This one-of-a-kind entertainment experience is filled with mind-blowing magic, non-stop laughter, engaging audience participation and unlimited pizza. The Outta Control Dinner show is included with your pass. 
Places to eat
WonderWorks is home to Wonder Bytes, a delicious café with plenty of meal, snack and drink options. 
Those who elevate their visit with a reservation to The Outta Control Magic Comedy Dinner Show can enjoy unlimited hand-tossed pizza, salad, beer, wine, soda and dessert during the performance!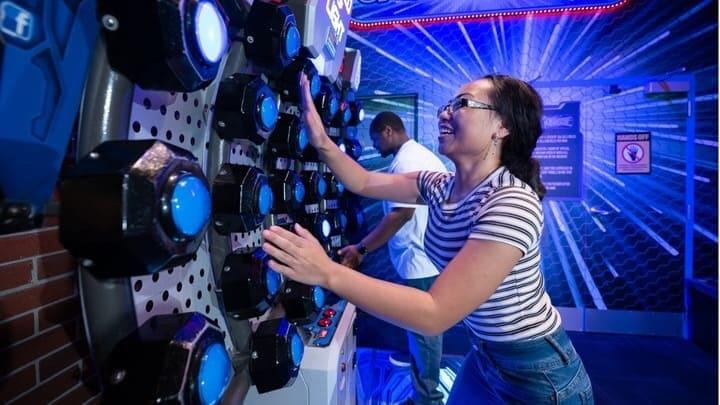 Attractions near the upside-down house
Right next door to WonderWorks, you'll find Pointe Orlando - filled with dining, shopping and show options.
A short walk down the road is Icon Park, home to The Wheel, Madame Tussauds Wax Museum, the Museum of Illusions and many other great attractions. 
Thrill seekers will love iFLY, an indoor skydiving experience nearby. 
Want to enjoy the Florida sun? Shoot a few holes at Pirate's Cover Adventure Golf. 
WonderWorks is open 365 days a year from 9AM to 12AM. Just show your pass at the WonderWorks admission counter and you're in! 
This attraction has exhibits with flashing lights and motion which may not be suitable if you have heart problems, diabetes, vertigo, seizures or any other light/motion sensitivities. Height and weight restrictions may apply. 
Save with Go City
Remember, Go City is the best choice for maximum savings and flexibility, which includes WonderWorks tickets, plus admission to your choice of other top attractions. You'll make great savings on entry to top museums, tours and activities vs. paying at the gate. Visit multiple attractions, all for one money-saving price.