Head to the Grand Opening of Orlando i-drive 360, Orlando's newest entertainment destination, tomorrow, April 29th, to watch Nik Wallenda pull off a seemingly-impossible stunt, see the unveiling of "360-degrees of non-stop fun" and attractions, and catch lots of top-notch entertainment.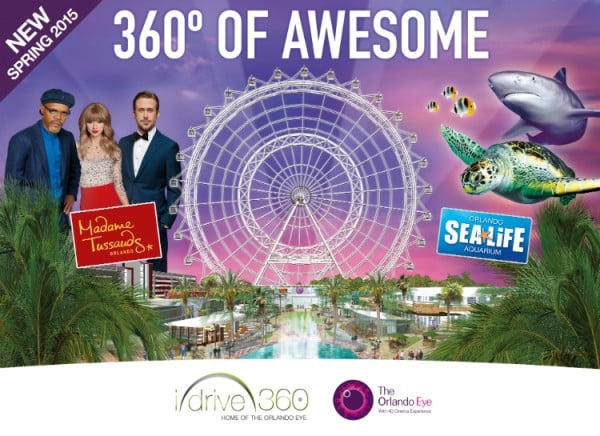 The details:
Who: the Grand Opening of i-drive 360 is open to everyone
When: Wednesday, April 29th, 2015
Where: i-drive 360, Orlando, FL
Why: Nik Wallenda, fun, entertainment, attractions, shopping, good eats, and more
Nik Wallenda's stunt:
Nik Wallenda
, of the famous Flying Wallenda family and known for his daredevil tightrope walking stunts, is going to walk along ICON Orlando (formerly the Coca-Cola Orlando Eye) while it's spinning.
He's going to do what?
Walk along ICON Orlando...
while
 it's spinning. 400-feet off the ground. No suspension or support system, nada. Due to the construction of the wheel, he won't even be able to use his balance bar and he'll have to step over obstacles and duck under a beam at one point during the walk.
I-Drive 360 Attraction highlights:
Places to eat nearby:
Yard House:
 We'd describe Yard House's menu as classic American Bar fare with unique, flavor-enhancing upgrades to every meal. We can't get enough of it. Wind down after your day of exploration with a yard (yup, 3-feet) of your favorite beer on tap. (location: 8367 International Dr, Orlando, FL 32819.)
Rocco's Tacos:
 Our go-to restaurant for authentic Mexican and margaritas is Rocco's Tacos. Guacamole is prepared table-side, the "street tacos" are bite-sized perfection, and the "elotes" (Mexican street corn) will make you want to come back on a weekly (ok, daily) basis. Bonus: they have a tequila selection that will knock-your-socks off. (location: 7468 W. Sand Lake Rd, Orlando, FL 32819.)
Nightlife:
Señor Frogs: a top destination for tourists and locals alike, Señor Frogs, "Where anything can happen", is always a party. (location: 8747 International Dr, Orlando, FL 32819.)
Howl at the Moon:
a fun place to go with a crowd, this dueling piano bar takes requests (bump yours up in the queue with a tip), features novelty drinks, and promises a good time. (location: 8815 International Dr, Orlando, FL 32819.)
Tin Roof:
catch some live music and grab some drinks at a place that prides itself on being unpretentious and fun. (location: 8371 International Dr, Orlando, FL 32819.)