Looking to ring in the new year someplace special? Why not consider spending the last moments of 2014 in sunny Orlando, Florida? With plenty of exciting and unique ways to celebrate the last holiday of the year, Orlando is a great family-friendly New Year's Eve destination that's sure to please. Check out our list of suggested Orlando attractions, and share your own plans in the comments! What would a visit to Orlando be without a little bit of Disney? Celebrate 2015 at one of Disney World's many themed parties, including events at Magic Kingdom, Epcot, and Hollywood Studies. There'll be fireworks at Magic Kingdom and Epcot, too! Be sure to arrive at the parks early, as they'll be very popular this time of year and will actually stop admitting new guests after a certain point to contain the NYE festivities.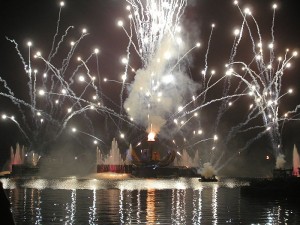 If you love the theme park idea but are looking for something a little different, check out either park at Universal Orlando Resort. From 8:00 am to 1:00 am on New Year's Eve, both Islands of Adventure and Universal Studios will feature special "party zones" complete with DJs, costumed characters, and, of course, midnight fireworks. Best of all? The admission to this festive event won't cost you anything extra – same as regular park admission. Is one of your New Year's resolutions to be more in touch with nature? Then why not start the year off right by celebrating 2015 at SeaWorld Orlando? Enjoy a musical celebration and a thrilling fireworks display at this renowned sea life park after a day of exploring and playing. Regular attractions and shows will be available during the daytime hours, with NYE festivities available later in the evening. Be sure to arrive at the park early, so you don't get stuck in too many crowds at your favorite rides!
For those of your travelling with small children, we've got the perfect NYE celebration for you. Look no further than
LEGOLAND Florida's
Kid's New Year's Eve – a special event where instead of a Ball Drop, you get a giant LEGO Drop! Conveniently for you and your kids, this ball drop takes place at 7 pm so you don't have to worry about bedtimes being interrupted. You can also expect fireworks and a kid-friendly dance party at this very-LEGO New Year's Eve. Leaning towards something a little more adult-friendly? Check out the New Year's Eve festivities at CityWalk Orlando. Filled with all-you-can-eat tasty gourmet food, amazing live music, and other festive performances, you'll be subject to sensory overload at this incredible event. You'll even get to enjoy a midnight champagne toast! Another top-notch adult-friendly NYE will be the outdoor festivities on Wall Street. This exciting block party features a lightshow, a dance party, and a countdown hosted by Orlando's own DJ Draven. The event begins at 8 pm and concludes with a thrilling celebration at midnight. This event is ticketed, but the cost is only $25-$30 dollars. So whatever your taste in New Year's Eve festivities, 2014 holds plenty of exciting opportunities for you and yours to celebrate the end of the old, and the start of the new. From kid-perfect to adults-only, these festive events are an ideal sampling of the many exciting events that Orlando has to offer for families not only on NYE, but year round as well. If you're looking to explore some other
Orlando attractions
while you're in the area, consider picking up an all-inclusive
Go Orlando Card
, or a
Build Your Own Pass
, both of which can be used on your smartphone for easy breezy admission. Happy New Year's!