The humid subtropical climate of Orlando, Florida is home to extensive swamps, wetlands, and bogs. This environment makes for an ideal setting for many unique land and marine animals. In your Orlando visit, you simply cannot overlook the bevy of wildlife at your fingertips! From gators to pelicans to bears and beyond,  the many Orlando attractions offer a multitude of options to satisfy your nature curiosity. Florida EcoSafaris at Forever Florida is a two-hour voyage takes you through a 4,700 acre traditional horse ranch and back country that is teeming with some of the most notorious Floridian fauna. Marvel at the natural streams, wetlands, and cypress forests of 9 different ecosystems as you seek out alligators, black bears, white-tailed deer, the endangered Florida panther, and more! Gatorland goes far beyond just the infamous flesh-eating reptiles! Get an authentic Florida experience as you see swamp areas, breeding marshes, and exhibits galore! See the Gator Wrestlin' Show to witness a brave handler wrestle an 8-foot alligator! For a laugh, check out Up Close Encounters – a comedic experience involving snakes, exotic birds, and animals from around the world! And don't forget to stop by Allie's Barnyard Petting Zoo to pet and feed the park's other lovable creatures. Florida is the host to 1,350 miles of coastline, leading into rivers, streams, and waterways galore! So take a plunge and Swim With the Manatees! These majestic, endangered species are considered the 'cow of the sea' – weighing in at 3,910 lbs on average.  On this day-long excursion, you could experience the wonder of these gentle mammals before they potentially become extinct. On a boat trip departing from Orlando, enjoy an all-you-can-eat breakfast and then head to Citrus County, where it's all-aboard the riverboat. In your adventure through the waterways, you will have the opportunity to snorkel (equipment provided) and interact with the beautiful manatees.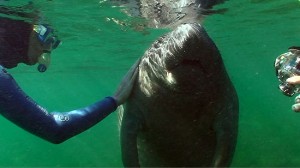 They are known to approach and often nuzzle divers! Next, enjoy a picnic lunch overlooking the manatee sanctuary, and kick off the rest of your afternoon with a higher-speed airboat ride on Homosassa River. Keep an eye out for species that frequent the waterways – dolphins, alligators, turtles, otters, and more! Finish your experience with a stop at the Homosassa State Wildlife Park, the facility where injured animals receive medical care and rehabilitation. The experience will be unforgettable for the entire family – a testament to the Florida wildlife and the amazing people who dedicate their lives to preserving it.   If you haven't had enough flora and fauna, your exploration doesn't have to end here. With the Smart Destinations
Go Orlando Card,
you can experience even more wildlife adventure on the
Everglades Tour
, on a visit to
Busch Gardens
, or the
Boggy Creek Airboat Tour
. You can see all of this, and more notorious Orlando attractions for one low price with your
Go Orlando Card
!