It's no surprise that there are plenty of Orlando attractions for sports fans; Florida's warm weather and leisurely attitude make it a perfect spot to practice your golf swing or take a spin around an outdoor race track. And speaking of race tracks, let's not forget that Florida is the headquarters of NASCAR. Here's a look at how you and your fellow sports fan can get the most out of your next Orlando vacation:
Go Karts, Games, and the Great NASCAR Track
Channel your favorite NASCAR driver at Fun Spot's two Florida locations in Kissimee and Orlando! Each Fun Spot Florida location offers its own unique Go-Kart tracks, with multilevel racing and track challenges like hairpin turns and 30 foot hills. The Vortex track at Fun Spot USA even has a 32 degree banking curve - steeper than any on the Daytona Speedway. Best of all, many of tracks feature double-seater go-karts so that you can enjoy the track with friends or children. After your Fun Spot warm-up, take a trip down to Daytona to check out the International Speedway for an privately guided, all access tour. This NASCAR must-see takes you both behind-the-scenes and straight to the track for a 90 minute crash course in NASCAR and international racing history. You'll gain access to such spots as the Houston Lawing Press Box, located seven stories above the track, as well as the Coca-Cola Theater where you can take advantage of the photo-op with the winning car from the 2010 Daytona 500.
Speedboats and Water Skis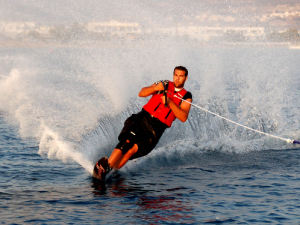 While you're enjoying Florida's warm weather and sunny beaches, take to the water to for sports like speedboating and water skiing. The Dolphin Racer Speedboat Adventure takes you on a tour of the Intercoastal Waterway and the Gulf of Mexico at high speeds for just over an hour. Sports fans will love the adrenaline rush, and the rest of the family will love the guaranteed dolphin sightings that come with the cruise. The wake of the Dolphin Racer attracts bottlenose dolphins who love to body surf or jump the waves. Don't forget your camera! Next, sports-history buffs should make a stop at the Water Ski Hall of Fame & Museum to check out early photographs, rare films, and exclusive exhibits all about water skiing. You can then test out what you've learned at Orlando's Watersports Complex, an outdoor boat lake where you can rent water skis and practice your skills on a competition standard course.
And Golf, of course!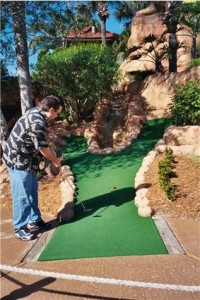 For sports lovers, golf is without a doubt one of the more popular Orlando attractions. With over 1,200 golf courses in state, Florida is home to the most golf courses in the entire country - you could plan an entire vacation around exploring them. Improve your putting stroke with these tips for how to putt better. Just a short trip outside of Orlando, Congo River Adventure Golf is the perfect spot to enjoy one of Florida's most popular sports with family and friends. This golf course is an extreme take on the traditional mini-golf experience; its rainforest theme will take you over river rapids, through mysterious caves, and to a live gator-feeding area all on your journey to the 18th hole! And if you're in the mood for more traditional golf, don't worry - there are over 30 public and private gator-free courses in Orlando for you to enjoy.