Are you planning to visit some of the Orlando theme parks during your upcoming vacation? For an unforgettable vacation, you'll want to figure out which are the best attractions and parks for your family to visit during your trip. This guide provides an overview of many of the top Orlando theme parks, as well as some of the smaller parks that might be better suited for younger visitors.
Save on Admission to Orlando Theme Parks
A number of these popular Orlando theme parks, plus other great Orlando area attractions, are included on the Go Orlando® Card. Choose as you go from dozens of top attractions and save up to 55% on combined admission vs paying at the gate. See all available passes, attractions & prices – Learn more.
SeaWorld Orlando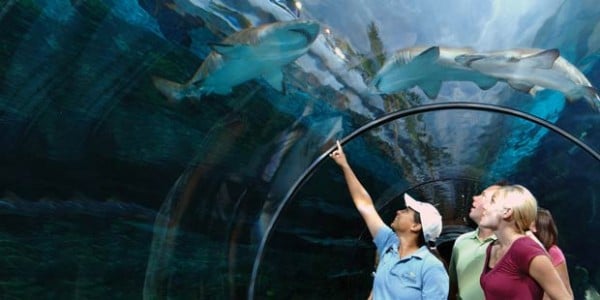 Please note: Available when you Build Your Own Orlando attraction pass. Right in the heart of Orlando's tourism corridor is SeaWorld Orlando. SeaWorld is one of the theme parks around Orlando that truly offers something for everyone in the family. Here, you'll find much more than just the fantasy of some amusement parks in Orlando.
Thrill Rides
For those looking for thrills, there are rides for adults, including the construction of Mako. When completed in June 2016, Mako will be the tallest, fastest and longest roller coaster in Orlando. Other rides include Manta, Kraken, Journey to Atlantis, and Antartica; Empire of the Penguin.
Leisure Rides
Take a leisurely ride on paddle boats and soar above the park on the Sky Tower. The kids will love Shamu's Happy Harbor.
Shows
SeaWorld Orlando also offers an opportunity to a take a break throughout the day with a variety of entertaining and enlightening shows. Clyde & Seamore's Sea Lion High will bring smiles with the antics of the sea lion characters. One Ocean is an eye opening show that will leave you thinking about our place on the planet. You family will laugh out loud together watching Pets Ahoy, a sidesplitting performance that includes dogs, cats, ducks, doves, potbellied pigs and a few surprise animal guest stars. You'll certainly want to catch Blue Horizons, where a young girl named Marina discovers the secrets of the sea and sky in a mesmerizing blue world of adventure and wonder. SeaWorld provides a variety of seasonal shows and concerts so be sure to check their website for their schedule.
Aquatic Life
What really helps make SeaWorld Orlando such a remarkable theme park is the opportunity to get up close to aquatic life. SeaWorld is home to Dolphin Cove, Pacific Point Preserve, Shark Encounter, Turtle Trek, and Shamu Underwater Viewing. Guests are also invited to the Manatee Rehabilitation Area. Explore the variety of SeaWorld Park Exclusives to customize your visit. Ultimately, SeaWorld has it all. It has thrill rides and kids rides. There are children's play areas and plenty of dining options. There are comedy shows, musical performances, and thought provoking shows. You can get face to face with sharks, rays, manatees, and more. A day here is a day's vacation well spent!
Aquatica by SeaWorld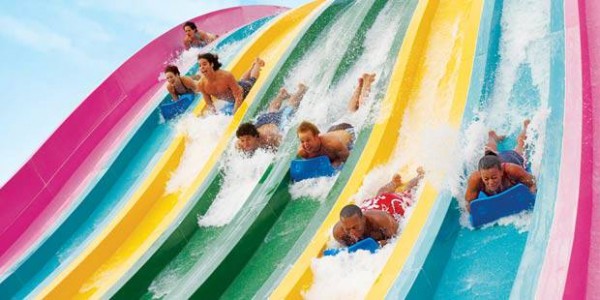 Please note: Available when you Build Your Own Orlando attraction pass. Aquatica is SeaWorld Orlando's Water Park that provides water-based thrill rides and family fun. It is a perfect way to cool off while catching some of the Florida sunshine. At Aquatica, you are free to chill by the water or challenge some of Florida's most exciting water slides and rides. One of the park's most popular ride is Dolphin Plunge and once you experience it you will understand why. Two clear, side-by-side enclosed tubes slides visitors racing through the underwater world that is home to a playful pod of black and white dolphins. On occasion, you may even catch them playfully racing with you next to the tube. This unique water ride is a must when visiting SeaWorld's Aquatica. HooRoo Run provides its rafters with a sense of weightlessness as they soar down a six-story, 250 foot long, triple-drop water ride. Ihu's Breakaway Falls is the newest water ride at Aquatica. Brave the watery free-fall on the tallest, steepest and only multi-drop tower of its kind in all of Orlando. On Omaka Rocka, guests speed down flumes into massive funnels, sliding high up one side and then the other. Tassie's Twisters is wild water ride that almost defies description. Riders will float through the Loggerhead Lane lazy river, where they make their way to an island in the center. There they climb to the top and once there, lightning fast tubes shoot them into a giant bowl, where they will spin and spin, until they are spun back into the lazy river. There's nothing like it! The biggest thrill in the park may just be Taumata, a high-speed competitive mat ride where eight racers rip down a adrenaline producing steep hill...head first! Walhalla Wave is a tube ride the whole family can share while its twists and turns. Whanau Wabe is a quadruple slide tower that offers riders a choice of four different high-speed experiences. Part of what makes Aquatic unique is its side by side wave pools, Cutback Cove and Big Surf Shores. Aquatica also offers Cabana rentals to make your stay here even more comfortable. If you are in search of an awesome alternative for family fun in Orlando, choose Aquatica.
LEGOLAND® Florida Resort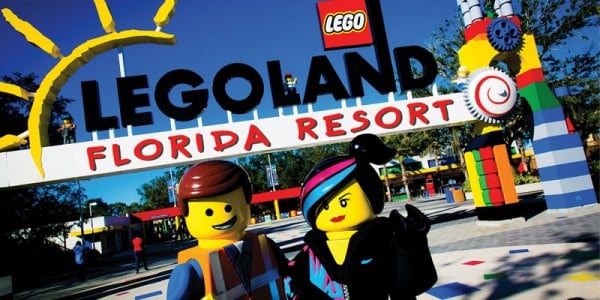 Please note: Admission is included on the Go Orlando Card. LEGOLAND Florida Resort is Southwest of Orlando in Winter Haven. For families with young children, this is a perfect way to spend the day. Children don't just ride on the rides, they can participate in activities and use their imaginations. The sound of laughing and giggling voices permeates the Florida air as families explore 13 distinct lands in the park. We suggest starting at The Beginning, which is the initial area you will walk into when visiting LEGOLAND Florida. Here, you will get the information to help plan your day at LEGOLAND Florida and have your questions answered. Get a 360 degree view of the park from The Island in the Sky, a 150 foot tall, rotating platform that gives you and your family a preview of what's ahead. The Beginning is also home to The Big Shop, Lego's ultimate shopping experience. Here, you'll find everything from Lego toy sets, to apparel and Logo exclusives. Next, perhaps you'll explore Fun Town with a double-decker carousel, and the Wells Fargo 4D Fun Town Theater. Taste some of Granny's Apple Fries or have a slice of pizza. Add to your Lego collection at the Lego Studio Store, Pick-a-Brick, and the Minifigure Market. Visit Miniland, with its extraordinary recreations using Lego products. See a replica of Kennedy Space Center and the Daytona 500. View Lego skylines of San Francisco, New York, Washington, Las Vegas and more. Ride a train, tractor, or play in the Tot Spot or get sprayed at Splash and Play in Duplo Valley. Kids can take part in a royal joust and ride the Dragon and Merlin's Challenge in Lego Kingdoms. The Land of Adventure is home to the wooden Coastersaurus, Beetle Bounce and Safari Trek. Lego City is home to a kids Boating and Driving School, the thrilling Flying School and the Tot Spot. Put your creativity to the test at the Imagination Zone. Ride the Technicycle, Project X and the Aquazone Wave Racers at Lego Technic. Watch a water-ski show at Pirates Cove, and visit Old Florida in Cypress Gardens. View a live show in Heartlake City and take part in a water cannon battle in The Lego World of Chima. LEGOLAND Florida Resort is an excellent alternative to the major theme parks that young family members will particularly love and its away from the traffic surrounding the major theme parks near Orlando.
Busch Gardens Tampa
Please note:
Available when you Build Your Own Orlando attraction pas
s
. Just down Interstate 4 from Orlando is Busch Garden, a major theme park that combines thrill rides, entertainment and kiddies rides and attractions with Tampa's largest zoo. They are noted for their large collections of roller coasters and African safari themes. Major adrenaline pumping rides include Falcon's Fury, Cheetah Hunt, SheiKra, Kumba, Montu, and Cobra's Curse. Soar above the park on The Skyride and get up close to the parks larger animals on the Serengeti Railway. Attend one of the entertaining and colorful shows like Opening Night Critters, A is for Africa, Iceploration, and Treasures of the Mirage. Kid-friendly attractions include the Jungle Flyers, Air Grover, Sesame Street safari of Fun, Treetop Trails, The Wild Surge and SandSerpent. Beyond rides show and kiddie attractions, Busch Gardens offers some exceptional dining choices. The Dragon Fire Grill, Crown Colony Cafe and Zambia Smokehouse are just a few. Of course you can grab a hotdog, burger, or slice of pizza along the way as well. Busch Gardens is a terrific way to view African animals in a more natural setting than traditional zoos. View Cheetahs, Giraffes, Rhinos, Gorillas, Meerkats and more. Visit the Animal Care Center, The Bird Gardens, Jambo Junction, Edge of Africa, and Cheetah Run. Busch Gardens has a series of seasonal events that make visiting the park unique. "Summer Nights" are smoke and fire producing end-of-night performances that run from late June through early August. There's a large Labor Day fireworks celebration, and Howl-O-Scream provides scary fun for the Halloween season. Christmas Town help make the holidays just a bit brighter. If you've never been to Busch gardens make this the year to explore something new. It is another great option when visiting Central Florida.
Fun Spot America
Please note:
 4 Ride Sampler Admission is included on the Go Orlando Card.
No visit to Orlando would be complete without a visit to Fun Spot America. Fun Spot is one of the amusement parks in Orlando where fun is in the air, literally. Here, you'll find the soaring 250 foot Skycoater, one of the tallest in the world. Skycoaster suspends up to three passengers at a time, pulling the into the sky in a specially designed harness. Once at the top, guest are sent soaring through the air, experiencing the thrills of flight first-hand. But Skycoast is just the start. At Fun Spot, you can climb aboard White Lightning, Orlando's only wooden roller coaster. Soar on the Freedom Flyer, a family-friendly steel inverted coaster that produces sensational G-forces as your feet dangle above the crowds below. Your family will love the patented multi-level go cart track. Choose from four separate tracks including the extreme Commander, The Quad Helix, The Conquest and Thrasher. If you want gators to be a part of your Orlando experience, Fun Spot, in conjunction with Gatorland, offers The Gator Spot. Here, you can get up close with alligators and other Florida wildlife in this unique attraction. Fun Spot is also home to many amusement park classics like the Scrambler, Bumper Cars, Tilt-O-Whirl, Bumper Boats and many more family and kiddie rides. You'll also find a carnival-style midway and a 10,000 square foot arcade. There's plenty of food options and fun awaits around every corner. Fun Spot offers some real thrills without chomping away at your budget. Consider it as a real alternative to add to your vacation agenda.
Walt Disney World Resort Parks
Please note: Admission is NOT included to any Walk Disney World park on any of the Go Orlando Card passes.
Magic Kingdom Theme Park
When most people picture Disney World, they picture Magic Kingdom. Many people actually mistakenly think the two names are interchangeable, but Magic Kingdom is really just one of Disney's 4 theme parks. The park's centerpiece is Cinderella Castle—the huge castle you'll recognize from any Disney ad—around which pathways lead out to 6 unique whimsical lands: Main Street U.S.A, Adventureland, Frontierland, Liberty Square, Fantasyland, and Tomorrowland. At Magic Kingdom, beloved Disney characters come to life in attractions, parades, shows, and more.
Disney's Animal Kingdom Theme Park
Animal Kingdom is the world's largest animal-themed park full of attractions and fascinating animals. This park is less about rides and more about lush landscapes and wild entertainment. The Park is home to more than 1,700 animals—and some fantasy animals too! As you travel through Animal Kindgom's 7 areas (like Oasis, Africa, and Dinoland, USA), expect to be swept up in parades, Broadway style shows, and animal performances. Animal Kingdom also gives you the opportunity to sample African and Asian-inspired cuisine or to buy authentic art imported from Africa.
Epcot
Sprawling across 300 acres of land, Epcot is actually twice the size of Magic Kingdom. Epcot is divided into 2 parks: Future World and World Showcase. Futureworld is home to tons of attractions all focused on technological advancements, innovation, and wonder—including one of the fastest rides in all 4 of the Disney parks. Epcot's icon, Spaceship Earth, welcomes you into the park and sets the stage for the Futureworld attractions that lie ahead. World Showcase, on the other hand, will introduce you to cultures from around the world. You'll find several pavilions— bustling with shops, attractions, performers, and restaurants—that represent the cultures of 11 countries, including Mexico, Morocco, Japan, and Germany (just to name a few!).
Disney's Hollywood Studios
This park is all about the cinema magic, offering a behind-the-scenes look at Hollywood-style action. The 4 areas of the park are designed to blend together like an enormous movie set, full of neon, chrome, art deco, and modern architecture. In addition to live shows, high-speed rides, and backstage tours, Hollywood Studios gives you a chance to feel like a star or a character in your favorite movie through special events and shows. Walk through the majestic lands of Narnia, get on stage at The American Idol Experience, or relive some of your favorite scenes on The Great Movie Ride. In this magical world, cinema and television come to life.
Disney's Blizzard Beach
At first glance, this park looks like a ski resort (you'll even spot the Chair Lift), but it's actually a water park complete with thrilling waterslides and attractions for the whole family. Blizzard Beach offers a truly one-of-a-kind way to cool off in Florida—in a wintery wonderland! This park is home to one of the world's tallest and fastest free-falling waterslides, so even the adventure-seekers will get a thrill. For the younger visitors, Tike's Peak provides a children's play area complete with a snow-castle fountain and mini water rides.
Disney's Typhoon Lagoon
If you're in Florida to escape the snow, perhaps the tropical paradise at Typhoon Lagoon will be more to your liking. Typhoon Lagoon has everything you'd expect from a waterpark, and more—including epic waterslides, the lazy river, a wave pool, family-style raft rides, and a children's play area. But Disney goes above and beyond: you can also catch 6-foot waves in Surf Pool , snorkel with real sharks in Shark Reef, or just relax in the sun at this lush tropical setting.
Universal Orlando Resort
Please note: Admission is NOT included to any Universal Orlando park on any of the Go Orlando Card passes.
Universal Studios Florida
Universal Studios is a real, working film and TV production facility (tour the backlot and you might see a real film crew at work)—but it's also a thrilling theme park filled with rides, shows, movie sets, and attractions where you can be part of the action. Engage in an interactive mission to save the galaxy in MEN IN BLACK Alien Attack, speed into darkness on Revenge of the Mummy, laugh and crash your way through Krustyland on The Simpsons Ride, or pick the music you'll scream to on the 17-story tall Hollywood Rip Ride Rockit coaster. Universal Studios offers the chance to see how entertainment happens, and then take part in it.
Universal's Islands of Adventure
Islands of Adventure is consistently rated at the top of the list for Orlando theme parks, paving the way with cutting edge rides, shows, and interactive attractions that feature all your favorite fantasy worlds. The newest addition to the Islands is the marvelously magical The Wizarding World of Harry Potter, featuring the beloved Hogwarts castle, shops and restaurants recreated from the stories (Zonko's Joke Shop, Ollivander's, Honeydukes , and more), and Harry Potter-themed rides designed to bring you the excitement of the wizarding world. But don't forget about the familiar classics you'll find on the Islands, like Seuss Landing and Jurassic Park.
Wet n' Wild Orlando
The distinguishing feature of this Orlando waterpark is its innovation in multi-passenger rides. In fact, the park prides itself on having "more Multi-Person rides than any other waterpark around." The newest of these rides is a 4-person tube ride with a 53-foot vertical drop into a dark, dome funnel with swirling colored lights, which is a good indicator of the types of rides this park strives for. Of course, Wet 'n Wild also features single-person slides, as well as mellower attractions like the Lazy River and the Wave Pool Surf Lagoon. You can also play sand volleyball on regulation-size courts, relax under the cabanas, or enjoy some food and drink at any of the uniquely themed eateries and lounges.
 Other Orlando Area Amusement Parks
While not exactly "theme parks" here are some other Orlando area amusement parks you should consider checking out
Coco Key Water Park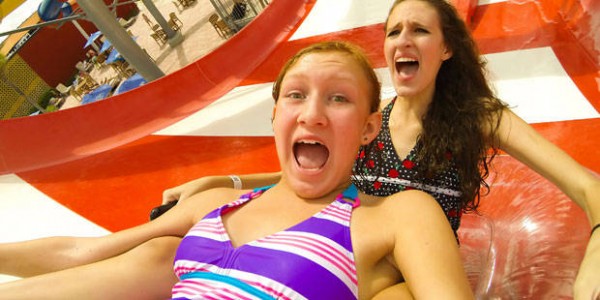 Please note: Admission is included on the Go Orlando Card. Part of the Coco Key Hotel and Resort, Coco Key Water Park is located right along Orlando's popular I-Drive corridor. Here, you'll find affordable water fun for the entire family. Coco Key Water Park is a colorful array of water slides, tubes, sprayers and splash areas. Wide, non-skip steps take visitors to the top of the metal level centerpiece of Coco Key, where a giant bucket is constantly filled and dumped upon visitors below.
Gatorland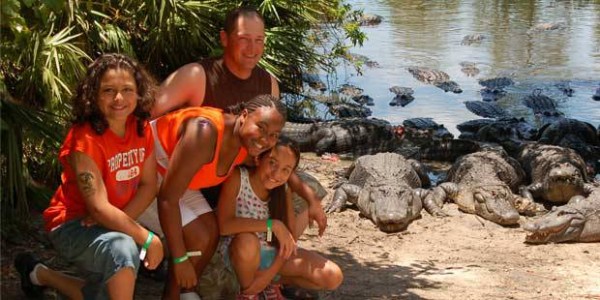 Please note: Admission is included on the Go Orlando Card. This is a not-to-be-missed "Old Florida" attraction that provides real value. Not only will you see the most gators you have ever seen in your life in one location, there is much more to see and do here. Today, Gatorland features exciting ziplines, one of which soars over a gator-filled lake. Ziplines are managed by an experienced team and all safety equipment is provided. Climb a multi story tower and view the entire park from above. Take a train ride around the park and even participate in one of the many gator shows scheduled each day. Step into the open air aviary, and see a boa constrictor and a panther. View four rare, white alligators. There's even a water playground for the young ones. Be sure to visit the very large gift shop upon your departure.
Let's Recap
Remember, you can save on admission to a number of Orlando's most popular theme parks with the Go Orlando® Card. Choose as you go from dozens of top attractions and save up to 55% off combined admission vs paying at the gate.