WonderWorks Orlando is an indoor interactive amusement park and "edu-tainment" learning center that kids and adults of all ages can enjoy. This upside-down adventure is one of the best, family-friendly things to do in Orlando, especially on a rainy day. Visitors of all ages ("from 1 to 100") will enjoy exploring the Wonder Zones which are experiences designed to challenge the mind, spark imagination, and entertain.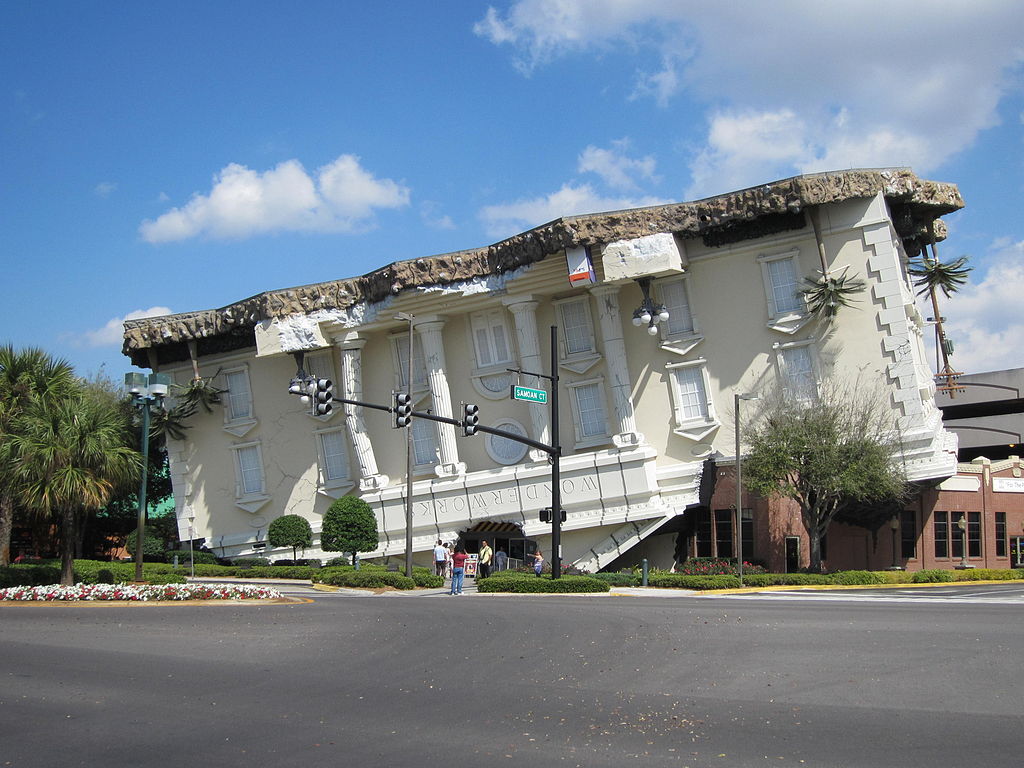 Looking for WonderWorks Discount Tickets?
We've got you covered – WonderWorks admission is available with the below money saving options, so you can choose the attraction pass that's right for you: 1. All-Inclusive Pass – All you can do. Includes admission to dozens of attractions. 2. Explorer Pass – Choose as you go. Includes admission of up to 5 attractions. 3. Build Your Own Pass – Select the attractions you want to visit prior to visiting. See all available passes, attractions & prices – Learn more.
Tips for Visiting
Wear attire for activities. The ropes course requires participants to have closed-toed shoes and be wearing either pants or shorts (no skirts or dresses).
Stay for dinner. With the Go Orlando Card, admission to the family-friendly Cirque Magique Dinner Show is included. Located nearby, guests can expect some high-energy comedic entertainment during dinner.
Bring change for the arcade games. Bring extra cash if you want to play arcade games as they cost extra.
Enjoy all-day fun. Guests are allowed to leave WonderWorks and return later in the day. The park stays open until midnight, making it one of the best things to do in the evening in Orlando.
When to Visit
WonderWorks is a great activity any day of the year. It's entirely indoors which makes it a great spot for a rainy Florida day. Like most attractions, it tends to be less crowded earlier on in the day. Make a day of it and head to WonderWorks in the afternoon and stay for dinner and catch The Outta Control Magic Dinner Show, a hilariously entertaining 90-minute dinner show that combines high-energy, comedic improv with impressive magic. During the show, enjoy unlimited salad, fresh hand-tossed pizza, popcorn, dessert, unlimited beer, wine, and soda. (2 shows daily: 6:00 pm and 8:00 pm. June 6-August 16 have 3 shows daily: 4:00 pm, 6:00 pm, and 8:00 pm.) The park is one of the few Orlando attractions open until midnight, so it's a great place to go after checking out some of Orlando's other top attractions.
What to Do There
Indoor Ropes Course
Take fun to new heights on the glow-in-the-dark, 36-foot high obstacle course. You can tackle 20 different obstacles crossing over suspension bridges, swinging beams, lily pads, and more to test both your mental and physical abilities.
4D Extreme Motion Ride
Transcend time, space, and imagination in this one-of-a-kind experience that combines an adventure-driven 3D movie with special effects and motion seating. You'll be visually transported from your seat into the thick of the action!
Natural Disasters
Become a human lightning rod and get 100,000 volts of electricity sent right to your fingers! Feel an earthquake that registers 5.3 on the Richter scale in the earthquake simulator, experience hurricane force 71 mph winds in the hurricane shack, and more in Natural Disasters.
Physical Challenge Zone
Take your turn lying on a bed of 3,500 nails and see how the distribution of pressure. Create a 3D image of your body on a gigantic pin wall and step back to examine your impression and make adjustments like adding fingers and extra limbs. See if you can make a bubble you can fit inside at the Bubble Lab and learn how to interpret the colors that they reflect as they float through the air. Find a partner and test your mind control abilities at one of the coolest exhibits: MINDBALL. Each player wears a headband with electrodes that record and evaluate brain activity. The player who can keep their mind the most calm and relaxed wins this battle of the minds.
Light & Sound Zone
See how your motor skills compare to the speed of light and test your reflexes on a matrix of lights. Track your dance moves in bright, vibrant colors on a screen of light. Strike a pose when the flash appears, your shadow will appear where your body has prevented the wall from absorbing light. Musically inclined? Take your turn on a larger-than-life piano you play with your feet!
Space Discovery
See what it feels like to be an astronaut when you step inside a life-size replica of an EVA suit that protects astronauts from the extreme environment of outer space. Experience what it's like to lay inside a Mercury capsule, big enough for just one crew member. Get behind the controls of the rover on Mars and explore the surface in search of potential life and then test your spaceship landing skills in the Space Shuttle Discovery.  Take the Astronaut Training Challenge and experience the feeling of weightlessness as you roll and tumble around the 2 person gyroscope.
Imagination Lab
Imagination Lab is the place to get creative and challenge your imagination. Head to the gigantic version of Lite-Brite to create a glowing masterpiece. Then, see if your feet are quick enough to save the planet from an alien invasion at the Alien Stomper station. Little ones will be entertained with the digital painting game of detective matchmaking. They can even test their simple addition and subtraction skills and then learn all about how gears work to run machines at the Gear Works station.
Far Out Art Gallery
Explore illusions and open your eyes and mind to see hidden images in artwork covering the walls. Discover whether or not you can figure out all the answers to the riddles and illusions hidden within the artwork or whether your brain is preventing  you from seeing the  unknown reality.
Nearby Attractions
WonderWorks is conveniently located on International Drive, or "I-Drive", a destination for lots of Orlando area top attractions including: I-Ride Trolley - The easiest way to get around attractions along I-Drive is with an I-Ride Trolley ticket. Ripley's Believe It or Not! Odditorium - Check out all things bizarre, grotesque, and genuinely puzzling. There's no other place like it. Titanic: The Artifact Exhibition - Go back in time and see what it's like aboard the Titanic. Walk through 20 authentically recreated rooms of the Titanic and learn about the tragically famous ship. Congo River Adventure Golf - Explore the African Congo on this family-friendly mini golf experience. Fun Spot America Theme Park - Spend an action-packed day with the family. Sample the best rides and activities at this classic, theme park. ICON Orlando (formerly Coca-Cola Orlando Eye): Take a spin on the largest observation wheel on the East Coast. You'll get unbeatable views of downtown Orlando and beyond (on a clear day, you might see all the way to Cape Canaveral!). SEA LIFE Aquarium: Explore life under the sea at the new Orlando aquarium. See how close you get to real sharks as you walk through the large, 360-degree acrylic tunnel underwater. SeaWorld® Orlando: Get hands-on with sea life at touch pools, catch an entertaining sea life performance, learn about the famous Shamu (and get splashed!), and more. Skeletons: Animals Unveiled!: Get up-close to real bones, skeletons, structures, and more for an entertaining and educational experience. Madame Tussauds - Pose with all your favorite celebs from music, TV, movies, sports, and more at Madame Tussauds. Their wax figures are so real-looking, your pictures will be sure to fool all your friends at home!
Places to Eat Nearby
The Outta Control Magic Dinner Show - Keep the fun going and fill up on unlimited salad, hand-tossed pizza, popcorn, dessert, unlimited beer, wine, and soda at this entertaining dinner show conveniently located right in WonderWorks. CiCi's Pizza - For a quick bite to eat, CiCi's Pizza is an easy, crowd-pleasing option located right on I-Drive (Orlando Explorer Pass holders receive 10% their entire order!). Yard House - Grab some classic American Bar fare with unique, flavor-enhancing upgrades to every meal. Rocco's Tacos - Wind down after the busy day at Rocco's Tacos for authentic Mexican fare and refreshing margaritas. Be sure to order some table-side prepared guacamole!
Need to Know
Hours
Open daily, 365 days per year: 9:00 am-12:00 am
Directions & Address
9067 International Drive Orlando, FL 32819
Save on Admission
Remember, with the Go Orlando Card® All-Inclusive Pass you can save up to 55% on combined admission to WonderWorks, plus lots of other top Orlando attractions.