Packed with world-class museums, verdant parks, superb shopping and household-name attractions including the Eiffel Tower, Arc de Triomphe, Louvre and Notre-Dame Cathedral, it's no surprise that Paris is one of the world's most-visited cities. 
5 days in Paris gives you just enough time to scratch the surface of this wonderful city, ticking off its top attractions and experiencing a flavor of its arty neighborhoods and exquisite café culture. The sheer number of things to see and do around the city can make it difficult to know where to start though, so check out our suggested 5-day Paris itinerary below for inspiration. 
Day 1: Bucket List Bonanza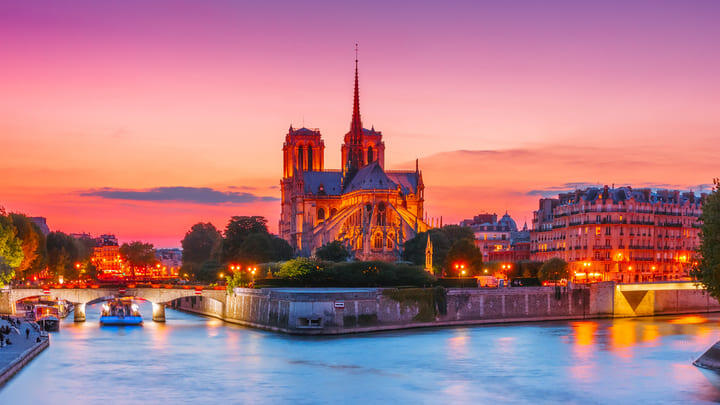 Everyone knows you haven't really arrived in Paris until you've snapped a selfie in front of the Eiffel Tower, our first port of call on this, your whirlwind romance with the City of Love. There are a number of ways to experience the Tower: you can climb the 674 stairs or take the glass elevator to the viewing platform on the second floor, 115 meters up. Or you can whiz all the way to the very top where, 276 meters above terra firma, a champagne bar awaits to help steady your nerves. Alternatively, dodge the queues and take in fantastic views of The Iron Lady from a number of nearby vantage points, such as the Champs de Mars park directly underneath, or through the majestic Fountain of Warsaw's sky-high water jets in the Jardins du Trocadéro just across the Seine.
Make your way to the nearby Arc de Triomphe where you can pay your respects at the Tomb of the Unknown Soldier and laugh in the face of the meager 284 steps required to reach the viewing platform up top.
Board a bateau at dusk for a more relaxed way to sightsee, on a gentle Seine cruise. No time of day in Paris is more magical than when the skies begin to darken and the City of Light comes thrillingly to life, with the illumination of glorious riverside landmarks including the Louvre, Grand Palais and Notre-Dame Cathedral.
Day 2: Latin Quarter and Musée d'Orsay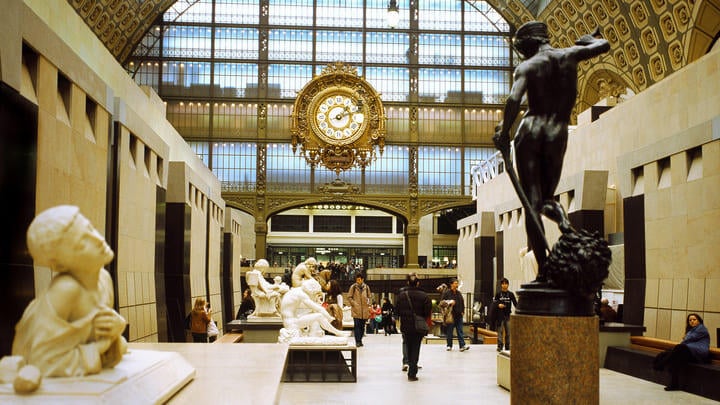 Unless you're absolutely art mad, a five-day trip to Paris will likely only take in one of The Big Two (that's the Louvre and Musée d'Orsay to you and me). Perched on the Left Bank in the former Gare d'Orsay railway station, the Musée d'Orsay is smaller, more easily navigable and generally less crowded than its famous sibling with the glass pyramid that lies just across the river. The museum boasts the world's largest collection of Impressionist and Post-Impressionist art, with artists including Manet, Monet, Van Gogh, Renoir, Toulous-Lautrec, Degas, Gauguin et al very well represented here. Go for the fine art and stay for the fifth-floor café's huge station-clock window and its exhilarating views over the Seine to the Louvre and Sacré-Cœur Basilica.
From Musée d'Orsay it's a short stroll east along the riverfront to where the Paris bouquinistes ply their trade from stalls packed with second-hand books of all kinds, from antiquarian atlases to graphic novels. Here, in the boho Latin Quarter, stroll the narrow cobbled lanes and alleys, and pause at one of the cute sidewalk cafés for coffee and pastries before paying homage to Rousseau, Voltaire, Louis Braille, Marie Curie and the dozens of other Gallic greats interred beneath the Panthéon's impressive dome.
Day 3: Picnic in the park
Paris is made for picnicking. From the sweeping, manicured lawns of the Champs de Mars by the Eiffel Tower to the secluded hills and wooded valleys of Parc des Buttes-Chaumont on the edge of town, there's a lunch spot to suit all tastes.
Step one: pick up your picnic. You'll want crusty bread, a selection of cheeses and fruits and, why not, a cheeky bottle of French wine as a bare minimum. Sure, you could get all of this in a standard supermarché. But where's the fun in that? Instead, guarantee a knock-it-out-the-park pique-nique you'll never forget by heading to one of the city's market streets and stuffing your hamper with delicious, fresh gourmet goodies. 
Straddling the 1st and 2nd arrondissements on the Right Bank, Rue Montorgueil will make all your foodie dreams come true, and is also home to the oldest pâtisserie in town, where signature sticky rum babas are guaranteed to make your tastebuds sing. Across the river in the Latin Quarter, Rue Mouffetard is a picturesque place to pick up a picnic from the many bustling stalls and stores that line its cobbles.
Suitably stocked up, all you need to do now is pick a park for your leisurely lunch. For feet-up-by-the lake tranquility, formal gardens and sculptures by Rodin, Mailliol and more, head for Jardin des Tuileries by the Louvre. Or, for a spot of old-fashioned Parisian people-watching, the gardens of 17th-century Place des Vosges in the Marais are hard to beat. Meanwhile, out on the opposite edges of town, Bois de Boulogne and Bois de Vincennes, the city's largest public parks, offer relative seclusion and room to roam amid chateaux, boating lakes, botanical gardens, grottoes and more.
Day 4: Montmartre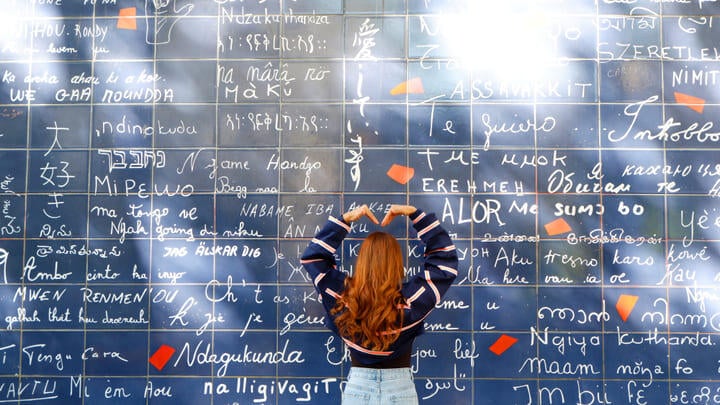 One of Paris's 'must-sees', the Montmartre butte is the highest point in the city, with the flamboyant Sacré-Cœur Basilica perched on top, and some of the best views in town. Wander the cobbled streets and you'll soon discover why this atmospheric part of Paris has inspired so many artists down the centuries. You can view the work of many of them – Manet, Van Gogh, Picasso and Miró – at the excellent Musée de Montmartre, a 17th-century mansion with tranquil gardens that were immortalized in art by Renoir, a former resident.
Grab a coffee and pastry at the Café des Deux Moulins, made famous from its starring role in the movie Amélie. Have your portrait painted by local artists in the picture-perfect Place du Tertre, just behind the basilica. Grab a snap of the Moulin Rouge's iconic red windmill. And head to the wildly romantic-sounding le mur des je t'aime for a souvenir selfie of your time in the City of Love. Featuring the phrase 'I love you' in 250 languages, this 'wall of love' is a permanent art installation made from hundreds of enameled lava tiles.
Day 5: A Spot of Souvenir-Shopping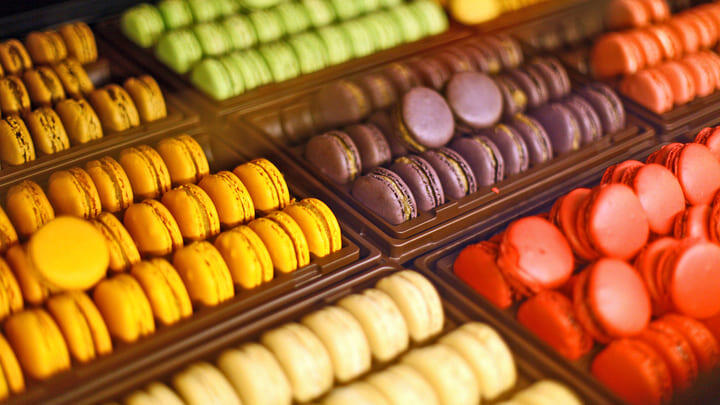 Make your last day in Paris as special as the first, with some leisurely souvenir-shopping in and around the Marais district, with its cobbled lanes, independent boutiques, cute pâtisseries and historic 19th-century arcades nearby.
Step back in time to Belle-Époque Paris in the wonderfully whimsical Passages Couverts, a series of 18th and 19th-century shopping arcades with narrow walkways, glass-and-iron roofs and old-fashioned storefronts. You'll find two of the best in the 2nd arrondissement, neighboring the Marais. Neo-classical Galerie Vivienne has intricate mosaic floors and an elegant glass dome that sits atop a rotunda decorated with nymphs and goddesses. Nearby Passage Choiseul is the longest covered passage in Paris and a registered historical monument. Expect chic fashion boutiques, wine cellars, jewelers, antiquarian bookstores and an old-school Paris vibe inside both.
The gift shop just around the corner from the Marais' marvelous Musée National Picasso-Paris merits a visit in its own right, with tasteful Picasso-inspired homeware, art prints, pottery, bags and much more on offer. And it would be remiss to go home without a pretty box of macarons, that colorful meringue-based confection so beloved of Parisians. You'll find these in any Marais pâtisserie worth its salt. But this is Paris, darling, so treat yourself by splashing out on some of the poshest in town from French pastry master Pierre Hermé.
Save on top attractions during your 5 days in Paris
Save on admission to Paris attractions with Go City. Check out @GoCity on Instagram and Facebook for the latest top tips and attraction info.