Did you know the word souvenir derives from the French term for memory or remembrance? What could be more appropriate, then, than to take a memento of your visit to the City of Love home with you? Read on for our guide to the best Paris souvenirs, and where to find them.
From the Ubiquitous to the Unique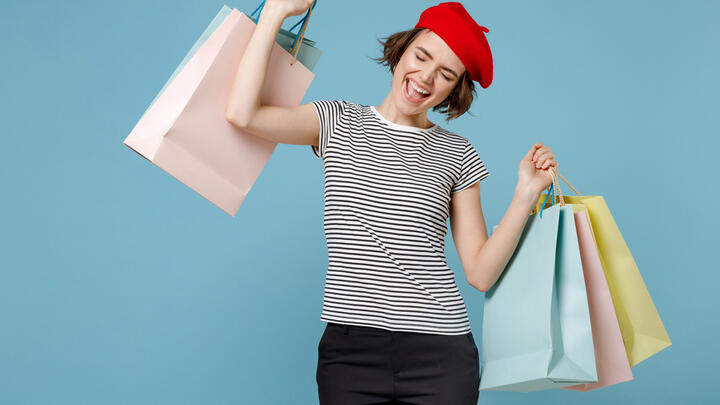 No Paris souvenir is more emblematic or ubiquitous than the humble Eiffel Tower. You'll find reproductions of The Iron Lady absolutely everywhere, from kitsch souvenir booths and street stalls to the high-end jewelry stores that line the Champs-Élysées. Tacky? Perhaps. But you're guaranteed a reminder of that wonderful weekend you spent in Paris each and every time you look at it.
The tower comes as – deep breath – a fridge magnet, bottle opener, wine-stopper, mug, cuddly toy, bedside lamp, keyring and pen. You'll see it on t-shirts and tea-towels and inside snow globes. It comes in every shape, color, size and format imaginable, with or without flashing lights. But you can't really beat a simple metal replica. These tiny, faithful reproduction ornaments can be found in the Eiffel Tower's gift shops and, well, just about everywhere else.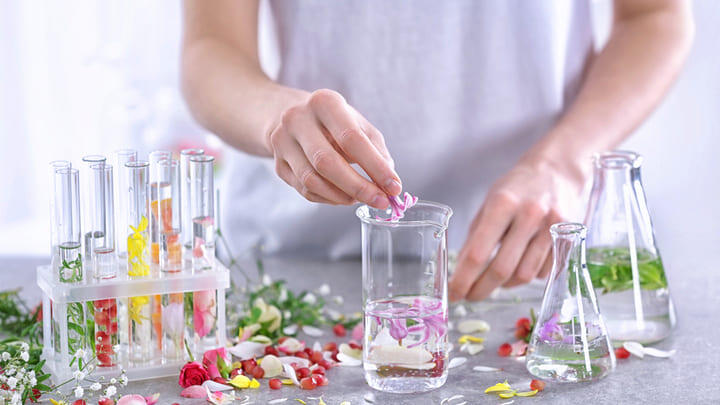 Looking for something a little more unique to you? Paris is home to some of the finest perfumers on the planet, with many offering unique custom fragrances. Scent magicians Fragonard have a workshop in which you can design and create your very own mini eau de toilette to take home. Alternatively – should you have deep enough pockets – you can engage the services of celebrated Paris perfumer Stéphanie de Bruijn, who will personally oversee the creation of your very own signature scent.
Or head to Place du Tertre in Montmartre where, on a picturesque cobbled square against the stunning backdrop of the Sacré-Cœur Basilica, local artists will create perhaps the ultimate Paris keepsake: a portrait or caricature of your own beautiful face, captured for posterity. And you don't get much more unique than that!
Souvenirs for Culture Vultures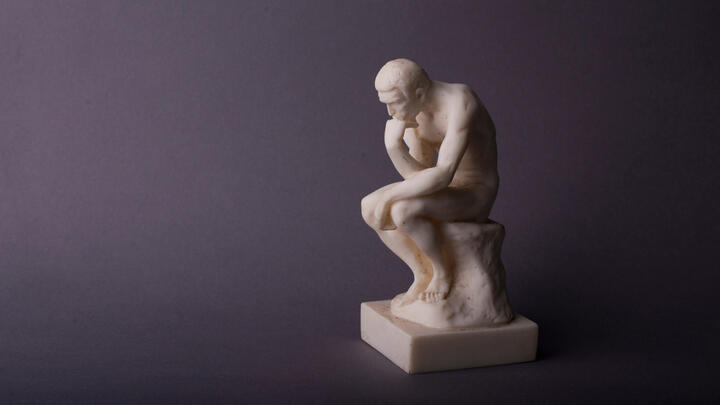 Paris boasts literally hundreds of museums and art galleries. And where there's a museum or gallery, there's a gift shop. Hit up the Louvre for all your Mona Lisa mug and tote bag requirements. Of course, as befits the world's most-visited museum, there's much more to the Louvre's beautiful wood-clad boutique than da Vinci knick-knacks alone. Think intricately detailed maps of pre and post-Haussmannian Paris, replica period jewelry and hundreds of prints of masterpieces from the museum's vast art collection.
Gift shops at the Rodin and Picasso museums also merit a visit in their own right. The Rodin Museum boutique is where you'll find note-perfect ornamental replicas of the French sculptor's most famous works, including The Kiss and The Thinker. While the Musée Picasso boutique in the Marais is your one-stop-shop for decorative houseware, pottery, bags, artful cushions and more, all designed to pay tasteful homage to the father of Cubism.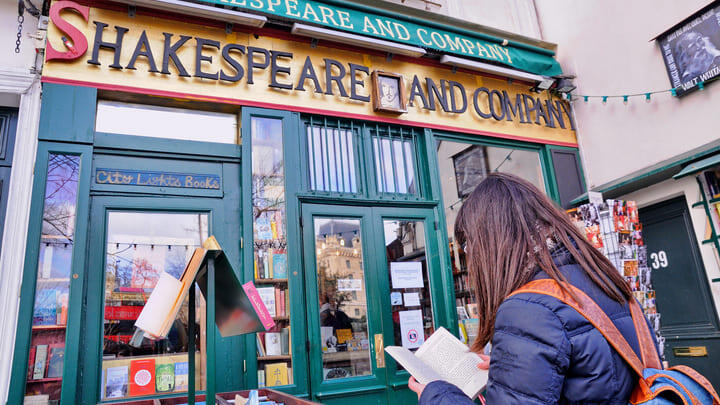 The stretch between Quai Voltaire and Quai de la Tournelle on the Seine's Left Bank is a bonanza for book lovers. Stroll the pretty embankment, enjoying glorious views of Notre-Dame and the bateaux that bob along the river, as you browse the wares of the Bouquinistes. This is the place for books of all shapes and sizes sold from stalls that line the riverside. Think literary classics, graphic novels, dusty antiquarian doorstops, childrens' books, art, poetry… it's all here, and then some. Budding philatelists and deltiologists are also well catered for by the Bouquinistes, with many selling antique French stamps and postcards alongside their books.
At the eastern end of this stretch, on the edge of the Latin Quarter, is also where you'll find beloved English-language bookstore Shakespeare and Company. Within this labyrinthine treasure trove of groaning shelves and teetering piles lies the perfect souvenir or gift idea for the bookworm in your life: a beautiful book of your choice, stamped with the shop's famous logo on its flyleaf. 
Wearable and Edible Paris Souvenirs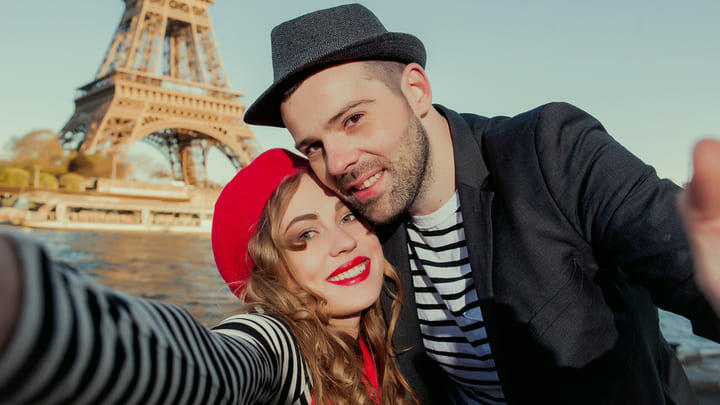 If you're lucky enough to be able to rock the beret-and-marinière look like the couple in the picture above, we recommend splashing out on these traditional Gallic fashions in a store with French-made goods, rather than picking up the cheap knock-off versions that are ubiquitous in the high-street souvenir shops (and that are liable to fall apart the minute you get them home). Try La Cerise sur le Chapeau for your chic headgear and Armor-Lux for your Breton striped shirt. Neither will break the bank and both have branches throughout Paris.
What might break the bank, however, is a visit to the flagship Louis Vuitton megastore on the Champs-Élysées, the biggest in the world. Seven stories of eye-wateringly expensive accessories await you in this palace of pleasure. It's worth visiting purely to ogle at its many wonders but, if you can afford it, what an absolutely perfect souvenir that magnificent little purse would make.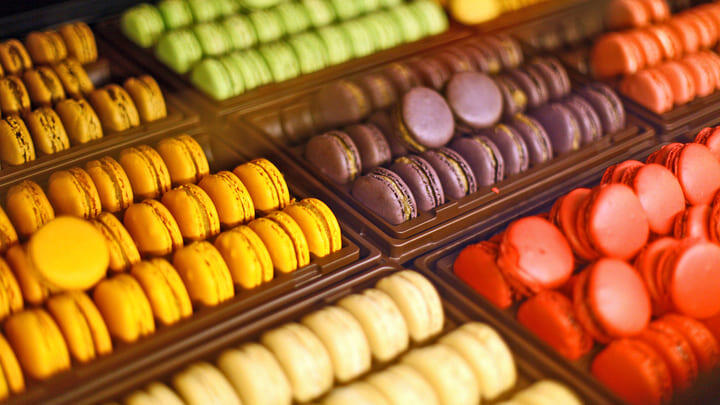 Food, glorious food… Given that France can stake a reasonable claim to having the finest cuisine on the planet, it would be remiss if you fail to take home something edible: an exquisite little jar of the yellow stuff from the Maille boutique on Place de la Madeleine, perhaps. Or some powdered hot chocolate from the legendary Café Angelina. 
Paris is also crammed with delightful fromageries and caves à vin for all your cheese and wine needs. Follow your nose to quaint Rue Mouffetard, one of the oldest streets in Paris and home to The House of Androuet, its highly decorative exterior tempting you inside to where hundreds of fragrant French fromages await. Head to Galerie Vivienne for an old-fashioned wine-shopping experience at Legrand Filles et Fil. Beneath the grand glass canopy of this 19th-century arcade, you'll find a wonderland of wines from Bordeaux to Burgundy and beyond.
And finally, it's impossible to talk about edible souvenirs without mentioning macarons, those colorful little meringue confections so beloved of Parisians and Instagrammers everywhere. You can pick these up from any Paris pâtisserie worth its salt, but for a truly decadent souvenir or gift, treat yourself to a box of beautifully presented macarons from the opulent Ladurée store. Or visit rival Pierre Hermé, whose must-try signature flavors include Ispahan (raspberry, lychee and rosewater) and Mogador (chocolate and passion fruit). You'll find both of these fine establishments on (where else?) the Champs-Élysées.
Save on things to do in Paris
Save on admission to Paris attractions with Go City. Check out @GoCity on Instagram and Facebook for the latest top tips and attraction info.