If you do one thing in Paris, it should be the Louvre. Pay a visit to the world's largest art museum and spend an entire day marveling at their exhaustive collections of art and artifacts. It's consistently among the most-visited art museums and one of Paris' most popular attractions.
While their collections encompass some 380,000 objects, only a portion of these are on display at any given time. Items hail from all around the globe and throughout human history, including objects from prehistory all the way up to twenty-first-century works of art. The Louvre has particularly notable strengths in Egyptian Antiquities, Greek, Etruscan, and Roman Antiquities, Sculpture, and Painting, among others.
The museum itself is a work of art—housed in the Louvre Palace (originally built in the late twelfth century as the Louvre Castle), it's a veritable maze of art and artworks. Creative types will find a haven here, with something from just about every period and field to marvel at.
Don't forget about the signature I. M. Pei pyramid out the front which acts not only as a piece of art but a stunning entranceway to the museum!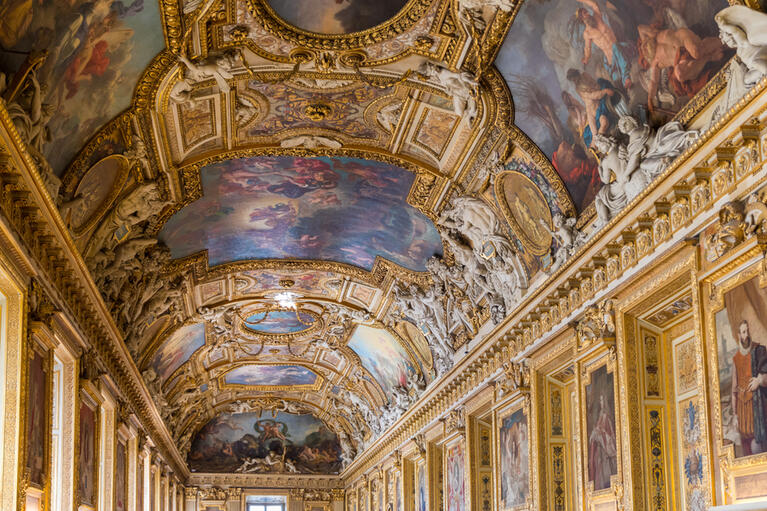 The Louvre Tickets
Looking for discount tickets to the Louvre? Grab a pass from Go City. Spend less on admission to the Louvre and dozens of other museums, tours, cruises, and other great Paris attractions. Enjoy 2, 3, 4 or 6 days of unlimited sightseeing and save big on combined admission versus paying at the gate. See more on pricing for our passes.
Louvre Tips for Visiting
Be sure to download an interactive floor plan prior to your visit — it's available in seven languages and will be invaluable in helping you plot out your course through the museum.
Consult the museum calendar to see what special events, gallery talks, or tours are going on during the day of your visit.
You may also wish to grab an audio guide for the Louvre. Available in seven languages, this is one of the coolest and more comprehensive audio guides around.
The Louvre is big—like, really big. Wear comfortable shoes and plan to rest periodically.
The Louvre is also difficult to navigate, but they've really simplified things by making their collections color-coded. Each of the eight curatorial departments is assigned a color, and then each room within the department is given a number. Follow your map and the signs on the wall and you'll be good to go.
Take your kids to the Touch Gallery. It's the only place in the entire museum where visitors are encouraged to touch the sculptures (which are replicas of those found in the museum's collections).
Other important places like elevators, restrooms, and restaurants are identified via pictograms—so no worries if you don't read French.
For those visitors traveling with little ones, check out the Tuileries Gardens, which are filled with kid-friendly activities like a carousel, trampolines, and little boats.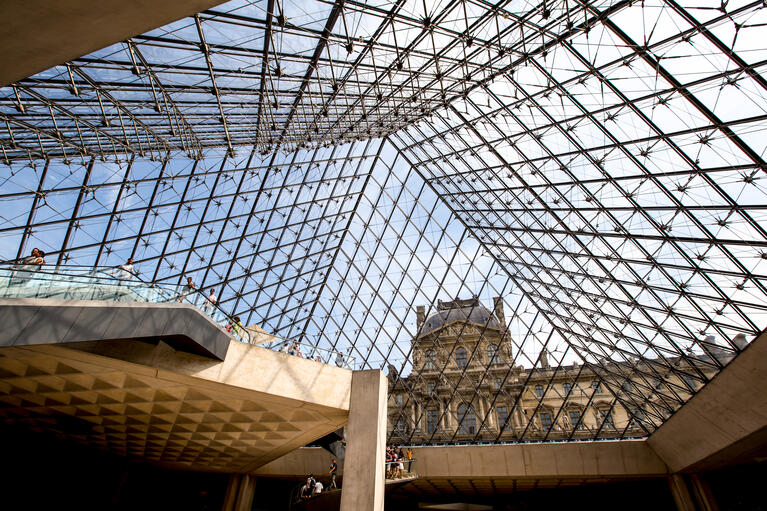 What is the Best Time to Go to the Louvre?
You should plan to spend most of the day at the Louvre if you want to see a representative sample of the exhibits; it is also possible, however, to organize a "highlights" tour and accomplish it all in a few hours. We recommend visiting the museum first thing in the morning as soon as they open to maximize your time spent inside the institution. Crowds will be heavier mid-morning and late afternoon. If you're trying to attend a special docent tour, it's wise to consult the museum's schedule of events to see what's available during the day of your visit.
What to Bring to the Louvre
Comfy walking shoes – the floors are hard and you'll be traipsing around quite a bit.
Money for souvenirs – their bookstore is one of the best places to shop for tourists in the entire city and it's worth spending some time there.
Layers – the museum is climate controlled, but this can differ depending upon the type of art. As a result, you may feel cool in some rooms but warmer in others.
A camera—there are places in the Louvre where photography is limited or prohibited, but you'll want it on hand for the opportunities that do arise.
What to Do at the Louvre
The museum collections are all sorted into one of eight curatorial departments: Egyptian Antiquities; Greek, Etruscan, and Roman Antiquities; Near Eastern Antiquities; Islamic Art; Paintings; Sculptures; Decorative Arts; and Prints and Drawings. We've listed a few of the highlights of each department below.
Egyptian Antiquities
One of the most famous collections within the Louvre's vast holdings, the department of Egyptian Antiquities is filled with hundreds of items from Nile Valley civilizations. Items date as far back as the prehistoric period (about 4000 BCE) all the way to the early Christian period (around the fourth century CE).
The objects in this department include everything from small pieces of jewelry, games, funeral urns, and amulets to large sarcophagi, engraved portions of tomb walls, and statuary.
Greek, Etruscan, and Roman Antiquities
Spanning the rich, diverse cultures of Greece, Italy, and the broader Mediterranean area, the objects and artifacts in this department range from the Neolithic era to the sixth century CE. Here is where fans of classical archaeology and mythology will find their inspiration.
With art objects that cover everything from the iconic amphoras to intricate statues of the gods to the signature black and red Greek pottery, you'll be amazed at the breadth and depth of these collections.
Near East Antiquities
One of the broadest categories of art and objects at the Louvre, the Near East Antiquities department spans an astonishing nine thousand-year period—from prehistory to the early Islamic period. Artifacts were discovered in a wide range of territory, from North Africa to Central Asia, and from the Black Sea to the Arabian Peninsula.
Highlights of this department include tablets bearing some of the earliest forms of writing, ancient beaded jewelry, board games, and dozens of religious statues and figures.
Islamic Art
New galleries in this department opened in 2012, allowing for an expanded display of Islamic artwork for Louvre visitors. There are a few thousand objects on display here, ranging geographically from Southeast Asia to Spain, and temporally across nearly 1,300 years of human history. A few of the objects you might see in this department include dishware and pottery, sculptures, textiles and texts, and manuscript pages.
Paintings
With a couple hundred works currently on display, paintings are one of the larger curatorial focus points at the Louvre. This department is among the most famous as well, with particular strengths in Italian Renaissance art and Dutch Old Masters. The collection encompasses every major European school of painting as well, including works from the thirteenth through the nineteenth centuries.
Some of the most famous works in this collection include Leonardi da Vinci's world-renowned Mona Lisa, Eugène Delacroix's Liberty Leading the People, and Johannes Vermeer's The Astronomer.
Sculptures
The Department of Sculptures has had a long and varied history, currently encompassing Medieval, Renaissance, and Modern sculptures. Every work here dates prior to 1850, and only includes those that do not qualify for the Greek, Etruscan, and Roman Department.
Some of the most stunning art objects in the entire Louvre are found here, ranging from statues of gods and goddesses to biblical characters to modern individuals of note.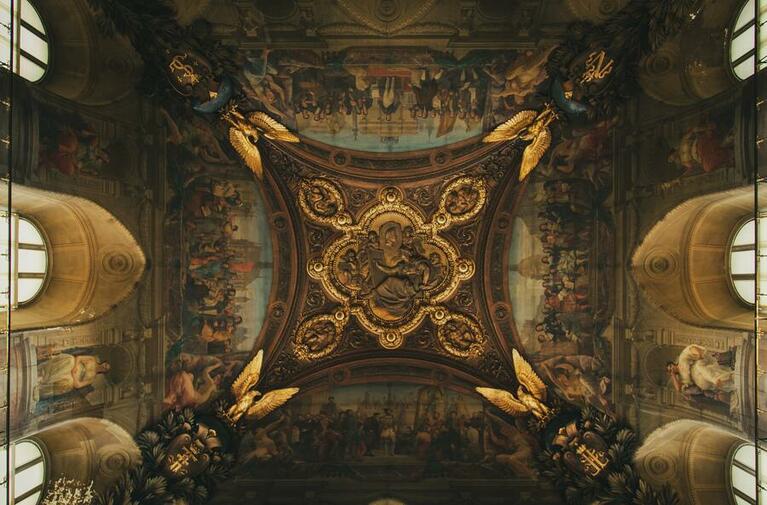 Decorative Arts
One of the best departments for those who appreciate and/or study the history of material culture in a global context, this area of the Louvre boasts a simply stunning collection of objects from around the world. Objects were created between the early Middle Ages and the mid-nineteenth century. You'll find everything from jewelry and ivory work to stained glass and furniture. Many of these objects inspire us to wonder what will happen to our own precious goods after we're gone.
Prints and Drawings
This is one for the history of the book people. Here you'll find a wide selection of printed material, including drawings, pastels, printed books, manuscripts, woodcuts, and lithographic stones.
The unique thing about this department is its approach to displaying the collections—because of their innate fragility, most works are kept in careful storage and are circulated in and out of temporary displays. As a result, all exhibits here are temporary, so what you see during your visit will be totally unique!
 
Save on Louvre Tickets with a Go Paris pass
A Go City attraction pass for Paris provides admission to the Louvre and dozens of other Paris and area museums for one low price. You'll also get admission to tours, cruises, and other top Parisian attractions to round out your weekend getaway.