Paris offers plenty to entertain the outdoor enthusiast year round. Alongside its scenic canals, hundreds of pavement cafés par excellence and impressive program of summer festivals and outdoor theater, the City of Light boasts more than 500 green spaces, running the full gamut from tiny public squares to painstakingly manicured formal gardens and acres of wild, sprawling woodland.
Hire a bike, try your hand at pétanque, or join the locals in a spot of people-watching over espresso and pain au chocolat. Read on to discover our pick of the finest outdoor activities Paris has to offer. 
Soak up the Views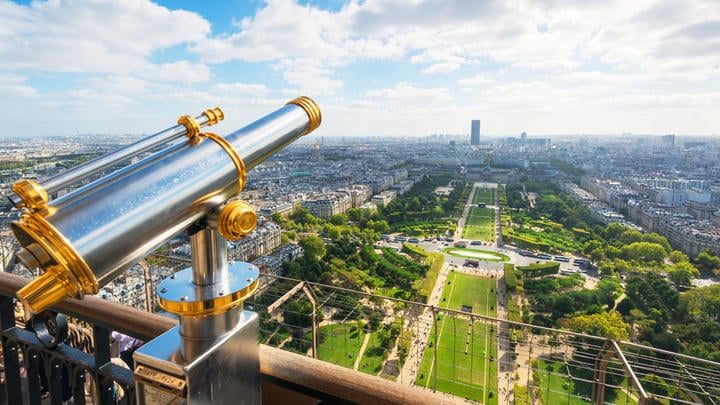 Paris is a city that just begs to be admired, photographed, sketched and painted. From the cobbled lanes of Montmartre, to the grand bridges that span the Seine, soaring monuments in steel and stone, and its bruised sunset skies, Paris's vistas are rarely anything less than utterly captivating.
Get a bird's eye view of the city aboard the Ballon de Paris Generali. This tethered helium balloon in the Parc André Citroën soars 150 meters into the sky, affording fantastic views of all of the city's landmarks. Or, if you're feeling particularly adventurous (and fit), why not take the stairs – all 674 of them – up to the second level of the Eiffel Tower? A glass elevator does the rest of the hard work for you, raising you to the open-air observation deck that's – gulp – a knee-knocking 276 meters above terra firma. A glass of Champagne at the bar may take the edge off. You'll also be relieved to hear that you're not expected to take the stairs all the way back down again.
Take the cute funicular railway from the cobbled streets of boho Montmartre up to the Sacré-Cœur. There are worse ways to while away an hour or two than sitting on the stone steps of this beautiful basilica at sundown with a hot, sugary crepe, soaking up some of the city's most wonderful widescreen views.
Bateaux and bicycles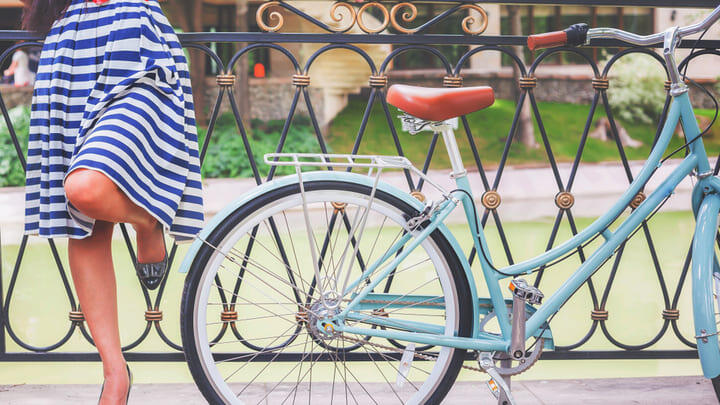 Getting around on two wheels is a relatively easy and relaxing way to explore Paris, thanks to an excellent network of dedicated cycle paths and a fairly reliable bike rental system in the shape of the Vélib' Métropole. You can get daily, weekly (or longer subscriptions) that allow you to pick up and drop-off bikes at hundreds of rental stations around the city, giving you the freedom to sightsee at your own pace.
Dodge the Segway tours wobbling their perilous way around the major attractions, swerve the camera-toting tourists dawdling in the Marais and make for the pleasant routes that meander alongside picturesque Canal Saint-Martin, with its romantic footbridges, laidback café culture, shabby-chic brasseries and secluded, tree-lined quays. Heading north, the scenery takes a distinct turn for the industrial, with twin cinemas that face off across the Bassin de la Villette. Pedal just a little further and you'll reach the Pont Levant de la rue de Crimée, the last remaining hydraulic lift bridge in Paris and a relic of the canal's extension at the end of the 19th Century. You might even be lucky enough to see it in action, rising up gracefully to allow boats to pass underneath.
If pedal power sounds too much like hard work, there are plenty of bateaux that will let you enjoy the sights of Paris from the water – ideally with your feet up and a glass of something sparkling in your hand. Take a sunset Seine cruise to see the city in all its glory, as monuments including the Eiffel Tower, Pont Alexandre III and the Notre-Dame Cathedral light up atmospherically against a dusky pink sky.
Summer in the City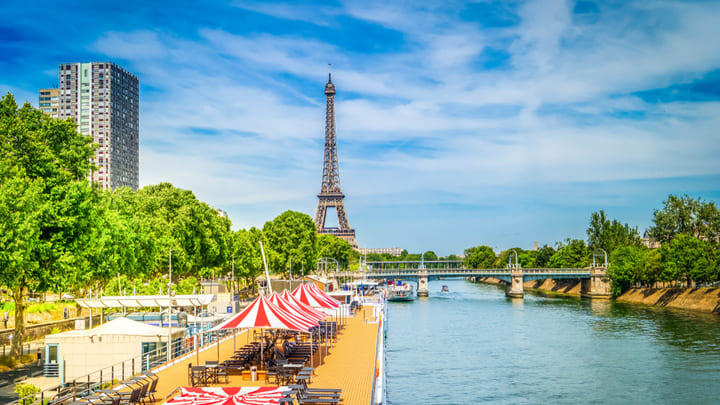 "I love Paris in the summer when it sizzles." So sang Ella Fitgerald in 1956. Granted, Ella also declared her admiration for Paris in fall, winter and spring in the song, but can you bask on golden sands by the Seine in January? Non! Paris Plages runs from July to August every year and sees the riverbanks of Trocadéro Gardens, Parc Rives de Seine and the Bassin de la Villette transformed into sandy beaches, complete with palm trees and parasols. Grab a delicious pistachio ice cream, pull up a deckchair and enjoy a flavor of the French Riviera in the heart of the city. 
A hot favorite with locals, Parc de la Villette is one of the largest green spaces in Paris. It's also something of a cultural mecca, crammed with concert halls, theaters and museums, as well as a series of bright red metal follies designed by architect Bernard Tschumi – there are 26 to find across the 137 acres of this massive playground. In summer, the park bursts into life with a busy roster of open-air events, including the popular Villette Sonique music festival. Meanwhile, movie mavens make a beeline for the park's Cinéma en Plein Air festival, where popcorn-toting viewers gather on blankets and deckchairs on the lawn for classic films under the Paris sky.
Best of the Rest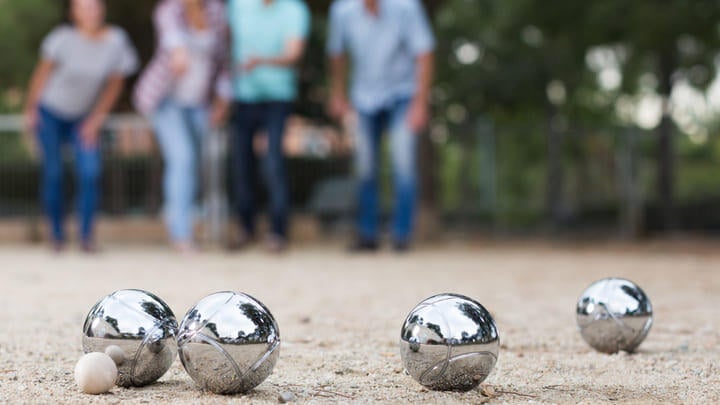 Make like Henri Lacroix and bring your A-game to the parks of Paris. Whaddya mean you've never heard of Henri Lacroix? He's only one of the greatest pétanque players the world has ever seen – thirteen times a world champion no less! Take on the local hipsters and old folks at this ancient boule-throwing contest in locations including Place de la Nation and the stunning surroundings of the Luxembourg Gardens.
If all that isn't enough to whet your appetite, why not head to Montmartre's Place du Tertre to have your least flattering facial features wildly exaggerated and recorded for posterity by a local caricaturist? Go scavenging for treasures at Marché aux Puces de Saint-Ouen, Paris's labyrinthine open-air flea market, or pay your respects at lavish celebrity tombs in the vast Père Lachaise Cemetery, where permanent residents include Oscar Wilde, Edith Piaf, Jim Morrison and Marcel Marceau.
Finally, there is no outdoor activity more Parisian than perching elegantly at a tiny pavement café table, and peering inscrutably through dark glasses at passers-by over your café crème. Overflowing ashtray of lipstick-stained Gauloises butts optional.
Save on indoor and outdoor activities in Paris
Save on admission to Paris attractions with Go City. Check out @GoCity on Instagram and Facebook for the latest top tips and attraction info.