As summer reaches the French capital, Paris seems to emit a sigh of satisfaction. World famous landmarks like Montmartre's Sacré-Coeur Basilica gleam in the early summer sun. Restaurant terraces are fiercely fought over, and the city's parks and gardens take on a light carpeting of picnicking friends and couples.
But if that isn't enough incentive to head to Paris in June, there's also plenty to keep you entertained. As well as the museums and galleries you can visit at any time of year, there are a wealth of one-of-a-kind events. The French Open tennis tournament and pride celebrations are just two.
All of which begs the question, where do you even begin in Paris in June?
What to do on your first day in Paris in June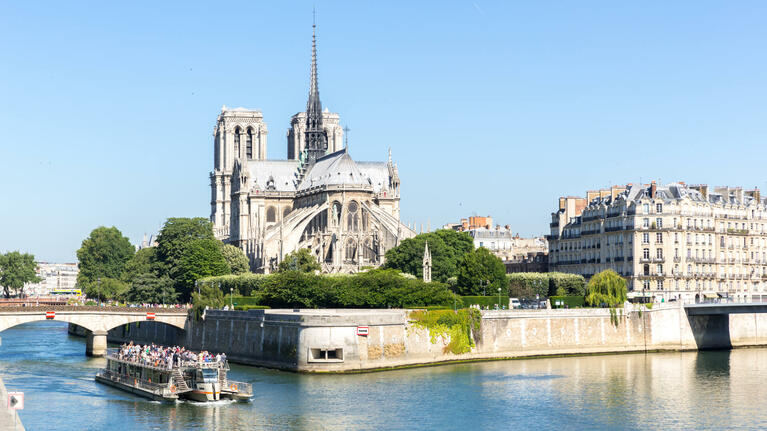 Why not start as you mean to go on? You're on vacation after all! Get your first view of Paris's glorious array of landmark attractions by gliding past them from the water. In just 60 minutes, River Seine cruises cover hundreds of years of history.
Sailing through an area so important it's one of only 1000 UNESCO World Heritage Sites globally, you'll travel from the gothic gargoyles of Notre Dame Cathedral to the reasons behind the construction of the Eiffel Tower in 1889.
For a bird's eye view that includes Gustave Eiffel's 'Iron Lady', there's only one place to head, and that's the Tour Montparnasse (Montparnasse Tower). The city's only skyscraper, its 56th story is given over to a panoramic deck with 360° views, reached in less than 40 seconds with Europe's fastest elevator.
Outdoor terraces aren't difficult to find at lower levels, although the very best see their tables fill up quickly each lunchtime and at the end of the working day. Frankly, it's no wonder given the warm early evening air and cityscapes people literally travel thousands of miles to witness for themselves.
Go al fresco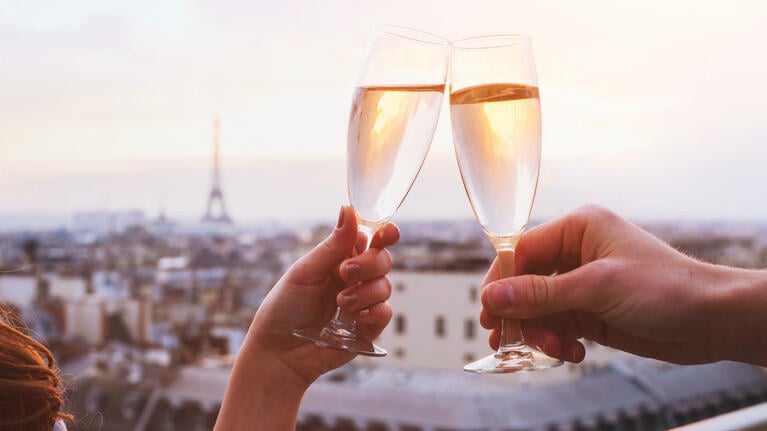 Whilst craft beers are making increasing inroads with trend-conscious Parisians, for the most part it's wine that remains the tipple of choice. It's not uncommon to see residents enjoying a glass of red or white wine over a lazy lunch.
But for that extra special element of holiday cheer it's tough to beat the offerings of restaurant Au Cadet de Gascogne. Take their menu's Champagne Gaumond option and you can enjoy a glass of bubbly and a smattering of French pastries in Place du Tertre in the heart of Montmartre.
It's the streets of Paris's 'golden triangle' – an unofficial district formed by the Champs-Elysées, Avenue George V and Avenue Montaigne – that takes the crown for many seeking out Paris's legendary style. The end of June sees even its luxury brands slashing prices in the summer sales.
Bask in Paris's open spaces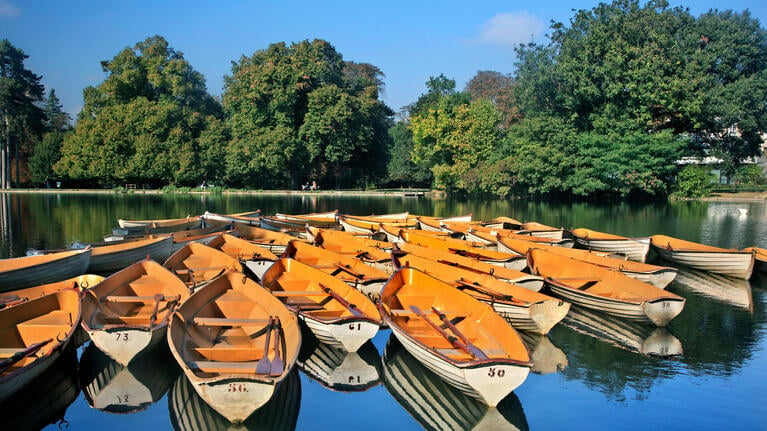 Lining the Seine's rive droite (right bank) on the city's western extremity is the immense Bois de Boulogne. Gifted to the people of the city by Napoleon III, it's one of the city's biggest parks. Amongst its over 2000 acres are gardens, greenhouses and even a zoo. However, in Paris in June attention turns to the southern side of the park, and Roland Garros, home to the French Open tennis championship.
The year's premier clay court competition, it's possible to encourage on the year's favorites and underdogs with a ground pass, giving access to practice courts and big screen displays.
It's the silver screen which features most prominently during June's Champs-Élysées Film Festival. Movie theatres along arguably France's most famous thoroughfare début a mix of American independent and French cinema.
The most colorful event of the year – Paris Pride – is also a stalwart of Paris in June. Also known as the Marche des Fiertés LGBT, this parade sets off from the Tour Montparnasse and ends on the opposite bank of the Seine at the Place de la Bastille. Here the good-natured crowds disperse amidst the streets of La Marais – the city's de facto LGBTQ+ district.
Absorb a little culture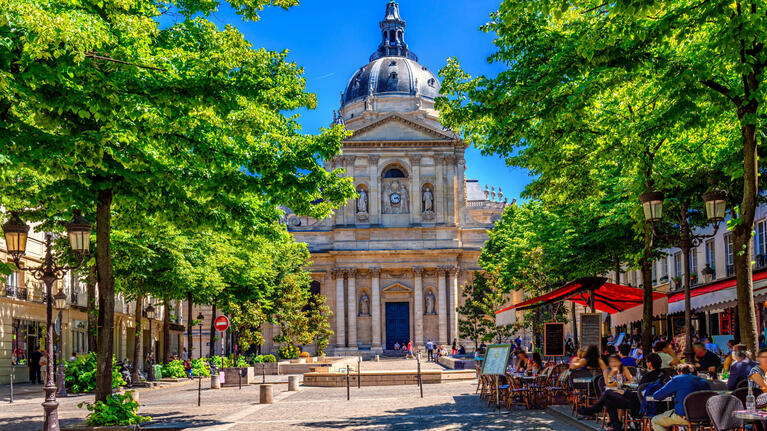 Should you miss Pride, you can instead wander the sun-filled streets of the fifth arrondissement with a guide-led Latin Quarter selfie tour. One of the most picturesque areas of the city – and that's saying something – you'll be able to grab Instagrammable images at the Panthéon and Shakespeare and Company – perhaps the world's most famous bookshop.
Home to a number of family-friendly museums, there are some collections that just shouldn't be missed from a June Paris itinerary. It's the Louvre that grabs most of the headlines, but it's the Musée d'Orsay that contains some of French art's most celebrated works, from Cézanne to Toulouse-Lautrec. American visitors – and Mr. Bean fans – should keep a look out for Arrangement in Grey and Black, better known as Whistler's Mother.
On the outskirts of Paris, June also sees theme park Parc Asterix open up for its lively summer season. A blend of adrenaline-inducing rollercoasters and child-friendly rides, this rival to Disneyland Paris has been celebrating the comic book antics of Asterix the Gaul since 1989.
Celebrate summer in style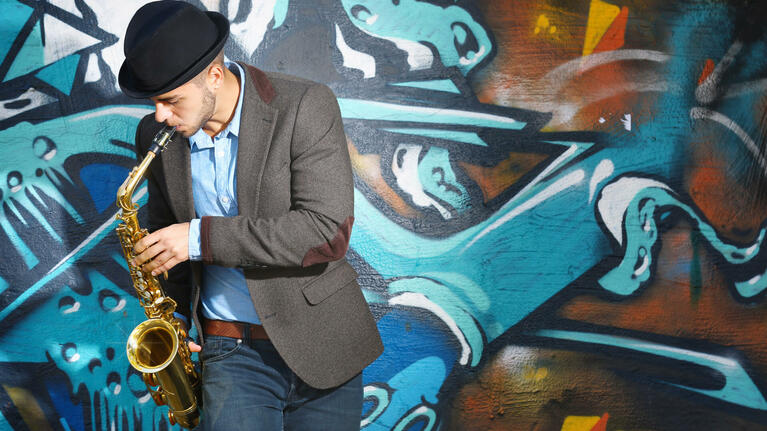 Keen to not let a single annual event pass without celebration, the summer solstice on June 21 is marked with the Fête de la Musique. Public spaces become stages for incredible amateur and professional musical talent, with few visitors able to resist the allure of the beat.
Ideally suited to fitting into a tight schedule of things to do in Paris in June is the La Défense Jazz Festival. Concerts usually take place over lunchtime and then again in the early evening, giving you plenty of time to admire the area's other delights, including the views from the Grande Arche.
Combining rock music with concerns for the environment, the We Love Green festival takes place in the Bois de Vincennes at around the same time. Lasting just three days, this is one of Paris's top festivals, featuring huge names in rock. As a result, tickets sell out long before summer kicks off.
Making the most of your vacation budget
With so much to do in Paris in June, how do you keep a tight rein on your vacation budget? One way is to uncover the glories of the French capital with Go City. Our pre-pay passes have been designed with discounts to major Paris attractions in mind, without taking away the flexibility you value as a traveler!