Looking for quirky and unusual and quirky things to do in Paris? Then look no further! We've compiled a wealth of weird, wonderful and downright wacky suggestions to help you swerve the tourist traps and experience Paris at its most offbeat, from sightseeing in a Citroën 2CV to riding a dodo, visiting Édith Piaf's private apartment and making an absolute cochon of yourself with all-you-can-eat chocolate mousse.
Quirky Things to See and Do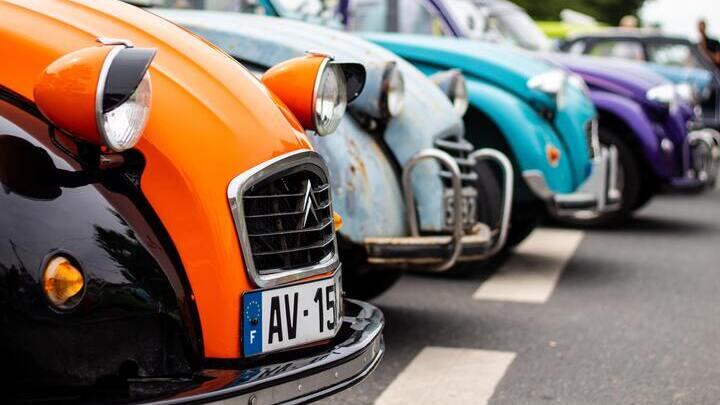 For a Paris sightseeing experience with a difference, book a private tour in a vintage Citroën 2CV, truly the Rolls Royce of classic French cars. Well, sort of. Tours last up to three hours and itineraries cover all of the major landmarks, Paris by night, Montmartre and more. Cost is per vehicle and you can reduce your share of the fare by cramming in three people, like sardines in a tin can. Albeit a very chic Parisian tin can. Take the edge off any discomfort caused by the 50-odd-year-old suspension system by adding a bottle of bubbly to your package.
You'll regret nothing about a visit to the fascinating Musée Édith Piaf (tours by appointment only). This tiny apartment in the 20th arrondissement was home to the legendary Parisian chanteuse just before her career went stratospheric in the early 1930s. View personal belongings including photographs, fanmail and Piaf's birth certificate, platinum records and famous black dress, and pick up a souvenir CD of Piaf favorites such as La Vie en rose and Non, je ne regrette rien in the little shop. Coincidentally, the museum is just a short stroll from the Little Sparrow's final resting place in the vast Père Lachaise Cemetery, a fitting spot to complete your Paris Piaf pilgrimage, and where you'll also find the tombs of Jim Morrison, Oscar Wilde, Sarah Bernhardt, Chopin and many more legendary entertainers of yore.
Dead Interesting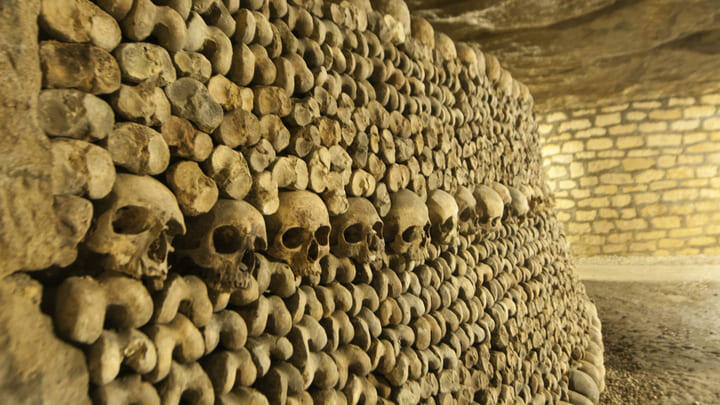 Paris could give the Mexicans and ancient Egyptians a run for their money in terms of its fascination with the dead. Celebrity-crammed cemeteries aside, there's no dearth of death-related attractions in Paris, if that's what floats your bateau. Perhaps closest to the bone are the Paris Catacombs, an extensive network of underground ossuaries containing the mortal remains of some six million Parisians, displaced here from overflowing graveyards in the 18th and 19th centuries. The experience of walking through these hushed tunnels and caverns, stacked top to bottom with human remains, surely ranks as one of the city's most macabre.
From the dead to the undead, the Musée des Vampires is every bit as creepy as it sounds… and then some. Step inside this house of horrors in the north-eastern suburbs of Paris to explore the private collection of vampirologist Jacques Sirgent, eccentric curator of this roomful of vampire-related imagery, curiosities and ephemera. Highlights include – steel yourself – mummified cats, a 19th-century 'anti-vampire protection kit', a crossbow and dozens of frankly terrifying artworks. As with the Piaf museum, Viewings of Mr Sirgent's private collection are by appointment only via the website.
Lust for the macabre still not satisfied? Book tickets for the Manoir de Paris, a heart-stopping immersive Halloween horror experience held annually in the Parc de la Villette's Grand Halle. Pay your respects at the world's oldest pet cemetery where permanent residents include Napoleon's three-legged dog Moustache and – I kid you not – Rin Tin Tin, canine star of the silent movie era. And climb aboard the Dodo Manège, a cute and colorful carousel in the Jardin des Plantes, where kids can choose to ride a dodo, a barbary lion, an elephant bird and other extinct and endangered critters.
Quirky activities in Paris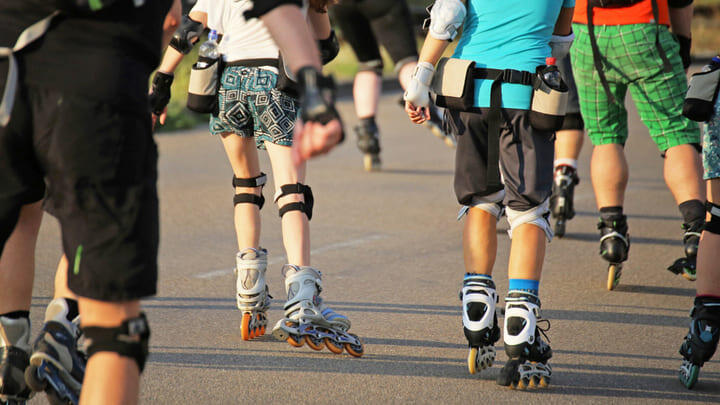 Rollerblading has really taken off in Paris over the last few years. They're everywhere: whirlwinding past as you enjoy a gentle stroll along the Champs-Élysées, hurtling towards you at truly terrifying speed in the Parc Monceau, bowling you over as you step out of your hotel… Get involved in the fun at the mass skating event that rolls through the streets of Paris – with a police escort, no less! – every Sunday. Or join the cool kids on the Pari Roller, a night-time tour-on-skates that kicks off in Montparnasse every Friday at 10PM and concludes in the wee small hours.
Fans of quirky French rom-com Amélie can follow in their heroine's dainty footsteps at locations across the city. Make your way through Montmartre's charming cobbled alleys to the real-life Café des Deux Moulins. This cute Parisian eaterie still looks much as it did in the movie, but with added Amélie posters, trinkets and ephemera dotted around the place. Picnic on the banks of Canal Saint-Martin and skim stones across the water, just as Audrey Tautou did in the movie, and take a dip in the Piscine de Amiraux, the beautifully restored Art Deco swimming pool where Amélie's father enjoyed a swim.
A scoot around the most interesting stations of the Paris Métro is also worth a couple of hours of anyone's time. Expect to see some of the city's finest street art down here, as well as impressive stations including Arts et Métiers, with its steampunk-inspired bronze-clad tunnels, and Palais Royal, which boasts an eye-catching entrance in brightly colored Murano glass. If you're still on an Amélie tip, there is of course a station for that: Abbesses, where our heroine encounters Nino for the first time.
Eccentric eating experiences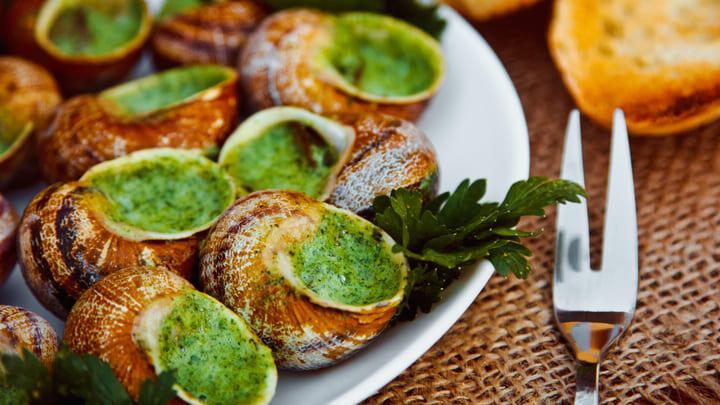 Adventurous gourmands rejoice! Paris has a reasonable claim to the title of dining capital of the world. So, if you're ever going to try escargots (that's right: snails), this is the place to do it. These little morsels of deliciousness are served in the shell, drenched in garlicky herb butter, and with a sizable hunk of bread to mop up every last drop of the juices. Yum.
Those with a sweeter tooth may prefer to tackle the bottomless chocolate mousse at Chez Janou near the Place des Vosges. Guests who order this dessert are served a great dollop of the good stuff from an oversized bowl, which is then left on your table for you to help yourself until you can eat no more. Head to Paris institution La Maison Ladurée on the Champs-Élysées for the finest French macarons in every conceivable color and flavor. Feeling extra decadent? Try one of these delicate little pastries wrapped in gold leaf and leave higher in spirits (if somewhat lower in cash) than before you entered.
For a truly eccentric dining experience, mosey down to Le Refuge des Fondus at the foot of Montmartre. There are only two decisions to be made here: meat or cheese, and red or white wine. The twist? Your wine is served in (and drunk from) baby bottles. It brings a whole new meaning to the term 'bar crawl'.
Save on quirky things to do in Paris
Save on admission to Paris attractions with Go City. Check out @GoCity on Instagram and Facebook for the latest top tips and attraction info.