Wander the streets of the City of Love and you'll soon discover how Paris earned this most romantic of nicknames. Charming tree-lined squares, couples holding hands at pavement cafés, secret flower gardens and swoonsome Art Deco architecture are just a handful of reasons among many. Read on to discover our pick of the most romantic things to do in Paris, from sunset cruises on the Seine to dining in the Eiffel Tower.
Romantic Walks and Cruises in Paris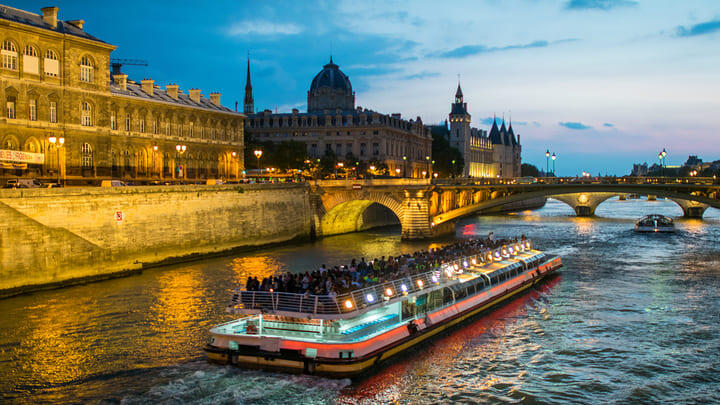 Is there anything more romantic than bobbing along gently in a rowboat, basking in sunshine and gazing lovingly into the eyes of your favorite human? Bois de Boulogne is one of Paris's biggest parks (over twice the size of Central Park!) and contains a chateau, a botanical garden and several ponds and lakes. It's on the largest of these – the Lac Inferieur, or Lower Lake – that you can rent old-fashioned wooden boats and row out onto the tranquil waters. Impress your partner by whipping out a Parisian picnic of wine, cheese and fresh baguette when you return to the bank, before taking a post-lunch stroll through the forest to the rose-filled Parc de Bagatelle botanical garden. Keep your eyes peeled for resident peacocks and cute native red squirrels along the way.
Paris is chock-full of opportunities for loved-up walks. Stroll hand-in-hand along the Canal Saint-Martin with its shaded quays, cute boho cafés and craft beer bars. Or head to – hear me out – Père Lachaise Cemetery, where sweeping tree-lined avenues are flanked by beautifully decorative sculptures and mausoleums. It's here you'll find the tomb of star-crossed lovers Heloise and Abelard, a favorite illicit meeting spot for young sweethearts in the 19th Century. Tradition dictates that visitors to Oscar Wilde's final resting place should plant a lipsticky kiss on the celebrated author's grave, though you might be advised to give your relatively germ-free significant other a smooch here instead.
A sunset Seine cruise is a great way to see the sights of Paris from the water. Go all gooey-eyed at landmarks including the Eiffel Tower, Notre-Dame Cathedral and Louvre Museum as dusk falls and thousands of lights start to twinkle across the city. Grab a glass of champagne to enhance this perfect moment, as your bateau sails gently beneath the soaring arch of Pont Alexandre III, with its gorgeously ornate Art Deco lanterns.
I Heart Montmartre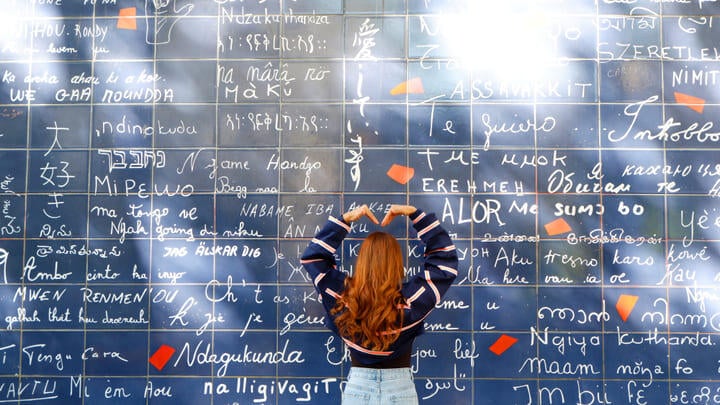 Of all the places in Paris that can legitimately lay claim to being the city's most romantic, Montmartre is arguably the one true holder of the title. Its narrow cobbled alleys, adorable Parisian cafés and, of course, the sumptuous Sacré-Cœur basilica all seem designed with the express intention of making you swoon.
Take a walking tour with a local guide to get your bearings then cut loose with your bae to make the kind of romantic memories money just can't buy. Start by taking in the flamboyant byzantine-style confection that is the Sacré-Cœur and enjoy the sweeping views it affords from its vantage point at the very top of the city. If you're planning to pop the question, you'd struggle to find a more romantic spot than this. Although, apparently, Paris's most popular location for proposing marriage isn't the Sacré-Cœur. Nor even the Eiffel Tower. Or the Palace of Versailles. Nope, it's… Disneyland. Your guess is as good as ours.
Hidden away in Montmartre's tiny Jehan-Rictus garden square is the wildly romantic-sounding Le Mur Des Je t'aime. This permanent art installation – a love-themed wall made from enameled lava tiles – features the phrase 'I love you' in 250 languages, so you can learn to whisper your sweet nothings in Italian, Indonesian, Inuit and more.
Like many places in Paris, Montmartre becomes even more beautiful and atmospheric as the sun sets. There's not much to beat sitting on the basilica steps on a sultry summer evening at sundown, watching the sky change color as the old-fashioned double-decker carousel below wheels into motion, all colorful horses, ornate carriages, carnival lights and the sound of laughter drifting up on the warm evening air.
La Belle Vie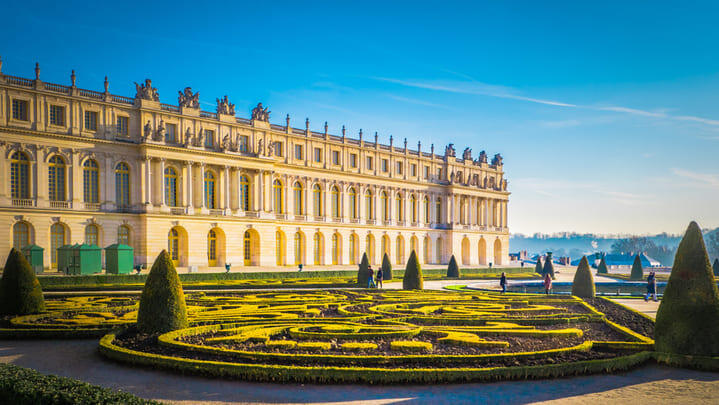 One of the most extravagant former royal residences on the planet, the Palace of Versailles lies a short distance west of Paris and is easy (and cheap) to reach by direct train. You could easily spend a day here, wandering the palace's vast interior and experiencing the multitude of impossibly opulent rooms that include the Hall of Mirrors and the King's private apartments. Don't miss Marie Antoinette's quaint Hamlet, a 'rustic' retreat with a working mill, and of course the palace's perfectly manicured formal gardens. Wander among the endless paths, ponds, sculptures and fountains with your own king or queen, admiring this landscaping masterwork that has remained largely unchanged since Louis XIV's reign in the 17th Century. 
Not without merit, the Palace of Versailles is one of the world's most popular attractions. So, if you prefer your chateau sightseeing a little more intimate, Fontainebleau and Vincennes also come highly recommended as alternative options. Both are just as captivating, and equally accessible from central Paris.
Paris boasts plenty of romantic restaurants and hotels that will make you feel like royalty yourself. Splash out on a lavish dinner inside the Eiffel Tower at Le Jules Verne, where views of the city sparkling far below like thousands of tiny diamonds are matched only by the immaculate tasting menu and finest French wines.
You may have to mortgage a kidney or two to get a room at the Shangri-La Paris. But what price love, eh? This grand and oh-so-Parisian hotel, once the home of Prince Roland Bonaparte, has vintage-feel rooms and suites in golds and duck-egg blues, many with views of the Eiffel Tower. There's also a chic spa and lovely sun terrace for summer dining. But be prepared to dig deep: prices for rooms without a view start well into four figures. Ooh la la indeed.
But maybe, just maybe, all you need for that unforgettable romantic Paris moment is a bottle of chilled champagne and a paper bag brimming with sugary-sweet chouquettes fresh from the boulangerie. Head to the banks of the Seine with your sweetheart at sundown and watch the City of Love light up. Perfect.
Save on romantic things to do in Paris
Save on admission to Paris attractions with Go City. Check out @GoCity on Instagram and Facebook for the latest top tips and attraction info.