Paris is a veritable playground for grown-ups. There are literally hundreds of museums and art galleries to explore, plus superb shopping – from high-end brands on the magnificent Champs Élysées to haggling for antiques and knick-knacks in the world's biggest flea market. There's top-flight entertainment too (spot of Paris burlesque, anyone?), not to mention some of the best gourmet dining on the planet. Dive in to discover our pick of the 10 best things to do in Paris for adults.
Dine in the Eiffel Tower
There are surely few things in life more decadent – or romantic – than having dinner halfway up the Eiffel Tower, as the sun sets and lights begin to twinkle in the city streets far below. Eating out at Le Jules Verne doesn't come cheap, with the five-course tasting menu starting at north of €200. But what price delicious French cuisine from a Michelin-star-awarded chef? Pair your dishes with wines hand-picked by the restaurant's master sommeliers for a meal you'll never forget… unless of course you accidentally finish the bottle.
See Some Great Art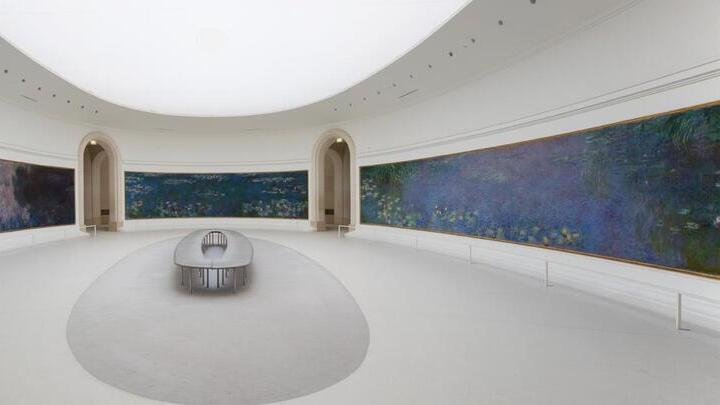 A short stroll through the leafy Jardin des Tuileries from its more famous (and much bigger) neighbor the Louvre, the Musée de l'Orangerie is a relatively diminutive but no less enticing treasure trove for art lovers, perhaps best known for its collection of eight of Monet's Water Lilies paintings. Here on the banks of the Seine, fans of Impressionism and Post-Impressionism will find much to admire, with many fine masterpieces from Picasso, Renoir, Cézanne, Matisse, Modigliani and more.
Shop til You Drop
Love to shop? You've come to the right place! Head to the Champs-Élysées if you want to give your wallet a real workout. Here, brands including Louis Vuitton, Tiffany, Apple and Chanel all but guarantee you'll get a panicked call from your credit card company before the day's out. Paris's historic covered passages invite you to browse antique stores, independent boutiques, artisan jewelers and much more beneath amazing glass canopies. Or, if it's knick-knacks, vintage fashions and old vinyl records that float your boat, put on your haggling hat and make for the Marché aux Puces de Saint-Ouen, only the biggest flea market on the entire planet.
Go Wine-Tasting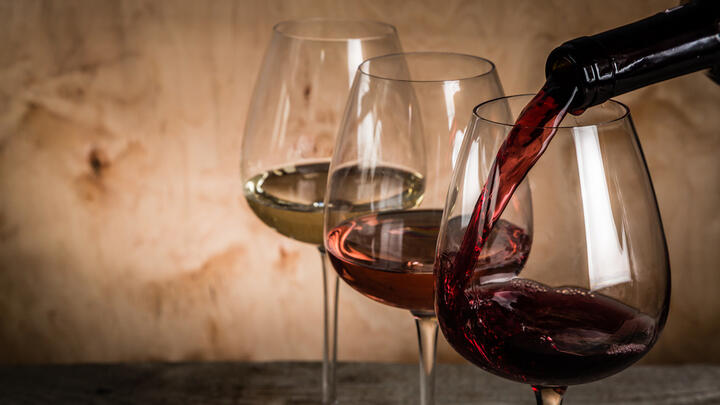 Back in the 18th Century, France's King Louis XV was reviled by his subjects for his flamboyant overspending, which included the establishment of a discrete network of caves and tunnels beneath the streets of Paris, in which to store his wine. Today, you can reap the benefits in these atmospheric royal cellars at Les Caves du Louvre, where a fascinating tour concludes with a tasting experience of three different French wines. Santé!
Take to the Skies
Soar high above the city on a ride aboard the Ballon de Paris Generali, a huge tethered helium balloon that rises 150 meters above the Parc André-Citroën, affording panoramic views of the Eiffel Tower, Notre-Dame Cathedral, Sacré-Cœur Basilica and more. Or make a day of it on an amazing hot-air balloon experience just outside of Paris. This flight takes you high above the undulating French countryside for a bird's eye view of its lush woodlands, picturesque villages and grand chateaux. You can even upgrade to include dinner and champagne if you're feeling particularly decadent.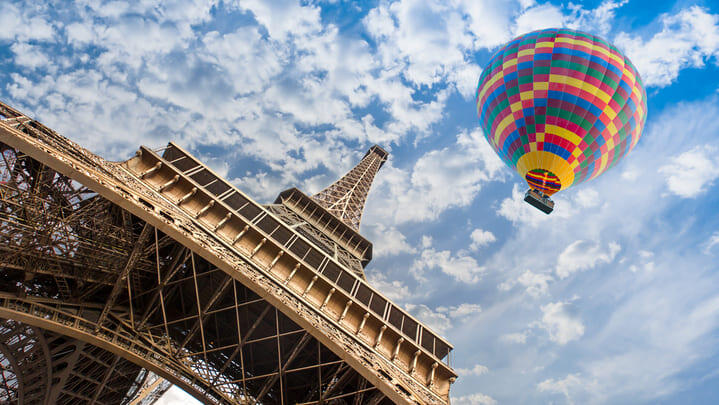 Unwind at the Spa
Do as the Parisiens do and make for the Latin Quarter's exquisite Mosquée de Paris, where the beautiful byzantine-style hammam with its gurgling fountain and inviting steam room provides an idyllic setting for an vigorous exfoliation treatment or massage. Pro-tip: sip a mint tea afterwards in the leafy courtyard to complete your journey to the state of pure zen. Big spenders can also pamper to within an inch of their lives at luxury spa facilities in the likes of chic Maison Sisley, just off the Champs-Élysées, and the spa at La Réserve Paris, one of the city's most luxurious hotels.
Buy Macarons at Ladurée
The modern 'Paris macaron', a super-sweet confection comprised of two small meringue discs around a ganache, jam or buttercream filling, is widely credited to upmarket French pâtisserie Ladurée. Head to their highly Instagrammable flagship store on the Champs-Elysées to stock up on these dainty treats, which come in a rainbow of colors and flavors, including chocolate, pistachio, cardamom and dozens more. Better still, pause for an indulgent afternoon tea in the opulent salon.
Visit a Château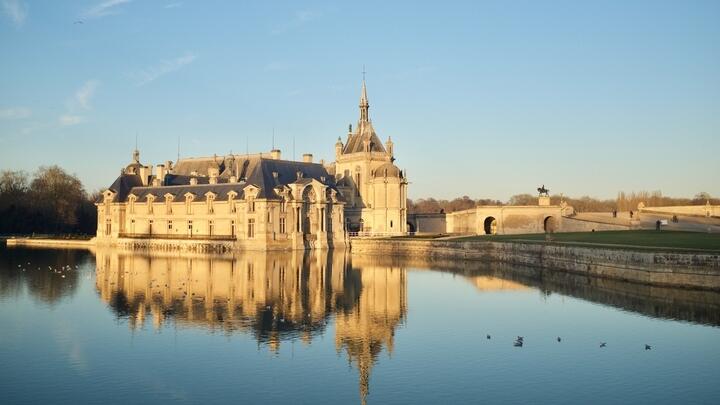 Paris is practically encircled by amazing chateaux and palaces, regal homes of the great and the good (and the not-so-good) over many centuries. Hop on a train to the insanely grandiose Palace of Versailles, a favorite dwelling of French Kings and Queens in the 17th and 18th centuries, later used by Napoleon as a summer residence following the French Revolution. Fairytale Fontainebleau has been around since medieval times: another favorite of our old pal Napoleon, it contains the only Napoleonic throne room still in existence, plus miles and miles of ridiculously sumptuous galleries, corridors, halls and boudoirs to explore. 
Take in a Show
Since time immemorial the great philosophers have pondered the question: if you went to Paris but didn't see a cabaret show, did you even go to Paris? Have no doubt: this is one of the most fun activities for adults on a night out in Paris. There's a sparkling roster of shows available across dozens of venues, the most famous of course being the Moulin Rouge with its neon-lit red windmill. Which you choose will really depend on how you like your cabaret and burlesque, from the très risqué to the positively demure and from traditional high-kicking can-can dancers to death-defying acrobatics and dazzling light shows.
Watch a Sunset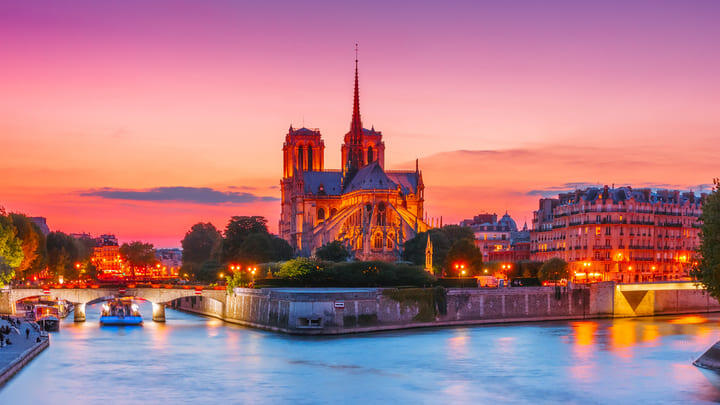 Experience a sunset just once in Paris, and you'll soon understand why it has so inspired artists like Monet down the centuries. Watch the sun go down from a bateaux on the Seine, as the city's great iconic monuments begin to light up. Or head for the hills – specifically Montmartre – where a chocolate crêpe on the steps of the Sacré-Cœur Basilica, as the sky blazes in various shades of orange, pink and purple, and lights begin to flicker on across the city, really might feel like a life-changing experience.
Save on things to do in Paris for adults 
Save on admission to Paris attractions with Go City. Check out @GoCity on Instagram and Facebook for the latest top tips and attraction info.