Paris is a playground for couples, a veritable feast of top-rated restaurants, world-beating museums and galleries, and some of the best night-time entertainment you'll find anywhere on the planet. Dive in to discover our pick of the 10 best things to do in Paris for couples.
Get High on Champagne
There are a few different ways to reach the top of the Eiffel Tower. The smart money is on taking the glass elevator aaaall the way up, but those with a sense of adventure (and buns of steel) can also climb the 674 steps to the second level and then catch the lift. There's even a see-through floor at level one, from where the boldest visitors peer right down between their legs to the forecourt far below. However you do it, you'll want a selfie with your significant other, glass of Champagne in hand, when you reach the top. Conveniently, a sky-high bar awaits you. But, at 276 meters above terra firma, best not let the bubbles go to your head.
Take a Cruise on the Seine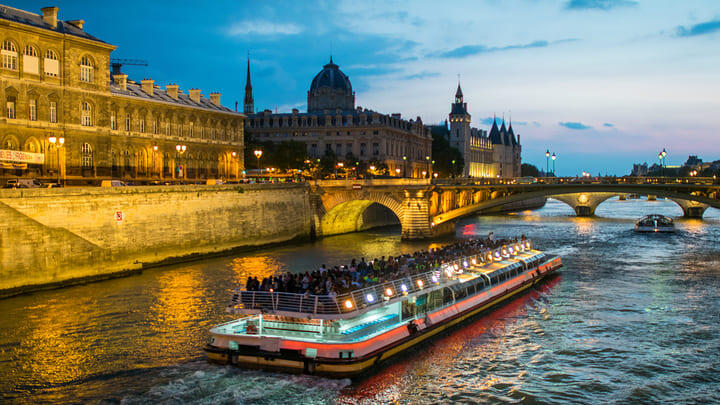 A Seine cruise is a fine way to see some of the city's most iconic museums and monuments. Board at the Eiffel Tower and meander downriver past sights including the grand gothic melodrama that is the Notre-Dame Cathedral, and the Louvre Museum's instantly recognisable glass pyramid. Sunset is a particularly atmospheric time of day to take the cruise, as dusk falls and the Seine's grand bridges and riverside gardens and museums turn their lights on.
Visit a Museum
Whether you share a passion for the arts or not, you're sure to find something of interest in Paris's galleries – there are over 1,000 to choose from, after all. Couples who wish to avoid the crowds should opt for small but perfectly formed collections such as those found in the Rodin Museum or Gustave Moreau Museum. Choose Rodin for the splendid formal gardens, where sculptures including The Thinker and The Gates of Hell lurk among box hedges, rose gardens and ornamental fountains. Or pick Moreau for a fascinating glimpse into the artist's mind: printed guides to the trippy and fantastical paintings inside his former home were written by his own fair hand.
Go for a Wander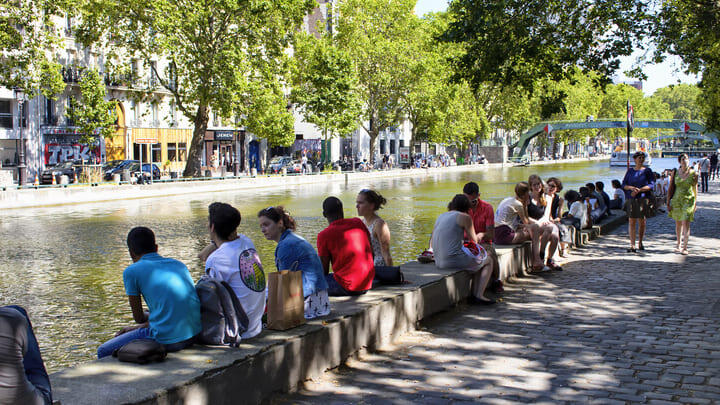 Paris's relatively compact center is best experienced on foot, and nowhere more so than on a romantic stroll along the Canal Saint-Martin. Starting where the Rue de Marseille joins the Quai de Valmy, meander past colorful waterside boutiques, and soak up the atmosphere from boho bars and bistros. Take a detour onto Rues de l'Ourcq and Rue Germaine Tailleferre for the wonderful street art, then cross the bridge to enter Parc de la Villette, a vast and verdant Paris playground that's packed with sculptures, museums and music venues, where you could quite easily while away the rest of your day.
Make Macarons
Ever tried a macaron? These deliciously sweet little pastries are ubiquitous in Paris and come in any number of different colors and flavors. One taste and you'll be hooked – find them brightening up the window display of every self-respecting pâtisserie in town. Now just imagine you could continue to eat these decadent French treats after you return home. Step forward the popular macaron-making class at the Galeries Lafayette Haussman department store where, in just 90 minutes, you and your partner will learn to mix, bake, assemble (and of course eat) macarons like pros. With your newly acquired skills, we guarantee your friends will love you forever, even if your weighing scales do not.
Browse the Markets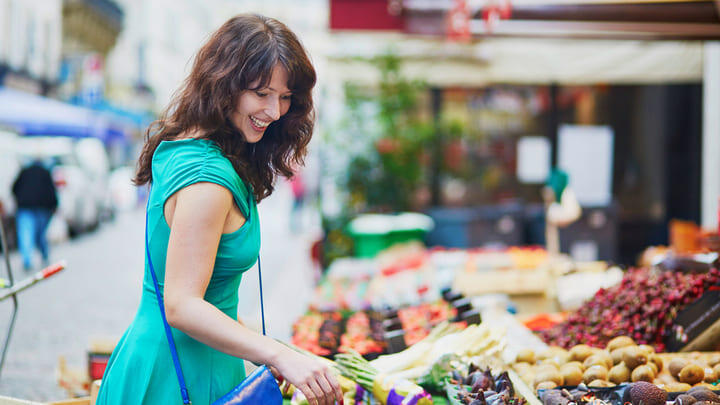 Paris has around 100 different markets, with something to satisfy every appetite, from farm-fresh produce to flea market knick-knacks, flowers and, yep, even animals. Pick up a selection of fabulous fromages, an oven-fresh baguette, a punnet of ripe strawberries and a bottle of organic wine at Marché Bastille, then head to nearby Place des Vosges for an impromptu picnic. Or satisfy your urge to bag a bargain at the vast Saint-Ouen flea market where the seemingly endless labyrinth of alleyways contains every treasure under the sun, from vintage vinyl to retro fashion, period antiques to old-fashioned toys and games.
Take a Day Trip to a Château
There are dozens of grand palaces and châteaux within easy reach of Paris, perfect for a romantic day trip out of town. A direct train gets you to the ridiculously opulent Palace of Versailles in under an hour. You could easily lose a whole day at this former royal residence, wandering among the countless paths, ponds, fountains and sculptures with your own king or queen, and exploring the almost comically extravagant interiors of the Hall of Mirrors and the King's private apartments. More tastefully restrained chateaux including fairytale Fontainebleau and Renaissance-style Rambouillet are equally accessible by train from the center of Paris.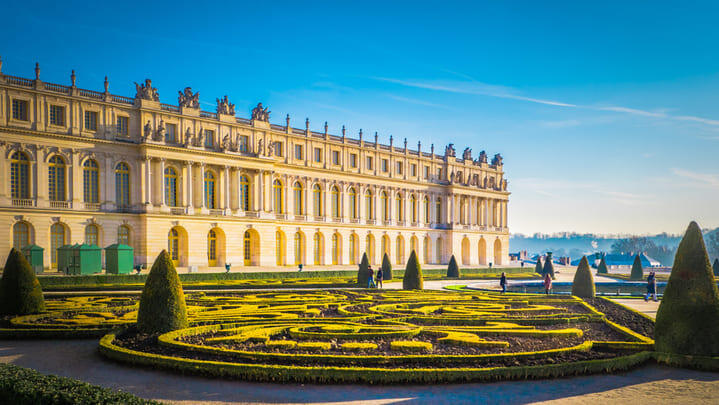 Go Wine-Tasting 
Established in the 18th Century by King Louis XV's personal sommelier (how the other half live, eh?), Les Caves du Louvre offers a different kind of wine-tasting experience. Descend into a network of tunnels beneath the streets of the 1st arrondissement, where your guided tour of the royal cellars culminates in a tasting experience with three different French wines. If you fancy viewing some fine art with your newly acquired double vision afterwards, it's just a short stagger to the Louvre Museum.
Take in a Show
Get your glad rags on and hit the cabaret clubs. No self-respecting visitor should leave Paris without experiencing at least one of the myriad burlesque shows on offer at the likes of the Moulin Rouge, with its famous neon-red windmill. Or, if you prefer your entertainment a little less… risqué, you can take your date to see a classic opera or ballet at the refined Palais Garnier or Opéra Bastille. Or enjoy an old-fashioned movie night at one of the city's historic picture houses, such as The Louxor, a sumptuous century-old mash-up of Egyptian and Art Deco design. Don't forget the popcorn!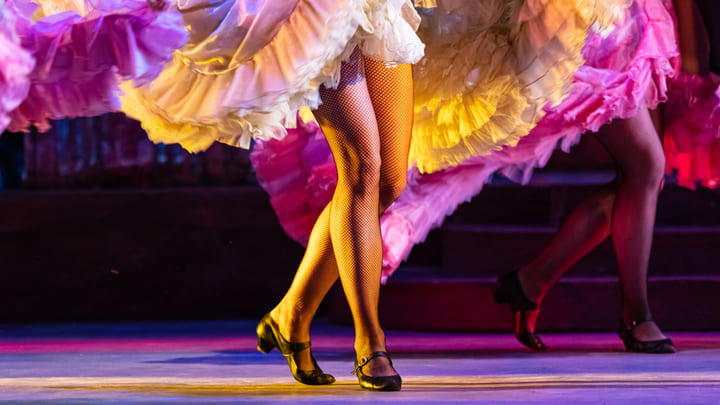 Watch the sunset from Montmartre
Hopeless romantics will be unable to resist Montmartre, with its atmospheric cobbled lanes, sultry bars and ultra-Parisian café culture. Take the funicular up to the top of the hill and stroll round the Sacré-Cœur to grab a selfie at Le mur des je t'aime (the Wall of Love). Ask one of the resident artists in the Place du Tertre to sketch a cutesy caricature of you and your beau, before heading back to the steps in front of the basilica and sharing a chocolate crêpe as the sun sets over the city.
Save on things to do in Paris for Couples
Save on admission to Paris attractions with Go City. Check out @GoCity on Instagram and Facebook for the latest top tips and attraction info.