It's the most wonderful time of the year! Those songs are playing on the radio again. An overabundance of red and white adorn every advert on TV. It can only mean one thing; Christmas. It's here. It's finally here! Time to dust off the box of decorations, and grit your teeth through another card to a long-hated neighbor. 
If you're visiting the magical city of Paris over the holidays, you might wonder what the Christmas market situation looks like. Which are the best, and where are they in the city? Don't worry; we've got you. Read on, and discover our picks of the best Christmas markets in Paris!
Including:
Montmartre Christmas Market
Saint-Germain-des-Prés Christmas Market
La Magie de Noël
Hôtel de Ville Christmas Market
Marché de Noel Notre Dame
and more!
Are Paris Christmas markets good?
While Paris may not have the same Christmas market pedigree compared to other cities, they're quickly catching up. Nowadays, you'll find a number of brilliant Christmas markets in Paris, with some focusing on fun, and others offering hearty meals and warm drinks.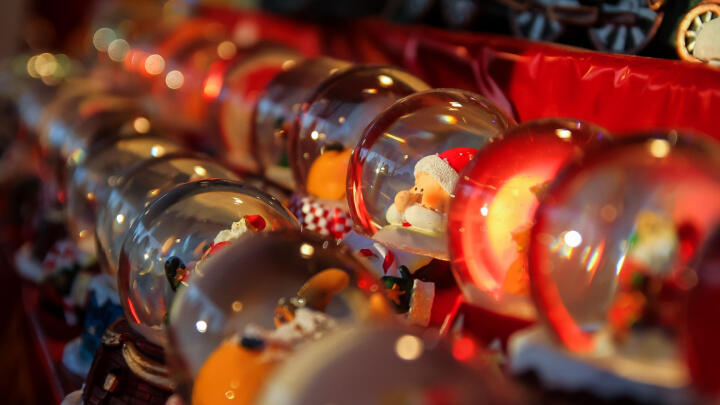 November - January
'The Magic of Christmas' was once the Champs-Élysées Christmas Market. But it has only grown from those humble beginnings, now stretching the length of Tuileries Garden, between the Rue des Pyramides and Place de la Concord. Arguably Paris' biggest and most visited Christmas market, it offers a one-two punch of carnival rides and your usual market offerings. 
Visitors will find more than a dozen rides to enjoy, from merry Ferris wheels to bumper cars. So that's the kids taken care of. And you, if you're so inclined. For everything else, the market has a metric ton of food, mulled wine, Champagne, and stalls selling artisanal decorations, jewelry, and other Christmasy goods bound for a stocking or two.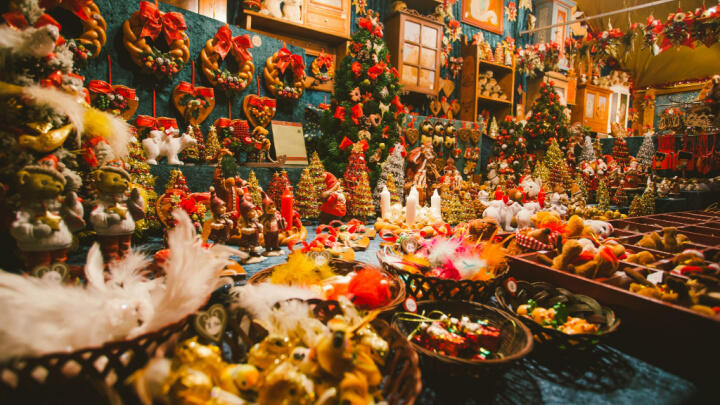 December - January
While the eponymous cathedral may still be under restoration following the 2019 fire, its Christmas market is still in full swing. While it may not boast the entertainment offerings you'll find on some of this list, it does provide plenty of upmarket gift-purchasing opportunities!
Walk its stalls, and you'll find plenty of pricey gifts to give to your loved ones, from ornate homeware to bedazzling jewelry. You could even pick up some top-draw meat for the Christmas cook-up, if you're spending the holidays in the city.
And, of course, you'll have plenty of opportunities to red the cheeks thanks to pots of steaming mulled wine. And if you're lucky, you might even catch a live performance to two.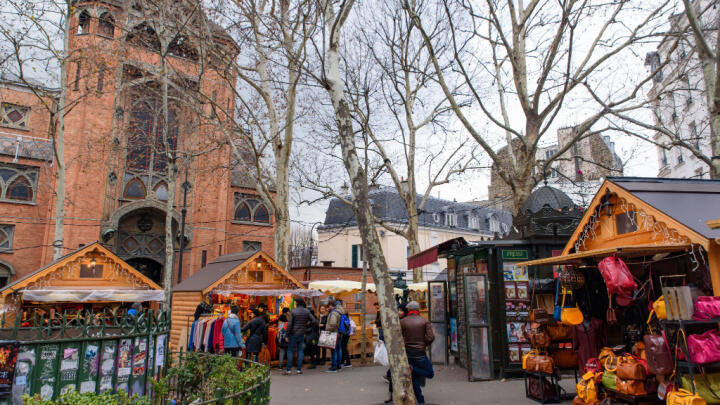 November - December
If you're looking for a smaller affair with fewer shoulders to brush past, head to stunning Montmartre, where you'll find a humbly delightful Christmas market where local artists, designers, and creators get to strut their stuff. 
Visitors will find it easy to navigate around the twenty-off stalls that call the market home, all surrounding a massive Christmas tree replete with multicolored lights. Grab a mulled wine to warm up, and take a wander around the food stalls to pick up some traditionally Parisian snacks. Then, pick up some unique scarves, toys, and other items created by local masters. 
Stocking fillers that sustain the local community? What could possibly be more Christmasy than that?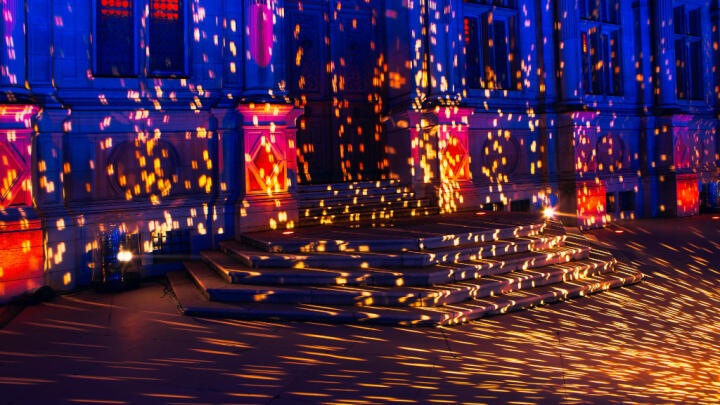 December - January
If you like your Christmas tinged with a rustic theme, head to the Hôtel de Ville Christmas Market, which is encased in Christmas trees adorned with lights and decorations. And that rustic feel trickles down to the market's offerings, too, with plenty of roasted chestnuts, mulled wine, and other sweet treats to guzzle down as you wander about.
But really, the star of the show is Hôtel de Ville's light show, which bathes the surrounding buildings - and the market - with the warm glow of unmistakably Christmas colors. Under all that, kids can even get in on the fun, with carousels, and even Santa's workshop, where they can dream big. Inevitably, however, their dreams will be shattered when you fail to plant a unicorn under the tree. It's okay; they'll get over it. Eventually.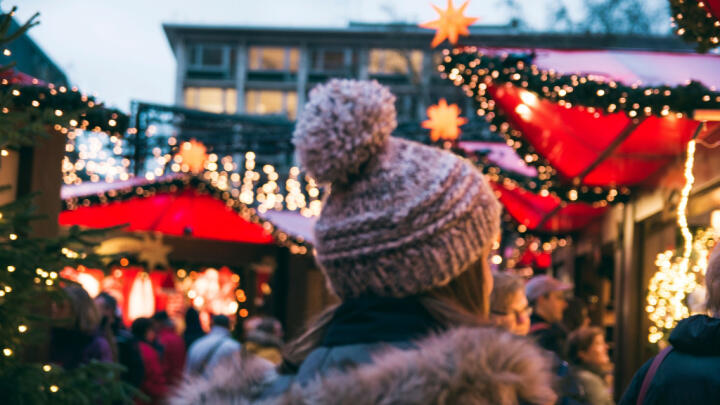 December-January
And now, we look to the stomping grounds of soccer behemoth PSG, where you'll find the charming Saint-Germain-des-Prés Christmas Market. While oil may flow freely into the club's checkbook, the Christmas market is a more modest affair, with around 40 stalls offering plenty of stocking opportunities. 
From candles to ornaments for the home, to jewelry, bags, and unique keepsakes for your loved ones, there's plenty to purchase. And that's without mentioning the food and drink. Cakes, wines, Christmas liquors, and even caviar make an appearance every year. So, if you want to upgrade your tasting time, this might just be the best Christmas market in Paris!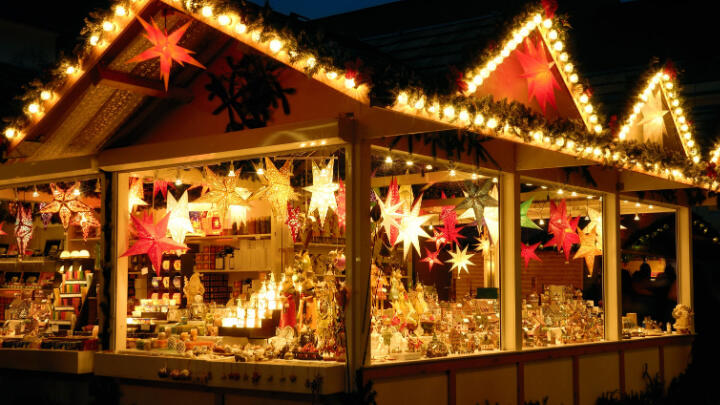 November - December
Throwing their hat in the ring for the 'biggest Christmas market in Paris' is La Défense Marché de Noël, which expands some prior proceedings with over 200 stalls along La Défense Esplanade. Over a million people visit every year, and that many people can't be wrong. 
Along with the usual market affair of great food and piping-hot drinks, as well as plenty of stocking shopping opportunities, what makes La Défense Marché de Noël unique is the many stalls selling specialty items. One moment you could be looking at bespoke stuffed Santas, the next filing through antique artwork. It's a melting pot of oddities and absolutely deserves a visit at least once.
All of this goodness is backed up by DJs spinning sweet Christmas songs all through the night. So, if you're in the area, why not give it a go? 
And that rounds out our list of the best Christmas markets in Paris! If you're in town for the holidays, why not make the most of your visit and see what else the city has to offer? Go City's got you covered. With our Explorer Pass and All-Inclusive Pass, you can see all of Paris' best bits for one low price!