This collaboration will bring Go City's long-haul travelers to Mandai Wildlife Reserve, home of Singapore's wildlife parks.  
Go City, the leading attraction pass company signed a multi-year partnership with Mandai Wildlife Group, the steward of Mandai Wildlife Reserve, a unique wildlife and nature destination in Singapore. The mutually beneficial partnership will leverage Go City's global reach and appetite for expansion in APAC to drive visitors to Mandai Wildlife Reserve.  
Mandai Wildlife Group operates world-renowned wildlife parks including Singapore Zoo, Night Safari and River Wonders and the upcoming Bird Paradise, set to open in the second quarter of the year. The group is also driving an exciting rejuvenation project at Mandai Wildlife Reserve that will integrate five wildlife parks with distinctive nature-based experiences, green public spaces and an eco-friendly resort.   
Under the partnership, Go City will deliver a range of global marketing activities to promote the destination, specifically the US and UK. Mandai Wildlife Group will also work with Go City on an Application Programming Interface (API) that aims to enhance the overall experience and ensure the park visits are seamless for travelers.   
"We're thrilled to launch this multi-year partnership with Mandai Wildlife Group," said Baidi, Li, SVP of Commercial (APAC) at Go City. "Go City is betting big on the APAC region, with team expansion, new product launches, and long-term partnerships with major players in the region, like Mandai. We're so excited for what this partnership will mean for our APAC customers and visitors."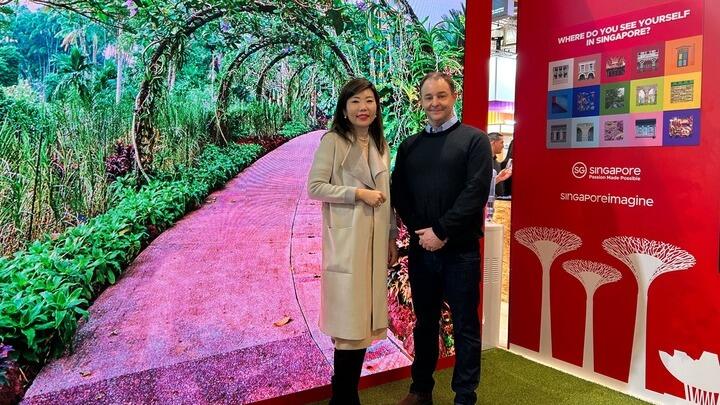 Ms. Jean Choi, Chief of Sales & Marketing at Mandai Wildlife Group, and Jon Owen, CEO of Go City 
Jon Owen, CEO of Go City added, "We're focused on delivering the best customer experience for travelers all over the world, and we see a massive opportunity to grow that experience offering in APAC. We're thrilled to partner with Mandai to draw more travelers to Singapore, and we're confident that this partnership is a strong start to what we know will be an incredible year in the destination."  
Go City was identified as the strongest partner for this collaboration due to the company's strength in marketing to long-haul travelers. With products in 30+ countries around the world, and a burgeoning presence in APAC with products in Singapore, Seoul, Bangkok and Sydney, the company's global reach provides unique ways to target and market to the long-haul traveler.  
Ms. Jean Choi, Chief of Sales & Marketing, Mandai Wildlife Group said, "Since the return of travel to Singapore in 2022, we have seen an overall positive recovery from markets like the United States, United Kingdom, and Australia. Go City has been a key partner in helping us drive visitors from these markets to our parks. We are pleased to grow this partnership and bring it to the next level to promote the developments at Mandai Wildlife Reserve and our new experiences." 
Go City aims to make the best city breaks happen by helping travelers access the best experiences in the world's top cities. This partnership is the latest way the company is delivering on that promise, by making it easier for more travelers to experience the best experiences in Singapore.  
Contact  
Go City is the go-to app for travellers to access the best experiences in the world's top cities. Operating in 30+ destinations around the world, Go City has been helping travellers save more and experience more for over 20 years. One pass, for one price, all delivered on an easy-to-use app. Go City helps customers spend less time stressing and more time seeing the world, while also providing partners with incremental visitation and revenue. To learn more and to experience your best city break, visit www.gocity.com.