Visitors to Philadelphia may be forgiven for feeling like they're traveling through time in this former capital city, as they chart its evolution from the birthplace of the United States to the modern, cosmopolitan city it is today. No stone of history is unturned in its museums, and no corner of its streets devoid of its own work of art or world food café. You can also travel through the seasons, and it's particularly vibrant in the summer months with its stacked schedule of outdoor festivals and events. But for those who prefer a little space, there's plenty to enjoy in the cooler months too, with its abundance of galleries and restaurants to escape into, and of course a profusion of parks and gardens that are continually changing as the year goes by. So whether you prefer hot or cold, bustling or quiet, or are at the mercy of your schedule, you can be sure to find plenty of interest, and people ready to welcome you, in the city of brotherly love.
 

Summer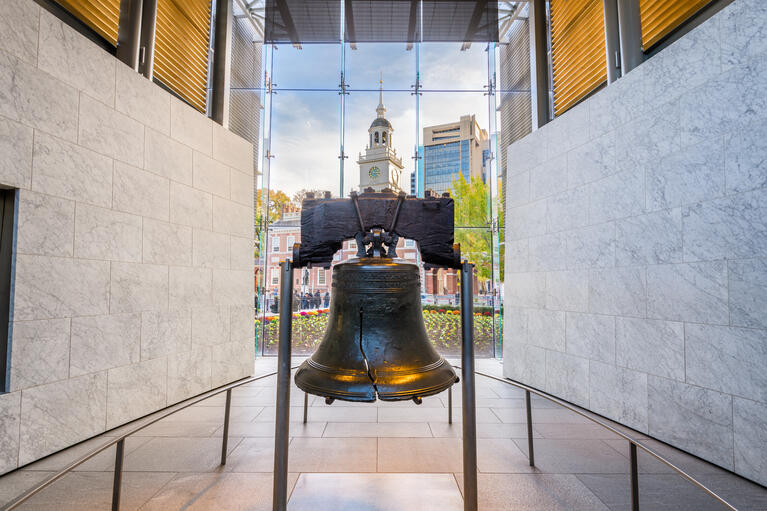 Summer is the busiest and most expensive time to visit Philadelphia, but if you love warm weather, outdoor festivals and the company of other extroverts then there's no better place to be. June is Pride month, so be sure to hop onto an LGBTQ history tour, scope out restaurants serving LGBTQ themed food to support pride-related charities or go and see one of the city's famous drag shows.
If you find yourself in Philadelphia for the Independence Day celebrations in July, brush up on your history by visiting the National Constitution Center or the Museum of the American Revolution, or contemplate heroes from around the world at the National Liberty Museum.
Beer, folk and food festivals continue well into July and August, and although they say it's always sunny in Philadelphia this is also when the rain is most likely to roll in. Beat the humidity by escaping to Spruce Street Harbor Park, considered to be one of the best Urban beaches in America, or escape to Longwood Gardens where the water lilies will be in full bloom and the pond's fountains dazzling crowds with water and light displays.
Fall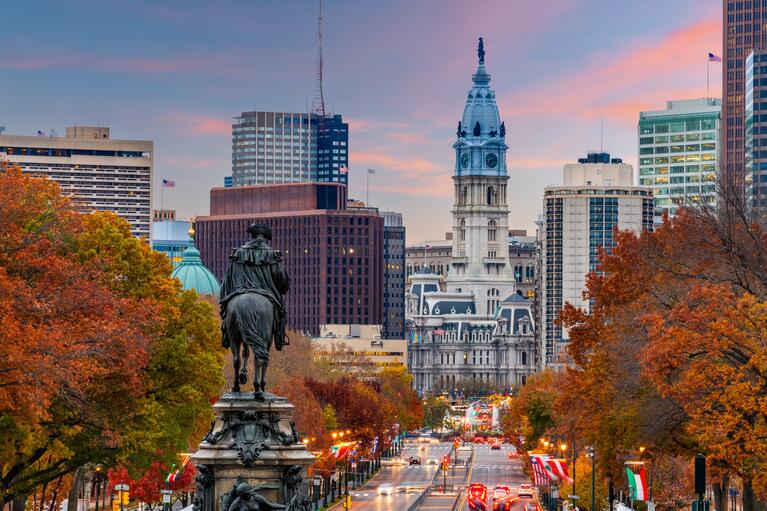 September is a refreshing time to be in Philadelphia, as temperatures cool, crowds disperse and the colors begin to change – so if you're after some fiery photographs head to Independence Hall or the Benjamin Franklin Parkway, where the autumnal leaves contrast against the city skylines. A month-long Fringe Festival also kicks off this month, or if you're a fan of all things fungi, check out the annual Mushroom Festival at Kennett Square, just outside the city.
October is Halloween month and festivities abound, with German food and music taking center stage as part of several Oktoberfest celebrations. At Peddler's Village, about 45 minutes out of town, a hundred scarecrows pop up every year, and visitors can vote for their favorite while exploring winding brick walkways and quirky restaurants.
If you're still in Philadelphia on the third Thursday of November you'll be able to watch the country's oldest Thanksgiving Day Parade, which runs from 20th Street to the Philadelphia Museum of Art. Santa himself makes an appearance at the parade, which officially starts the winter holiday season.
Winter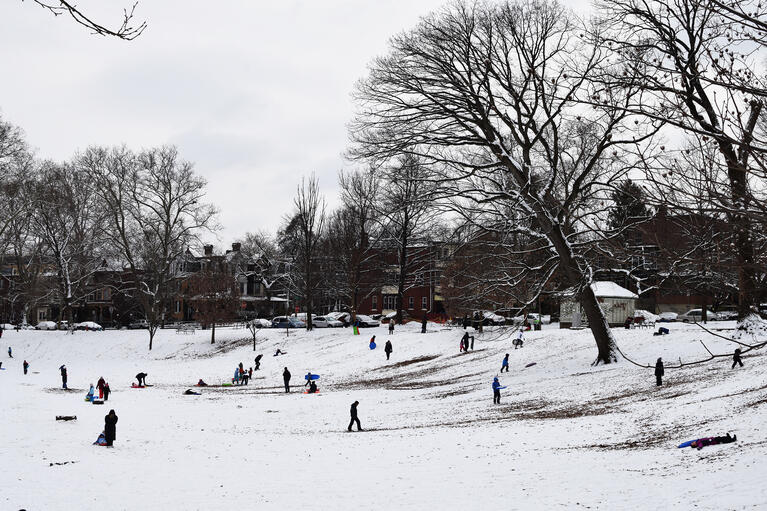 If you like to save money, avoid crowds and don't mind the cold, then Philadelphia in winter could be the perfect city for you. After the Thanksgiving Parade the dark evenings are brought to life with annual traditions such as the RiverRink Winterfest, the Philadelphia Christmas Village and Christmas at the Wanamaker Building. Franklin Square lights up with Christmas, Hanukkah and Kwanzaa celebrations every year and there are light displays in almost every park and public garden.
The new year celebrations begin with a fireworks display on the Delaware River on New Year's Eve and on New Year's Day locals flock into the city once again to marvel at the lavish floats and costumes of the Mummers Parade, a much-anticipated annual tradition since 1901. January is the coldest month in Philadelphia, with an average temperature of just above freezing – but it's also the best month for snow, so snow angels are your thing you're in the right place!
In February things begin to brighten a bit and you'll start to see buds appearing on trees and hedges. Try wrapping up for an invigorating walking tour, then head indoors to the Aquarium or the Penn Museum to thaw out. If you're feeling brave, liven up the dark evenings with a Dark Philly Adult Night Tour.
Spring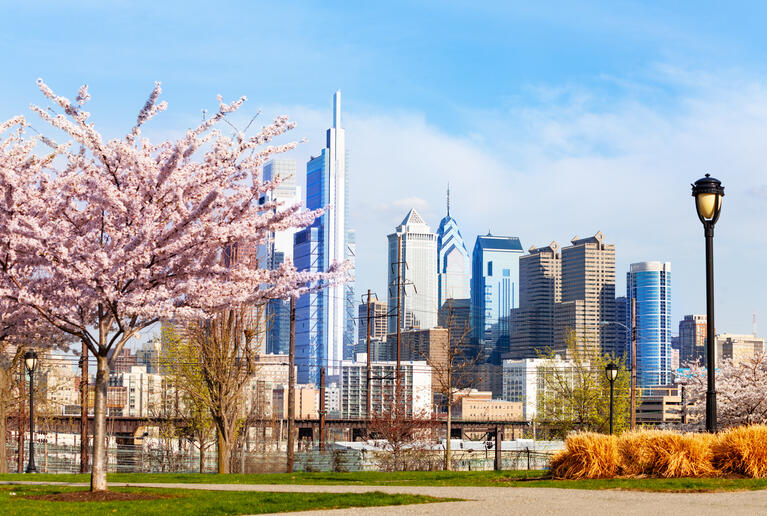 Although Spring in Philadelphia is still brisk with average temperatures rising from just the mid-30s in March to the 50s in May, it's a good time to visit before the crowds – and accommodation costs – increase in summer. There's plenty to do in spring, as outdoor markets start popping up and street festivals – complete with outdoor skating rinks, ferris wheels and carnival games – come back to life along the river.
In April sports fans can cheer on Olympic hopefuls at the high school and collegiate Penn Relays, and in May many of the attractions that have been closed for winter begin to reopen, including the Delaware RiverLink Ferry which links the Camden and Philadelphia Waterfronts.
Nature lovers will find plenty of inspiration in spring, as pops of color begin to appear on street corners in the form of tulips and other early emerging flowers. At the Shofuso Japanese House and Garden the cherry blossoms burst into life in a profusion of pink and white petals, reassuring walkers and passers by that warmer weather is on the way.
See more with Go City
Summer, winter, spring or fall, you'll find plenty to fascinate you in Philadelphia. And whether you prefer indoors or outdoors, museums or tours, you'll see and save more with Go City.