Hello! How are you? Well, we hope. Why don't you sit down and take a load off, so we can talk about free stuff. Nothing is quite as sweet as paying nothing to do fun stuff, is it? That's why you're here, isn't it? So if you're visiting the fine city of Philadelphia, you'll be wanting the low down on all the best free things to do in the city, right? Right this way, please. We've curated this brilliant list just for you. So, without further ado, here are the very best free things to do in Philadelphia!
Including:
The Liberty Bell
Independence National Historical Park
Independence Visitor Center
The 'Rocky' Steps
Science History Museum
and more!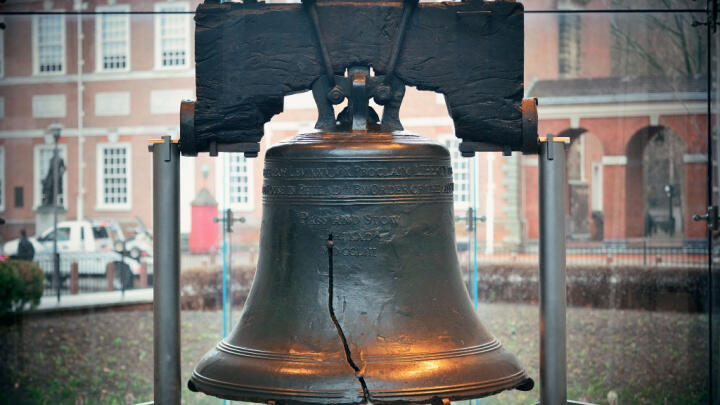 Ring the Bell
Let's start with one of Philadelphia's most famous artifacts. This here's a revolutionary town, thanks to the city's role in the War of Independence. In the past, The Liberty Bell stood for America's secession from the United Kingdom. Basically, Brexit before it was cool. It was one of many bells that rang out on the signing of the Declaration of Independence. 
Today, its cracked facade stands as a reminder of America's triumph. And, thankfully, for those of you working to a budget, you can go and see the metal ringer free of charge! Alongside said bell, you can also see documents and images that explore the bell's history and its role in the formation of America. 
However, given its popularity, you may have to line up to see it up close. But what's a little waiting when a special selfie is prime for the taking?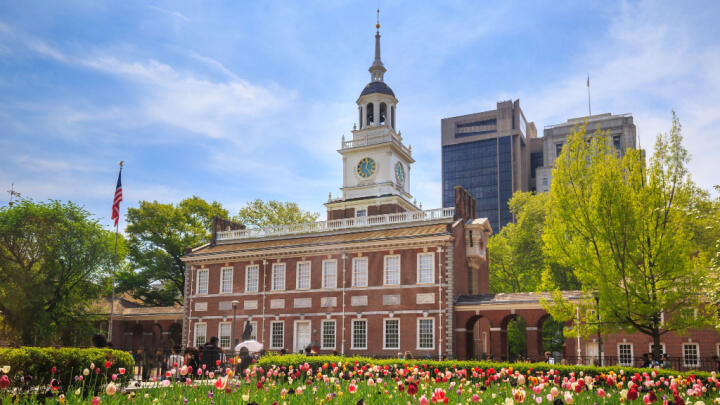 Deck the halls with Independence
Running with the Independence theme, let's talk about one of Philadelphia's best green spaces. Not only is it free, but it stands for freedom too. Does it get much more American than that? We think not. We're talking about Independence National Historical Park, where, among the greenery, you'll find the famous Independence Hall. For the uncultured among you, that's where the Declaration of Independence and the US Constitution were signed! 
But getting into the Hall will cost money, so let's instead focus on the free goodies you'll find around the park!
For starters, it's a park, so expect plenty of trees, wildlife, and green spaces to stretch out for a relaxing picnic or just to read a book. It's also where you'll find the Liberty Bell, so it ticks a box off your historical itinerary. And even though Independence Hall does require a small fee to get to the touristy stuff, you're free to explore Old City Hall and Congress Hall, which you'll find in the Independence Hall's complex.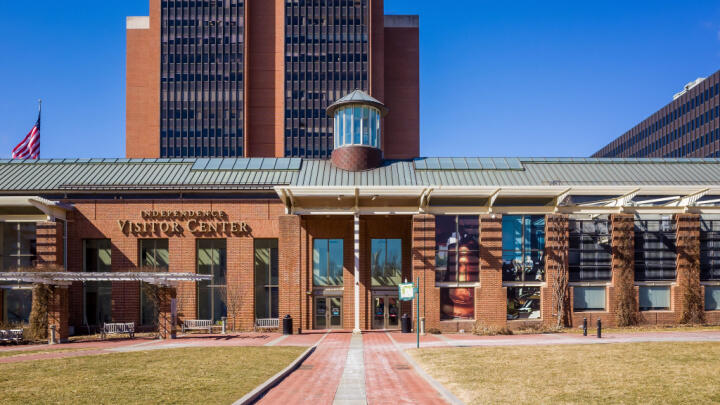 A free summary
Visiting Philadelphia from out of town and want to get the lay of the land? Of course you do, traveler. How else will you know where to buy your convoluted coffee orders? Well, look no further than the Independence Visitor Center. 
Right in Independence National Historical Park, you'll find this grandly inviting building. Inside, you'll get a free comprehensive orientation to the local culture, the city's history, the best shopping areas, and where to eat. All of that courtesy of the fantastic staff you'll find manning the trenches. 
So, if you want a head start on your trip, go check it out. And you'll be pleased to know that the whole thing is 100% freebies.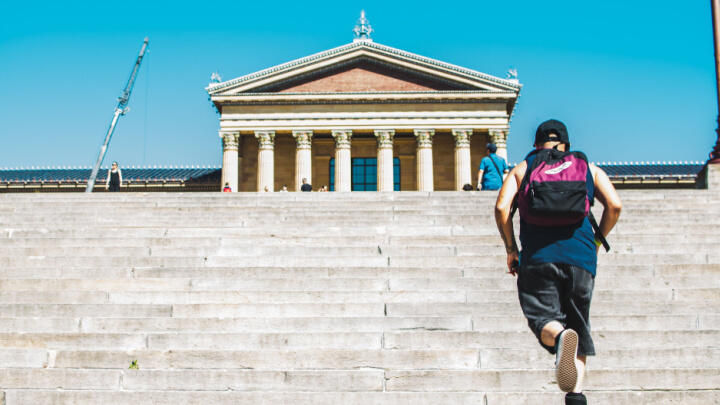 Adrian!
Boxing fans and cinema fans rejoice! Philadelphia is known for many historical things, but it's also the playground for celluloid's most famous haymaker. That's right, Philly was the setting and stomping ground of one Rocky Balboa, and it was also the scene of one of the most famous training montages of all time. 
That's right, cinephile, you too can ascend the steps that Rocky so famously ascended, turn back to look upon your victory, and raise your arms in glory. Just as he did. For bonus points, hire a photographer to capture your moment of utter dominance, or simply drag a friend or partner along to begrudgingly snap a pic. 
Then, head right back down and snap another pic with a statue of the man himself. No, not Stallone, but a statue of Rocky stands tall at the foot of the stairs. Commissioned for the third Rocky move, the bronze Adonis now keeps watch over the area like a shiny golem. And best of all, it's totally free. Take that, money!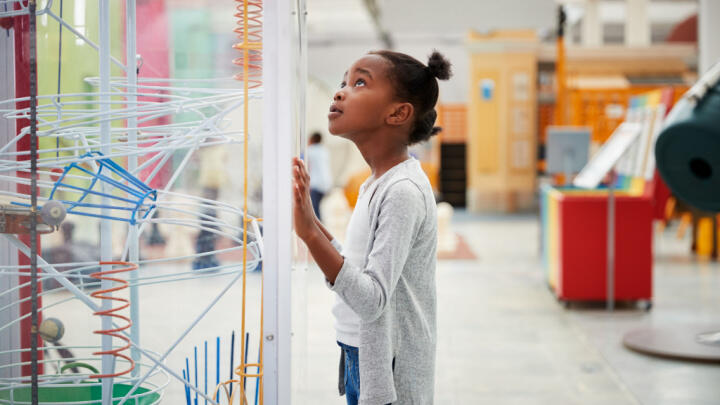 Science but free
Yes, even scientific discoveries can be discovered for free in sweet Philly. That's all thanks to the Science History Museum, an interactive collection of hundreds of years of scientific progress, successes, and failures. 
Inside, you'll find nearly half a millennia of artifacts, information, and exhibits about breakthroughs in the scientific community and how they benefited both the people of Earth and the planet itself. Of course, not all discoveries are intentional, which is why you'll find some of the biggest surprises are the discoveries made entirely on accident. 
Alongside a slew of permanent exhibits, you'll also have the chance to see seasonal content about different parts of scientific history. Definitely one of the best free things to do in Philadelphia.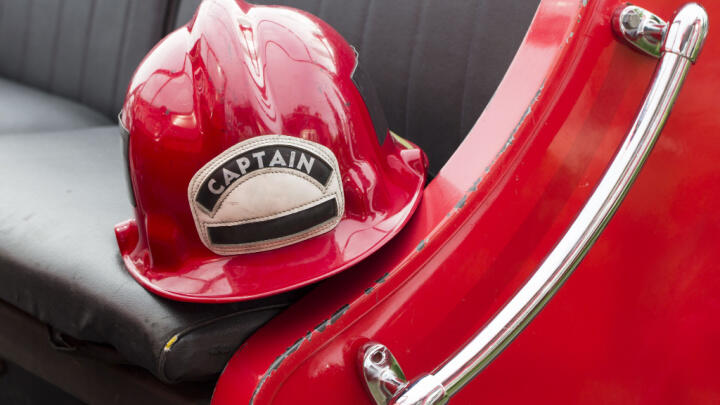 Fund-free fire fun
Speaking of free museums, if you want to know more about the history of firefighting in the US, go check out the Fireman's Hall Museum. 
There, you'll find plenty of old firefighting gear, from old-timey fire wagons (yes, they're actual wagons), to hundred-year-old hats, hoses, and ladders. Kids can even try on some of the gear, if firetrucks are still the most exciting thing they've ever seen. 
On a more somber note, you can check out the museum's tribute to first responders during 9/11, as well as displays about the heroes. It's well worth a visit if you have a passing interest in history, firefighting, or both. 
And here ends our list of the best free things to do in Philadelphia! Looking for money-sapping entertainment to tackle between the free stuff? See all of Philly's best bits with Go City! With our All-Inclusive Pass and Explorer Pass, you can see the city at your own pace.