Solo travel can be a tricky proposition for many. Whether you're used to traveling with your besties, or never get any time away from the kids, it can be a rare occasion when you get the opportunity for a vacation alone.  And despite your worries, that occasion doesn't have to be intimidating! It's easy to enjoy traveling alone in a city like Philadelphia, where there are plenty of attractions to explore and many safe and convenient neighborhoods to stay in. For those hoping to fly solo on their next vacation to Philadelphia, check out these handy tips. 
Avoid Driving
Philadelphia is a pretty congested city, as well as one with a sprawling footprint (you'd be surprised how far out "Philadelphia" actually goes from the city center!) It's a really tricky city to drive in, especially if you're traveling solo and have no one to bounce ideas or directions off of. Philadelphia does have a mass transit system and the bus network is pretty comprehensive. You may also opt to use Uber and Lyft, although keep in mind that such things add up quickly. One of the best ways to maximize your time spent enjoying and minimize transit stress is by focusing on one neighborhood at a time.
Take a Bus Tour of the City
If you're not up for navigating the city on your own, we recommend taking a bus tour of Philly. The hop-on hop-off options are especially helpful, allowing you to customize your explorations without much stress. We like this one from Big Bus Philadelphia, which has more than 25 different stops to explore. You can see everything from the historic Eastern State Penitentiary to the Liberty Bell and much, much more. Some people even use the Big Bus as a way to get around town, which can be handy if you don't mind circulating in a pre-determined route and taking a sometimes indirect path to your final destination.
Explore Museums
Philadelphia as a city is jam-packed with museums. The good thing about solo travel is that you never need to consider anyone else's interests when it comes to attraction choice, so the museums you explore are totally up to you! Spend an hour just marveling at the Impressionist paintings at the Philadelphia Museum of Art, or take a jaunt through the Rodin Museum. The stellar collections at the Barnes Foundation are another good starting point for art lovers, and the cozy setting is perfect for those traveling alone. Museums are particularly appealing to solo travelers: with little pressure to interact with other patrons, it's nice to just do your own thing for a while.
Try New Restaurants
In recent years Philadelphia has been lauded as a culinary destination, with new restaurants popping up seemingly weekly. Center City is a particularly fine place to look for delicious cuisine, as they boast restaurants serving up everything from authentic Italian and Asian fusion to fresh, inventive Mexican and classic seafood. The good thing about dining alone, too, is that you can satisfy your unique gustatory cravings. Love sushi but your husband won't touch it? Now's your chance! Hoping to work in a cheat day? Try any of the delicious New American joints in Philly. And so on. If you're shy about dining alone, try sitting at the bar. Nearly all restaurants will serve their full menu at the bar and most single diners prefer this seating arrangement. 
Allow for a Little Spontaneity
Philly is such a diverse city in terms of things to do that it's crucial to leave a little space in your itinerary for unexpected things. Even if you're a meticulous planner, you won't know until you get to Philly that they're hosting a pop-up beer garden, that the 76ers [could link to Philly sports blog?]  are playing a home game, or that a new special exhibit at the Franklin Institute has just opened. Leave the flexibility to take a spooky nighttime tour, get some shopping in, or stroll around the Italian Market noshing on all their samples. You won't regret devoting some time to pursuing your whims—we promise!  
Choose Your Lodging Carefully
As with any major urban center, it's important to be careful about where you choose to stay. Especially if you're going to be relying upon public transit or rideshare to get around, you'll want to stay close to downtown if possible. We understand the importance of budgets. However, it's smart for solo travelers to stay in neighborhoods like Center City, Rittenhouse Square, or Logan Square. These areas have plenty of attractions to explore, from Reading Terminal Market to the Museum of the American Revolution, as well as trendy and tasty restaurants, hip bars, and good shopping.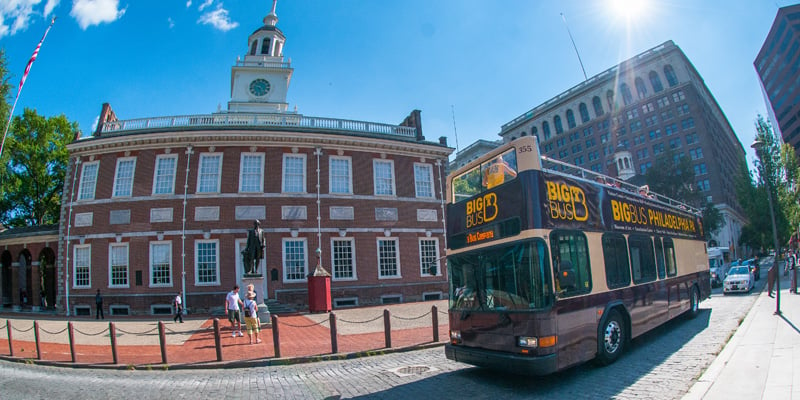 Check out the Quirkier Side of Philly
Combine the deep historical roots of Philadelphia with its artistic bent. You'll find that there are plenty of unusual or unconventional places to explore in this city. It's worth your time to check out a few of the more quirky sites, from the afore-mentioned Eastern State Penitentiary (a historic prison that's more than a little haunted) to the Mutter Museum (an institution dedicated to historical medical practices and tools). You might also want to think about leaving some time to explore street art in Philadelphia or Philadelphia's Magic Gardens, a fun and funky mix-media environment that's essentially entirely mosaics. 
Take Lots of Pictures
As a solo traveler in Philadelphia, you won't be able to remember everything you see or do on your vacation. Save yourself the stress of forgetting your favorite sculpture. Or the embarrassment of having no proof of that time you met Gritty. If you're using your smartphone, turn on your cloud storage to save space; for those with a digital camera, remember chargers and memory cards. So snap plenty of photos during your trip—no one's going to like the Instagram photos you never post!
Save on Things to Do Solo in Philadelphia
See all the best things to do in Philadelphia while traveling solo with a Go Philadelphia pass. You can save up to 45% on admission to the best activities, attractions, tours, and more. The portfolio of participating attractions is a great way to get trip-planning ideas, too. 
Share Your Adventure with Us
Tag @GoCity in your vacation photos and we'll feature you on our page. Follow the Go City Instagram and Facebook pages for competitions, special offers, and events and inspiration for your chosen destination, too!