Rome – a city of mystery and intrigue that invokes as much wonder and curiosity today as it did in ancient times, when it was the heart of a magnificent and terrible empire. It's no wonder, really, that most travelers end up here eventually, often arriving by the same routes and roads trodden by pilgrims and legionaries of old - although nowadays, it's much more likely to be via train or car than by chariot or forced march. Once here, however, the modern traveler will find things have changed a bit, as despite its ancient center Rome is a thriving, modern city - although some may argue that its somewhat baffling traffic system is more terrifying that being charged down by a gladiator. Fortunately, Rome is very well connected and there are plenty of alternatives to getting behind the wheel of a car. The best option for you will depend on where you're going to and from, but some of the most popular choices for how to get around in Rome include:
Hop-On Hop-Off bus tour

Walking

Metro

Public bus

Tram

Vespa hire

Bicycle hire
Hop-On Hop-Off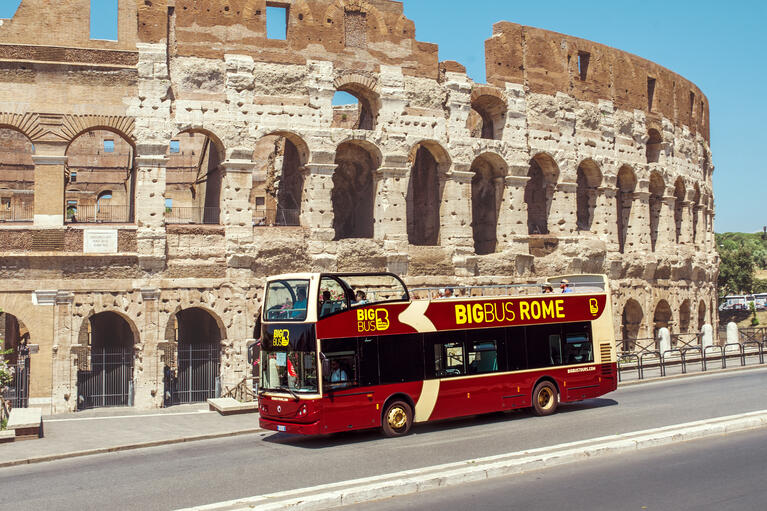 A Hop-On Hop-Off bus tour is one of the best ways to orientate yourself and get a sense of how big the city actually is. It's also a good way to make sure you've seen everything, as surprises hide around every corner in Rome! Start your day by doing the complete tour and then hopping off wherever you plan to start exploring, such as the Colosseum or the Vatican.
If you've only got one day, start early and use the stops at the Circus Maximus, Trevi Fountain and Spanish Steps to get around Rome as quickly as possible. Then after a long day of pounding the pavements you can sit back and do the full circuit in the evening, as the bustle slows down and the buskers come out to serenade you into the night.
Walk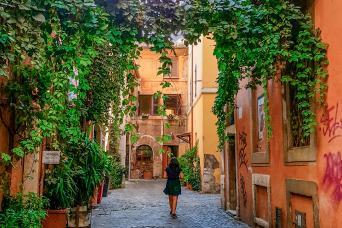 There's nothing like exploring a new city on foot, and no better way to take in the sights, smells and sounds at ground level – especially in a city that's famous for its culinary delights. Try turning off your GPS and simply wandering – if you're lucky you'll stumble onto a small neighborhood market or emerge from a dark, winding lane into a bright, bustling square full of restaurants and bubbling fountains.
If your sense of direction is a bit iffy, or you need some context to get interested in all the old stuff, never fear – if you've purchased a Hop-On Hop-Off ticket you'll also get four self-guided audio walking tours. To delve deeper into the secrets of Rome try a guided tour around the Pantheon, St Peter's or the Catacombs, or a themed walking tour such as Rome at Twilight or Empresses, Emperors and Courtesans.
Metro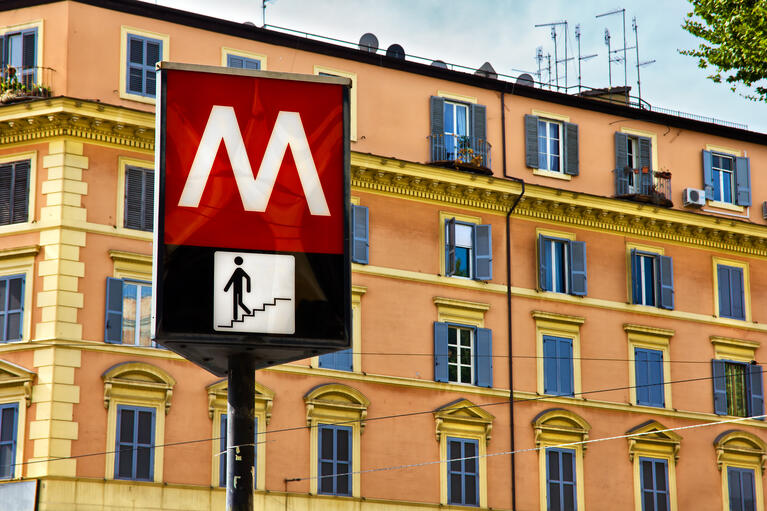 Building an underground transport system takes time in Rome – not because they keep stopping for siestas, but because each excavation uncovers new archaeological remains. As a result, Rome's subway is the smallest in Europe and is refreshingly easy to navigate.
There are only three lines, although tourists will really only need Line A, for the Vatican, St Peter's and Spanish Steps, and Line B, which runs past the Colosseum and Circus Maximus. Both lines get very crowded in peak times and are hotspots for pickpockets, but they will get you across town very quickly – just be sure to watch your bags.
Bus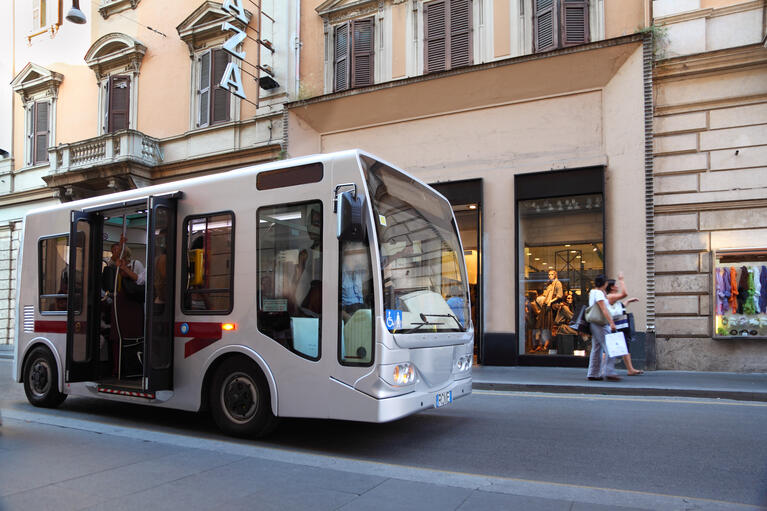 Buses run 24 hours in Rome, so are a handy way to get around. Most of them are small electric or hybrid models which can navigate the narrow streets of the center where everything is too old or delicate to dig up for trains and trams. There are 338 lines to choose from, so use your maps app to make sure you get the right one.
When using the buses, keep in mind they often run late and there is no official queue system – once the doors open it's every passenger for themselves! Pickpockets also work on buses so be extra vigilant and always keep your bag on your lap.
Tram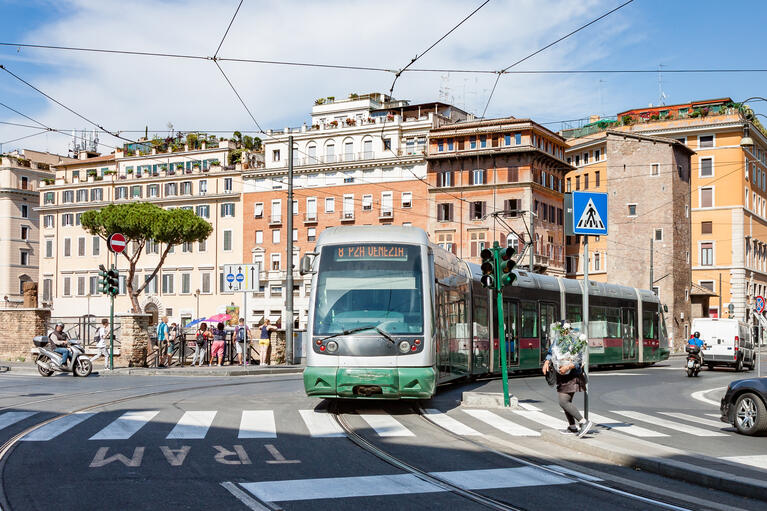 The tram system in Rome is cleaner and safer than other modes of transport, but it's unlikely you'll need to use it unless you're staying out of the center or want to visit Trastevere, the small island in the Tiber river where there are lots of cute cafes and trattorias.
Tram tickets also work on buses and the metro, and vice versa, and cost €1.50 for a single trip (valid for 100 minutes) or €7.00 for 24 hours. Tickets can be bought from convenience stores or newsagents (tabacchi) and must be validated anytime you get on a tram, bus or train. 
Vespa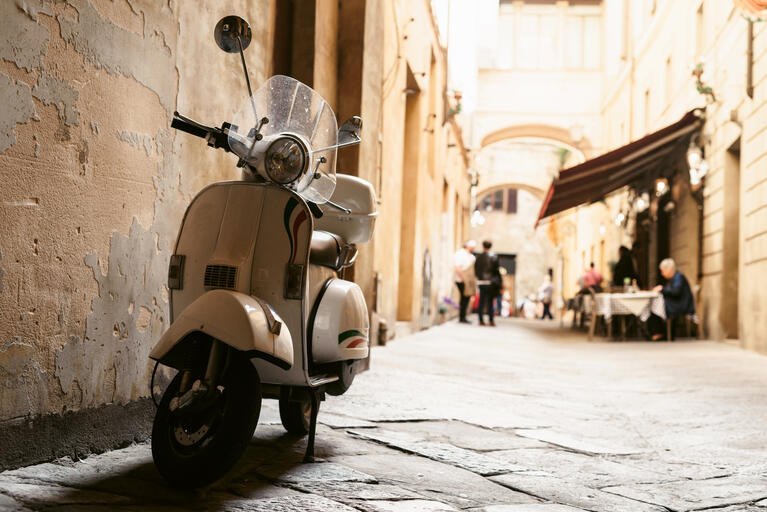 To really feel like a proper Italian, zipping around the city with the wind in your hair and the cobbles at your feet, you can hire a scooter from around €60 per day. The same rules apply as for hiring a car – you'll need an international driving permit and to be over 18, and you and any passengers must wear a helmet at all times.
You'll also be subject to the same unwritten rules and will need to be super-careful of pedestrians, but once you perfect your zig-zag you'll find this is the most fun way of getting around in Rome. The only problem will be remembering where you parked it –  so be sure to pin the location in your maps!
Cycle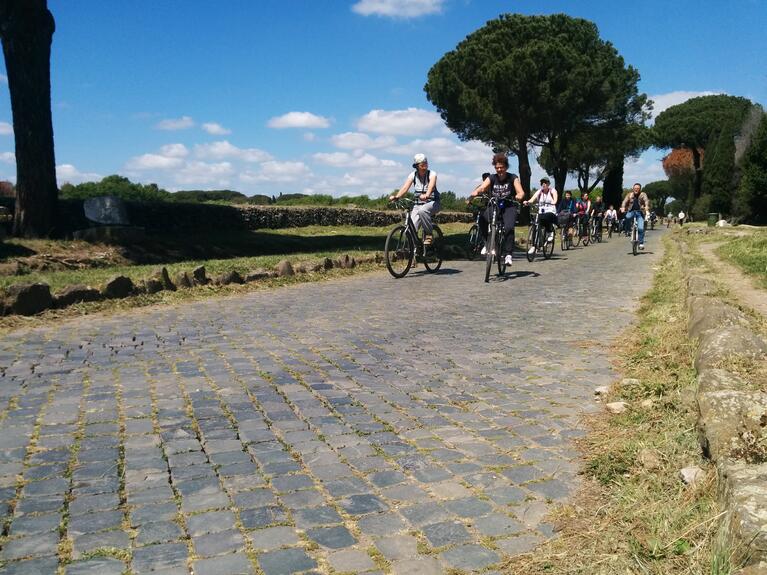 Although on the map it looks as though everything is very close together, it's actually a surprisingly long way from one end of Rome to the other. If you don't want to use public transport, you can cover long distances more quickly - and work off some of that pizza and pasta - by hiring a bike.
There are plenty of bicycle hire options, such as a standard or e-bike and full or half day hire. There may even be some added bonuses – for example, with a  three-hour hire from Go City you can choose between a Circus Maximus virtual reality experience or an audio guide headset tour of the Baths of Caracalla, or you could take a full day exploring the Via Appia Antica with your own map and guidebook.
Save with Go City
All roads lead to Rome, literally and metaphorically – and once you're here, there are plenty of options for getting around. If you need a little guidance, be sure to check out a Go City Explorer Pass for inspiration and savings on plenty of tours and attractions.