It's a truth universally acknowledged that the best things in life are free, and perhaps nowhere more so than in Rome, where access to some of the finest churches and monuments on the planet is absolutely gratis. Visiting Insta-perfect attractions like the Trevi Fountain and Pantheon won't cost you a cent, while many popular museums throw open their doors for nada on the last Sunday of the month. Follow our guide to free things to do in Rome and the only thing you'll have to pay for is the irresistible gelato.
Tick Off the Big Hitters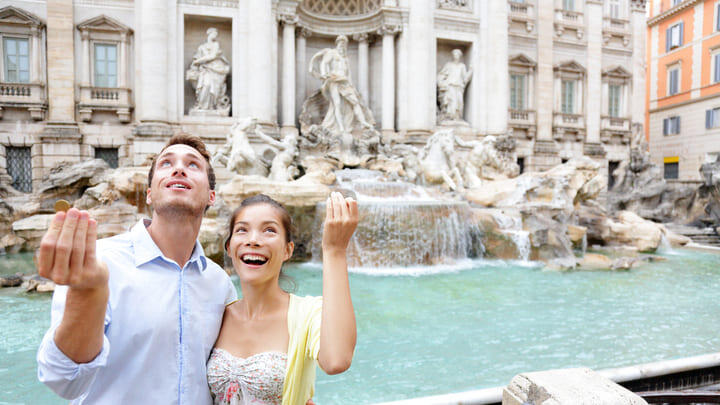 Many of Rome's most famous monuments are yours to visit for free. Let's begin with the Trevi Fountain, that gloriously baroque 18th-century water feature where you must face the existential question: can an attraction truly be said to be free if you feel compelled, almost against your own will, to throw a coin into it? As you contemplate this conundrum, remember that must-see attractions with no entrance fees tend to lead to hordes of camera-toting tourists. Night owls can dodge the crowds by visiting during the quieter hours: between 3am and 6am, to be precise.
Much like wading in the Trevi Fountain, pausing to sit on the nearby Spanish Steps is no longer permitted, so steel yourself for the 135-step climb up this national monument to the majestic Trinità dei Monti church at its summit. Like all of the Eternal City's near-1,000 churches, this Renaissance confection is free to enter, and has riches inside to rival the very best of Rome's museums and galleries. Expect stunning decorative features including a pair of anamorphic frescoes from the 17th Century that give wildly different perspectives depending on where you stand.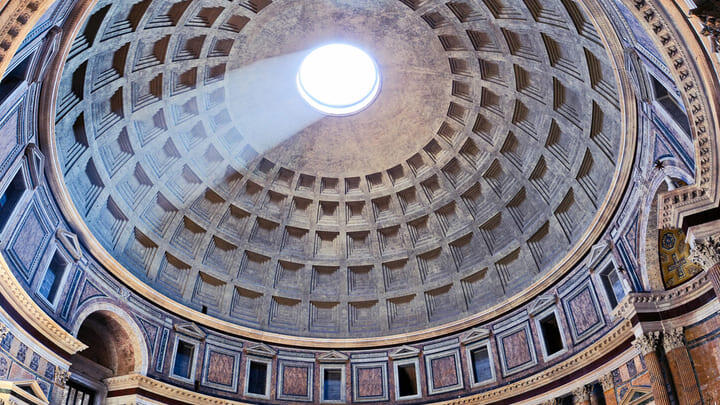 The Pantheon is one of the best-preserved examples of Ancient Roman architecture on the planet. Better still, you can visit for free. Step between the iconic Corinthian columns and inside this vast masterpiece of Roman engineering, its vast roof still the largest unreinforced concrete dome in the world, a mere 2,000 years after its construction. Visit during a heavy downpour to experience the column of water that cascades down from the oculus (an opening in the center of the dome) and drains away through discrete holes in the floor 142 feet below. Admission is free from Monday to Friday.
Some of Rome's other bucket-list attractions offer free entry on select days. This tends to be the first or last Sunday of the month for museums including – deep breath – the Galleria Borghese, the Roman Forum, the Baths of Caracalla, the Vatican Museums, the papal audience and the Colosseum, as well as dozens more obscure sites. Dates are subject to change, so do check in with your chosen attraction(s) before turning up on a random Tuesday in August insisting on free entry.
Then there are the free walking tours, like this one. Ok, so they're not strictly gratis in that you're expected (but not required) to pay your expert guide whatever you think the tour is worth, but they do represent great value and are a fine way to find your bearings among the Eternal City's cobbled lanes, ancient ruins and baroque piazzas.
Get Snap Happy!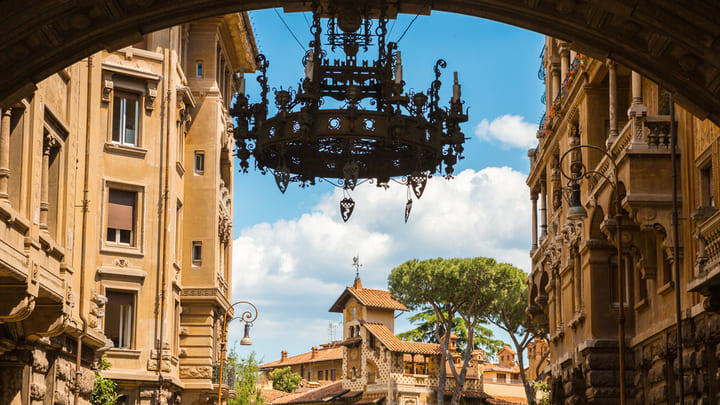 It goes without saying that romantic Rome is one of the most photogenic cities in the world, so grab your camera, compose your image, and get ready to capture shots that will make you the envy of even the most seasoned Instagram influencer. Quirky Quartiere Coppedè is a photographer's dream, with fairytale fountains, Moorish arches and a fantastical jumble of architectural styles, from Ancient Roman to Art Nouveau, that just beg to be snapped. Don't miss the elaborate Fountain of Frogs, and the enormous iron chandelier that dangles over the Via Tagliamento entrance.
Hidden away through the unassuming Arco degli Acetari archway just off Campo de' Fiori lies another picture-postcard scene – a tiny medieval courtyard with quaint rust-colored houses festooned with lush green foliage and flower-filled window boxes. Cats snooze on the cobbles in the afternoon sun, providing budding snappers with some fine shots of Rome at its sleepiest.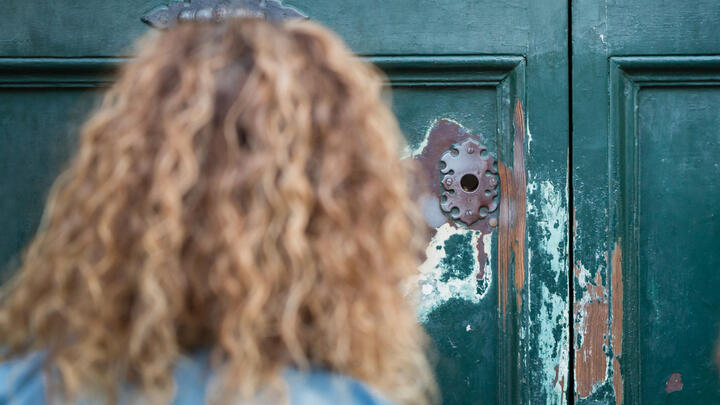 Peep through the otherwise unremarkable Aventine Keyhole at the Villa del Priorato di Malta for one of the most Instagrammable views you'll find anywhere in Rome. For through that keyhole lies a perfectly framed image of distant St Peter's Basilica flanked by the villa's manicured cypress trees. It's not known whether the door and its lock were deliberately designed this way, but it's an almost unbelievably serendipitous result if not.
Parks, Piazzas and Ancient Avenues
There are worse ways to while away a few hours than to roam Rome's stunning parks, or find a spot on a busy piazza to devour a gelato and watch the world go by.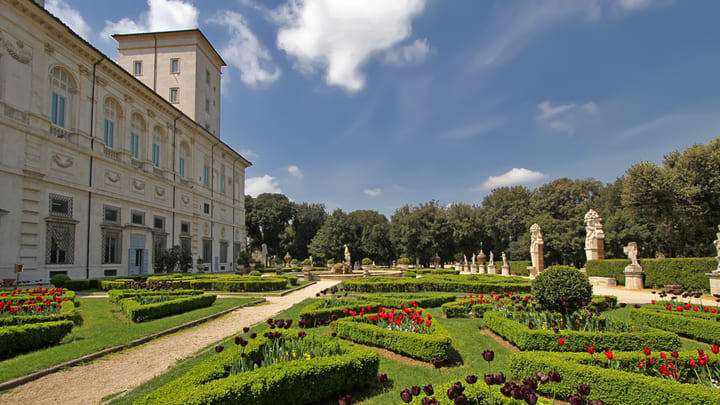 There's plenty of free entertainment to be had in Villa Borghese, where charming tree-lined avenues lead to formal gardens, babbling fountains and grand villas and monuments. View the 18th-century Temple of Aesculapius from the lake shore or pay the nominal fee to rent a boat and get up close. The Carlo Bilotti Museum is also free of charge and contains a collection of works by Italian surrealist Giorgio de Chirico as well as pieces by Andy Warhol and Gino Severini. There's also an excellent playground where kids can let off steam while parents perk up with an espresso from the café.
Don't miss Rome's most celebrated public squares. Sprawling Piazzo Navona contains not one but two Bernini masterpieces, including his magnificent Fountain of the Four Rivers. Visit in the evening, when its waters are illuminated and the piazza is abuzz with locals out for an evening stroll, or on their way to dinner. Meanwhile, gelato and people-watching is the order of the day on the Campo de' Fiori, where a daily market fills the air with heady aromas of warm bread, farm-fresh cheeses and just-picked flowers.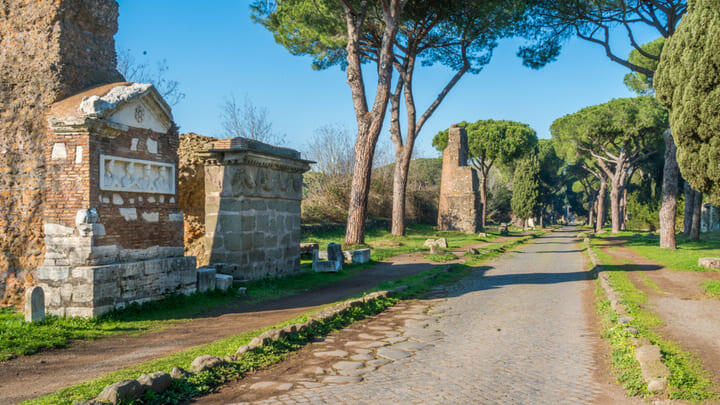 Last but by no means least, a walk on the Appian Way is hands-down one of the best free things to do in Rome. This ancient Roman road stretches south out of the city, with much of it remaining unchanged in centuries. Indeed, some of the views will be much the same as those seen by Julius Caesar and his armies as they marched this strategic route over 2,000 years ago. It's a superb cobbled avenue flanked by soaring pine trees and fields in which evocative Roman ruins and tombs can often be spotted. Take a bike or take the bus but – most importantly of all – take a camera and a picnic.
Save on things to do in Rome 
Save on admission to Rome attractions with Go City. Check out @GoCity on Instagram and Facebook for the latest top tips and attraction info.