If you're considering visiting Rome this year but need more inspiration before you book, check out our picks of movies set in the city and get hyped!
Including:
The Bicycle Thief (1948)
Roman Holiday (1953)
La Dolce Vita (1960)
Gladiator (2000)
and more!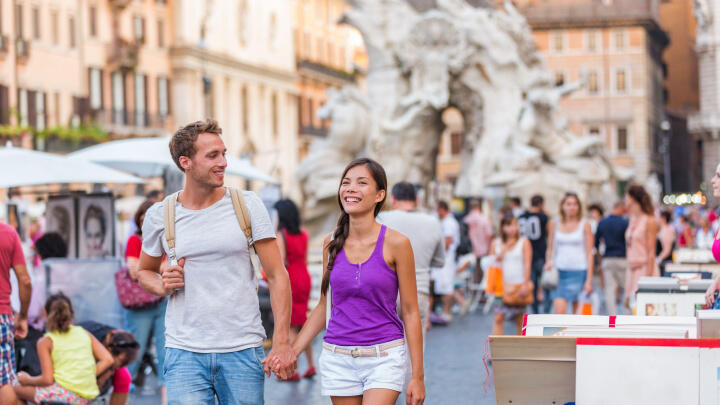 The Bicycle Thief, also known as Bicycle Thieves, is arguably one of the greatest Italian films of all time. A film about poverty and struggle in the wake of the Second World War, it tells the story of Antonio Ricci, who's trying to find his stolen bicycle, which he needs to keep his job. Director Vittorio De Sica paints every frame with Antonio's fear and desperation, but also has plenty to say about the community. After World War 2, working-class neighborhoods in the Italian capital were hit particularly hard, and The Bicycle Thief captures the era and mentality perfectly. 
Landmarks to look out for 
Porta Portese Market: The bustling Sunday market plays a pivotal role in this neorealistic masterpiece.
Palazzo delle Scienze: Visit the location of a memorable scene involving the stolen bicycle.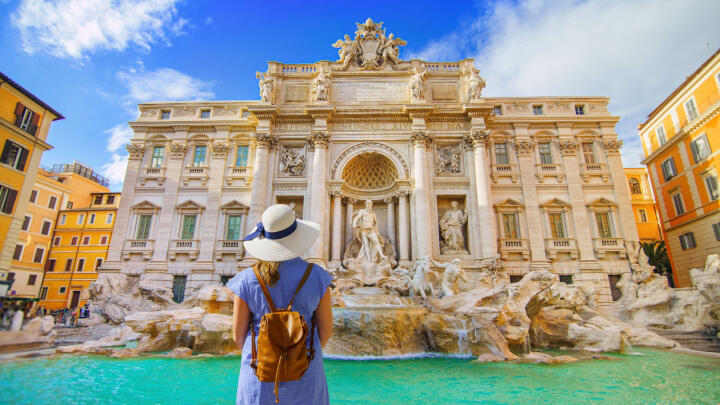 Featuring the late, great Audrey Hepburn in one of her most memorable performances, Roman Holiday is a timeless romantic comedy set in Rome. Hepburn stars as Princess Ann, a member of an unnamed royal family that's definitely not British, as she undertakes a tour of Europe to promote relations with neighboring nations. But there's just one problem: she doesn't want to be there. Sick of the lack of freedom her position demands, she escapes her room and explores Rome, meeting charming journalist Joe Bradley, played by Gregory Peck. From there, they both explore the city, and their growing feelings for one another, in a film that will leave you feeling all warm and fuzzy inside - just as any good rom-com should! 
Landmarks to look out for 
Trevi Fountain: Audrey Hepburn's iconic scene where she throws a coin into the fountain is a must-see.
Spanish Steps: Visit the spot where Gregory Peck and Audrey Hepburn enjoy an ice cream.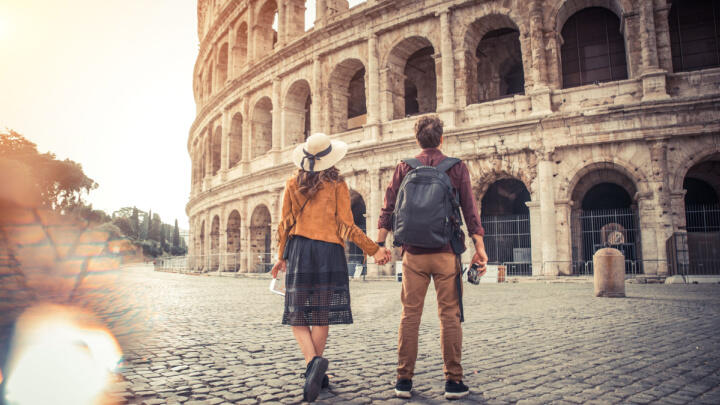 Federico Fellini's La Dolce Vita shows the other side of post-war Rome compared to The Bicycle Thief. Following gossip journalist Marcello Mastroianni as he navigates the high society of celebrities, it highlights how the rich and famous weren't affected by the same travails as more impoverished people over that period. Marcello's journey takes him on a journey of boozy parties, romantic trysts, and odd encounters that change his view of the world forever. It's a film that explores the pursuit of happiness in a world of excess, where nothing is ever fought for, and the worries of the lower classes aren't worries at all. 
Landmarks to look out for 
The Colosseum: Marcello Mastroianni's character takes a memorable stroll by this ancient amphitheater.
Fontana dell'Acqua Paola: The famous scene with Anita Ekberg in the Fontana di Trevi was filmed here.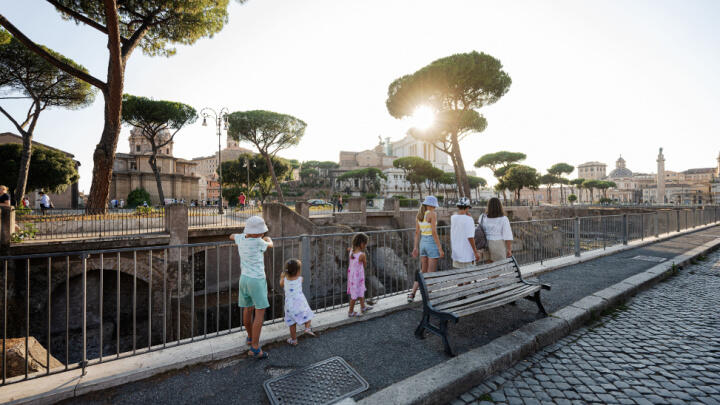 While Russell Crowe has slowly been making a name for himself with roles like Romper Stomper, LA Confidential, and The Insider, it was Gladiator that propelled him into superstardom. In what would be director Ridley Scott's first successful foray into historical epics (we don't talk about 1492: Conquest of Paradise because you've probably not even heard of it!), we follow the life and near-death of Maximus Decimus Meridius, a Roman general who the newly-anointed Emperor - played with incestuous delight by Joaquin Phoenix - betrays. With his family dead, Maximus is enslaved and forced to fight his way to revenge. Winning multiple Oscars following its release, Gladiator is also credited as revitalizing the historical epic.  
Landmarks to look out for 
Roman Forum: Witness the grandeur of ancient Rome, a key setting for the film's epic battles.
Cinecittà Studios: Explore the studio where much of the film was shot and discover the magic of movie-making.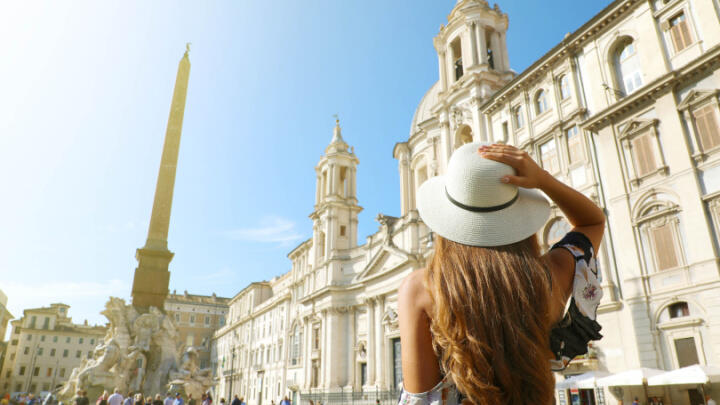 Hey, this isn't a list of the best movies set in Rome! Enter Angels and Demons, the second film in the Tom Hanks/Ron Howard/Dan Brown cinematic trilogy. Hanks stars as symbologist and quasi-adventurer Robert Langdon in all three, as the character navigates author Dan Brown's twisty-turney thrillers. This time around, Langdon must race against time to solve a murder in the Vatican as he explores famous landmarks around Rome and deciphers clues. If that sounds fun and interesting, wait until you watch it. Brown's pulpy, addictive novels grace the shelves of every airport shop on the planet, but the films struggled to capture his breakneck sense of pace. Still, it takes place in Rome, so it makes it onto our list!
Landmarks to look out for 
St. Peter's Square: Tom Hanks races against time in the heart of Vatican City.
Piazza Navona: A central location for clues in this thrilling Dan Brown adaptation.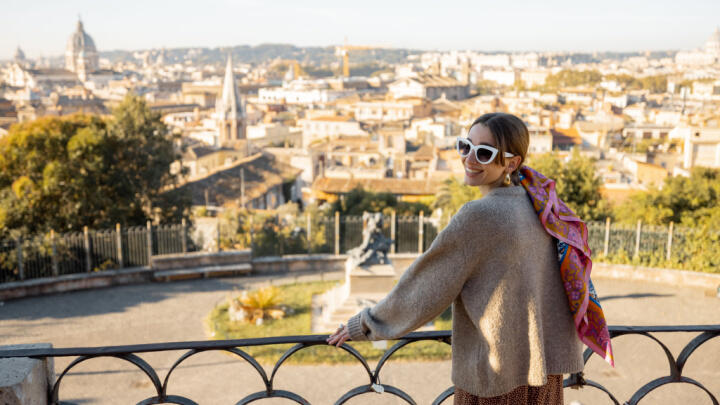 Woody Allen's To Rome with Love is a whimsical ensemble comedy that weaves together various stories of romance, comedy, and existential exploration in Rome. Allen might be a controversial figure these days, but that didn't stop superstars like Alec Baldwin, Jesse Eisenberg, and Penélope Cruz from jumping on board. The film is a collage of life and love for myriad people living in or visiting Rome, and features some of the city's most recognizable landmarks in the process. As with much of Allen's work, the film is a lighthearted exploration of love, art, and people's idiosyncracies, so if that sounds like your thing, check it out!
Landmarks to look out for 
Villa Borghese: Stroll through the lush park where some of the film's comedic moments unfold.
Campo de' Fiori: Experience the vibrant atmosphere of this historic square featured in the movie.
And those were our picks of movies set in Rome! With any luck, a quick watch will help inspire your visit and help you build a list of must-visit places! If you need any more inspiration, look no further than Go City! With our Explorer Pass, you can see all of the city's best bits for one low price!