Renowned home to the seat of the Roman Catholic Church, few destinations match up to the genuine traditional festivity of Rome in December. Alongside its usual selection of historical wonders and culinary delights, the Italian capital truly comes to life throughout the holiday season, its streets adorned with all manner of Christmas décor and brimming with a jovial atmosphere.
Visiting Rome in December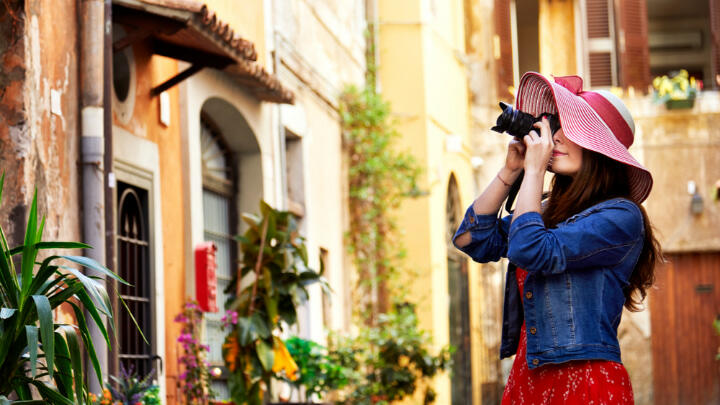 Average Temperature: 39 - 59°F • Average Rainfall: 9 days/mth • Average Sunshine: 3 hours/day
As is the case for many European destinations throughout the festive period, Rome in December sees a slight uptick in tourism rates from its usual low-season numbers. While its largely evergreen attractions mean that Rome is never truly quiet, you can certainly expect busier streets and slightly more crowded venues than in November or January.
Temperatures in December tend to vary significantly, ranging from mild and comfortable to only a little above freezing. Though you're likely to get a good few sunshine hours on most days, there's also a good chance of at least a day of rain each week. If you're looking to explore some of Rome's many open-air attractions, prepare to wrap up warm if need be and be sure to pack an umbrella!
Things to do in December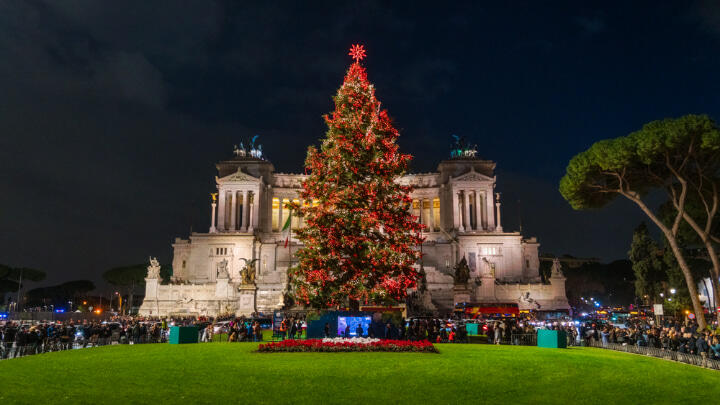 There are arguably few places better for observing the holiday season than the beating heart of Roman Catholicism. Both Rome and the Vatican pour their souls into honoring the festive period, with impressive Christmas displays housed on St. Peter's Square and Piazza San Pietro alongside expertly-crafted nativity scenes at 100 Prespi and the Church of Saints Cosma and Damiano.
Nothing reflects the festive period in Europe quite like a Christmas market, replete with all manner of charming gifts and winter treats. Though still a relatively novel concept in Italy, many of the country's best mercatini di natale take place in Milan, Florence and Bolzano in the north, making for a great festive day trip from the capital. There's also a smattering of delightful markets throughout Rome itself, the most notable of which can be found on Piazza Navona.
If you find yourself in Rome over Christmas itself, you could be in for a real treat. Catholic churches around the world honor Christmas Eve by holding mass at midnight, and St. Peter's Basilica is no exception; only this time, the Pope delivers mass himself. Reach out ahead of time, and there's a chance you might be granted one of a small few free tickets to this very special midnight mass.
While you'd have to be extremely lucky to see Rome in the snow, that doesn't mean you can't enjoy the seasonal chill. For a limited time throughout the festive period, the Auditorium Parco della Musica and the Ice Space Village offer excellent ice-skating rinks for those with the right balance or determination to enjoy, both of which open early in December.
Events in December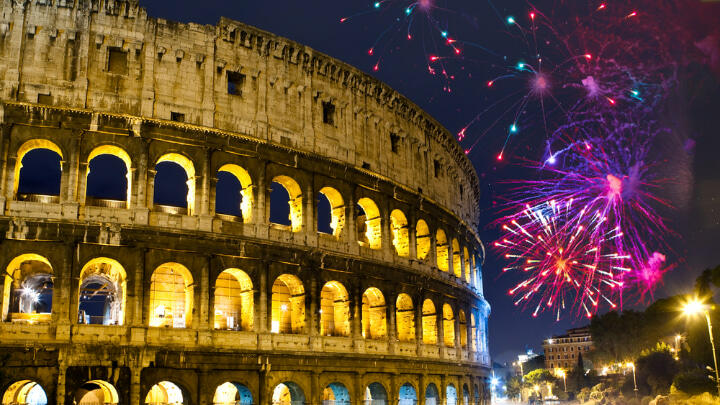 Feast of the Immaculate Conception
Should you happen to be exploring Rome on 8 December to find the streets buzzing with processions and lined with locals in prayer, you're witnessing the Feast of the Immaculate Conception. Held to honor the conception of the Virgin Mary, this festival marks the beginning of the holiday season in Italy.
The festival is marked by a couple of key events, the most important being the Pope's Angelus Prayer on St. Peter's Square, followed by his procession from the Vatican to the Piazza di Spagna. Another key tradition is the inauguration of St. Peter's Square, during which many locals and visitors alike gather to see the unveiling of the Vatican's annual nativity scene and Christmas tree..
Note that the Feast of the Immaculate Conception, or Immacolata, is a public holiday throughout Italy and is of great importance to many Romans. As such, many museums, attractions and services are likely to be closed for the day, including the Vatican Museums. However, most major stores and supermarkets in the center will remain open, along with a handful of restaurants, cafés and bars.
Hanukkah
Although Rome is known for being a predominantly Catholic city, it's also home to a very substantial Jewish population. So substantial, in fact, that Piazza Barberini hosts an impressive annual event to honor the celebration. A 20-foot tall menorah is erected in the square, drawing in huge crowds as one of its candles are lit every evening of the festival.
Whether you're religious or not, this daily event is a great way to join in on some seasonal festivity. The lighting of the candles typically takes place at 4 PM on the Sabbath and the final day, and at 6 PM every other evening. Each evening is usually also accompanied by a night of partying and dancing, making for a truly joyful way to spend a winter's evening in Rome.
New Year's Eve
Though Christmas may be little more than a recent memory by this point, the festivities are still far from over. On the contrary, just about all of Rome veritably ignites with New Year's Eve celebrations, making it one of the very best places in Europe to party away the twilight hours of the year.
Many Italians traditionally spend the evening at home or among friends over cenone, or 'a really big dinner'. Also known as the Festa di San Silvestro, many restaurants throughout Rome offer the meal as a set menu, often consisting in some degree of spiced sausages and lentils. These set menus will often come at a fixed price and may be accompanied by Prosecco and traditional cakes such as panettone or pandoro.
One of the main epicenters of New Year's Eve celebrations is along the Via dei Fori Imperiali, linking the Colosseum to the Piazza Venezia. Commencing with a late-evening concert, thousands of largely tipsy revelers flock to the area to attempt a collective harmony of Auld Lang Syne as a stupendous display of crackling fireworks bathes the Colosseum in a rainbow-strobing glow.