Celebrated home to many of Europe's most famous cultural and historical attractions, Rome presents a unique concoction of both low-season calm and celebratory chaos throughout February. No matter your preferences, whether you'd rather explore the city's famous sights without the crowds or join in on a city-wide street party, Rome in February has it all.
Visiting Rome in February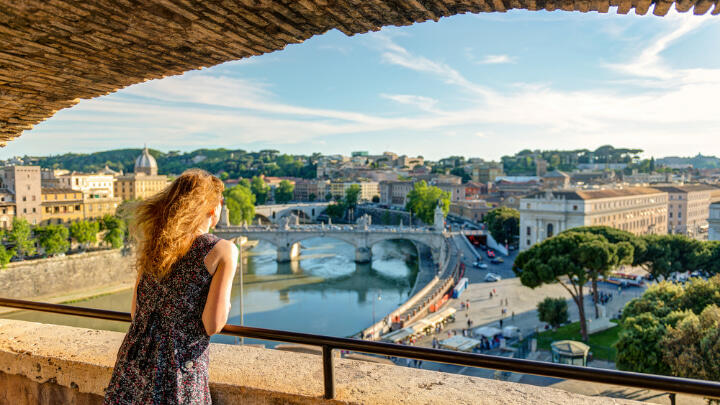 Average Temperature: 37 - 57°F • Average Rainfall: 6 days/mth • Average Sunshine: 5 hours/day
Continuing the trend set throughout January, Rome in February maintains a relatively low throughput of tourists. While the Italian capital is never truly quiet, owing to its largely evergreen key attractions, this period stands as one of the best times to see Rome in its most serene, authentic state.
That being said, events in February such as Carnevale and Valentine's Day are very much an exception to Rome's low-season serenity. These celebrations help to create a truly electric atmosphere throughout the city, but they also come at the cost of much busier venues and attractions. Whether these are the ideal times for you to visit will depend entirely on your own preferences.
Rome's weather stays relatively consistent throughout winter, with February temperatures typically drifting between a little above freezing and mildly comfortable. With at least one day of rainfall likely per week to complement the cooler winter climate, you'll want to make sure to pack appropriately if you plan on exploring more of the city's open-air attractions.
Things to do in February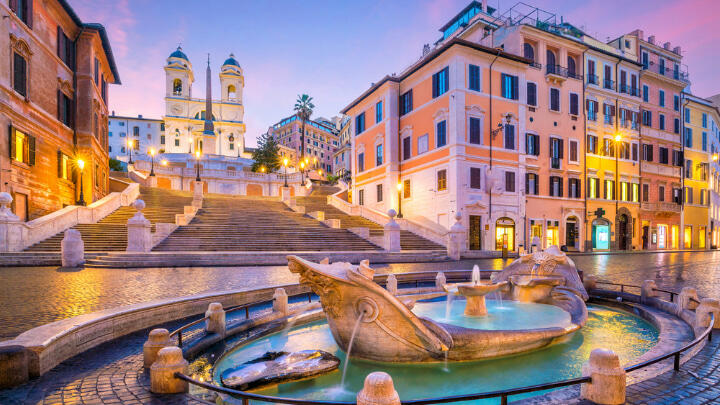 The winter low season is a fantastic time to experience some of Rome's most iconic landmarks in  relative peace. While the likes of Trevi Fountain, the Spanish Steps and Piazza Navona are notorious for drawing in a constant stream of tourists, they aren't nearly as busy during this period as in the busier summer months. Be sure to come early in the day if you want to snap that perfect shot ahead of the crowds.
Also worth a visit in February are the Vatican Museums, Sistine Chapel and St. Peter's Basilica, now in one of their most serene periods between the religious festivities of the festive season and Lent. Take this opportunity to explore one of the world's most impressive collections of historical artifacts and artworks, and admire the impressive master architecture of two of the world's most iconic religious sites.
In much the same way, winter's smaller tourism scene makes February a great time to explore more of the country's best offerings. With Naples, Florence and Pompeii just a little over an hour's train journey away from Rome, a day trip is more than enough time to experience more of Italy's world-renowned culture, cuisine and history.
If you're looking for something of a different experience of the Italian capital, take some time to discover the more macabre side to the city. The Roman Catacombs stretch for miles beneath the city, lined with the skeletons of a civilization now long passed, while the likes of a Dark Rome tour takes visitors on a stroll through some of Rome's darkest and most fascinating stories and legends, from gritty historical events to whispers of the supernatural.
What's On in February
Carnevale di Roma
With roots as far back as the 12th Century, Carnevale is one of Rome's most hotly anticipated annual events. For eight straight days, the city of Rome comes to a near-complete standstill as thousands of locals and visitors alike take to the streets to revel in all manner of colorful festivities.
Historically, the festival stood as a final chance to feast and party in the lead-up to Lent. Alongside much dancing, singing, eating and drinking, the celebration was often punctuated by impressive duels, bullfights, parades and a particularly popular riderless horse race. Although some of these events may have since fallen out of practice, the same jovial merriment is still very much alive in today's Carnevale.
Piazza di Spagna, Piazza Navona and Piazza della Repubblica are often the main epicenter of festivities, erupting into great street parties complete with events and entertainment for all ages. Another popular venue is Castel Sant'Angelo, where you can typically find live music performances and a generally electric buzz, often along with an artificial ice rink.
While the traditional Berber horse race fell into oblivion long ago, horses still play an important role in the festival. The race has since been succeeded by a horse-back costumed parade throughout Rome's historic streets, often joined and escorted by horses from the military's own equestrian unit. A large equestrian show takes place later in the festival, with horses performing all manner of impressive acrobats and dressage, where children may also be offered free horse-back rides.
Those already familiar with Carnevale celebrations in Europe in general may already be aware that Italy's most popular and famous celebration actually takes place in Venice rather than Rome. If you're looking to join the very best festivities that Italy has to offer, Rome simply pales in comparison to the colorfully chaotic street parties of Carnevale in Venice.
Valentine's Day
One of Europe's most famously romantic cities, there are few better places than Rome to spend Valentine's Day. Take a relaxing evening stroll along the banks of the Tiber, enjoy a candlelit dinner at a charming Italian restaurant, gaze up at the stars from one of the city's many popular trattorias or take part in one of many possible couple-friendly activities.
Many restaurants and venues throughout the city take the opportunity to offer special menus, products and discounts on and around February 14, resulting in almost endless ways to really treat that special someone. We'd recommend you make plans and bookings ahead of time to avoid any disappointment on the day