If there's any period best suited to discovering the eternal city in its prime, summer is most certainly it. Alongside its idyllic Mediterranean climate, world-class cuisine and stunning historical landmarks, Rome in July is veritably brimming with life, owing to both its huge tourism rates and its fantastic program of summertime events and festivals.
Visiting Rome in July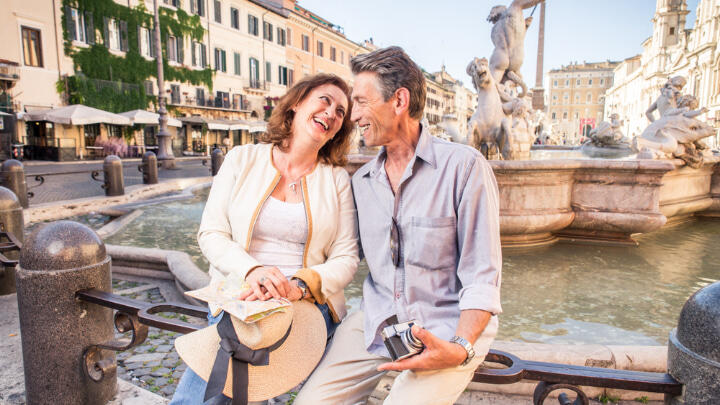 Average Temperature: 66 - 90°F • Average Rainfall: 3 days/mth • Average Sunshine: 11 hours/day
With summer now in full swing, so too is Rome's tourism scene. Though the Italian capital is never truly quiet, this is by far her busiest period. Though that does mean you should expect to queue for attractions and often book hotels, tickets and venues and advance, it's also what gives the city its renowned buzz.
Given the summertime climate of Rome in July, it isn't tough to see why so many people choose the Italian capital for their summer vacation. With temperatures very consistently warm, near-constant sunshine and very little rain throughout the month, this is the perfect time for some outdoor city exploring or taking a load off on a traditional Italian terrace with a glass of vino in hand.
Things to do in July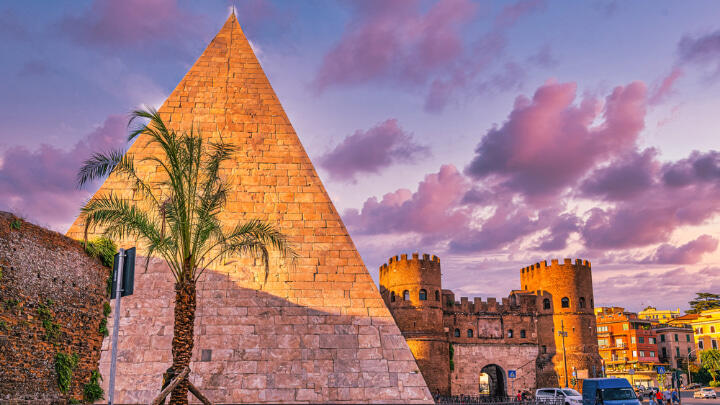 Topping any Rome itinerary should be the eternal city's poster monuments, some of UNESCO's most famous World Heritage Sites. The iconic Colosseum remains the world's largest standing amphitheater and offers insight into the dark entertainment practices of ancient Rome, while the Pantheon reflects the daily lives and core beliefs of a civilization long since passed.
Much less well-known on the tourist trail are the remnants of the Roman Empire's Egypt-mania phase, most notably the Pyramid of Cestius, the 120-foot resting place of the first-century BC Roman priest and magistrate, Gaius Cestius. Only slightly less loud are the Egyptian-style Flamanian Obelisk and Obelisk of Montecitorio, located on Piazza del Popolo and Piazza di Monte Citorio respectively.
Aside from its ancient architectural wonders, chances are high that your initial mental image of Rome stems from the capital's three most renowned and photogenic locations. These, of course, are the elegant Trevi Fountain, the wide Spanish Steps joining Piazza di Spagna to Piazza Trinità dei Monti and the beating heart of Roman Catholicism itself, Vatican City.
Known for their stunningly picturesque architecture and the oh-so-Instagrammable photos they permit, these tend to be some of most tourist-packed locations in Rome at any given time. Those looking for a quieter, more genuine experience (and much better photo ops) should be sure to visit early in the day, ahead of the rising tourist crowd.
To make the most of Rome's idyllic weather, pack up a picnic of Italian treats and wine and head to one of Rome's many open green spaces. Most central of Rome's parks are the 100-plus-acre wooded glades and grassy banks of Villa Borghese, while one of its most romantic spots sits atop Pincio Hill, with balcony gardens overlooking the stunning city skyline.
The Botanical Garden easily offers the city's most impressive collection of flora from around the world. Dating back to the 17th Century, the garden comprises roughly 30 acres of exotic plant-life, from the serenity of the Japanese Garden to the humid tropical greenhouse and the splendidly colorful Rose Garden.
Should you find yourself with a little more time to spare during your trip, then summer is the perfect time to discover more of what Italy has to offer. With Naples, Florence and Pompeii just a short train ride from Rome, they each make for a perfect day trip to explore some of the country's best culture, cuisine and historical sites.
What's On in July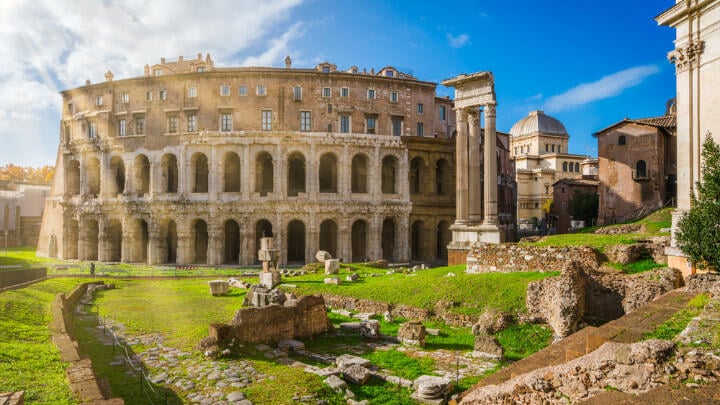 Isola del Cinema
Each summer, Tiber Island, located between Pons Fabricius and the Trastevere district, transforms into the magical Isola del Cinema, or Isle of Cinema. Over the course of several weeks throughout the summer period, the island becomes the epicenter of visual entertainment with a vibrant and evocative film festival dedicated to bringing to the limelight the best in Italian cinema.
Inviting directors, actors, producers, screenwriters, musicians and film aficionados alike, the festival operates a vast program of outdoor screenings of great Italian films, alongside many critically-acclaimed international offerings from over 100 countries. Works on display typically include everything from full-length features and short films to virtual reality gaming experiences.
Concerti del Tempietto
Throughout summer, the ancient open-air Theater of Marcellus among the ruins of the Temple of Apollo Sosianus comes alive with an historic Roman music festival. For roughly three months, the Concerti del Tempietto puts on an impressive program of concerts across a wide range of genres.
Musicians both established and niche offer everything from classical concerts and opera arias to pop and jazz performances. Tickets to the festival typically include a guided tour of the archaeological park around the Theater of Marcellus, both in Italian and English, exploring the parallels between the venue's modern day role and its original dedication to performing arts twenty centuries ago.
Rock in Roma
It wouldn't be a European summer without the introduction of festival season. Rock in Roma takes place over multiple weeks and draws in thousands of rock fans of all shapes, sizes and nationalities to enjoy the stellar performances of some of the world's biggest names in rock. Previous editions have included sets by the likes of the Red Hot Chili Peppers, Phoenix and Marilyn Manson.
Lungo il Tevere
One of the most hotly anticipated festivals of the year, Lungo il Tevere ('Along the Tiber') attracts hordes of visitors keen to join in on its unique and exciting program of riverside events and activities. It isn't difficult to notice when the festival comes to town, with the banks of the Tiber simply brimming with all manner of event stands, art installations and interactive exhibits.
The event typically lasts the duration of summer, with a vast program of evening shows, performances, improvised theater and live music concerts by local bands at its core. During the daytime, though, the venue stands as somewhat of an interactive expo of art installations, unique photo ops and street arcade games like air hockey and foosball.
Usually accompanying the festival is a market of local vendors selling all manner of wares, from vintage records to hand-crafted jewelry. Sometimes present at the market are the likes of tarot readers and petting zoos hosted by local animal shelters charities. The festival also hosts a number of pop-up restaurants, cafés and bars, offering cuisine and beverages both local and international.