Considered by some to be one of the best periods in which to visit the eternal city, November sees Rome in one of its quietest states. With a couple major cultural events taking place throughout the month, combined with likely some of the year's smallest queues and crowds at most major attractions, a trip to Rome in November is tough to beat.
Visiting Rome in November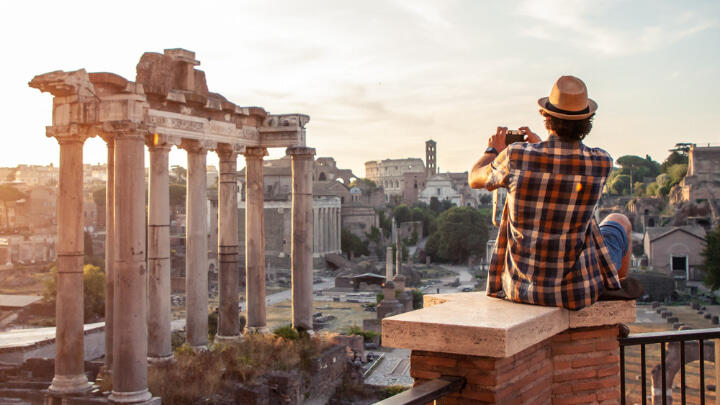 Average Temperature: 46 - 64°F • Average Rainfall: 8 days/mth • Average Sunshine: 4 hours/day
Ahead of the incoming surge in holiday-season visitors, Rome in November typically tends to experience a rare moment of serenity. Though the Italian capital can never truly be considered quiet, this is one of the few periods in which you may just get to see the city's top attractions without excessive crowds.
Alongside fairly straightforward admission to the likes of the Colosseum and Vatican Museums, visiting in this period should also come with the added benefit of low-season airfare, hotel rates and prices in some venues, often at quite a substantial discount on summertime rates.
With winter just around the corner, Rome's weather continues to dip, with temperatures typically ranging between cool and pleasantly mild for much of November. For the most part, you'll want to pack warm clothes and assume that you'll be in for at least one day of rainfall per week.
Things to do in November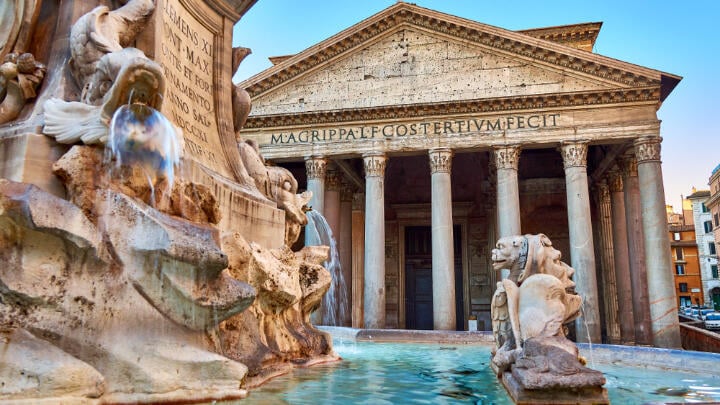 A staple of just about any trip to the eternal city should be to explore the city's renowned UNESCO World Heritage Sites. Taking pride of place is the Colosseum, the world's largest-standing ancient amphitheater, followed close behind by the Pantheon, a former Roman temple, each of which offer visitors a unique insight into the daily lives and pastimes of a civilization long since passed.
Rome's historical trail continues through the Roman Forum, where iconic ruins now stand as mere whispers of the city's once major administrative district. Following the trail to its origin will place you atop Palatine Hill, the cradle of Roman civilization and home to the city's most ancient ruins.
Equally remarkable but comparatively underrated are the likes of the 120-foot tall Pyramid of Cestius, resting place of priest and magistrate Gaius Cestius and his family from the 1st century BC. The site is a prime example of Egyptian influence in Rome in the wake of the empire's conquest of Egypt in 30 BC, alongside landmarks such as the Flaminian Obelisk and Obelisk of Montecitorio on Piazza del Popolo and Piazza di Monte Citorio, respectively.
Aside from its world-class historical sites, Rome is incredibly well regarded for its many photogenic open spaces. Topping the list are naturally the expert craftsmanship of the Trevi Fountain and the impressive Spanish Steps bridging between Piazza di Spagna and Piazza Trinità dei Monti. Those looking for the best photo ops should be sure to catch these spots early in the day, ahead of most of the crowds.
Another key player in the Rome package is Vatican City, the beating heart of Roman Catholicism and the permanent residence of the Pope. Aside from its huge religious value, the site is also famous for being the smallest country in the world, and remains incredibly popular for its wealth of lauded cultural offerings such as the Sistine Chapel, St. Peter's Basilica and the vast collection of the Vatican Museums.
For somewhat of an alternative means of exploring Rome in November, a Big Bus tour offers a quicker and more rewarding way to get between attractions, enabling customers to hop on and off more or less at their leisure with stops near most popular sites. Optional audio commentary is provided at no extra cost, offering greater insights into Rome's famous streets and monuments in a variety of major languages.
Those with an eye for the macabre may know of the more hidden underbelly to the Italian capital. Just below the bustling city streets, the Rome Catacombs stretch for miles, lined with hundreds of centuries-old Roman skeletons. Though most of the passages are closed to the public, a small number are accessible to visitors.
Should you find yourself with a day or two spare, you might want to take the time to discover more of Italy's prime culture, cuisine and historical sites. The likes of Naples, Florence and Pompeii stand just a short train ride from Rome, each of which make for a fantastic day trip away from the capital.
What's On in November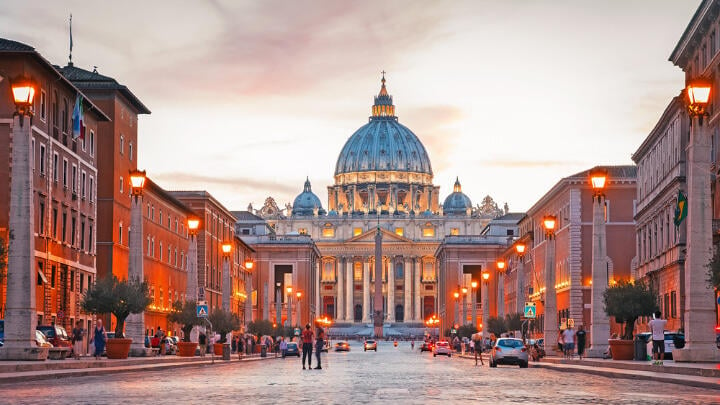 All Saints' Day
November 1 marks an important day for many Romans, held in honor of all Catholic saints collectively. The day takes on somewhat of a more somber character, with many families traditionally spending the day visiting the graves and resting places of loved ones.
As a public holiday, you should expect a number of services, stores and restaurants to remain closed for the day, though many museums – excluding the Vatican Museums – should be operating regular hours. 
Romaeuropa Festival
One of Rome's most anticipated cultural events to take place each year, Romaeuropa brings together hundreds of artists across a wide range of disciplines and from a variety of countries to help put together an impressive program of dance, music, theater, circus and digital arts performances.
Over the course of several months, Rome becomes the true cultural epicenter of Italy, with artists both established and upcoming sharing their multidisciplinary talents and passions for thousands to enjoy. Performances tend to range from classical compositions to cutting-edge technological displays, covering just about the whole spectrum of the modern performing arts.
Don't miss your chance to save with Go City
Fewer tourists, nice weather, and the whole city of Rome to explore... What more do you need? Maybe a way to save on admissions to Rome's main attractions? Go City can help you with that: in addition to the discounts it provides, the list of experiences and attractions included in the Explorer Pass will help you put together an itinerary for your trip.
Fai un buon viaggio!