As fall well and truly comes into its own, Rome steps back into its familiar low-season buzz. Though the city is still far from quiet, the busy hubbub of summertime holidaymakers is now replaced largely by those looking to discover a much more authentic side to Italy's renowned culture, cuisine and historical sites.
If you're in the market for more of a serene experience of the city's renowned attractions, complemented by its pleasant Mediterranean climate and a host of unique cultural events, a trip to Rome in October is beyond a doubt the one to beat.
Visiting Rome in October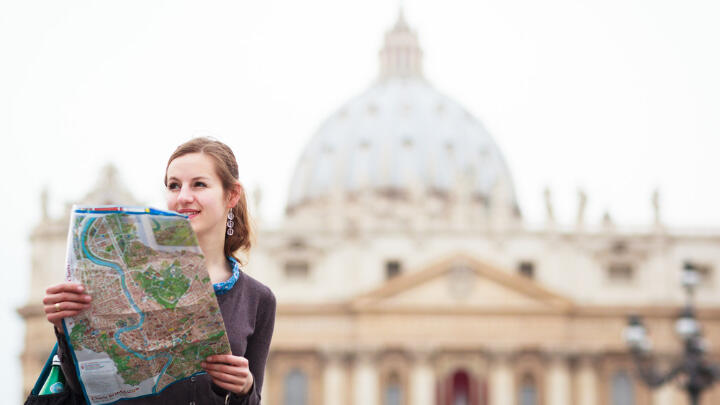 Average Temperature: 54 - 73°F • Average Rainfall: 8 days/mth • Average Sunshine: 6 hours/day
With summer now but a fond memory, Rome rapidly returns to a steady baseline flow of tourists. While the eternal city is never truly quiet, owing largely to its many evergreen attractions, you can expect significantly smaller crowds from this point onward. With that, you're also likely to notice a drop in airfare and hotel prices, often making for quite a substantial discount on high-season prices.
Almost in parallel with the city's tourism rates, the climate in Rome begins to dip significantly in October as fall comes into full swing. Temperatures flirt between pleasantly mild and warm throughout the month, a welcome respite from the summertime heat, and sunshine remains relatively regular and consistent. Though most of the month tends to be very pleasant across the board, be sure to pack an umbrella, as you can likely expect at least one day of rainfall per week.
Things to do in October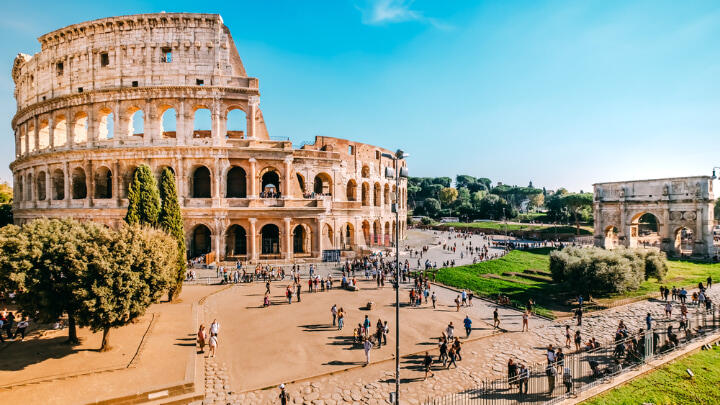 Taking pride of place on the Rome tourist trail are naturally the city's globally-revered UNESCO World Heritage Sites. The Colosseum, named one of the seven wonders of the world, stands as the largest standing amphitheater on the planet and, much like the impressive Pantheon temple, gives visitors a unique glimpse into everyday lifestyles and pastimes of ancient Romans.
Second only to these renowned historical sites is Vatican City, permanent residence to the Pope and the symbolic heart of Roman Catholicism. While incredibly popular with devotees from around the world, the site draws in huge waves of tourists with the iconic St. Peter's Square and awe-inspiring Sistine Chapel, adorned with the globally-recognized frescoes of Michelangelo.
Popular among sightseers and photographers alike, the elegant craftsmanship of the Trevi Fountain and the vast Spanish Steps bridging Piazza di Spagna and Piazza Trinità dei Monti easily stand as some of Rome's most lauded landmarks. Given their huge following among tourists, these sites tend to get very crowded during peak times, so you'd be best advised to visit early in the day for more of a serene experience and better photo ops.
Those captured by Rome's rich and complex history may find themselves inspired by a walk through the Roman Forum, where towering ruins now stand as mere whispers of the once great administrative district of the ancient empire. Older still are the ruins atop Palatine Hill, considered to be the cradle of Roman civilization and the fabled site of the Lupercal cave of ancient Roman myth, said to be the true birthplace of the revered historical empire.
For a little more insight into some of the eternal city's top sights, a Big Bus tour offers visitors a much quicker means of exploring Rome without cutting corners. The tour's main route passes by the likes of the Colosseum and Vatican City, with stops strategically placed near key locations where pass-holders can hop on and off at their leisure. Audio commentary is also available in seven major languages, providing cultural and historical insights into many of the city's famous landmarks.
What's On in October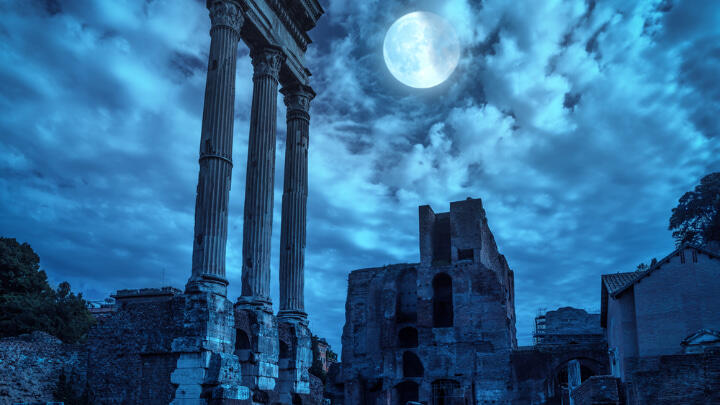 Romaeuropa Festival
One of Rome's most anticipated cultural events to take place each year, Romaeuropa brings together hundreds of artists across a wide range of disciplines and from a variety of countries to help put together an impressive program of dance, music, theater, circus and digital arts performances.
Over the course of several months, Rome becomes the true cultural epicenter of Italy, with artists both established and upcoming sharing their multidisciplinary talents and passions for thousands to enjoy. Performances tend to range from classical compositions to cutting-edge technological displays, covering just about the whole spectrum of the modern performing arts.
Rome Art Week
For one week in October, Rome hosts a monumental festival dedicated to contemporary art in all of its forms. Exhibiting the works of over 300 visual artists across over 100 venues and workspaces throughout the city, the Rome Art Week brings together professionals, curators and aficionados of the art world together in one of Europe's most culturally significant cities.
Rome Film Fest
Taking place over roughly two weeks in mid-October, the Rome Film Fest sees the eternal city host a vast program of film screenings, industry-expert conferences and panels, installations and exhibitions in celebration of all things cinema. Events throughout the festival take place across various venues, with the impressive Auditorium Parco della Musica at the center of it all, complemented by one of the world's largest red carpets for the duration of the celebration.
Halloween
While of course not a traditionally Italian celebration, Rome – like many major European cities – has largely adopted this now globally-popular festival of ghosts and ghouls. As October draws to a close, you can expect to find many local retailers and venues embracing the spooky season with all manner of Halloween-themed decor and limited-time products.
Many bars, clubs and restaurants across the city host their own – often spectacular – nights of terror, with the likes of the Hard Rock Café putting on a hugely popular event each year. Even the Vatican plays its own part, hosting its traditional Holy Halloween Mass at St. Peter's Basilica.
If you find yourself in Rome around this time, a sure-fire way to get yourself into the Halloween spirit is to explore the eternal city's macabre underbelly. The Rome Catacombs, for example, stretches for miles beneath the city streets, lined with the skeletal remains of those who walked them centuries ago. In the same vein, the Capuchin Crypt beneath the Church of Santa Maria della Concezione comprises several tiny chapels adorned with the skeletons of many of the site's former monks.