Ancient and modern at the same time, the city of Rome is like one big open-air museum, with classical forums, impressive squares, crumbling arenas, baroque fountains and broze statues around every corner. There's nothing better than to just wander the streets and just see what you discover. On the other hand, since the city lies a mere 15 miles from the sea, it's no surprise that sometimes it rains, and your best-laid perambulation plans get washed down Rome's ancient (yet still remarkably efficient) drains. Winter is the wettest time, with expected rainfall peaking in December, though you might also be surprised by a sudden downpour in April or May. Never fear – with a concentration of churches, museums and restaurants, there's always an indoor option in the eternal city. Things to do include:
The Big Bus Tour

St Peter's and the Vatican

The Capitoline Museum

The Pantheon

Find food

Go underground

Go for a walk anyway
Big Bus tour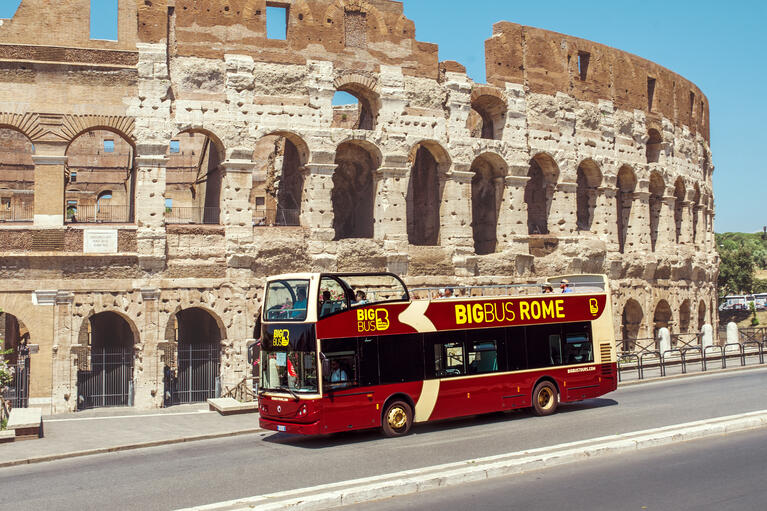 The best way to get out and about while being protected from the elements is from the inside of a climate controlled Big Bus! Get cozy downstairs or enjoy the views from underneath the roof on the top. The tour will give you a good overview of the city, taking in sights like the Colosseum, Spanish Steps, Circus Maximus and Piazza Venezia. You'll get audio commentary, too, so you can hear all the stories about ancient Rome. Enjoy the tour and get your bearings, then use your ticket to hop on and off for the rest of the day and keep dry between sightseeing stops.
The Vatican Museums and St Peter's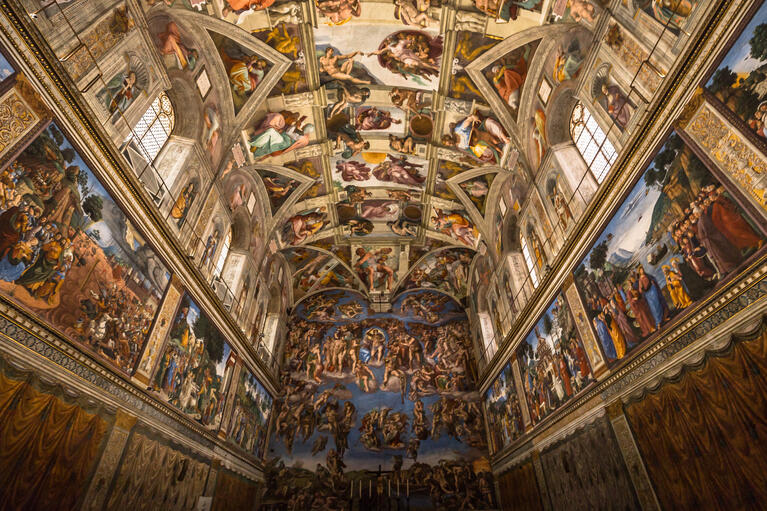 Between them, these two titans of tourism are enough to keep the serious art or history lover busy (and dry) for the whole day. Even if you're not, allow at least a few hours to do them justice. Start by taking a self-guided tour through the Vatican museums, which are jam-packed with renaissance masterpieces. You'll finish at the Sistine Chapel, where you can spend some time gazing up at Michelangelo's magnificent frescoes, then exit and make your way to St Peter's Basilica. This vast place of worship warrants a guided tour to ensure you don't miss treasures like Michelangelo's Pieta, the crypts or the Papal Throne. If the weather's eased a bit, it's worth climbing the dome after your tour, for unobstructed 360-degree views over the city.
The Pantheon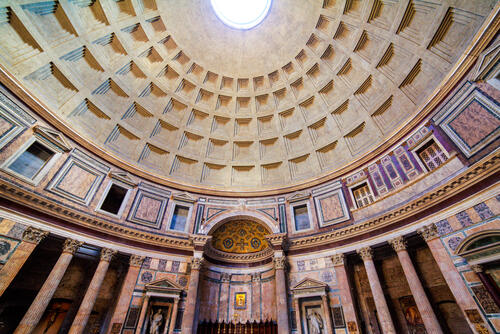 The Pantheon – or 'Temple of many gods' – is one of the oldest structures from ancient Rome to survive in such good condition, mainly because of its ingenious construction. The circular interior feels both secluded and imposing, but watch out if it's raining because water might be coming in through the oculus in the roof! Fortunately the Romans knew about drainage, so it's still safe to wander around – ideally with a passionate guide who will tell you all about how it's built, and some of the famous Italians who are buried there.
The Capitoline Museum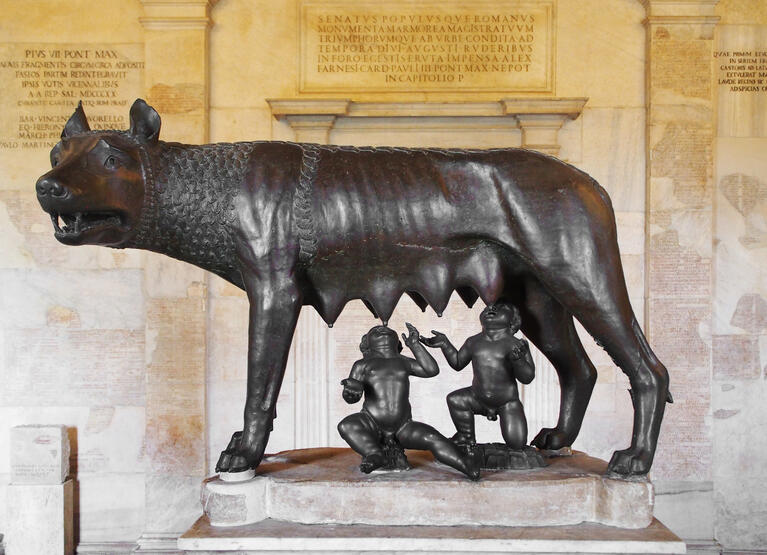 Perched atop the Capitoline Hill between the Forum and the Victor Emmanuel Monument is the elegant and thought-provoking Capitoline Museum. The museum, which started as the private collection of Pope Sixtus IV in the 15th Century, features paintings by Titian, Caravaggio and Rubens, among others, but mostly features statues dating from classical to renaissance times. Highlights include busts of roman emperors, the marble sculpture of The Dying Gaul, and the bronze she-wolf depicted with the city's legendary founders Romulus and Remus. It's a great option for lovers of classical art, especially if you don't fancy competing with crowds at the Vatican.
Castel Sant'Angelo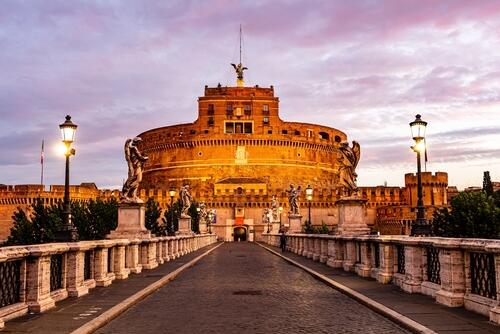 History meets intrigue at this star-shaped stronghold, with seven floors each serving a different purpose. Originally intended as a mausoleum for the emperor Hadrian and his family, it's since been repurposed as a prison, a military base, an opulent papal residence and a fortress for popes to escape to whenever the Vatican was under siege. Use your audio guide to explore each level and hear stories of escape and expansion, and be rewarded with stunning views when you reach the top. Or, if the weather's off-putting, grab a snack from the undercover café.
Find something to eat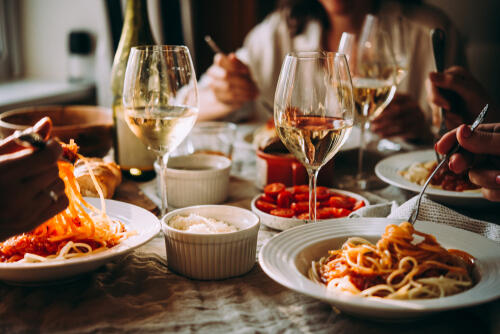 Let's assume you've been pounding a lot of pavement while you've been in Rome, so you've earned a bit of a carbohydrate top-up. Even if you haven't, what else are you going to do in Italy? If you need a bit of inspiration, try a pizza and craft beer pairing at Biond@mara, or perhaps a three-course feast with wine in the Prati District. If you're feeling creative, you could try your hand at making your own pizza or pasta, or if you're in need of comfort food you could head to the Hard Rock Café, where the wide windows allow for people watching while being protected from the elements. Whichever you choose, be sure to wash it all down with an espresso to pep you up for more sightseeing!
Go underground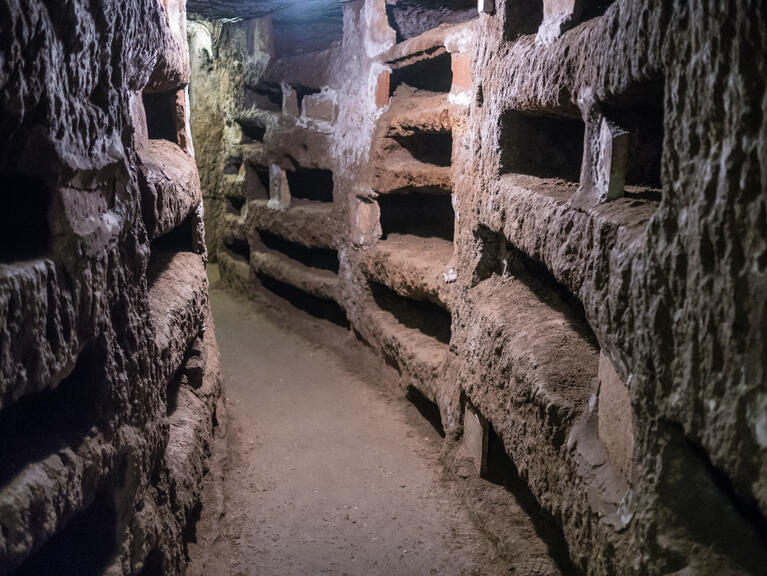 You may have heard that Rome is a city of layers, as it's been buried and built upon so many times. It's also been built down, with so many underground caverns and networks that more are being discovered all the time. Stay warm and dry while you explore ancient Roman Catacombs, the eerie yet fascinating underground cemeteries established by early Christians. Or if you prefer to learn about ancient Roman legends and infrastructure, try an underground tour of the Trevi Fountain, or see Rome's first and only masonry stadium underneath the Piazza Navona.
Go for a walk anyway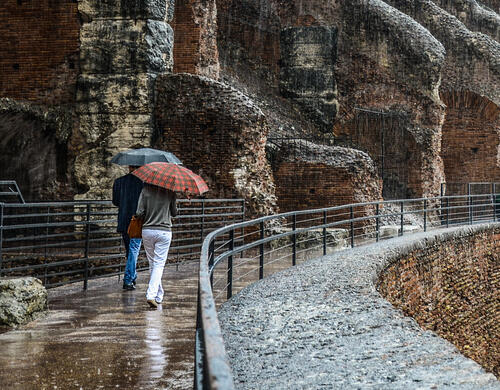 In spring, the temperature during the day hangs around the high 60s and low 70s, so if you've got the right shoes and jacket there's no reason not to rug up and head out anyway (in winter it's more likely around 40 or 50, so we'll leave that up to you). Marble and cobblestones glisten in the rain, there'll be much less competition for prime spots like the Trevi Fountain, and places like the Colosseum are particularly atmospheric when it's raining. Perhaps go shopping for the latest Italian fashions on the Via Condotti or Via del Corso, or take the guided audio tour on your Big Bus ticket.  If you've got a waterproof camera you'll be able to get plenty of shots without people in the way – just be careful not to slip on the cobblestones.
Sing in the rain with Go City
It's a glorious feeling when you can save on all your favorite attractions! Get your Go City Explorer Pass today, and have a great time in Rome whatever the weather!