Planning to spend a week in Rome? Well, lucky you! Many visitors to the Eternal City make the error of booking just two or three days here, then end up rushing around, frantically trying to tick off as many bucket-list attractions as possible. The best way to experience this sometimes chaotic city is sloooowly, pausing for Italian espresso and cannoli when the mood takes you and lingering at attractions like the Colosseum and St Peter's Basilica long enough to get a real feel for the place, rather than just a few hurried photographs.
There's so much to see and do in Rome. Seven days feels just about right to enjoy a relaxed sightseeing break and to really fall in love with the place. Do bear in mind though that time spent queueing at the more popular attractions will add up. So decide on your must-sees, book skip the line tickets where possible and be inspired by our suggested itinerary for a week in Rome.
Day 1: Ancient Rome
Good news! Many of the most sought-after attractions in Rome are within fairly easy walking distance of each other. It's perfectly possible, for example, to experience the well-preserved ancient ruins of the Colosseum, Roman Forum and Palatine Hill in a single day. Start at the Colosseum, where a tour of the interior really brings this vast amphitheater to life. Close your eyes and imagine the roar of the crowd baying for thieves and swindlers to be thrown to the lions 2,000 years ago. Wander the avenues of the Roman Forum, taking in huge arches, ruined temples, great columns and spooky headless statues before heading up Palatine Hill. It's here, among the colorful wildflowers, hilltop ruins and sweeping views of the ancient city, that Romulus and Remus, Rome's mythical founders, are said to have been raised by a she-wolf.
If you've got enough gas left in the tank after all that, spend your first evening in town getting to know atmospheric Piazza Navona, with its beautifully illuminated Bernini fountain, theatrical street entertainers and fairytale churches and palazzos.
Day 2: Villa Borghese and a Few Bucket List Biggies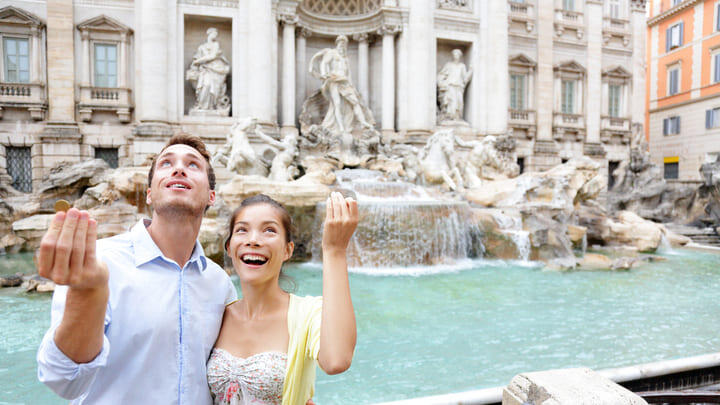 This one is a little hectic, and you may wish to skip one or two of the attractions on the list and return to them on a less packed day. 
Start your morning with a visit to the Pantheon, one of Rome's best-preserved Ancient Roman structures, with its fine portico featuring 12 grand Corinthian columns, checkerboard marble floors and impressive concrete dome complete with oculus, a central opening that allows sunlight (and indeed rain) to pour inside. It's less than half a mile from here to the Trevi Fountain. And can you truly say you've visited Rome before you've jostled your way through the crowds to toss in your coin? Another half mile takes you to the foot of the Spanish Steps. Steel yourself for the 135-step climb to the top, where the majestic Trinità dei Monti church with its elaborate decorative features and pair of 17th-century anamorphic frescoes are your well-deserved reward.
Spend the afternoon exploring Villa Borghese's sumptuous formal gardens and exquisite villas, and pay a visit to the Galleria Borghese, where landmark works include Caravaggio's Saint Jerome, Raphael's Deposition, and Bernini's Apollo and Daphne sculpture. Or, you know, just grab a smooth, creamy gelato and sit on the lawns people-watching for a few hours.
Day 3: Trastevere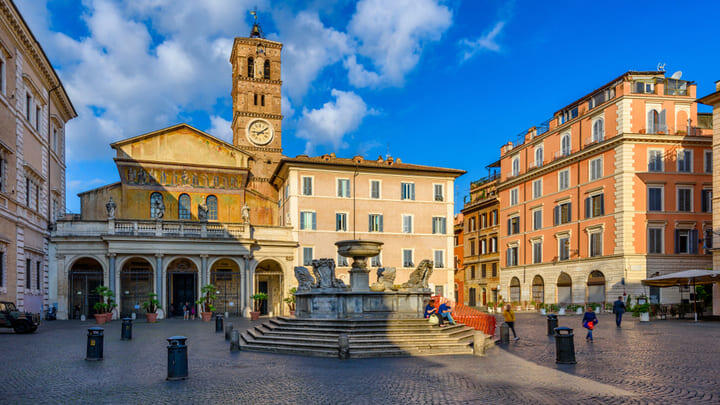 A week in Rome most definitely merits at least one day spent exploring the medieval cobbled lanes, atmospheric alleyways and pretty piazzas of Trastevere, a laidback neighborhood just downriver from the Vatican. Here's where to find beautiful churches, ocher-colored houses draped in vines and brightly blooming window boxes, and some of the finest pizza this side of Naples – wafer-thin, crispy crusted, wood-fired and fresh from the oven.
A walk up Janiculum Hill reveals sweeping city panoramas, as well as plenty of Instagrammable attractions, including an imposing statue of Garibaldi on horseback, a monumental 17th-century fountain with marble carvings of eagles and dragons, and a sprawling botanical garden.
Day 4: Museums and More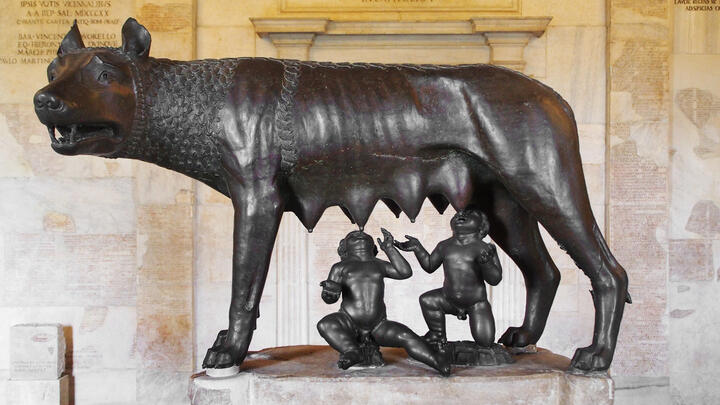 If ancient artifacts are your thang, you've come to the right place. The Capitoline Museums atop Capitoline Hill are reached via a long and graceful Michelangelo-designed staircase, and the climb is well worth it for the multiple museums containing classical statues, medieval bronzes, Roman pottery and a veritable treasure trove of paintings and sculptures from the likes of Caravaggio, Rubens, Titian and van Dyck. Highlights here (and, believe us, there are many!) include the famous statue of the Dying Gaul and the symbolic Capitoline Wolf, a large bronze piece depicting the mythical Romulus and Remus being suckled by the she-wolf who raised them.
Afterwards, wander downriver to take your chances with the Mouth of Truth (Bocca della Verità) – a forbidding medieval marble mask that invites you to place your hand inside its mouth, at peril of having it bitten clean off if you've ever told a lie. Then, hopefully with both hands intact, make your way to Aventine Hill for one of the coolest views in town: the dome of St Peter's Basilica framed by an avenue of perfectly manicured cypress trees, seen through the keyhole of an otherwise fairly unassuming door. Magical.
Day 5: The Appian Way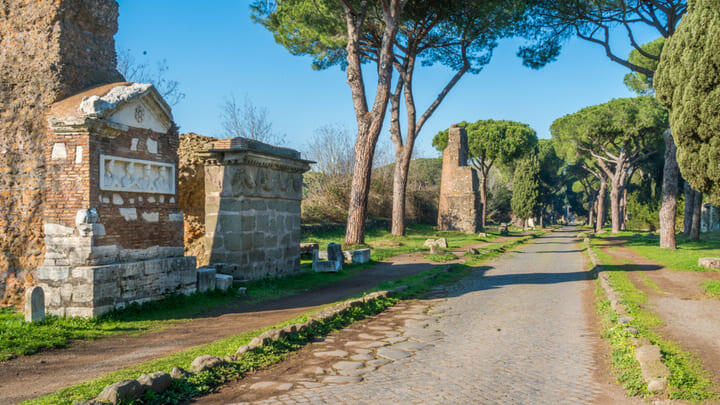 A walk on the Appian Way is an absolute must when spending a whole week in Rome. Seemingly frozen in time, much of this ancient Roman road remains unaltered since Julius Caesar marched his armies along it 2,000 years ago. The fine cobbled avenue stretches around 40 miles south of the city (significantly shorter than in its heyday when it went all the way to Brindisi!). Beyond the soaring pines that flank the road are fields and fields containing dozens of ancient monuments to explore. We're talking catacombs, mausoleums, temples, Roman baths and stacks more. Take a bike to cover more ground and make a real day out of it – a market-sourced picnic of salamis and cheeses will be the icing on the cake.
Day 6: The Vatican Museums
It should go without saying that the Vatican should be on your Rome itinerary and it's worth setting a whole day aside for, just in case you become transfixed by the beauty of the Sistine Chapel Ceiling for, like, three hours (not entirely unheard of, but also not recommended unless you want to take home a neck brace as a souvenir of your visit). Other highlights of the Vatican's complex of museums include Raphael's unfinished Transfiguration, an ancient marble statue depicting Trojan priest Laocoön and his sons being attacked by sea serpents, and a gallery of fine 16th and 17th-century tapestries. Make sure to take a close look at the ceiling in this one: though apparently sculpted in relief, it is in fact completely flat. That's down to 18th-century painters whose skill at painting light and shadow meant they were able to create an utterly convincing 3D illusion.
Day 7: Souvenir Shopping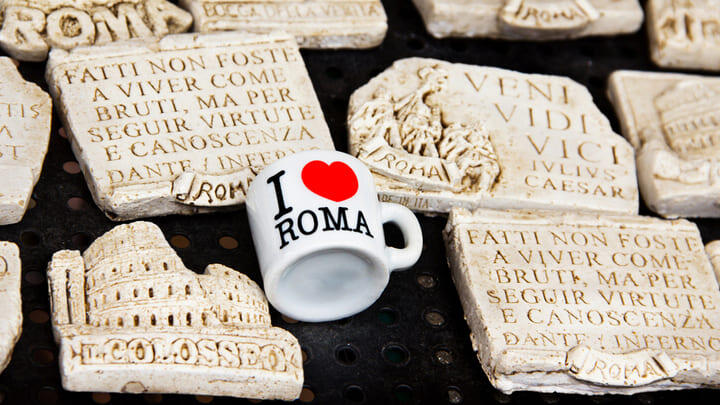 Whaddya mean you haven't bought any souvenirs to take home yet? Better get yourself down to the weekend Campagna Amico market by the Circus Maximus. This is the place for the best local produce, with everything sold here grown, reared, pressed, baked or brewed within a 100-kilometer radius. Pick up fruity Lazio wines, moreish extra virgin olive oils and fine cured meats to gift to friends and relatives, then head to Rome's main tourist drags for the lovably naff novelty nick-nacks you so desperately need in your life: Colosseum keyrings, Trevi Fountain snow globes and plastic Pope Francis figurines for the win. 
Save on things to do in Rome 
Save on admission to Rome attractions with Go City. Check out @GoCity on Instagram and Facebook for the latest top tips and attraction info.