San Antonio's culinary scene is ever-expanding, with exciting new chefs and delicious new restaurants popping up regularly. Foodies from all over will appreciate the tasty finds in this unexpected dining destination. It was officially designated a Creative City of Gastronomy by UNSECO in 2017! For those researching where to eat in San Antonio, check out this food guide to Alamo City. We've put together a few recent restaurant recommendations. Additionally, there is some general info about which neighborhoods are good for strolling about in search of new spots. While you certainly can and will find traditional Texan food, you'll also be able to enjoy a bevy of new culinary styles, from modern American to classic French.
The Pearl / Tobin Hill
Anchored by the repurposed historic Pearl Brewery, the area known as Tobin Hill is a culinary hotspot in San Antonio. You'll find a significant variety of top restaurants here, ranging from celebrity chef productions to local indie favorites. There are a few restaurants in the Pearl itself, while others are found within easy walking distance in the neighborhood around it. If you're looking to explore for a new dinner spot on your own, start with this area. Here are a few of our top recommendations.
Savor:

Manned by Culinary Institute of America chefs, Savor is a locally-sourced restaurant featuring modern American cuisine. It's a bit on the fancier side, offering a prix fixe menu alongside a full bar, but it's nice for a special night out.

The Bottling Department:

A delightful upscale food market with options to please any palate, the Bottling Dept is comprised of five different stalls from donuts to ramen. There's also a single bar serving up delicious cocktails and brews. 

Southerleigh Fine Food & Brewery:

Featuring new Texan cuisine, this restaurant not only offers a cross-section of entrees and apps like fried chicken and roasted beets but also brews a few of its beers. It's located in the historic Pearl Brewery, too. 

Botika:

Asian fusion cuisine is on the menu at Botika, with Peruvian-Asian fare being the focus such as sushi, cebiche, and wok-based dishes. They offer extensive outdoor seating, so it's perfect for cocktails and happy hour with friends.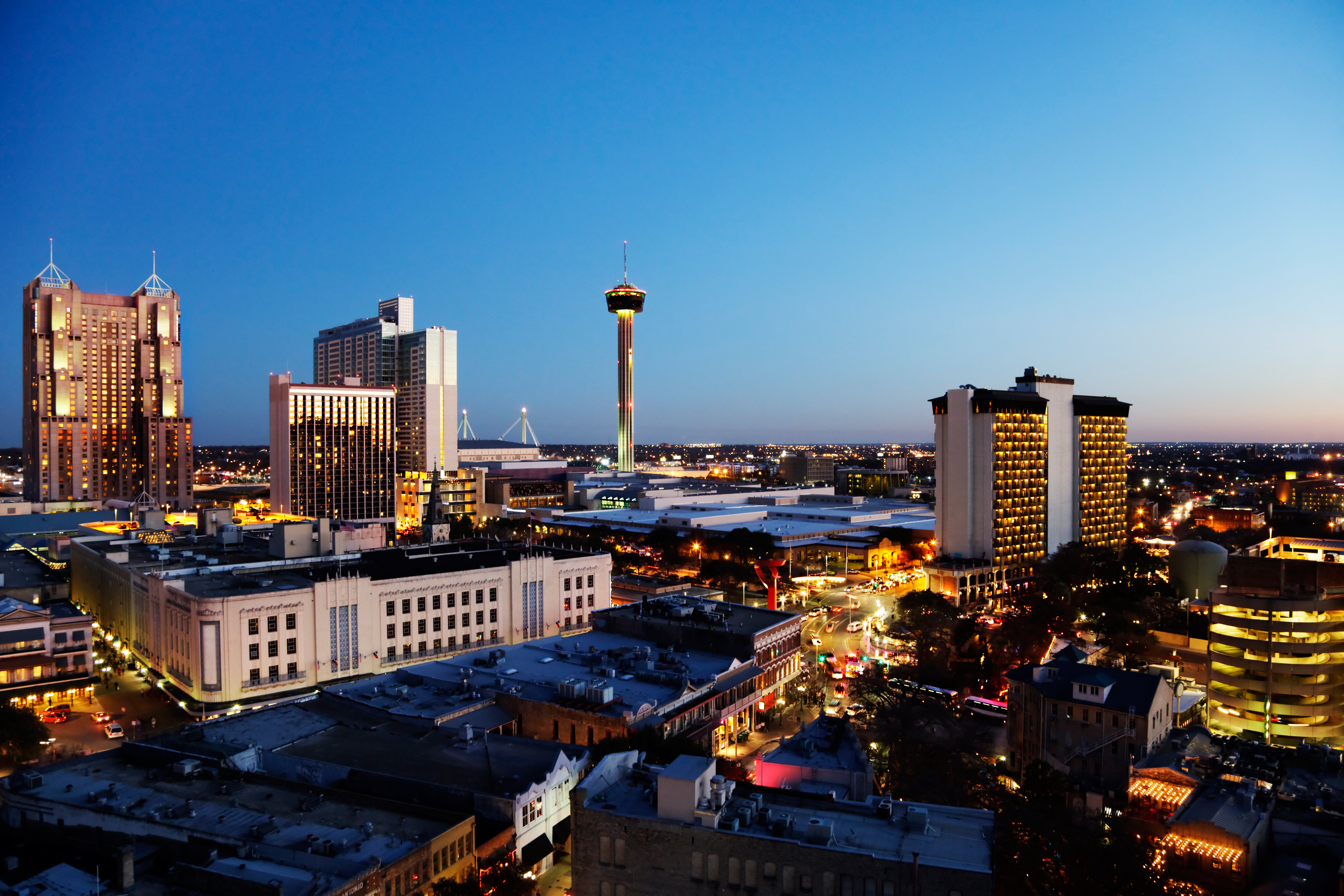 Downtown
An area filled with many of the city's top attractions, from the Tower of the Americas to the Alamo itself, downtown San Antonio is a great spot for visitors to look for dining destinations. The area offers a good mix of chain restaurant favorites alongside unique local restaurants, so you've got a wide range of prices and styles to choose from as you search for your next meal. Look along the Riverwalk for some restaurants, many of which offer authentic Mexican or TexMex fare. 
Range:

Those in the market for a traditional Texas steak house experience flock to Range. Perfectly cooked to order with a variety of sumptuous cuts, the steaks here are practically perfect. They also boast a full seafood menu, too.

ReBelle:

Another steak and seafood offering in a gorgeous historic hotel, ReBelle is a fine dining experience. Enjoy scallops and branzino alongside a filet or a burger. They also offer delicious apps like mahi-mahi ceviche and steak tartare. 

La Panderia Bakery Café:

This delectable café is perfect for unique, crave-able food items like avocado toast, Mexican hot chocolate, ranchero eggs Benedictine, tortas, and more. They're open for breakfast, lunch, and dinner. 
Southtown
Located south of Hemisfair Park, Southtown is a new culinary destination for locals and visitors. You'll find everything from Latin American cuisine to the hip vegan joint Senor Veggie. There's also a massive ice house with over 250 beers plus Tex-Mex fare to tide you over. It's a great family-friendly neighborhood as well, so it's ideal for those traveling with kids looking to go out for a nice meal or three.
Battalion:

The hand-made pasta at this chic Italian joint is a perennial favorite, with options like gnocchi, dumplings, and manicotti on a current version of the menu.

It's also located in a restored firehouse, giving it a cool, unique vibe.

Francis Bogside:

Rich, hearty Irish fare just tastes better in a cozy pub vibe like this. The décor is traditional and charming. The menu is a good mix of favorites like fish and chips with new additions like lobster mac and cheese.

Southtown Pizzeria:

What's better than fresh, lovingly crafted pizza paired with prosecco happy hours? It's a perfect girls' night out venue or good for a date. This newer restaurant has even been called the best pizza in the city.
Of course, there are restaurants all over the city. Some additional dining neighborhoods including Alamo Heights, Government Hill, and Olmos Park. Some good resources for finding highly-rated cuisine also include sites like Yelp and Open Table. The latter can help you make online reservations, too.  If you're headed to San Antonio and are looking for some things to do when you're not eating, consider a Go San Antonio pass. You'll save up to 45% on tours, museums, river cruises, and much more. Make it part of your vacation and save your hard-earned cash for that nice steak you've been waiting for.
Share Your Adventure with Us
Tag @GoCity in your vacation photos and we'll feature you on our page. Follow the Go City Instagram and Facebook pages for competitions, special offers, and events and inspiration for your chosen destination, too!