San Diego, "America's finest city," has some of the best 4th of July events throughout the city and surrounding area. Whether you're looking to spend the day at a nearby theme park or lounging on the beach with a picnic and friends, there are lots of great things to do during July 4th weekend.
If you're looking for San Diego 4th of July Weekend ideas, check out some of these local activities and fun things to do in San Diego in July, including…
Annual "Big Bay Boom" Fireworks Show
Red, White, and Boom! at LEGOLAND® California
SeaWorld® San Diego's Electric Ocean
Fourth of July Fireworks at La Jolla Cove
and more...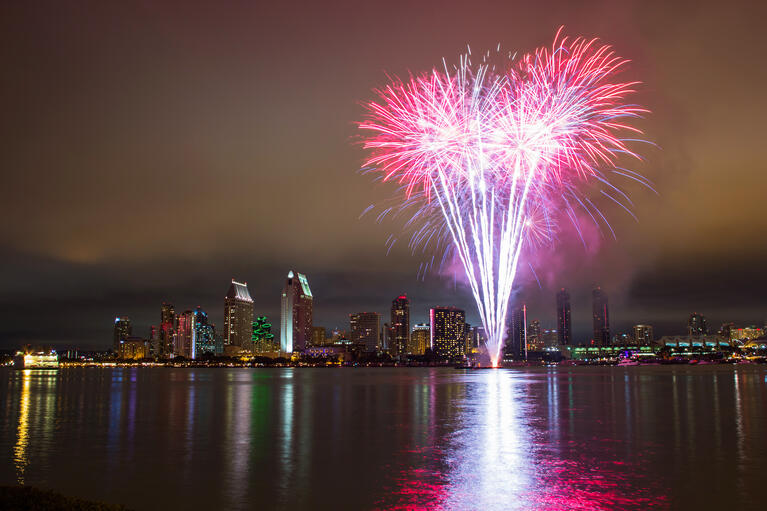 1. Annual "Big Bay Boom" Fireworks Show
No matter where you are in San Diego, be sure you don't miss out on the largest display of fireworks in the city in the annual Port of San Diego's Big Bay Boom Independence Day Spectacular. Fireworks are launched simultaneously from four barges strategically located throughout San Diego's North Bay starting just after 9 PM.
The fireworks show can be seen and heard from anywhere along the waterfront. The display is orchestrated to originally produced music selections and broadcast by MAX FM 105.7 and THE MIGHTY 1090 AM. Pack a picnic, grab your lounge chairs, and head over to one of these top places to watch the show:
Shelter Island: This intimate spot, located on the small strip on land on Point Loma's bayfront, offers excellent views. Be sure to get there before 1PM, when it typically reaches capacity (get there earlier to scope out the best spot!). It's strongly advised that you walk or take the free shuttle, and make sure to have your lawn chair and a picnic basket in tow.
Harbor Island: This peninsula situated between downtown San Diego and Shelter Island offers a stunning view of the fireworks with the skyline in the background. The small "island" has limited parking, so you may want to take advantage of the free shuttle service offered by the Port of San Diego, which departs from the Port Administration building on Pacific Highway.
North Embarcadero and the Marina District: On the east side of the San Diego Bay, these two options provide a hassle-free way to see the show (but you'll still want to secure your spot early). Parking is available in various lots and on many streets, but you'll still want to secure your spot early. Gourmet seafood restaurants and fish markets line the coast in this neighborhood that hosts many of the top San Diego attractions.
Seaport Village/ South Embarcadero: This waterfront shopping and dining complex on the southern end of the Embarcadero is another popular spot to watch the fireworks. Head there for dinner and drink at a restaurant with a bay view and then stay for the show.
Coronado Ferry Landing: Head over to Coronado for unique views of the Big Bay Boom fireworks. Coronado Island also has a 4th of July celebration of its own, including a parade, a concert, and fireworks over Glorietta Bay.
Parking availability and prices vary by location, be sure to check the event site for the most up-to-date information and to learn about free shuttles and parking.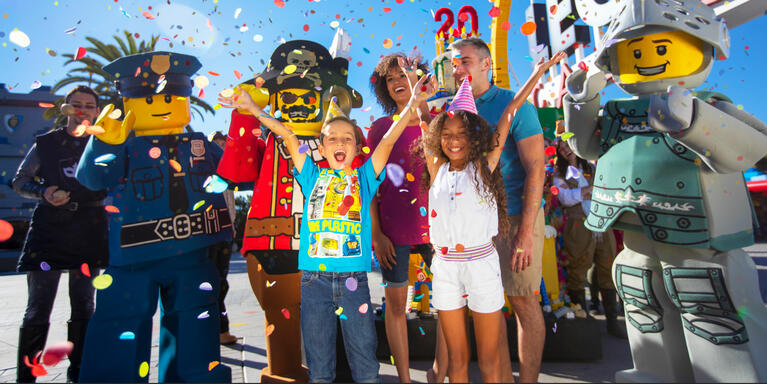 2. Red, White, and Boom! at LEGOLAND® California
The LEGOLAND® California star-spangled 4th of July celebration is one of the best ways to celebrate the holiday with your kids. Don't miss the impressive firework display timed to patriotic music. Throughout the day, kids of all ages can enjoy live music performances and participate in classic, family-friendly games, like water balloon toss, burlap sack races, LEGO® Hamburger relay, a family build challenge, and more.
All events are included with regular admission to LEGOLAND® California. LEGOLAND® tickets are included with your pass for San Diego.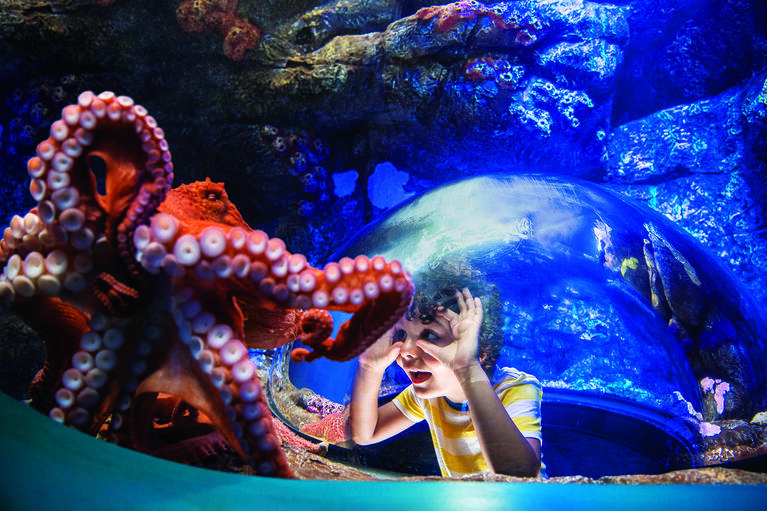 3. SeaWorld® San Diego's Electric Ocean & Fireworks Spectacular Show
Celebrate Independence Day with SeaWorld San Diego's "Electric Ocean," with extended park hours, nighttime shows, and fireworks spectacular on select dates. Enjoy eight energizing experiences, including two different animal shows, a dance club with a DJ, live performances, and your favorite SeaWorld San Diego experiences lit up in the glow of the dazzling lights. Admission to SeaWorld San Diego is included with your pass.
Insider tip: Check the daily schedule when you get to the park and plan your day around which shows and activities you want to see.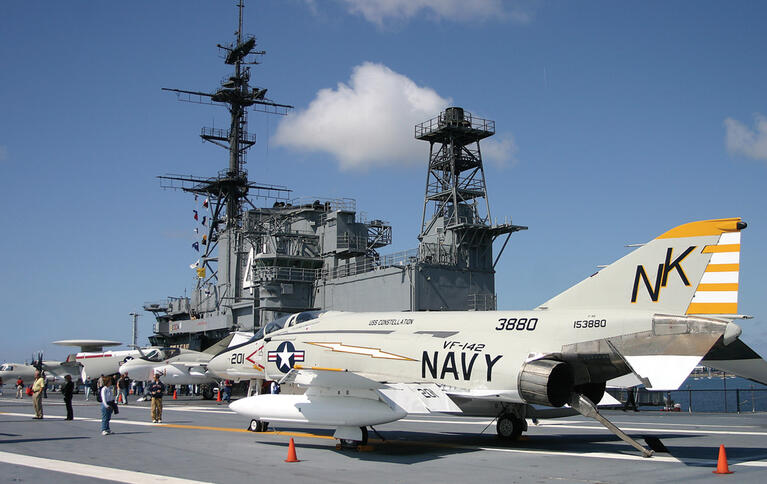 4. USS Midway Museum Annual 4th of July Celebration
The 4th of July in San Diego doesn't get much more patriotic than watching the spectacular Big Bay Fireworks show from the flight deck of the USS Midway. The Midway is one of America's longest-serving aircraft carriers and the closest venue to the four barge locations from where the fireworks launch. The USS Midway Museum event will feature lots of fun for all with family activities and live entertainment, including live entertainment by one of San Diego's most popular bands.
Guests are invited to bring blankets, lawn chairs, and small coolers. If you want to take a tour of the Midway beforehand, pop by during the day or during the weekend following the holiday, which is when many other festive events will be occurring. Insider tip: Buy tickets now, as this event sells out every year!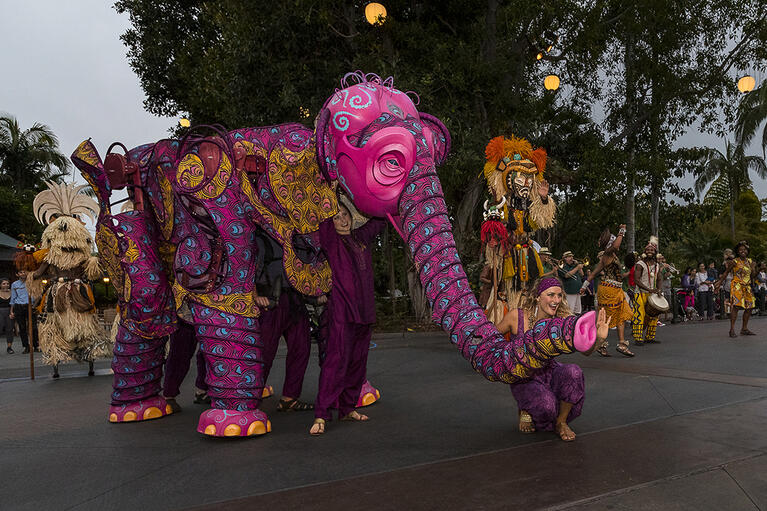 5. San Diego Zoo: Nighttime Zoo
The San Diego Zoo is a classic family-fun destination for July. This iconic attraction boasts some of the most exciting animals from around the globe, all housed in innovative and educational exhibits. While there's plenty to see this summer at the San Diego Zoo, we especially recommend checking out their extended evening programming during Nighttime Zoo. These events include longer park hours, specialty music and dance performances, and much more.
Adults can also enjoy drink specials, while the whole family can appreciate tasty fare expressly crafted for this event. San Diego zoo tickets are included with your pass. Can't decide whether to go to the San Diego Zoo or Safari Park? Check out our helpful guide comparing San Diego Zoo vs Safari Park to help you choose.
6. Coronado Island Independence Day Celebration
Coronado Island takes Independence Day Celebrations very seriously (with lots of fun and patriotic things to do). The town puts on a road race, an Art in the Park show, a rough water swim competition, Independence Day Parade, live entertainment, fireworks over Glorietta Bay, and more. Activities start early in the day.
If you plan to watch the parade, people head out there before 5AM to claim spots for the 10AM parade! Insider tip: Take the ferry over so you don't have to worry about parking and make the most of your time on the island by going on a bike tour or kayaking in the bay.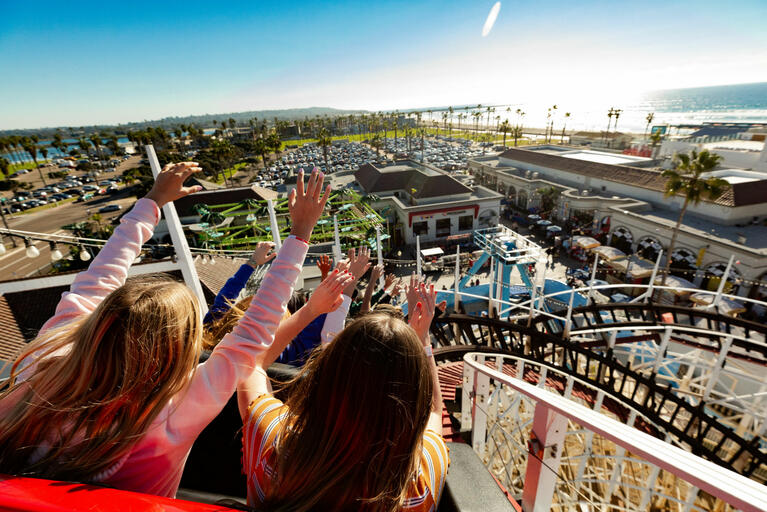 7. Belmont Park
Soak up the sun with some old-fashioned summer fun at Belmont Park. After all, what could be more quintessentially summer than an afternoon spent at the boardwalk?
From classic roller coasters to charming merry-go-rounds, Belmont Park has all the signature rides you could want at a beachfront amusement park. Throw in some bumper cars, arcade games, laser tag, a zip line, and plenty more, and you've gone one unbeatable afternoon in the making. Insider Tip: You can see the fireworks from Mission Beach, so be prepared for busier crowds than usual that evening if you go on July 4.
8. Historic Old Town Celebrations
For the perfect day of traditional 4th of July San Diego celebrations (we're talking 1800s-style), head to Old Town Historic Park for a classic parade, crafts, and kid-friendly activities such as wagon rides, period games, music, a pie-eating contest, and more.
If you'd like to explore this historic neighborhood a bit more, check out the Whaley House Museum. This nineteenth-century mansion has been a home, a general store, a theatre, and the county courthouse, and today is restored to look much as it would have for the Whaley family in the 1850s.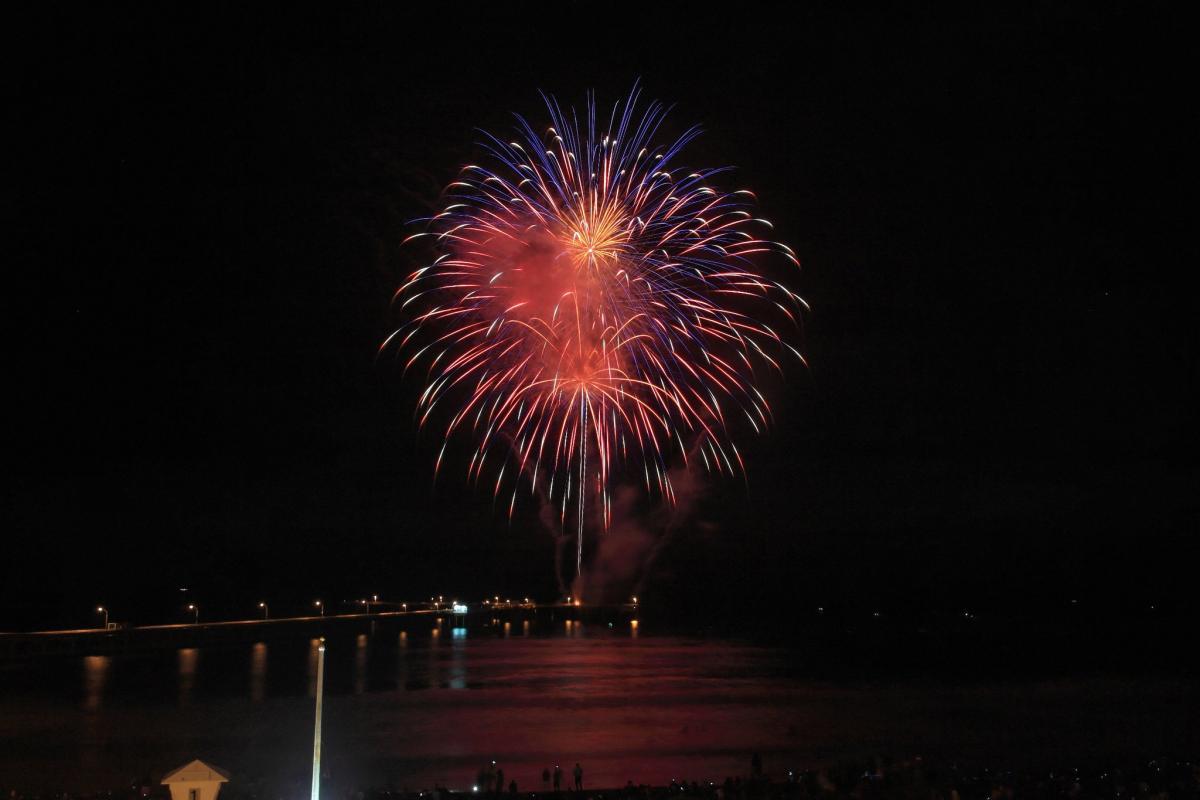 9. Ocean Beach Fireworks
Strictly called "OB" by the locals, Ocean Beach offers a fun-filled day of 4th of July magic with a spectacular fireworks display right off the OB Pier. Pack a picnic and head to the beach for a day of swimming, lounging, playing in the sand, and shopping along Newport Ave. Bring a radio to tune into the fireworks soundtrack. Insider tip: Main Beach Parking Lot and Pier Parking Lot will have free parking all day.
10. Fourth of July Fireworks at La Jolla Cove
Celebrate the 4th of July in beautiful La Jolla. Pack a picnic and bring a blanket to Ellen Browning Scripps Park for the best views of the 4th of July Fireworks at La Jolla Cove. Make the most of your day in La Jolla and hop in a kayak or throw on some snorkel gear to explore the coastal caves and popular sea lion spot and check out the sea life in La Jolla. Grab a bite to eat with a view at one of the seaside restaurants and then stroll the neighborhood.
Insider tip: Head to the park early to get one of the best views in the city of the sunset and to scope out a good spot for the fireworks show.
11. San Diego County Fair
While the fair is a long-running event with dozens of attractions, performances, and things to do, it typically culminates on July 4. Families enjoy the Fair for its excellent combination of exhibits, activities, and kid-friendly games, while adults can take advantage of tailored events like wine tastings, beer samplings, design exhibitions, and a gem and mineral show.
The Fair adopts a theme each year - check their site for this year's. Visitors can expect games, demonstrations, and even a winged monkey DJ dance party in keeping with this theme.
Want even more ideas of fun family stuff to do in San Diego? Check out this overview of the Go City's pass for San Diego here.

Save on Admission to Popular Attractions
Regular admission to a number of these attractions are included with Go City®. Choose as you go from dozens of San Diego attractions & activities and save on combined admission vs paying at the gate. See all available passes and San Diego attractions. Please note, some of these special July and 4th of July weekend events may be separately ticketed and not included on the Go San Diego pass.