Due to its ideal location along the Pacific coast, San Diego is one of the premier spots for whale watching in the U.S. Travelers will be amazed at the variety of whales that swim majestically along their migratory patterns through the Pacific Ocean, passing San Diego on their long treks. In fact, roughly 20,000 gray whales make a 10,000-mile round-trip journey from Alaska to Baja California each year! If you're interested in going whale watching in San Diego, there are a few things to keep in mind before heading out into the open ocean. Check out our guide to San Diego whale watching for important info and tips.
When is the best time to go on a Whale Watch?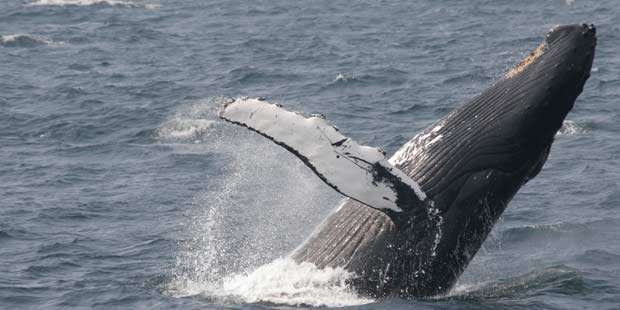 There are two primary seasons for whale watching cruises in San Diego: summer/fall, and winter/spring. During the summer months (mid-June through September), you're more likely to see a greater variety of whales. You could see whales including minke whales, fin whales, humpback whales, orcas, and the largest animal on earth—the blue whale.  During the winter whale watch season (mid-December through April), you'll mainly see the remarkable gray whales. Other animals frequently spotted on San Diego whale watches include a diverse array of dolphin species, including bottlenose dolphins, Pacific white-sided dolphins, and common dolphins. You could also see sea lions and several types of sea birds like herons, gulls, and pelicans. Essentially, if you have the freedom to decide what time of year your trip to San Diego will occur, you can arrange it around which kind of whale you'd like to see the most.
What to Bring on a Whale Watch?
While San Diego's climate is renowned for being temperate, it's still chilly out on the open ocean. Bring layers and prepare for unpredictable wind and weather. You'll be out on the ocean during the day,  so it's also important to wear sunblock and protective eyewear/headwear. As mentioned, it can get breezy and the ocean reflects a tremendous amount of light. (Even on cloudy days.) You should also bring a camera or recording device, ideally a waterproof one. Newer smartphones are usually reliably good for these kinds of photo opportunities, too, if you don't want to spring for a nice camera.  One thing you won't have to bring is snacks. Most whale watch companies offer their own onboard food and drink, and usually prohibit outside fare anyway. 
Where Does the Whale Watch Go?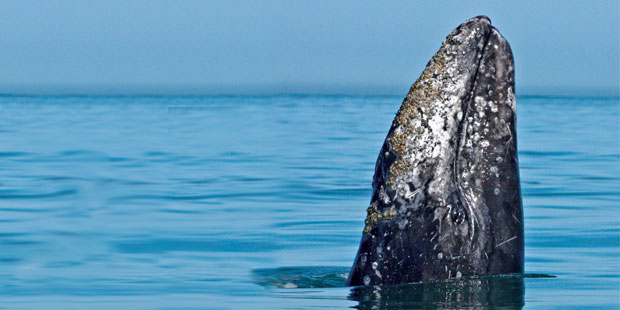 Depending on the time of year you've selected for your cruise, whale watching ships in San Diego can travel a varying distance away from the coast. During the beginning of the whale watching season (starting in December), gray whales migrating south to warmer waters will stay nearer to the coast. At that time of year, you may only need to sail a few miles offshore to reach their routes. However, later in the spring and into the summer, whales tend to stay further away from the coast so your captain may choose to take the ship about ten or more miles from shore. If you choose a summer whale watch, you may see more diverse marine life as well.  Many whale enthusiasts also like to venture further up the coast towards Los Angeles in search of these amazing but elusive creatures. If you choose a whale-watching cruise that departs from Newport Beach, you'll sail out to one of the largest protected marine parks in the region, located just outside Newport Bay.
Whale Watching San Diego Tips
Research your whale watching company wisely. 
Some companies are more of a commercial venture, while others employ real marine biologists from respected institutions like the San Diego Natural History Museum. Certain companies also fail to practice eco-friendly and sustainable behavior toward whales. Therefore, it's important to choose an ethical whale watch. 
It often takes quite some time for whales to surface around human vessels. Be prepared to sit offshore for a while before sighting any of these gentle giants. This behavior is often the reason whale watch cruises usually last between 3 to 4 hours. 
Appreciate the other creatures.
Whales aren't the only marine life you'll come across on your nautical adventures. Keep a careful eye out for cavorting dolphins, swooping birds, and glistening sunfish. They're just as much fun to see as the star attraction, and are usually more plentiful.
You can also see some whales from land.
While it's hard to beat the appeal of being out on the open ocean so close to these impressive creatures, you can also see gray whale migration from places just on the Pacific, like the Birch Aquarium at Scripps or Torrey Pines State Reserve.  
Whale watching is a great family activity.
Kids of all ages will love the chance to catch glimpses of marine mammals several hundred times their size. Just remember to pack things to keep them occupied during the time you'll be waiting for the whales to breach—even if you think the novelty of being on a boat will be sufficient entertainment.
Share Your Adventure with Us
Tag @GoCity in your vacation photos and we'll feature you on our page. Follow the Go City Instagram and Facebook pages for competitions, special offers, and events and inspiration for your chosen destination too!