From some of the best museums in the country to small ballet theaters, and from botanical gardens to a Japanese Zen garden, Balboa Park quite literally has a little bit of everything. Of course, because of its massive size it's practically impossible to do everything in one visit. While everything in the park is worth a visit, this guide highlights the must-see Balboa Park museums and other things to do during your visit, including...
Reuben H. Fleet Science Center
San Diego Natural History Museum
Japanese Friendship Garden
San Diego Zoo
and more...
Save on Balboa Park Museum Tickets & More
Admission to many of these top San Diego museums and attractions are included on the Go San Diego® Card. Think of it like a Balboa Park museums pass. Choose as you go from dozens of top attractions and save up to 55% on combined admission vs paying at the gate. See all available museums, passes, attractions & prices – Learn more.
Balboa Park Museums & Tickets for Entry
There are 14 museums in Balboa Park altogether, touching on art, science, nature, and more. Here are a few of the most popular and unique.
Reuben H. Fleet Science Center
– An expansive science center complete with the world's first IMAX Dome theatre, this museum is an excellent choice for children. The
Fleet Center
highlights hands-on learning and activities.
San Diego Hall of Champions
– The nation's largest multi-sports museum, the
San Diego Hall of Champions
is a good way to learn all about the history of more than 40 major and minor sports in America.
San Diego Air and Space Museum
– Celebrating all things related to aviation and space flight,
the San Diego Air and Space Museum
tells the story of flight in the modern era, and San Diego's important place in that history. You'll even find several real aircraft that have been restored to their original condition.
Museum of Man
– The only anthropological institution in the region dedicated to celebrating the diversity of man. Combining the disciplines of art, history, and anthropology alongside contemporary and historical artifacts,
the Museum of Man
is a one-of-a-kind look at what makes us human.
San Diego Natural History Museum
– This museum highlights the geological, botanical, and paleological history of the Southern California and Baja California regions.
The museum's exhibits
combine contemporary science with multimedia art in a unique educational display.
Museum of Photographic Arts
– A rare museum devoted strictly to the
celebration and preservation of photographic art
. Their collections include some of the earliest prints from the 19
th
 century all the way up to contemporary photography.
San Diego Museum of Art
- The oldest and best beloved art museum in the region,
the San Diego Museum of Art
specializes in a number of diverse areas including Spanish & Italian Old Masters, Southeast Asian art, plus American painting and sculpture.
Model Railroad Museum
- This one is for the train geeks out there. Marvel at the
largest model railroad display in the world
, learn all about the historic significance of rail travel in developing America, and bring the kids to the Thomas the Tank Engine room.
San Diego Automotive Museum - 
A
visit to the San Diego Automotive Museum
 is sure to be a pleasure for history buffs, and, of course, anyone who loves cars. See lovingly restored vehicles like Cadillacs as you trace the history of car travel in the United States. Remember, admission to many of these great museums are included on the Go San Diego Card - essentially making it a Balboa Park museums pass!
The Gardens at Balboa Park
Balboa Park is itself one expansive park, but there are also a number of specific gardens dedicated to a particular type of plant or climate.
Japanese Friendship Garden (San-Kei-En)
-  This garden is one of our favorites. It's a
classic Zen garden
featuring exquisitely sculpted sandscapes, stone gardens, and a large koi pond.
California Native Plant Garden
- This is the perfect sightseeing destination for those of you who truly love to get to know a new place when you visit. You'll only find indigenous plants here!
Desert Garden
- Despite what you may think of the desert, this desert garden is filled with striking plant life. In fact, there are more than 1,300 different plants scattered across it's 2.5 acres.
San Diego Zoo Botanical Garden
- A visit here is a great complement to a visit to the Zoo itself. See an expansive collection of the kinds of plants eaten by denizens of the Zoo like the bamboo for the famed Giant Pandas.
Old Cactus Garden
- First cultivated in 1935 as part of the California Pacific International Exposition of the same year, this garden features some of the largest succulents and cacti in the entire Balboa Park garden system.
The San Diego Zoo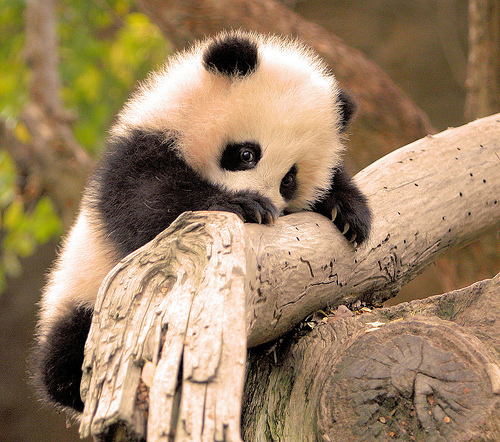 In a category all by itself, the San Diego Zoo is one of the best institutions of its kind in the country. Home to more than 800 species of creatures, including a family of the endangered Giant Pandas, all 107 acres of the Zoo are worth checking out. The zoo also frequently offers special activities during and after operating hours, like sleepovers and inside-access tours. We've written about those special activities recently, so its definitely worth checking out our guide to visiting the San Diego Zoo. Getting In: San Diego Zoo tickets are included on the Go San Diego Card.
The California Tower
This historic venue has only recently been reopened to the public after being closed for decades. It was originally designed as part of the California Pacific International Exposition (as much of Balboa Park and its included museums were) and has now been opened as a monument to that period's architecture and innovative spirit. A must-see for any fans of architecture.
Performing Arts Venues
Balboa Park is also filled with a number of premier performing arts venues that offer everything from local children's concerts to world-class orchestral performances. If you have the time, check out the schedule at a few of these places and plan to take in a show on your next vacation.
Marie Hitchcock Puppet Theater 
- If you're traveling with children, this is a great place to take them for a bit of entertainment. A diverse array of performances are available year round.
Spreckels Organ Pavilion - Containing one of the world's largest outdoor pipe organs, the Spreckels Organ Pavilion offers free Sunday concerts weekly. Be sure to stop by if you're in the area to hear some truly unique and beautiful music. 
The Old Globe
- In the mood for a bit of the Bard? Head to the Old Globe for some high quality Shakespeare performances, plus other great plays that have made it to Broadway and beyond. Tip: Don't miss the Summer Shakespeare Festival if you're in town - you can find some really cheap tickets for the outdoor stage.
Restaurants at the Park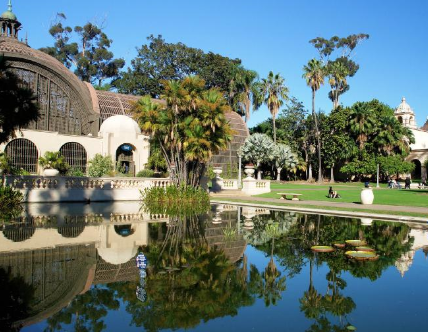 How can you spend a full day exploring all that Balboa Park has to offer without any food? You can't, of course, which is why its fortunate that there are some great dining options within the Park itself and on some adjacent streets. The Prado - This is the most famous restaurant in the park, featuring award-winning cuisine and a lovely outdoor patio setting. Insider tip: make a reservation at this place and use your Go San Diego Card All-Inclusive Pass to save $10 off your purchase of $40 or more! Café Mingei - If you're looking for caffeine or just something light, head to this charming café for a quick bite. Panama 66 - Located in the San Diego Museum of Art, Panama 66 is a great place to go for cocktails, salads, and small bites. The Tea Pavilion - This beautiful outdoor café at the Japanese Friendship Garden is the perfect place to dine lightly in leisurely elegance. 
Getting There
Balboa Park is very centrally located in San Diego, making it pretty easy to get directions from anywhere if you can't find your way. The official address and some basic transit information on how to get to the park can be found below. 1549 El Prado San Diego, California, 92101 Public Transportation (MTS): Route 120 or Route 7. Driving: Southbound from I-5 Take the 10th Avenue exit off I-5. Turn left on "A" Street and left again on Park Boulevard. Follow the signs to Balboa Park. Northbound from I-5 Take the Pershing Drive/B Street exit off I-5 to Pershing Drive. Take Pershing and then turn left on Florida Drive. Turn left on Zoo Place to Park Boulevard, then left on Park. Southbound from Highway 163 Take the Park Boulevard exit off Highway 163. Turn left on Park. Follow the signs to Balboa Park. For more info, be sure to check out the official Balboa Park website.
Save on Admission to Balboa Park Museums with a Digital Pass
Once again, if you're planning a vacation to San Diego, it's a good idea to devote a couple days just to exploring the offerings of Balboa Park. If you really want to explore the rich diversity of Balboa Park's museums and gardens, remember to pick up a San Diego Attractions Pass and make the most of your next San Diego vacation! We hope you consider adding a few of these fun options to your vacation itinerary.