Traveling to San Diego for the vacation of a lifetime? We've put together a go-to guide packed with information for getting around San Diego and beyond, including getting to and from the airport.
While this beach haven is large and pretty spread out, getting around is easy if you know what you're doing. The public transportation system offers a convenient and affordable transportation solution but depending on where you stay and how far out of the city you plan to explore, you might find that the easiest option is to rent a car or hail a taxi.
You can also opt to get outside and ride a bike, or take advantage of the Hop On Hop Off buses and trolleys with a pass for San Diego by Go City®. Whether you're a first-time tourist or a frequent visitor of the sunny California paradise, this guide will provide you with great tips and tricks for navigating.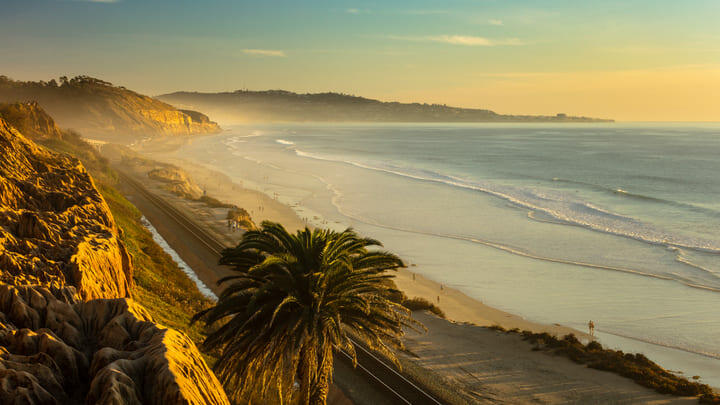 San Diego Public Transportation
San Diego and its surrounding areas have accessible and affordable public transit systems that include trolleys, buses, trains, and shuttles.
Within San Diego
The trolleys provide service from key locations in the downtown area while buses are great for navigating beyond downtown San Diego. A Big Bay Shuttle runs seasonally (between Memorial and Labor Day) and provides hop-on hop-off service along San Diego's Embarcadero waterfront area with an all-day pass. The San Diego Metropolitan Transit System, SDMTS, consists of 3 trolley lines:
The Blue Line runs between the Mexican border through Downtown and Old Town
The Orange line connects the Downtown area to eastern parts of San Diego through Lemon Grove and El Cajon
The Green Line runs from Old Town through Mission Valley, San Diego State University, and Santee.
Check the SDMTS website for up-to-date detailed trolley maps and timetables. The SDMTS also includes a bus system that offers 89 different routes. The buses are easy to use and are a reliable way to get around to areas of San Diego that the trolley does not service.
Check the SDMTS website for up-to-date bus route maps, schedules, and trip planning resources. The Plan Your Trip tool on the SDMTS website is also super helpful for visitors. Plug in where you'd like to go and easily find which buses or trains will take you there the quickest.
Beyond San Diego
The Amtrak California trains run to areas beyond San Diego. The Pacific Surfliner travels along the ocean with daily service to cities north of San Diego including Anaheim, Los Angeles, Santa Barbara, and San Luis Obispo while the Sprinter rail travels east out to Escondido.
For more public transit directions and questions call (619) 233-3004. To see all inter-California Amtrak routes, click here.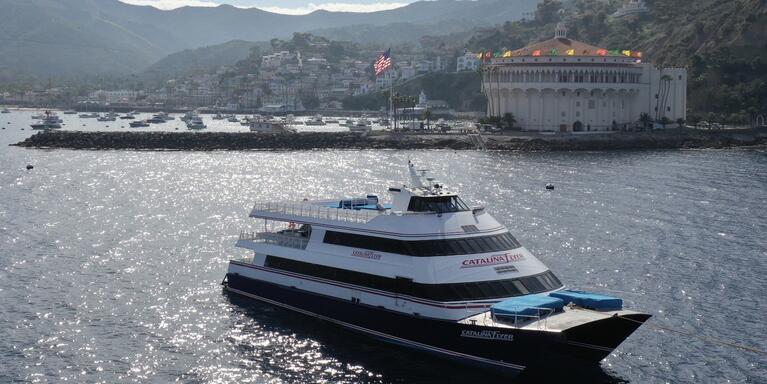 Taxis & Cars
You'll never need to worry about hailing a cab in San Diego! Taxis are widely available in San Diego but can be expensive. Base fares and rates are displayed on the meter and you are typically charged on a per mile basis. There are taxi stands at the airport, most hotels, and plenty of the most popular San Diego attractions.
If you plan to visit attractions outside of downtown San Diego frequently, renting a car is probably a more convenient option. The freeway system is easy to navigate and you'll be able to make it to all ends of the expansive city. Be sure to leave time to find parking downtown and account for parking fees at select attractions.
Many rental car services include a convenient pick-up service at San Diego area hotels as well. It is also important to note that many rental services require that the driver is 25 years of age or older.
San Diego by Bike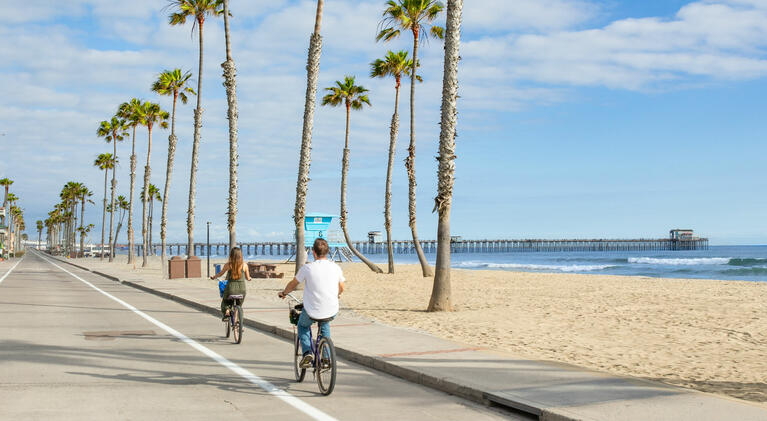 San Diego is a very cyclist-friendly city. Many roads have designated bike lanes and there are lots of bike rental companies throughout the city. Not to mention, there are beautiful views everywhere you go. Rent a bike for the day and explore the waterfront area of La Jolla, the bustling downtown, and more. 
For a comprehensive map of San Diego County, visit the San Diego County Bike Coalition's website.
Hop On Hop Off Trolley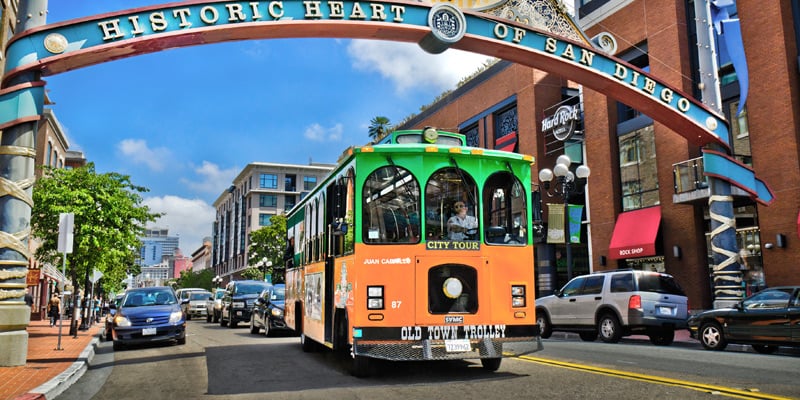 In addition to the public trolleys, you can also take Old Town Trolley - it's a San Diego staple. The colorful trolley stops at 10 popular locations and allows for the perfect sightseeing experience.
You'll hit Old Town San Diego State Park, San Diego Embarcadero Cruise Ship Terminal, Seaport Village, Balboa Park, San Diego Zoo and more. You can hop on or off at any stop, making it easy to complete your San Diego to-do list.
Traveling from the San Diego International Airport (SAN)
San Diego International Airport (SAN), also called Lindbergh Field, is conveniently located near downtown San Diego and is easily accessible via public transportation and shared ride services.
By Public Transportation: The San Diego Transit Flier, bus route no. 992, runs between downtown San Diego and the airport every 15 minutes throughout the week and every 30 minutes on the weekends. Please note: Exact change required to purchase bus fare. Check the MTS website for up-to-date fare information for the 992.
By Taxi: Taxis can be found outside terminals 1 and 2 at the airport.
By Shuttle: Airport shuttles run regularly from the airport terminals to various points around the city and can be booked in advanced. Shuttles provide an easy to use, economical alternative to a taxi.
By Rental Car: Most major car rental companies are easily accessible from the airport. Use the car rental reservation boards located near the baggage claim areas of terminals 1 and 2 to catch a shuttle to the car rental locations.
 
Save on attraction admission
Consider using a pass for San Diego with Go City® - which includes admission to dozens of the area's most popular attractions - all for one low price. See all available San Diego attractions, passes & prices. A pass for San Diego will save you on combined admission vs paying at the gate.