Families traveling to California can't miss the hottest attraction in the area – LEGOLAND® California Resort. It's perfect for families with children 12 and under because it's designed to introduce them to the excitement, creativity, and innovation at an age-appropriate pace. Check out our helpful guide for visiting the LEGOLAND® California Resort, packed full of tips for visiting, ways to save on admission, other nearby attractions, and much more.
Tips for Visiting LEGOLAND® California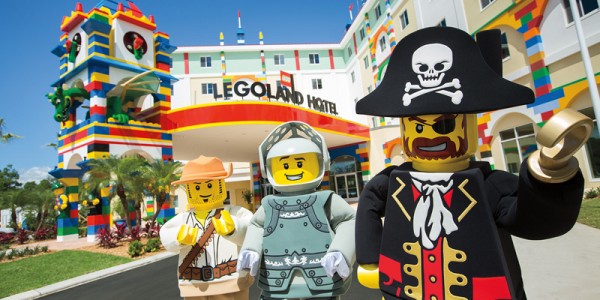 Start in the back of the Park at the beginning of the day (arrive before noon) and then move your way forward to avoid the most lines.
Consider purchasing a Park Hopper pass if you think you'll be interested in LEGOLAND Water Park or SEA LIFE® Aquarium – it will save you money versus purchasing individual tickets.
If you plan to go to the Water Park, we suggest before 11 a.m. or after 3 p.m. It will help you avoid the biggest lines.
Download the LEGOLAND mobile app for access to park maps, special info, and attraction guides.
If you want an interactive version of the map to consult in advance, you can find that online, too.
Review height restrictions on rides before you visit so you don't wait in line for a ride your kid isn't tall enough to enjoy.
For the full LEGO® experience, consider booking a night at the wildly popular LEGOLAND Hotel, located immediately adjacent to the Park.
Use your San Diego pass to get your LEGOLAND tickets.
When is the best time to visit LEGOLAND® California?
A visit to LEGOLAND California Resort is likely to take all day, so plan to arrive early in the morning. This will minimize your wait times early in the day, and allow you to maximize the time you spend enjoying the Park. As far as the time of year goes, if you have any flexibility the summer is the time to avoid. The lines will be the longest and the cost of lodging will be higher. Fortunately, San Diego is temperate for most of the year, so you can still enjoy the rides throughout the fall and winter.
What to bring to LEGOLAND® California?
Sunscreen and a hat – you'll be outside all day.
If you plan on upgrading to the Water Park, bring or wear a bathing suit, too.
A camera, smartphone, or another recording device.
Bottled water and snacks if you want to avoid purchasing them on-site.
Comfortable shoes – it's a big park and you'll probably be walking a lot.
LEGO® Minifigures! You can trade your LEGO® Minifigure with any employee in the Park or at any of the Trading Posts.
What to do at LEGOLAND® California? What can I expect at LEGOLAND® California?
LEGO CITY: Deep Sea Adventure
https://www.youtube.com/watch?v=UFJMl5Tx0w4 Just opened in the summer of 2018, this submarine ride is a part treasure hunt, part sea life expedition. See real sea creatures like rays and sharks, as well as gorgeous oceanic plant life. Keep an eye out for LEGO fish, too! You can also use the interactive touch screens in your submarine to find shiny gems and lost treasures. It's a massive new addition to LEGOLAND that should not be missed.
LEGO NINJAGO
]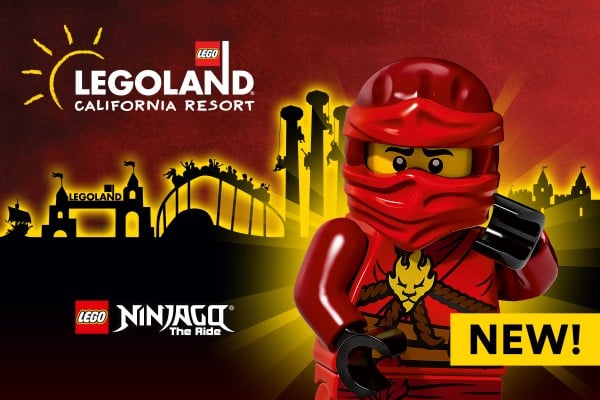 You also should be sure to save plenty of time for LEGO NINJAGO World, an innovative area of the park that brings high-tech entertainment to the max. It's the first park in North America to create a digital 3-D experience quite like this. Jump onto NINJAGO the Ride for a truly immersive experience into the world of the ninja as only LEGO can imagine it. Take advantage of the unparalleled Maestro hand gesture technology to sling weapons at your digital enemies and collect points as you go along. Don't miss your chance to explore this singular ride - with such inventive new technology, it's the hottest new ticket in LEGOLAND. Of course, you simply must check out the new LEGO NINJAGO movie, LEGO NINJAGO - Master of the 4th Dimension. Follow the entertaining adventures of the ninjas as they explore the mysteries of the "Scroll of the 4th Dimension."
Miniland USA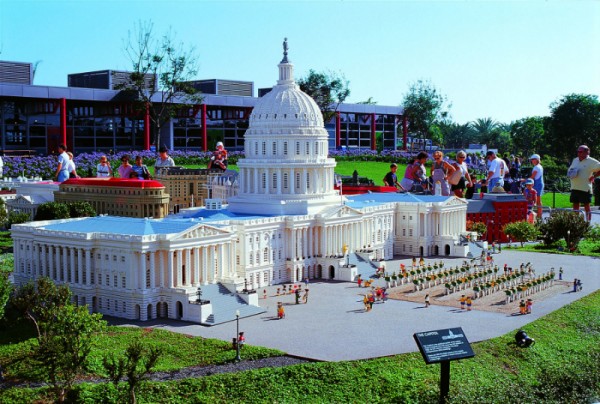 Miniland USA is the staple attraction of LEGOLAND California Resort and is definitely a must-see for all families. Comprised of LEGO® recreations of American cities at 1/20th scale, Miniland is both fascinating and educational. Each model is made entirely of LEGO bricks available for purchase, so it's really cool to see something that could theoretically be made by anyone! Within Miniland, you'll see structures like the NYC skyline, the famous Welcome to Las Vegas sign, the Golden Gate Bridge, and the Capitol Dome from Washington, D.C. You'll also find the LEGO Star Wars models here, so keep and eye out for a massive LEGO Death Star and more!
Imagination Zone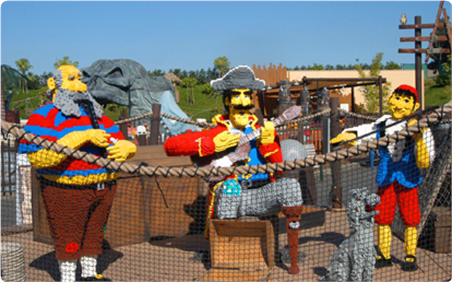 Imagination Zone is another popular area with visitors. Designed to teach children engineering and programming skills, Imagination Zone allows kids to construct objects using a guide, or just the inspiration of their own minds. They'll also have the opportunity to create programmable robots out of LEGO bricks!
LEGO® Friends Heartlake City
LEGO Friends Heartlake City showcases every girl's favorite LEGO® line. Girls (and boys, too, of course!) can ride a beautiful carousel, wander through the horse stables, and splash in the Heartlake Fountain. An especially popular attraction in this part of the park is the Heartlake Stables, where little visitors can build and play, inspired by the wonder and fun of Heartlake City.
DUPLO® Playtown
DUPLO® Playtown is the perfect destination for the littlest of guests. With everything comprised of their larger DUPLO bricks, this area has fun buildings to explore, enjoyable and gentle rides, and plenty of activities.
Fun Town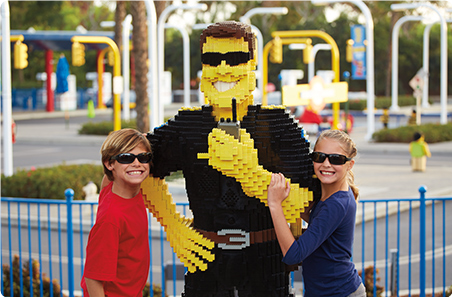 Fun Town is another great option for the small ones. It's a scaled recreation of the real world - sized just right to make kids feel like adults! Your kids will have a ton of fun in Fun Town when they act out a day in the life of a grownup (without all the stress, of course!) Don't miss out on the LEGOLAND Express, a mini-train that toots around Fun Town at a relaxed pace. It's a laid-back and low key ride for the very little ones.
What attractions are near LEGOLAND® California?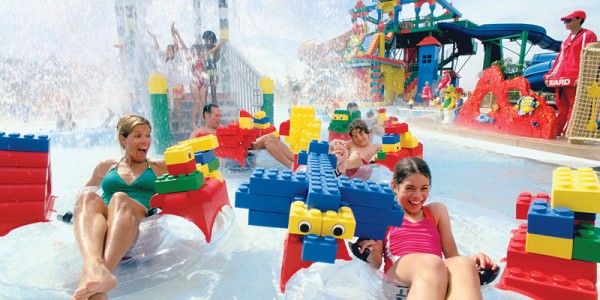 With its Carlsbad, CA location, LEGOLAND California Resort is conveniently located a mere half-hour away from downtown San Diego, so you're within a quick drive of tons of great attractions, from the historic to the epic and everything in between. Use your Go Card San Diego for entry to the following attractions:
History buffs will love the USS Midway Museum, one of the most popular attractions in all of San Diego.

Balboa Park

is filled with over a dozen different museum options, and is a fun place to roam or picnic.

The San Diego Air and Space Museum is an excellent educational attraction.
The San Diego Zoo and San Diego Zoo Safari Park are also can't miss attractions for families.
For the nature-lovers, you're also right near the Carlsbad beaches, Torrey Pines State Nature Reserve, and La Jolla.
Where to eat near LEGOLAND® California? Is food allowed in LEGOLAND® California?
LEGOLAND California Resort is filled with plenty of dining options for you to enjoy onsite, so you don't need to interrupt your adventure-filled day when your tummy starts to rumble. Some restaurant choices include Castle Burgers, Fun Town Hot Dog, Garden Restaurant, Knights' Smokehouse, Ocean Journey Café, and more. You'll find a wide variety of cuisines including healthy, vegan, vegetarian, and gluten-free options. Outside food and drinks are not permitted in the park, but you are allowed to bring in water and small snacks.
How to get to LEGOLAND® California?
Hours
Hours vary seasonally; consult the attraction's operating calendar for details.
Directions & Address
One LEGOLAND Drive Carlsbad, CA 92008
Getting to LEGOLAND California Resort from San Diego
From San Diego North County: Take Interstate 5 South to Cannon Road, head East. Turn right at LEGOLAND Drive and follow signs to LEGOLAND California Resort. From San Diego North County Inland: Take 15 North or South to 78 West to Interstate 5 South, then take Cannon Road, head East. Turn right at LEGOLAND Drive and follow signs to LEGOLAND California Resort. From Coastal San Diego Area: Take Interstate 5 North to Cannon Road, head East. Turn right at LEGOLAND Drive and follow signs to LEGOLAND California Resort. From San Diego East County: Take 8 West to Interstate 5 North to Cannon Road, head East. Turn right at LEGOLAND Drive and follow signs to LEGOLAND California Resort.