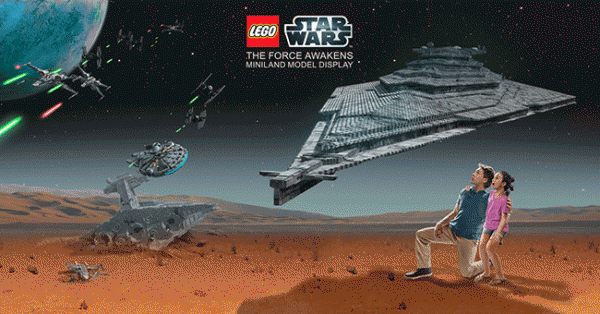 CARLSBAD, Calif. (March 9 , 2017
) – The Force remains strong at LEGOLAND® California Resort as guests of the family theme park in Carlsbad will now get to experience a new exciting installment in LEGO®
Star Wars™
Miniland with the LEGO®
Star Wars™: The Force Awakens
Miniland Model Display! The latest major model addition includes  the 16-foot-long Star Destroyer Finalizer, made of more than 350,000 LEGO bricks. The Finalizer is installed more than 6 feet in the air above guests and is now the longest LEGO
Star Wars
Miniland model ever created! "Guests have been enjoying LEGO® Star Wars™ Miniland for 6 years since it first opened in 2011. Since then, we have added the LEGO
Star Wars™
Miniland Gallery in 2012 and LEGO Star Wars™ Miniland Death Star in 2015, which is the largest LEGO model to have ever been added to LEGO®
Star Wars™
Miniland," said General Manager of LEGOLAND California Resort Peter Ronchetti. "I am excited to introduce the latest addition: The LEGO®
Star Wars™: The Force Awakens
Miniland Model Display as once again, our Master Model Builders used  incredible detail in constructing the new LEGO models and I can't wait for guests to enjoy it!" LEGO®
Star Wars™:  The Force Awakens
Miniland Model Display in the center of LEGO Star Wars Miniland and includes six exciting scenes set on the planet of Jakku, from
Star Wars: The Force Awakens
which include: Kylo Ren's capture of Poe; Rey's rescue of BB-8; Poe and Finn's escape from the Star Destroyer Finalizer; The wreck of Finn and Poe's TIE Fighter;  Rey, Finn and BB-8's escape from Niima Outpost; and the escape from the Starship Graveyard. Lights, sound effects and animation will further bring the scenes and characters to life from this blockbuster film. The LEGO®
Star Wars™
: 
The Force Awakens
Miniland Model Display opens just in time for spring break and is included in the cost of admission to LEGOLAND California Resort. ###
LEGOLAND® California Resort includes LEGOLAND® California, SEA LIFE® Aquarium, LEGOLAND® Water Park and LEGOLAND® Hotel. All are geared for families with children between the ages of 2 and 12. At LEGOLAND California, you'll find more than 60 rides, shows and attractions including NINJAGO™ The Ride where guests experience 3D imagery, high-tech sensors and use hand movements in a striking motion to master their skills before battling the Great Devourer,  LEGO®
Star Wars
™ Miniland Model Display, Pirate Reef and LEGO Legends of Chima Water Park. The LEGO® Movie 4D A New Adventure™ opened in 2016. Emmet, Wyldstyle, Unikitty, MetalBeard and Benny band together to face an evil plot created by Risky Business, a new villain. SEA LIFE Aquarium is home to more than 5,000 living creatures and incorporates LEGO® models into a child's voyage to the depths of the ocean featuring play zones, fun facts and quiz trails. LEGOLAND Water Park features more than seven slides, sandy beaches and the unique Build-A-Raft River.  The nation's first LEGOLAND Hotel features 250 rooms, all themed either as pirate, adventure, kingdom, LEGO® Friends or LEGO® NINJAGO™ opening in March 2017! For more information, visit
www.LEGOLAND.com
or call (760) 918-LEGO (5346).
About Merlin Entertainments plc
Merlin Entertainments plc is a global leader in location based, family entertainment. As Europe's Number 1 and the world's second-largest visitor attraction operator, Merlin now operates over 100 attractions, 13 hotels and 5 holiday villages in 24 countries and across 4 continents. The company aims to deliver memorable experiences to more than 63 million visitors worldwide, through its iconic global and local brands, and the commitment and passion of its approximately 27,000 employees (peak season). Visit
www.merlinentertainments.biz
for more information.